Week 2 is here, and that means we need to set some fantasy football lineups! After a rocky Week 1 for several fantasy managers, it's important to get back on track and put together a win!
With that in mind, who should you be looking to start — or sit — here in this riveting Thursday Night Football matchup between the Philadelphia Eagles and Minnesota Vikings?
Looking to make a trade in your fantasy league? Having trouble deciding who to start and who to sit? Check out PFN's Free Fantasy Football Trade Analyzer and Start/Sit Optimizer to help you make the right decision!
Minnesota Vikings at Philadelphia Eagles
Spread: Eagles -6.5
Total: 49 points
Vikings implied points: 21.25
Eagles implied points: 27.75
Quarterbacks
Kirk Cousins: They say "Game 7" are the two best words in sports. Well, the worst three words in fantasy football circles are in play this week: "Primetime Kirk Cousins."
Cousins' struggles under the bright lights are no secret, and when you combine that with his home/road splits from a season ago, we aren't looking at a top-12 fantasy quarterback this week.
In 2022, Cousins threw 4.5 touchdowns per interception in front of his home fans and 1.1 when playing on the road (including a season-high three picks in prime time against these Eagles in Week 2).
I'm willing to ignore the aberrational Week 1 for this talented Philadelphia defense (316 yards and three TDs coughed up to Mac Jones) and assume that they get back on track in this spot.
PFN Consensus Ranking: QB17
Jalen Hurts: You don't need me to tell you that Jalen Hurts is a lineup lock, but maybe you do need me to inform you that his pass touchdown rate was 5.9% at home and 3.6% on the road last season.
In Philadelphia's 2022 home opener, all he did was complete 84% of his passes while running for two scores … against these Vikings. Hurts underwhelmed last week (207 total yards with just one passing touchdown).
Relax. He had 42 opportunities (passes and rushes), right in line with the 41.7 he averaged last season, a usage level that had him as the front-runner for MVP for the majority of the season.
PFN Consensus Ranking: QB1
Running Backs
Alexander Mattison: Mattison was anything but impressive in the Week 1 loss to the Bucs (44 yards on 14 touches), but he did hold the feature role in this backfield, and in an explosive offense, that's enough to rank as an RB2 for me.
Mattison's touchdown came on a nice play design where he was put in motion and hit on the fly for a short score, a level of creativity that helps elevate his weekly floor.
MORE: DFS Thursday Night Football Picks Week 2
Mattison ranking out as an RB2 is more the result of his role than any confidence I have in him or in this specific matchup. When these two teams played last season, Minnesota trailed for every one of their offensive snaps, resulting in Cousins having more completions (27) than Vikings running backs had rushing yards (25).
That is, naturally, a worry this season. But we're in the business of projecting mean outcomes, and the percentage play is to trust Mattison's touch count to get him into the top 20 at the position like last week.
PFN Consensus Ranking: RB18
D'Andre Swift: "I don't ever want to come out of a game where D'Andre Swift has only two touches."
Talk is cheap, Nick Sirianni. He sounds like a fantasy football manager more than a person who has direct control of the situation, but I digress. The fact of the matter is that this team ran 61 plays and got their offseason acquisition two chances in a game with a positive game script.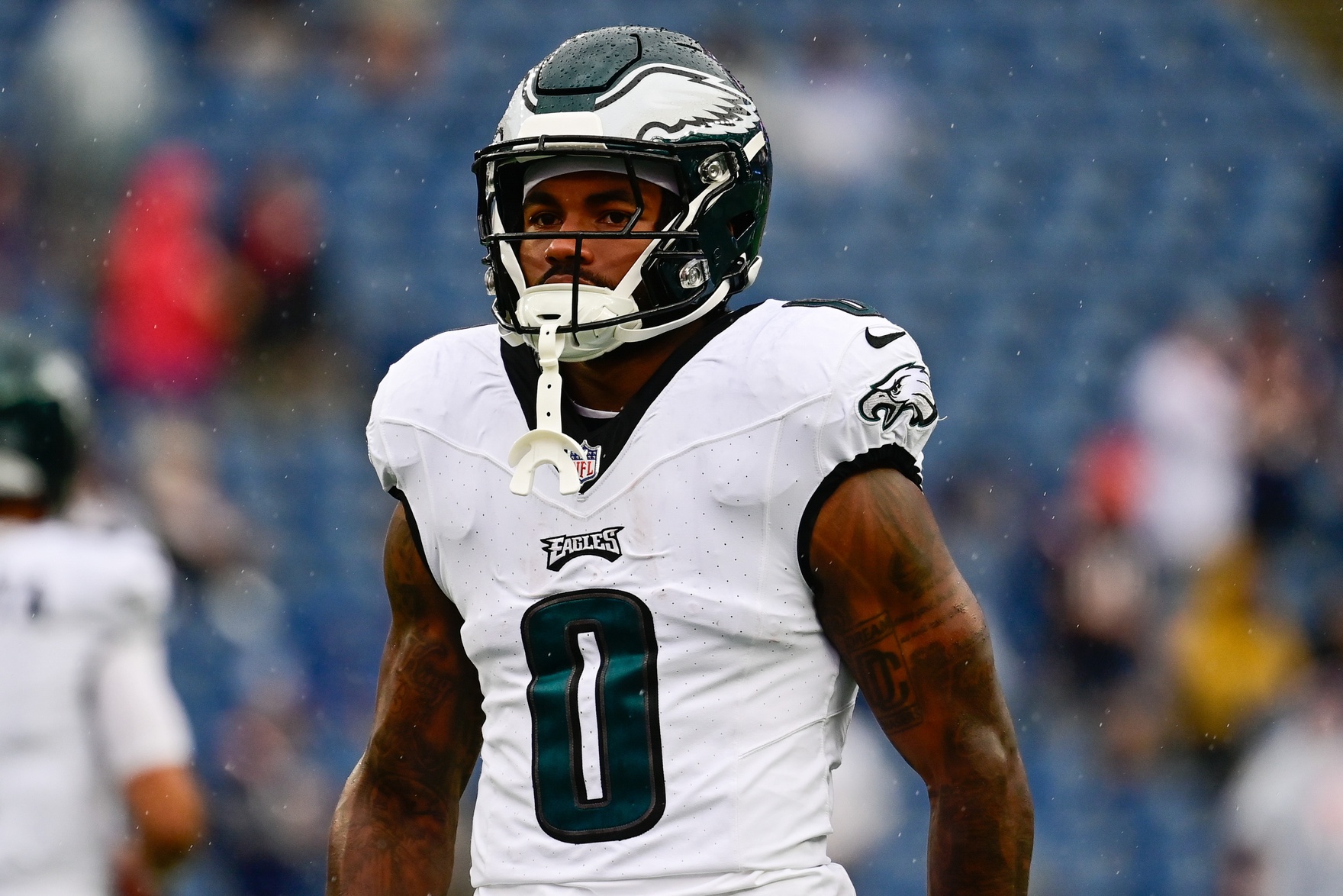 The management of Swift's touches is nothing new, but this is overkill. I expect Swift to see more work this week (Philly ran for 163 yards on 34 carries in this matchup last season), and his raw talent should keep him on fantasy rosters. And by "rosters," I mean benches.
There's simply no way you can even consider playing Swift until we see his role change. Give me "boring" players on bad offenses like Dameon Pierce or Miles Sanders over Swift, at least I know what I'm signing up for.
That said, you also can't consider cutting a talented player like this in an elite offense. Hold!
Update: Swift can be viewed as a high-end RB3 with the news that Gainwell will not play.
PFN Consensus Ranking: RB27
Rashaad Penny: Penny was healthy — but inactive — for the season-opening win over the Patriots.
Sirianni said after the game that the decision was "Just a number count. Where we were with numbers, and some of the things, our first three guys through camp are those three guys, they dressed."
Penny's base salary this season is over a million dollars, but the team does save $10,000 when he doesn't make the active roster for a game.
PFN Consensus Ranking: RB58
Kenneth Gainwell: There were whispers this summer that, despite the investments at the position, Gainwell would be "the guy" entering the season. Those whispers turned into fact last Sunday when he accounted for 14 of Philadelphia's 16 RB carries in the win over New England.
The volume was great to see and puts him on the Flex radar against a questionable Vikings defense (ignore the Week 1 success against the Bucs, Rashaad White posted 38 yards below expectation per NextGenStats, a number that would have been the fourth-worst performance of 2022).
That said, Gainwell failed to reach 10 fantasy points despite 18 touches and playing 62% of the snaps (Swift: 29%). I like getting a piece of this offense with an implied total that is pushing 28 points. You just need to be aware that there is a low floor that comes with Gainwell (career: 5.7 touches per game).
Update: Gainwell has been ruled out for Thursday Night Football.
Wide Receivers
Justin Jefferson: The Eagles, now famously, passed on Justin Jefferson in the middle of the 2020 NFL Draft in favor of Jalen Reagor. But it was a minor consolation prize that they were able to hold him in check a year ago, as his 12 targets yielded just 48 yards.
The Eagles are more capable of slowing WR1s than most. In addition to Jefferson, Chris Olave, Amon-Ra St. Brown, and CeeDee Lamb all had games against Philadelphia last season in which they averaged fewer than seven yards per target, and that has me downgrading Jefferson all the way down to WR5.
PFN Consensus Ranking: WR2
Jordan Addison: The rookie scored from 39 yards out (all air yards) against the porous Bucs secondary for Minnesota's first touchdown of the 2023 season in his debut — paying off bold fantasy managers that elected to plug him in (four catches for 61 yards and the score).
Minnesota drafted Addison to replace a touchdown creator in Adam Thielen, so it was good to see him get on the board early. It's also worth noting that it was Thielen who led Minnesota in receiving (52 yards) against Philadelphia last season.
MORE: PFN's NFL and Fantasy Player News Tracker
I was in on Addison this preseason and remain a fan of his over the course of the year as a whole, but I can't get him inside my top 35 wide receivers in this tough matchup.
His 13.8% target share last week was enough in a cushy spot, but if the overall play volume dips against the ball-control styling of the Eagles, Addison carries more risk than reward at your Flex position.
PFN Consensus Ranking: WR35
K.J. Osborn: Lost in the excitement of Addison scoring in his debut was the fact that Osborn played 22 more snaps than the rookie. He matched him with six targets but simply didn't get the benefit of a poorly covered bomb down the middle of the field.
I expect Addison to win this WR2 role with time, but we aren't there yet. And until one of them takes a firm hold of that role, neither can be counted on in starting lineups.
PFN Consensus Ranking: WR81
A.J. Brown and DeVonta Smith: This is really turning into a co-WR1's situation, and that's just fine in fantasy world. Both of these stars caught seven of 10 targets against the Patriots in Week 1, combining for 66.7% of Philadelphia's targets. I have both inside my top 10 at the position, and it didn't require much thought.
Brown's PFN Consensus Ranking: WR4
Smith's PFN Consensus Ranking: WR10
Tight Ends
T.J. Hockenson: Hock wasn't with Minnesota last season when these two teams squared off, but Irv Smith Jr. earned eight targets and was responsible for the Vikings' lone touchdown in that 24-7 loss.
With Philly focusing on limiting Jefferson, Smith and Adam Thielen combined for a 33.3% target share — proof that the Eagles were more than happy to take their chances with the secondary Vikings pass catchers. The now well-paid Hockenson is obviously an improvement in that space and should be locked into lineups every week.
PFN Consensus Ranking: TE4
Dallas Goedert: I sat on my couch last week while Goedert was on the field for 92.4% of Philadelphia's offensive snaps, and yet … we remain tied on the NFL receiving leaderboard. Despite being on the field for basically the entire game, Goedert was able to shake loose for just one target and was a non-factor.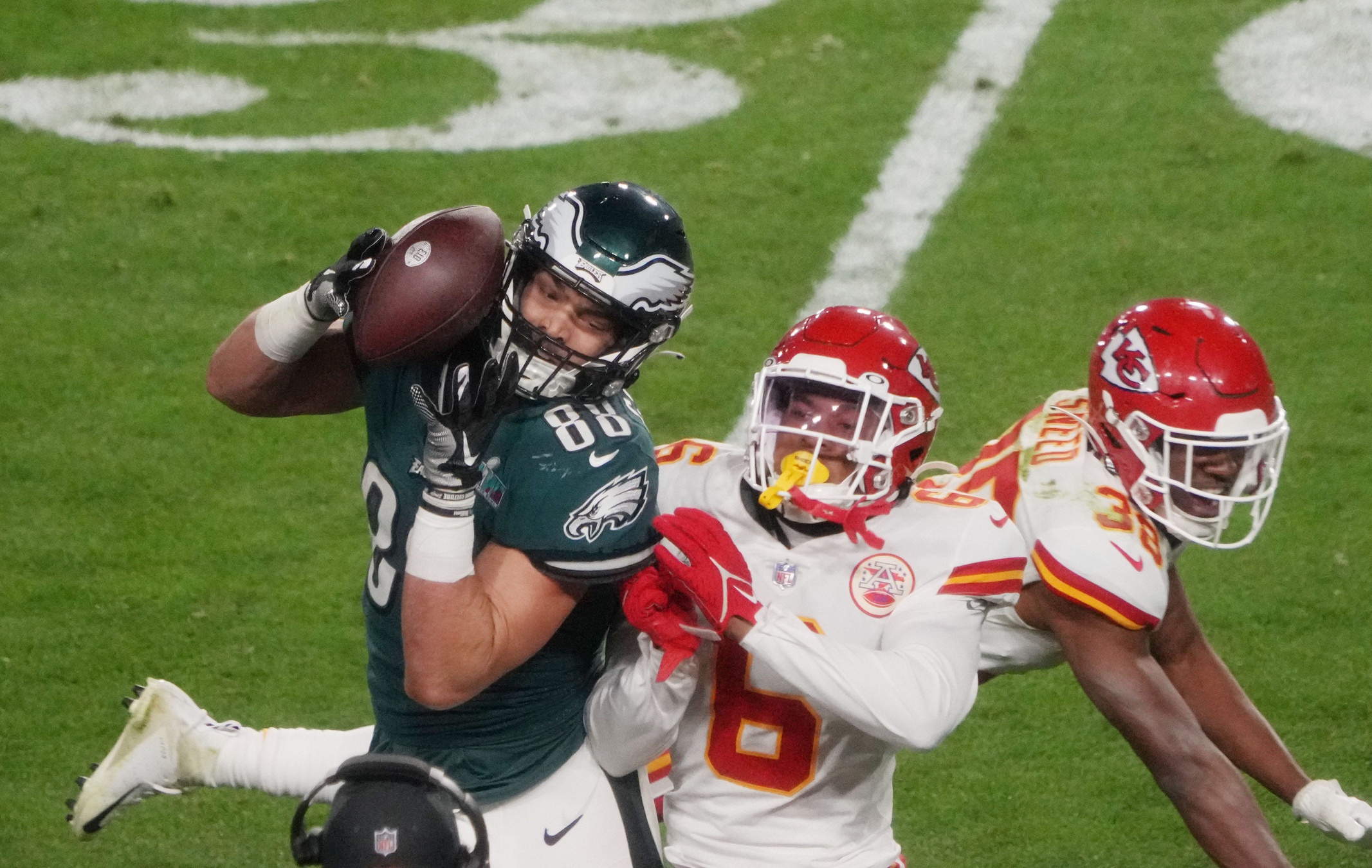 Hurts did a great job at spreading the ball around when these two teams played a season ago. Brown, Smith, and Goedert (team-high 82 receiving yards) all caught at least five passes, while Quez Watkins produced the big 53-yard touchdown. I'm expecting more of the same.
Savvy fantasy managers know to trust the process and not be impacted by any scar tissue occurring from one poor performance. Goedert is a top-five TE for me this week, and I'd recommend forgiving him for his Week 1 sins.
PFN Consensus Ranking: TE7
Who Should You Start in Week 2?
Should You Start Alexander Mattison or Rhamondre Stevenson?
Our Start/Sit Optimizer recommends Rhamondre Stevenson as the start due to the matchup against the Miami Dolphins, which should feature plenty of points going up on the board.
MORE: Week 2 Fantasy Football Cheat Sheet
With Mattison having a tough matchup against the Eagles' defensive front, Stevenson's a fine alternative option.
Should You Start Jordan Addison or Drake London?
Fantasy managers are panicking over Drake London right now due to the fact that he was essentially running wind sprints all game last week and saw his QB finish with more receptions than he did!
Our Start/Sit Optimizer recommends Addison as the start here over London, which is crazy given where these two players were being drafted just a couple of weeks ago. However, in a game that should see the Vikings being forced to throw the ball 35+ times, the opportunity is there for Addison more so than London.
Listen to the PFN Fantasy Podcast
Listen to the PFN Fantasy Podcast! Click the embedded player below to listen, or you can find the PFN Fantasy Podcast on iTunes, Spotify, and all major podcast platforms.  Be sure to subscribe and leave us a five-star review! Rather watch instead? Check out the PFN Fantasy Podcast on our Fantasy YouTube channel.