Dalvin Cook is a talented running back, but should the Dallas Cowboys consider signing the veteran runner? The 27-year-old was in a situation coming off a few underwhelming years playing through a bum shoulder for an organization that is pushing through a max exodus of veteran contracts. Even after moving on from Adam Thielen and Za'Darius Smith, the Minnesota Vikings may not be done. Pro Bowl-caliber pass rusher Danielle Hunter could be the next player to move away from Minnesota this offseason.
Running backs are in a precarious position. NFL teams may have been late adopters to the "running backs don't matter" train, but they may have taken the conductor's seat from the nerds. There simply doesn't appear to be any RB market right now.
Could there be a potential market inefficiency there to be taken advantage of? Could good players at non-premium positions end up actually being good value pickups?
Should the Dallas Cowboys Sign Dalvin Cook?
No.
Before we get too huffy-puffy about the devaluation of running backs, this is just a general answer. Cook's market is a mystery. His base salary in 2023 was going to be $10.4 million. That number was going to jump to $11.9 million in 2024 and $13.9 million the year after.
David Montgomery isn't as talented as Cook, but he's younger and hasn't had the injury concerns of Cook. He's making $6 million per year, and his Year 1 cap hit is just $2.85 million.
If Dallas is dead set on maintaining the farce of needing a dominate name at the position but doesn't want to have to go through the rigors of a negotiation next offseason with Tony Pollard (aka let him walk), adding Cook at a low Year 1 cost and never having his cap total exceed $7 million wouldn't be the worst idea ever.
That $7 million cap hit would be just a smidge more than Michael Gallup and would account for about 3% of the team's cap number. If Cook can be an efficient runner with his surgically repaired shoulder, that's not a horrible price.
But that's the only scenario that should have the Cowboys even considering the move.
We don't know what the market will dictate, and we don't know how much tread Cook has left. The argument heard over the past few weeks is that "he's only 27."
MORE: Dallas Cowboys RB Depth Chart — Who Gets the Touches After Tony Pollard?
Yes, but so is Ezekiel Elliott. For a running back, age is just a number. Cook has touched the ball 683 fewer times than Elliott thus far in his career. But the former Cowboys runner started showing legitimate signs of wear over 700 touches ago, all the way back in 2020.
What makes the potential marriage at least somewhat interesting is that Cook has long been one of the league's best outside zone runners. While Dallas mixes up their rushing attack, they frequent those runs most often.
To be successful outside zone runners, running backs must be decisive and explosive at the first level, something Elliott simply didn't have anymore.
Cook, nonetheless, would fit the Dallas rushing attack.
"It's more of an attitude deal," RG Zack Martin said. "That's the best way I can describe it. The plays aren't going to change. We're going to run our inside zone, outside zone. I think it's just the mindset and attitude we're going to bring and that edge I talked about."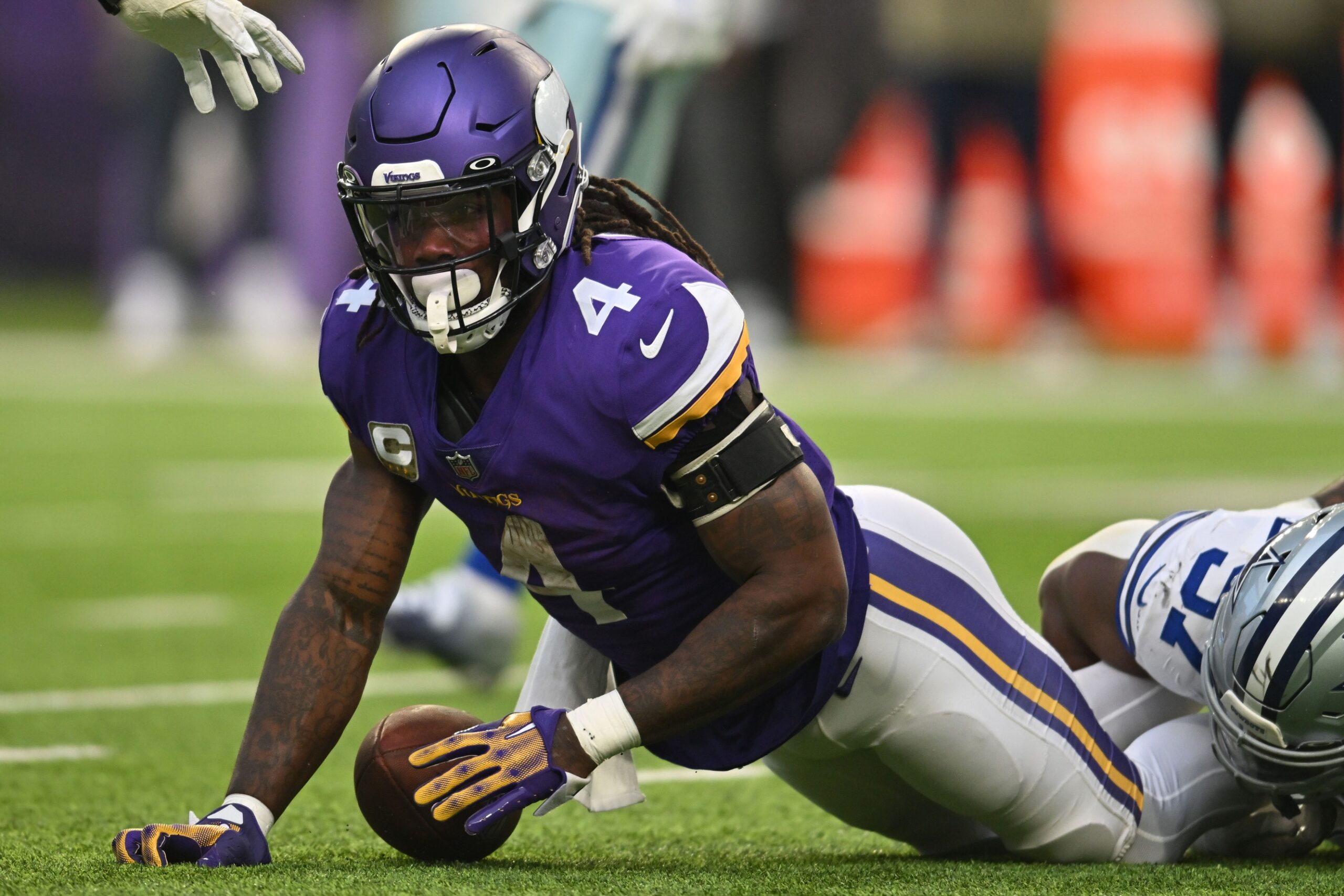 The Cowboys Already Have Enough RB Depth
Pollard shouldn't have any long-term issues coming off his lower leg fracture. He's already participating on the field at OTAs, albeit at less than 100% effort.
"Being able to get out there for the walkthrough parts and to be out there with the team, get out there and get my feet wet," Pollard told Patrik Walker. "I'm not really limited at this point, it's just (about) being smart with it. Just trying to work my way back in slowly and make sure I'm in tip-top shape so there's not a fall-off."
MORE: Why Dalvin Cook to the Miami Dolphins Seems To Be a Long Shot
Behind Pollard, given his contractual situation, who Dallas will likely run into the ground in 2023 is a stable of names. Malik Davis has been a fan favorite as the No. 3 option in Dallas these past two seasons. The Cowboys also drafted Kansas State's Deuce Vaughn, a back trying to follow in the footsteps of Darren Sproles.
Ronald Jones could be a veteran option with explosiveness at the first and second levels. And while Rico Dowdle only has seven attempts in his three-year career, he's been an impressive preseason performer for the Cowboys.
Dallas is already paying Pollard the franchise tag number to stay in 2023.
But the entire discussion comes down to one simple question. Does adding Cook give the Cowboys more juice in their efforts to finally push past the Divisional Round of the playoffs? Probably not.
Stephon Gilmore and Brandin Cooks do. Save that money for contract extensions for Trevon Diggs, Dak Prescott, and CeeDee Lamb.