The Philadelphia Eagles lost both coordinators to head coaching gigs elsewhere. Brian Johnson was an in-house hire for the offensive coordinator role, one that he is supremely qualified for. Sean Desai resides on the other side of the ball. And he has some fun pieces from the University of Georgia to play with in Jalen Carter and Nolan Smith. But we shouldn't discount Sydney Brown, Kelee Ringo, and even Moro Ojomo's defensive impacts. But how do they fit the Vic Fangio-style defense?
Sean Desai's Scheme and Deployment
There's a very good reason why the NFL is treating anyone who's had a cup of coffee with Fangio the same way they do Sean McVay and Kyle Shanahan; those systems work! But while schemes can come from the same place, philosophies, particularly on defense, can make a unit look completely different.
That's not really the case with Desai. Technically, Jonathan Gannon's scheme was Fangio-like, but differences in core philosophy made them look very different at times. Desai mimics Fangio from scheme to philosophy, and that should have Eagles fans very excited.
MORE: FREE NFL Mock Draft Simulator (With Trades)
Even legendary defensive coach Pete Carroll added Desai to Seattle's staff a season ago to help facilitate the Seahawks' philosophical change on defense.
"He's really a brilliant football guy," Coach Carroll said at the Combine in Indianapolis. "The information that he holds, his access to information, is really special."
It's nearly impossible to have a succinct scheme discussion. It's a vastly complex concept in theory, let alone exact deployment.
For the purposes of describing fit for these rookies, we'll discuss the various fronts and coverages Desai uses most often. For in-depth explanations of each coverage and front, it is best to link to a Google Drive with a ton of free information about Desai's defense.
Jalen Carter's Fit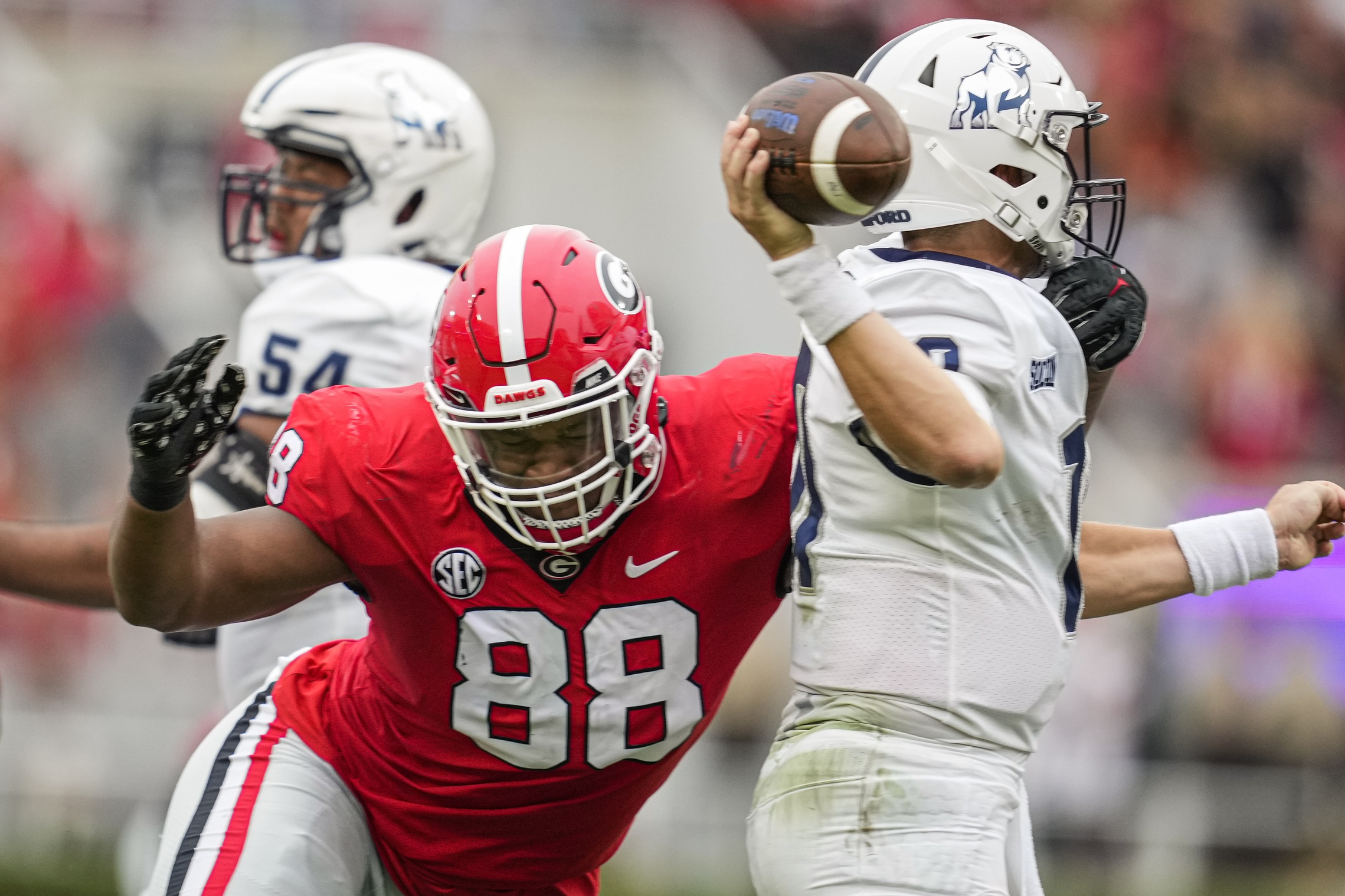 If the off-the-field concerns never arose with Carter, he might have been the first non-quarterback selected in the 2023 NFL Draft. Throughout the entire pre-draft process, many felt that if Carter were available at 10, he would no longer be on the board when the Titans picked at 11.
Carter was asked a few days before the draft if the Eagles had promised to pick him.
"I believe so, it might have been something like that," Carter said when asked by NBC Sports Philadelphia's John Clark.
Selecting Carter was always the worst-case scenario for the other 31 NFL teams, which made it feel all the more likely that Howie Roseman would find Carter falling into his lap. The fit was simply too perfect.
Carter didn't test during the pre-draft process, but we know he's an elevated athlete with outstanding size and power at the position.
Desai's base front is the "Tite" front. While many look at Tite's five-man fronts as the modern iteration of the 3-4, it's more like the 5-2 Eagle defense that has been around since the early 20th century. The main difference is that this front is not a single-gap front, but a gap-and-a-half front.
And like Buddy Ryan's "Bear" defense, the idea is to get three big boys to occupy the interior gaps. That's where Carter fits in. He will likely play one of the 4i roles in the defense, which means aligning shaded on the inside shoulder of the offensive tackle.
Carter's power, agility, and explosiveness make him a fantastic candidate for playing the "end" role to the Rip/Liz side, which is the side where the fourth rusher will come from. This assignment gives Carter an inside rushing track that allows him to penetrate more freely than if he were playing away from the call, where he'd have to contain.
But where Carter can really shine is in Desai's Nickel four-man front, allowing him to play the 3-technique role in a penetrating one-gap style.
So, in summation, Carter would never actually have to come off the field if he had an endless battery pack. No matter what Desai wants to do, Carter can remain on the field for it.
Nolan Smith's Fit
It will be fascinating to see how Smith's role develops in Desai's scheme. Smith has the athleticism and a bit of experience dropping into coverage as an outside linebacker in Kirby Smart's defense.
However, with Josh Sweat and Haason Reddick already on the roster, it will be interesting to see if the Georgia pass rusher can fight for the majority of defensive snaps ahead of Sweat.
MORE: Will Jalen Carter or Nolan Smith Even Help the Eagles as Rookies in 2023?
Brandon Graham and Derek Barnett will play entirely different roles than Smith. They'll likely play more of the end roles in base fronts where the defender is playing 5-technique or farther outside, along with playing as the 5-tech in nickel fronts.
In Dime and Nickel, Smith can be used interchangeably with Reddick and Sweat, given his rush and run-defense versatility. He shouldn't have a ton of trouble in a contain role on the end in a 7- or 9-technique. Having a rotation that keeps Reddick, Sweat, and Smith all relatively fresh is bad news for opposing offensive lines.
Sydney Brown's Fit
We've finally arrived at the back end of the conversation, where we get to discuss some of the coverages Desai will employ before figuring out how Sydney Brown fits into things.
First, Desai wants to play from light boxes if at all possible. His 2021 Bears unit was light on 55% of their defensive snaps, and along with that, spent 56% of the time in two-high shells. That's not a coincidence.
It's also no coincidence that Desai's defenses spend more time playing zone coverage than man. Quarter-quarter-half and half-quarter-quarter coverage is the Fangio staple. But Desai mixes coverages well. He'll play his fair share of Cover 2 variations from base, and he runs the gambit in sub-packages.
On the surface, Brown's fit doesn't really make a ton of sense. He's a really good player, but he practically lived in man coverage playing from the box or the slot. That will likely be his immediate role at the next level as well, but Fangio's defenses need really good safety play to be the best version of itself.
The question is whether or not Brown can slide to the back half and provide value as one of the team's split safeties in a zone-heavy role. Until that is on the field, his projection to that role is in a holding pattern.
Meanwhile, Brown's athleticism and physicality should make him a stalwart in the slot, where he can flow downhill to the alley against the run and feast on closing against underneath routes as a vertical hook zone defender who has the speed to easily carry the No. 2 receiver vertically.
Kelee Ringo's Fit
Ringo needed to join a defense that specialized in zone coverage and wasn't going to ask him to start immediately. He found both with Philadelphia. In fact, it wouldn't be a massive surprise if Ringo ended up playing safety at some point, and it might come sooner rather than later.
He's a bit stiff as a reactive athlete, which makes things difficult for Ringo playing man from off-coverage. He's also much better when he doesn't have to play with his back to the ball. Lastly, Ringo's a good finisher as a tackler with safety size.
MORE: Chiefs and Eagles Still Elite in Post-Schedule Release Power Rankings
In a defense that will major in not allowing big plays and maintaining over-the-top leverage, Ringo is a fine fit. As a Cloud corner tasked with playing in the flats, he's a danger to opposing offenses.
Ringo's an interesting case, at least as a prospect. He's clearly an intelligent zone coverage defender, but he suffers from coverage ADHD. The cornerback will be on task for 80-90% of a defensive rep and then suddenly lose his mind. If he fixes that, Ringo could contribute early if forced onto the field as a rookie because of injury.
Moro Ojomo's Fit
Ojomo is an inside-out athlete who should fit the role of a run-defending 4i in a rotational role. Although he tested well, he won't necessarily be the sort of pass-rushing threat that other "undersized" defensive tackles are.
Milton Williams is more of the slashing type, while Ojomo uses his leverage and length to play a strong brand of football against the run.