About halfway through Rondale Moore's first season, he has already become an impact player for the Arizona Cardinals. While other rookies like Ja'Marr Chase and Jaylen Waddle have been more productive, the advanced metrics suggest that Moore is one of the NFL's most effective players.
Rondale Moore plays behind bigger names for the Cardinals
Going into this season, you knew Moore wasn't going to be the featured player for Arizona. And it's not because of his relatively diminutive stature, coming in at just 5'7″ and 180 pounds. No, it's because his new offense includes Christian Kirk, DeAndre Hopkins, and A.J. Green.
As a result, he has totaled a relatively meager 352 yards and 1 touchdown. However, box score statistics don't always tell the whole story of how well a player is performing. And that definitely applies to Moore.
Using advanced metrics to determine Moore's value to the Cardinals
Because of Moore's limited role within the Cardinals' offense, it can be difficult to properly assess how well he is playing. For more clarity, let's turn to the Offensive Value Metric.
The OVM is a grading system created by the (Bx) Movement to evaluate players based on how much they contributed to the creation of their statistics, rather than the statistics themselves.
Moore has been spectacular on this metric, earning the highest grade of any wide receiver so far in 2021 (43.78). If Moore can maintain that grade for the rest of the year, it would be the highest earned by a wide receiver since the creation of the OVM in 2016.
That grade indicates that Moore is fulfilling his role in Arizona's offense at an extremely high level.
The advanced metrics behind Moore's OVM grade
To fully understand why Moore's OVM grade is so high, we need to examine the advanced metrics involved in calculating it. Given his historically high grade this season, it should come as no surprise that the rookie is performing at a high level across the board.
Let's start with arguably the most important job a wide receiver has: catching the football. Going into Week 10, Moore is catching 85% of his targets. That is the highest percentage among all receivers with more than 25 targets.
He is helped in that regard by being given an extremely high average cushion by defenders (7.8 yards). That ranks fourth among qualifying wide receivers. Yet, Moore has turned that cushion into a league-leading 5.8 yards of separation when targeted.
To top it off, Moore has also been great with the ball in his hands. He is averaging 9.7 yards after the catch, the highest among all qualifying wide receivers. According to the NFL's projections, that number is 2.4 yards higher than expected, ranking sixth in the league. Put simply, the rookie is earning what can only be described as elite advanced metrics.
Examining Moore's weekly OVM grades
For a more in-depth look at how Moore has performed during his rookie year, let's look at his weekly grades this season. You can see them in the chart below, represented by the black dots. For comparison, the yellow line represents the average OVM grade for wide receivers so far in 2021.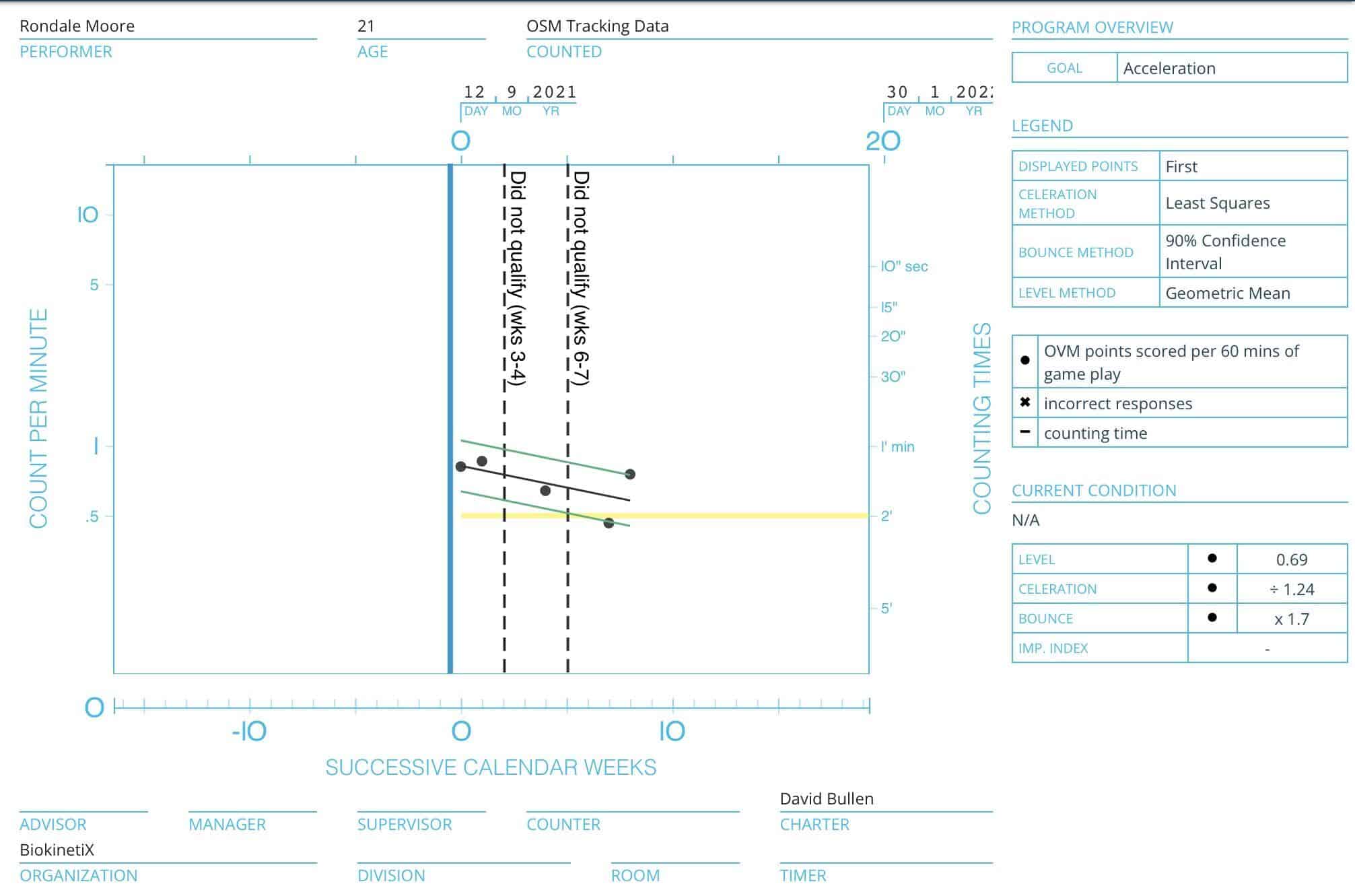 Moore hasn't earned grades in many games, often coming in below the target threshold. Nevertheless, when he has been targeted frequently, Moore has stepped up. Almost all of his grades are above the league average, and he has earned two grades above 40 points.
Even his worst grade, 27.85 in Week 8, is far from terrible. There are quite a few receivers whose overall grade for the season is lower than that.
With the talent that surrounds him, it seems likely that Moore won't be featured any more often in the Cardinals' remaining games this season. That said, he has shown that he can be relied on when necessary.
Moore can be a key player for Arizona
Moore isn't going to win any awards this season. His lack of raw box score statistics means he might not even be mentioned among the best wide receivers in his draft class. Yet, it is difficult to find a player doing a better job of filling his particular role in the entire NFL.
He will be a crucial piece for a Cardinals team that seems set to make a deep playoff run this season. In the years to come, players like Hopkins and Green will grow older and eventually retire. When that happens, Moore should become a staple in Arizona's offense.