The Purdue Boilermakers have been consistently competitive in recent years, but can their 2024 NFL Draft class help them weather the loss of head coach Jeff Brohm? Here's what the eligible group has to offer on Purdue's roster and who the team's top prospects might be.
Purdue Boilermakers Roster and Depth Chart Changes
Purdue had five players selected in the 2023 NFL Draft, their highest number since 2004.
Charlie Jones and Aidan O'Connell went to the Bengals and Raiders, respectively, in Round 4. Payne Durham went to the Buccaneers in Round 5, and in the seventh round, Cory Trice joined the Steelers while Jalen Graham was selected by San Francisco.
Those five players represented a core loss for the Purdue program in 2023. O'Connell was an all-conference performer at the most important position. Jones and Durham were valuable offensive playmakers, and Trice and Graham were the team's best defenders.
The losses didn't end there, either. Purdue also saw defensive linemen Branson Deen and Jack Sullivan ship off to Miami and USC, respectively. But those losses weren't left unattended.
To compensate, the Boilermakers scored several high-profile acquisitions in the transfer portal — most notable among them Texas QB Hudson Card. Those acquisitions, along with well over a dozen high-impact returners, will help Purdue compete — both in the Big Ten and on the NFL Draft board.
Purdue Boilermakers NFL Draft Prospects
Hudson Card, QB
The Purdue system helped turn O'Connell into a fourth-round pick, and it could do similar work for Card. The Texas transfer completed 75 of 108 attempts for 928 yards, six touchdowns, and just one pick in 2022, operating Steve Sarkisian's offense more efficiently than five-star recruit Quinn Ewers.
Card — 6'2″, 210 pounds — has more baseline talent than O'Connell did. He also has the poise to stand in the pocket and deliver amidst pressure.
Devin Mockobee, RB
Though he's only a redshirt sophomore, Devin Mockobee bears watching as a potential 2024 NFL Draft prospect after his breakout 2022 campaign. The 6'0″, 200-pound Mockobee emerged as Purdue's lead back in a 2022 season that saw him rack up 968 rushing yards and nine touchdowns on 195 attempts, as well as 32 catches for 274 yards. Not only is Mockobee a legitimate speed threat in space, but he has two-phase functionality as well.
Tyrone Tracy Jr., RB
Sixth-year senior Tyrone Tracy Jr. is one of the more intriguing under-the-radar prospects on Purdue's roster. The 6'1″, 210-pound Tracy was originally a wide receiver at Iowa. And in 2019, he was modestly productive, with 36 catches for 589 yards and three TDs.
In 2022, Tracy transferred to Purdue and started taking more work at running back. His long-striding style translated well, and moving forward, he has a unique brand of experiential versatility.
TJ Sheffield, WR
Charlie Jones absorbed most of the WR targets at Purdue in 2022, but with him now gone, expect TJ Sheffield to receive several more looks. The 5'11", 190-pound Sheffield caught 46 passes for 480 yards and four scores in 2022, and has the skill set to be one of Card's favorite targets.
Sheffield is not quite as reliable as Jones was in contested situations, but he's still an explosive, nuanced route runner with great bend and detail on double moves. He can make in-stride adjustments as well.
Mershawn Rice, WR
The Boilermakers were able to flip JUCO transfer Jayden Dixon-Veal late in the process, and he'll give a boost to their WR group. But the next receiver with the age to be a potential 2024 NFL Draft prospect is Mershawn Rice.
Rice, who stands around 6'2″, 215 pounds, caught 23 catches for 283 yards and a score in 2022. He hasn't been a target funnel to this point, but his unique size and play strength allows him to hold his own in contested situations.
Garrett Miller, TE
Payne Durham was one of the most productive tight ends in the Big Ten over the past two seasons, and Garrett Miller will have big shoes to fill in his stead. But the job is now his alone to take.
Miller was in line for a decent role in 2022, but a fall camp injury caused him to miss most of the season. In 2021, however, the 6'5″, 250-pound pass catcher amassed 174 yards on 20 catches. He could return as a vital chain-mover in 2023.
Jalen Grant, OL
On the interior offensive line, transfer addition Jalen Grant is a name to know. Grant started games as early as 2020 at Bowling Green. In that truncated season, he started three games at left guard. Then, in 2021, he started all 12 games, including 10 at center. In 2022, Grant again started 12 games, this time with 10 at left guard.
Grant is well-leveraged at 6'3″, 300 pounds, and his proven positional versatility could be a bonus.
Gus Hartwig, C
At center, the Boilermakers have a valuable anchor in Gus Hartwig. Looming at 6'5″, 315 pounds, Hartwig is an honorable mention All-Big Ten blocker for three years running. He's a model of consistency as a collegiate player, with some potential 2024 NFL Draft appeal. His feet can be a bit heavy at times, but Hartwig has decent closing athleticism on the attack, and there are moments of dominance off the snap with his torque and physicality.
Jeffrey M'Ba, DT
Jeffrey M'Ba could be a breakout candidate on the 2024 NFL Draft circuit if he can put it together at Purdue. He was the top JUCO recruit in the 2022 cycle and signed with Auburn after racking up 13.5 tackles for loss and two sacks in his redshirt freshman season at Independence CC.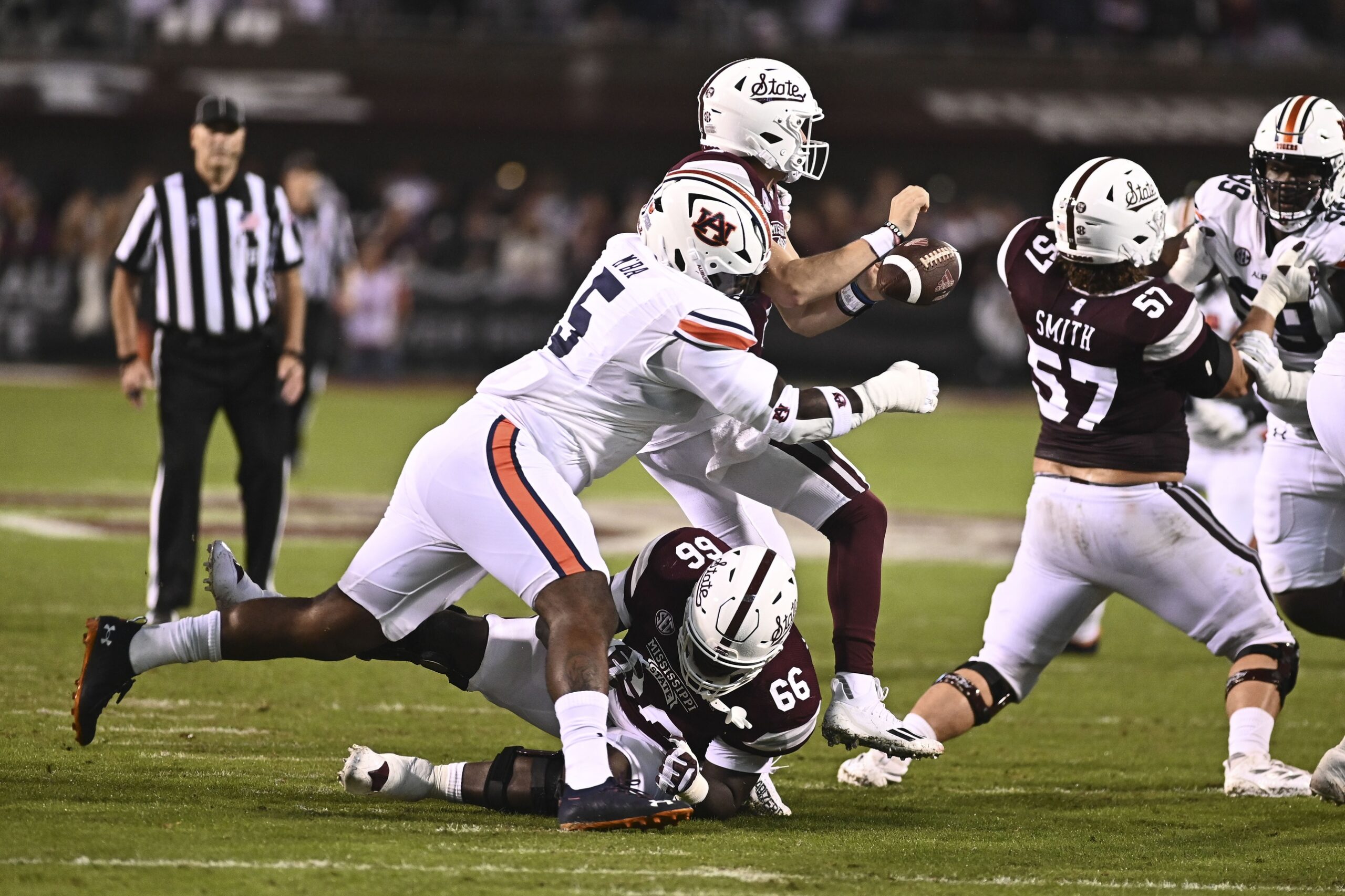 The 6'6″, 315-pound lineman would only notch nine tackles and a sack with the Tigers, but he has the length and explosiveness to reach greater heights with more time.
Malik Langham, DT
M'Ba is the most notable of three transfer interior defensive linemen added from the SEC — joined by Vanderbilt transfer Malik Langham and Arkansas transfer Isaiah Nichols.
Langham, in fact, has taken stops at both Florida and Vanderbilt, and was a four-star recruit out of high school before joining the Gators. The 6'4″, 310-pound defender had 12 tackles, two TFLs, and a sack in 2021 but hasn't eclipsed those numbers yet.
Isaiah Nichols, DT
Nichols comes from Arkansas to bolster Purdue's interior DL, giving them needed depth in the wake of Branson Deen's departure. Like Langham, Nichols' best year came in 2021, when he registered 21 tackles, 3.5 TFLs, 1.5 sacks, and a forced fumble for the Razorbacks. Nichols has good natural leverage and density with his frame, and he's shown glimpses of playmaking ability before.
Khordae Sydnor, EDGE
Much like Mockobee on the offensive side of the ball, Khordae Sydnor has the potential to be one of Purdue's best prospects in the 2024 NFL Draft, despite being only a redshirt sophomore.
The 6'5″, 265-pound Sydnor put up 22 tackles, 4.5 sacks, and 6.5 TFLs in a standout 2022 campaign, flashing dominance against draft-worthy talent. He's not the most flexible rusher, but he has an elite power element with his length and a hot motor in pursuit.
Kydran Jenkins, EDGE
Kyrdran Jenkins doesn't have the same projectable NFL upside that Sydnor has, but he's another potential PFA candidate worth keeping an eye on across from his teammate. Jenkins, who stands around 6'1″, 260 pounds, put up 32 tackles, eight TFLs, and four sacks in 2022. For his size, he's relatively stiff and lacks high-end strength and power, but he has enough burst off the line and has shown he can win with intentional hands.
OC Brothers, LB
In the 2023 NFL Draft cycle, Jalen Graham was a prospect who was lauded for his versatility, burst, and tenacity. He ended up being drafted by the 49ers, and OC Brothers could earn a selection with a similar combination.
Brothers, a 6'2″, 245-pound former Auburn transfer, is an explosive, twitched-up athlete with range and role flexibility. He has bend as a pass rusher and can slide outside against stacked alignments in coverage as well. Brothers' gap discipline must improve, but he's a legitimate riser candidate.
Jamari Brown, CB
Cory Trice was a unique athletic talent in Purdue's secondary, but his departure doesn't exhaust the team's length on the boundary. The Boilermakers also have Jamari Brown, a 6'3″, 205-pound former Kentucky transfer.
Brown has been a productive playmaker throughout his career. As a freshman at Kentucky in 2019, he logged seven pass breakups. Over the past two years at Purdue, he's accumulated 47 tackles, 3.5 TFLs, two sacks, three picks, nine deflections, and two forced fumbles.
Marquis Wilson, CB
Beyond Brown, there aren't many, if any, guarantees for Purdue's CB group. But don't be surprised if Marquis Wilson finds a way to enter the rotation.
Talent is on Wilson's side. The 5'11", 185-pound defender was a four-star recruit coming out of high school and signed with the Nittany Lions. In four years in Happy Valley, Wilson was never more than a rotational player, but he does have the quickness and athletic traits to carve out a role potentially.
Cam Allen, S
In Cam Allen, the Boilermakers have one of the Big Ten's premier defensive playmakers. Over the past two seasons, the 6'1″, 195-pound Allen has racked up 114 tackles, three TFLs, seven interceptions, nine pass deflections, and three fumble recoveries.
While Allen might not have quantifiably elite traits, he's a versatile and intelligent defender who can play two-high or single-high, and he has enough fluidity to work out of his pedal.
Sanoussi Kane, S
A perfect complement to Allen's ability up top, Sanoussi Kane returns to give Purdue one of the best safety tandems in the nation. Kane was Purdue's leading tackler in 2022 with 72 takedowns, and he also had 4.5 TFLs, a sack, three pass deflections, and two forced fumbles on his stat sheet.
At 6'0″, 215 pounds, Kane's bread-and-butter is searing downhill to provide support. He's a capable solo tackler whose sheer mass can pack a punch at contact.
Purdue Boilermakers Schedule
Week 1
BYE
Week 2
Sept. 2: vs. Fresno State Bulldogs
Week 3
Sept. 9: at Virginia Tech Hokies
Week 4
Sept. 16: vs. Syracuse Orange
Week 5
Sept. 22: vs. Wisconsin Badgers
Week 6
Sept. 30: vs. Illinois Fighting Illini
Week 7
Oct. 7: at Iowa Hawkeyes
Week 8
Oct. 14: vs. Ohio State Buckeyes
Week 9
BYE
Week 10
Oct. 28: at Nebraska Cornhuskers
Week 11
Nov. 4: at Michigan Wolverines
Week 12
Nov. 11: vs. Minnesota Golden Gophers
Week 13
Nov. 18: at Northwestern Wildcats
Week 14
Nov. 25: vs. Indiana Hoosiers
Week 15
BYE
Listen to the PFN Scouting Podcast
Listen to the PFN Scouting Podcast! Click the embedded player below to listen, or you can find the PFN Scouting Podcast on iTunes, Spotify, and all major podcast platforms.  Be sure to subscribe and leave us a five-star review! Rather watch instead? Check out the PFN Scouting Podcast on our Scouting YouTube channel.