I think this Sunday Night Football matchup could be more impactful to fantasy football matchups than most seem to believe and that has me excited for this game. Who can you feel comfortable starting?
Looking to make a trade in your fantasy league? Having trouble deciding who to start and who to sit? Check out PFN's Free Fantasy Football Trade Analyzer and Start/Sit Optimizer to help you make the right decision!
Pittsburgh Steelers at Las Vegas Raiders
Spread: Raiders -2.5
Total: 43
Steelers implied points: 20.2
Raiders implied points: 22.8
Kenny Pickett
His Week 2 performance was very much like that of Zach Wilson, a comparison you never want to be a part of. It was a very ordinary day despite a long touchdown pass to George Pickens, and I'm officially worried about him leading an offense that I had a lot of faith in this summer.
Gone is Pickett's desire to run. Last season, Pickett had a 10+ yard run in the majority of his starts, and this season, he has fewer rushing yards than I do. With Diontae Johnson on injured reserve and the lack of versatility, I fear that Pickett is now a low-end QB2 with limited upside, even in a primetime matchup.
Jimmy Garoppolo
I think Jimmy GQ is a fine NFL quarterback – that doesn't make him a fantasy football option. He has just 50 pass attempts through two weeks and offers next to nothing on the ground, so his rightful home in standard leagues is on the waiver wire.
MORE: Week 3 Fantasy Cheat Sheet
His contribution to the fantasy world? We saw him feed Jakobi Meyers in the Week 1 win, and 33.3% of his throws went Davante Adams' way this past weekend. I'm comfortable with him providing value to his receivers: don't confuse that with him having much in the way of fantasy value himself.
Najee Harris
We may have stumbled into evaluating Harris' fantasy value correctly. This summer, we thought he'd struggle to sustain value despite volume, and we cited his lack of explosion as one of the primary reasons.
Well, he has a 20-yard carry in consecutive games for just the second time in his career, but the volume is gone (19 touches this season). That said, we play a weekly game. My concerns throughout the entire season very much remain, but Harris is a top-15 running back in this advantageous matchup.
Buffalo running backs racked up 178 yards and two scores against these Raiders last week. With the Steelers even more focused on the ground attack than the Bills, Harris is a lineup lock for me (and a sell-high option should a big day happen) against a team he totaled 95 yards against with a team-high nine targets last season.
Jaylen Warren
With six targets in both games, Warren is slowly seeing his touch rate increase and has upped my confidence in him taking over this backfield with time. "With time" is the key portion of that evaluation. Harris is still the lead man in this backfield at this moment, and he should be the one to take advantage of this spot.
Warren remains my favorite of team RB2s (I have him ranked over Roschon Johnson, Dalvin Cook, Samaje Perine, etc.), but in the scheme of my overall rankings, he's a low-end Flex play.
Last season, Josh Jacobs had 131 rushes against 2-deep defenses (post-snap).

So far this season, he has had 5

It's going to be hard to get defenses to respect the Raiders' ability to win deep with Jimmy Garoppolo. pic.twitter.com/KWAkSrwH6y

— Ted Nguyen (@FB_FilmAnalysis) September 20, 2023
Josh Jacobs
When we kick this game off, it will have been 300 days since we last saw Jacobs break off a run of more than 20 yards. Forget a 20-yarder, Jacobs ran for -2 yards last week against the Bills. He saved you with five catches for 51 yards, but the offensive line concerns are a serious concern moving forward.
My projected usage for Jacobs keeps him as a low-end RB1, but I will certainly admit that he is trending in the wrong direction (not a top-25 RB in either week), The Raiders managed just 39 offensive snaps a week ago, something that should bounce back (fewest in a game over the past five season).
Assuming that is the case, and with the WR injuries, Jacobs should be able to reward his loyal fantasy managers in this spot.
Diontae Johnson
Johnson labeled himself as day-to-day in the middle of last week while the team suggested he'd miss upwards of a month. This is a good reminder that players are almost always more optimistic in their recovery than the teams are.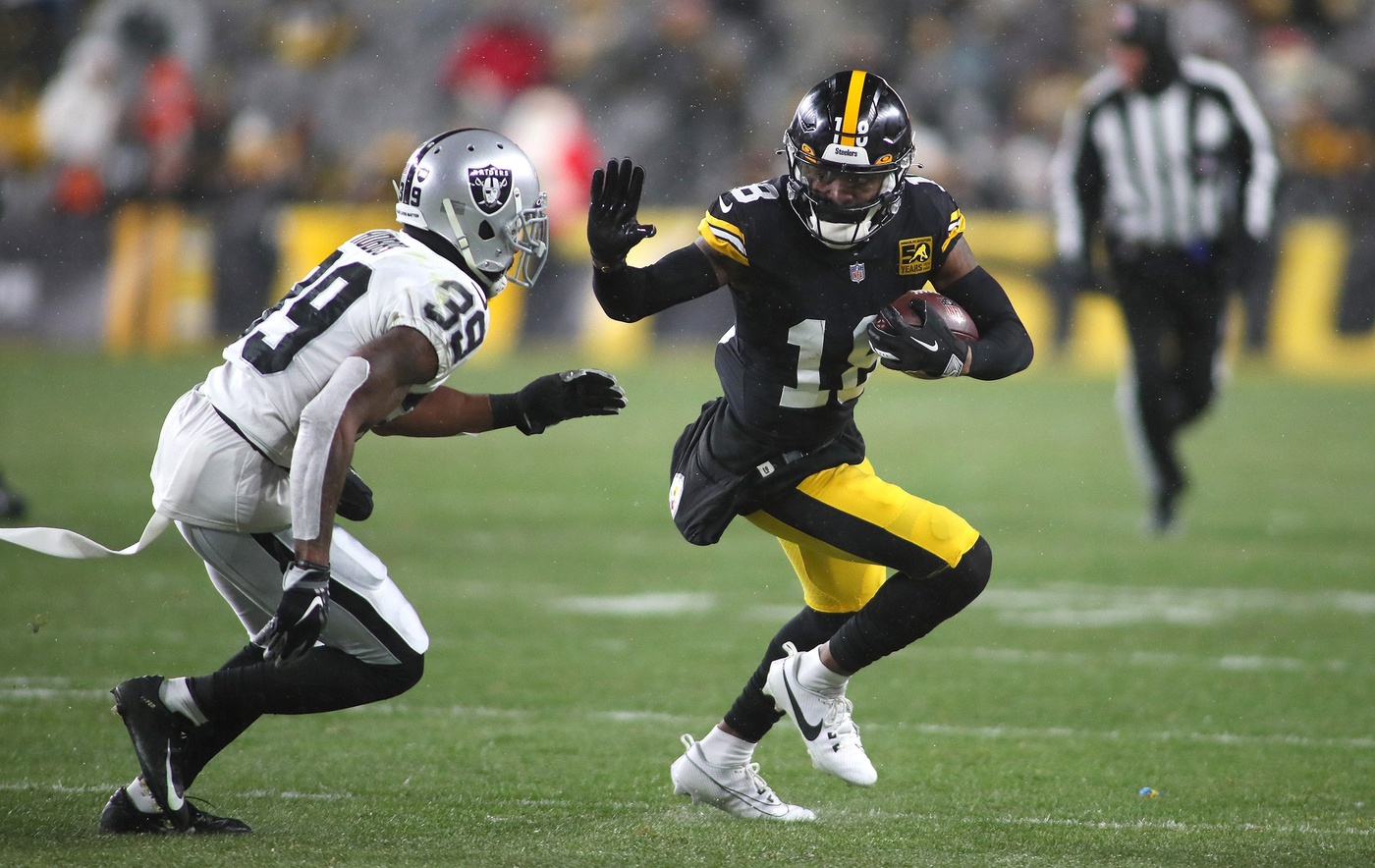 Before the Monday nighter last week, Johnson was placed on IR and will thus miss four games. The Steelers have their bye in Week 6, meaning Johnson's best-case scenario is a return to action in Week 7 against the Rams.
This isn't a bad buy spot if you have the roster space: Pittsburgh is going to have to score during the fantasy playoffs (IND, CIN, SEA), and that could lean toward Johnson's fantasy value peaking at the right time.
George Pickens
In the first game of Johnson's absence, Pickens earned 10 targets, good for a 34.5% share. That is all sorts of impressive for a receiver with per-target upside like that of Pickens, and that is why I have him ranked as a top-25 receiver in this matchup.
Against the Black and Silver last season, Pickens hauled in all five of his targets, the last of which was a game-winning touchdown in the final minute. Of course, we cannot count on the 71-yard catch-and-run splash play from Week 2, but banking on the combination of big play potential and target count is more than enough to land him in your starting lineup.
Davante Adams
All signs point to Adams being OK following being evaluated for a concussion after Week 2's loss in Buffalo. In that tough matchup, he finished with six catches for 84 yards and an opening-drive touchdown, again proving that stopping him for four quarters is among the tougher tasks in the sport.
MORE: Fantasy Football Week 3 WR Rankings
As hard as it is, it's not impossible. The Steelers proved that last season. Despite seeing a 30% target share when these two teams met, he gave fantasy managers just 2.5 fantasy points. With Jakobi Meyers likely back, the number of resources devoted to slowing Adams should be lesser and that has him in my top-15.
Jakobi Meyers
Josh McDaniels brought Meyers into his offense for a reason, and that reason was evident in the season-opening win in Denver (nine catches for 81 yards and two scores). The slot machine missed last week due to a concussion he suffered late in Week 1, and the hope is that he will be fully ready to go for this one. Assuming that is the case, Meyers should be considered a viable Flex option against a Steelers team that is traveling on a short week.
Hunter Renfrow
He filled in for Meyers (concussion) last weekend and saw nothing outside of a single target on Vegas' third-to-last play in a blowout loss in Buffalo. He scored against the Steelers last season, but he seems to be off the radar this season, and with him unable to earn looks last week, there's no reason he needs to be rostered in any format.
Pat Freiermuth
In Freiermuth, we have a perfect picture of what the backend of the tight end position is and why it is so frustrating. There is essentially no upside in his profile, but he is a threat when the Steelers are in close and one single catch could make him a top-12 producer at the position (see Week 1, TE9). If he fails to make that catch, he's useless (see Week 2, TE51)
He led this team in catches (seven) and receiving yards (66) in Week 16 against the Raiders last season. He caught 87.5% of his targets, while his teammates posted a 67.9% rate in that game. He's a fringe top-12 option for me with a floor as low as anyone on your radar.
Who Should You Start in Week 3?
Should You Start George Pickens or Garrett Wilson?
In theory, these are two receivers in similar spots: ultra talents that play in a passing game with limited upside. That said, I have more faith in Pickett delivering passes on time and/or down the field than I do Zach Wilson, and that has me siding with Pickens.
The matchup also doesn't hurt. While Wilson is dealing with a strong defense in New England, Pickens faces the worst red-zone defense in recent memory that was lit up by the Bills last week.
Should You Start Jakobi Meyers or DeAndre Hopkins?
I was a Meyers guy this preseason, and his Week 1 performance did nothing to sway me from those thoughts. All signs point to him being back at full strength, and with me believing that this game is higher scoring than most, that puts him in a spot to succeed.
MORE: Fantasy News Tracker
I can't say the same about Hopkins. The future Hall of Famer is stuck in a situation where the targets he sees simply aren't all that valuable. Tennessee doesn't generate a ton of scoring opportunities, and the targets he sees between the 20s aren't exactly spot-on throws.
I'm rolling with Meyers here — I have more trust in his per-target production and his offense as a whole.