The Pittsburgh Panthers always manage to produce an underrated amount of NFL Draft talent each cycle. What will their prospect production look like in the 2024 NFL Draft cycle, and how will their talent base impact their chances at the college football level?
Pittsburgh Panthers NFL Draft Prospects
Pat Narduzzi will be dealing with notable changes on both sides of the ball in 2023. On offense, 2022 transfer addition Kedon Slovis will be replaced by 2023 transfer addition Phil Jurkovec — another shift in the aftermath of Kenny Pickett's 2022 NFL Draft departure.
Luckily, Jurkovec won't be dealing with too many moving pieces around him. All five of the team's projected starters on the offensive line started games in 2022, and Jurkovec will also have weapons such as Rodney Hammond Jr., Konata Mumpfield, Bub Means, and Gavin Bartholomew coming back.
A greater volume of change occurred on the defensive side. The Panthers not only lost 2023 NFL Draft first-round pick Calijah Kancey but also witnessed the departures of Habakkuk Baldonado, Deslin Alexandre, Sir'Vocea Dennis, Brandon Hill, and Erick Hallett. Pittsburgh has more talent coming back up through the pipeline, but that core will be difficult to fully replace, and the new group may take their lumps early on.
Phil Jurkovec, QB
After Phil Jurkovec transferred from Notre Dame to Boston College and broke out in 2020, there was some fringe first-round hype for him in the ensuing offseason. But injuries and regression combined to stall Jurkovec's rise over the next two years.
Now, he's at Pittsburgh, aiming to resurrect his NFL Draft hopes. Jurkovec still struggles with field vision, decision-making, and accuracy, but he has a baseline level of tools worth keeping tabs on.
Rodney Hammond Jr., RB
Rodney Hammond Jr. might not have the physical profile to support a fruitful NFL career. But at the very least, he has a degree of versatility and multifaceted utility worth keeping an eye on.
At 5'9″, 195 pounds, Hammond is a compact and light-footed runner, and that style has amounted to 965 yards and 10 touchdowns over the past two seasons. While he hasn't always been able to showcase his receiving ability, Hammond can run routes out of the backfield.
Konata Mumpfield, WR
Konata Mumpfield was one of the most anticipated transfer additions in 2022 after racking up 63 receptions for 751 yards and eight touchdowns as a freshman at Akron. His stats dipped a bit, but the 6'1″, 185-pound receiver still has a very appealing skill set for evaluators to follow.
Mumpfield's an elastic mover with fantastic throttle freedom and sinking capacity as a route runner. He's also shown he can secure high-difficulty catches in-stride.
Bub Means, WR
Bub Means began his career as a special-teamer and DB at Tennessee then transferred to Louisiana Tech. After a respectable 2021 campaign, Means transferred again to Pittsburgh and logged 27 catches for 401 yards and two scores in 2022.
Despite his low production clip, Means has desirable traits. He's an explosive vertical athlete at 6'2″, 215 pounds, who shows glimpses of stellar zone awareness, and he can snare high passes with sharp coordination.
Gavin Bartholomew, TE
Gavin Bartholomew exploded onto the scene with Kenny Pickett as his QB in 2021, putting up 28 catches for 326 yards and four touchdowns before experiencing a slight regression in 2022. Bartholomew is still refining his skill set as a receiver, but he's an exceptional athlete at 6'5″, 250 pounds. He can block off of motions and accrue RAC yards in space with his powerful frame and smooth evasive ability.
Matt Goncalves, OT
Don't be surprised if Matt Goncalves enters the early-round conversation at the OT position. The well-proportioned 6'6″, 330-pound blocker made starts at both left and right tackle in 2022, earning third-team All-ACC honors in the process.
Goncalves shoots off the line with equitable explosiveness and energy, and is an extremely physical finisher who can slab defenders at contact with high-level hand force. He can also pass off stunters and absorb power.
Branson Taylor, OT
The Panthers lost veteran LT Carter Warren to the New York Jets in the 2023 NFL Draft. They'll now look to replace him with up-and-coming starter Branson Taylor.
At 6'5″, 330 pounds, Taylor isn't the athlete that Warren was or that Goncalves is. Taylor's a bit stiff and high-cut at his size — a build that can contribute to choppy weight transfers and poor pad level. But he's undeniably powerful and can improve as he refines his technique.
Jake Kradel, C
In a strong 2022 campaign, Jake Kradel proved he could play guard or center. But now, with Owen Drexel gone, he'll be called upon to take the starting center job.
At 6'3″, 305 pounds, Kradel might be a potential sleeper at the center position in the 2024 NFL Draft. He has good lateral mobility for his size and is naturally well-leveraged. But Kradel can also maintain balance while aligning his base to absorb contact, and he attacks the torso with tight hands.
David Green, DT
The association bias that ties Pittsburgh to linemen like Aaron Donald and Calijah Kancey perhaps provides an unfair expectation for other undersized defensive linemen. To be clear, David Green doesn't have the same kind of athleticism, flexibility, or shock in his hands. However, in 2022, he logged 3.5 sacks and 4.5 TFLs.
Green does have great natural leverage and a degree of torque freedom, and he'll have a chance to keep building on that in 2023.
Deandre Jules, DT
Deandre Jules was a player I mentioned as a potential breakout candidate ahead of the 2022 regular season. He ended up maintaining more of a rotational role in 2022, accounting for 2.5 TFLs and a sack, but I'm still bullish on the potential he has.
Jules carries his 6'3″, 310-pound frame incredibly well, has visible twitch and lateral explosiveness, and great proportional length. With Kancey gone, keep an eye on Jules.
Dayon Hayes, EDGE
Losing Habakkuk Baldonado and John Morgan will hurt the Panthers on the edge, but the hope is that Dayon Hayes can take a step up and fill the void. Hayes has nine sacks and 16 TFLs across the past three campaigns, so he hasn't been a no-show. But there's still a sense that the 6'3″, 265-pound Hayes has more upside to unearth. He's impressively quick and flexible for his size and can rush vertically or stunt inside.
Bangally Kamara, LB
Of the Panthers' LB prospects in the 2024 NFL Draft cycle, senior Bangally Kamara has the most tangible developmental upside. 2022 was a career year for Kamara, who accumulated 49 tackles, three TFLs, a sack, a pick, and seven deflections.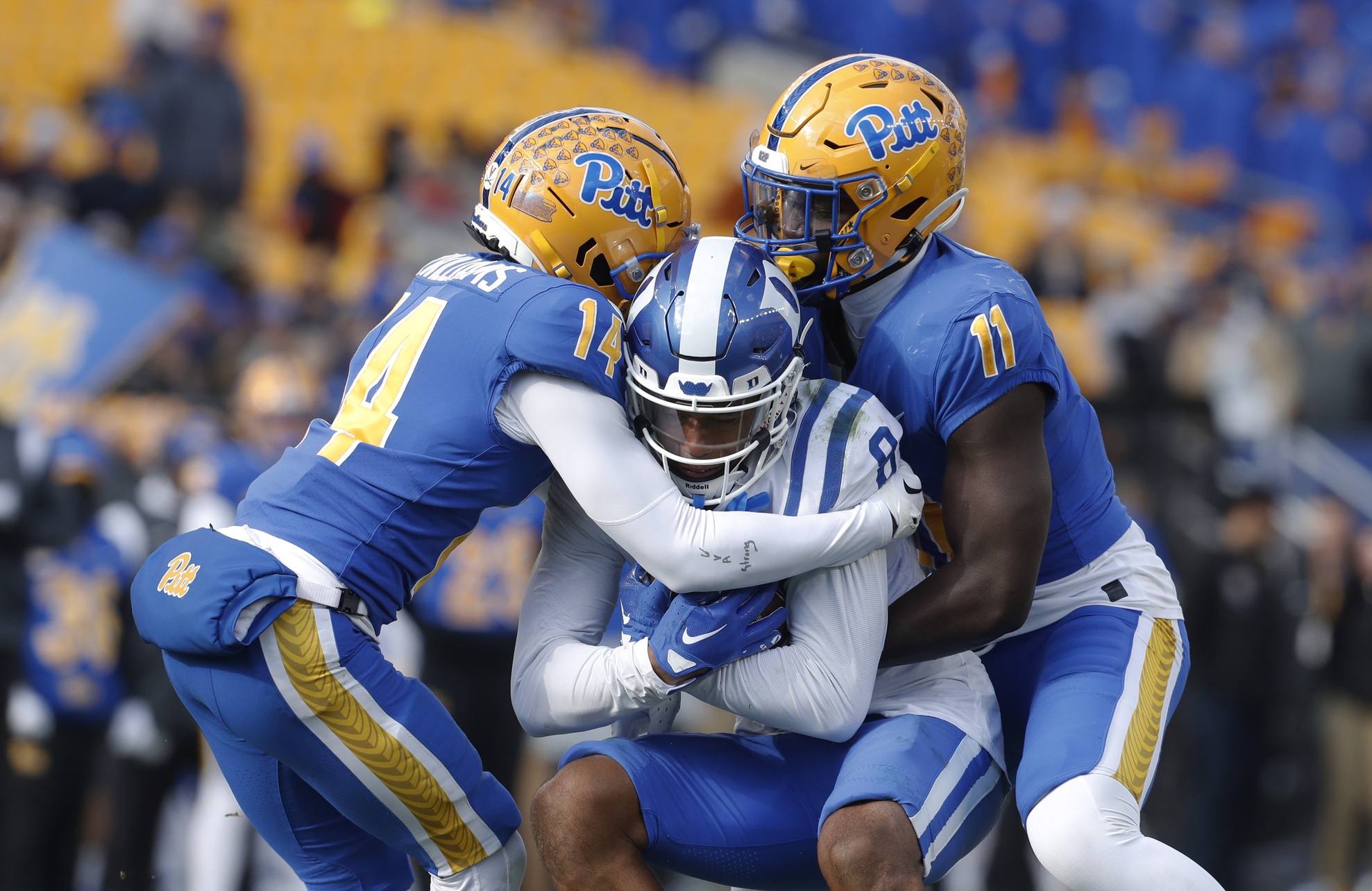 Even with his production, he's still growing. Kamara needs to play with more control and discipline and can improve his lateral pursuit angles in space. But at 6'2″, 230 pounds, he's a turbocharged athlete who glides to the ball.
Shayne Simon, LB
A returning linebacker for Pittsburgh is former Notre Dame transfer Shayne Simon. In his first season with the Panthers, Simon fared well, logging 46 tackles, 5.5 TFLs, two sacks, and six pass deflections.
Though he's more smooth than explosive, Simon has very good functional coverage mobility, which can help him counteract his lack of high-end strength at contact. Simon's natural coverage utility gives him some appeal in the modern era.
Solomon DeShields, LB
With Sir'Vocea Dennis having moved on to the NFL, expect Solomon DeShields to take on an increased role in his stead in 2023. DeShields flashed promise as an attacking LB at 6'3″, 225 pounds, racking up four sacks and five TFLs in 2022. That size and athleticism should allow him to invade gaps in the same way that Dennis did. With more opportunities, he could be a candidate to ascend.
M.J. Devonshire, CB
The Panthers have a trio of quality sleeper CB prospects, but the one with the highest upside is assuredly fifth-year senior M.J. Devonshire. Though a bit undersized at 5'11", 190 pounds, Devonshire is a playmaker who totaled three picks and eight deflections in 2022.
Devonshire's closing speed and zone awareness make him a constant danger for careless quarterbacks. And although his disruption radius isn't elite, he can hawk over outs and corner routes.
A.J. Woods, CB
Over the past two seasons, A.J. Woods has two interceptions and 20 pass deflections. In 2022, he was one of the ACC's leaders with 13 deflections. At 5'10", 190 pounds, Woods is a bit lighter, and he's relatively easy to work off-balance with his lighter frame. But he's ultimately a feisty, fleet-footed cover man with quick reaction to stimulus, and he's very authoritative at the catch point — showing an instinct for getting his head around to track.
Marquis Williams, CB
Quietly, the 5'9″, 180-pound Marquis Williams has been a mainstay in Pittsburgh's secondary for three seasons now. Since 2020, Williams has built up 79 tackles, three TFLs, five picks, and eight pass deflections — including two pick-sixes.
Williams is a light and wiry defender but moves with high energy and has shown to read route concepts and jump passes. The sixth-year senior is a crucial cog of the secondary in 2023.
Javon McIntyre, S
In the wake of Brandon Hill's and Erick Hallett's departures from Pitt, Javon McIntyre becomes the next man up at safety. The 6'0″, 195-pound redshirt sophomore earned his first start at the end of the 2022 campaign and saw a major uptick in snaps over the final two games. In that short window, he accrued nine tackles, 1.5 TFLs, two picks, and three deflections — showing both support and coverage upside.
Ben Sauls, K
Entering his fourth season, Panthers kicker Ben Sauls may have earned some attention from scouts with his dependability in 2022. The 5'10", 185-pound special-teamer converted on 20 of 24 field-goal attempts last year, as well as all 47 of his extra points.
Even more impressive was his consistency in the upper ranges. Sauls made six out of seven of his 30+ attempts, eight out of nine of his 40+ attempts, and had a season-long of 51 yards.
Pittsburgh Panthers Schedule
Week 1
BYE
Week 2
Sept. 2: vs. Wofford Terriers
Week 3
Sept. 9: vs. Cincinnati Bearcats
Week 4
Sept. 16: at West Virginia Mountaineers
Week 5
Sept. 23: vs. North Carolina Tar Heels
Week 6
Sept. 30: at Virginia Tech Hokies
Week 7
BYE
Week 8
Oct. 14: vs. Louisville Cardinals
Week 9
Oct. 21: at Wake Forest Demon Deacons
Week 10
Oct. 28: at Notre Dame Fighting Irish
Week 11
Nov. 4: vs. Florida State Seminoles
Week 12
Nov. 11: vs. Syracuse Orange
Week 13
Nov. 16: vs. Boston College Eagles
Week 14
Nov. 25: at Duke Blue Devils
Week 15
BYE
Listen to the PFN Scouting Podcast
Listen to the PFN Scouting Podcast! Click the embedded player below to listen, or you can find the PFN Scouting Podcast on iTunes, Spotify, and all major podcast platforms.  Be sure to subscribe and leave us a five-star review! Rather watch instead? Check out the PFN Scouting Podcast on our Scouting YouTube channel.