The Philadelphia Eagles exceeded all expectations last year under second-year head coach Nick Sirianni. After a first-round exit in the previous season's playoffs, the Eagles took a massive step forward, dominating the regular season en route to a Super Bowl appearance. How does the Eagles' schedule shape up in 2023?
Philadelphia Eagles Schedule
Week 1: at Patriots
CBS | 4:25 p.m. (Sunday, Sept. 10)
Week 2: vs. Vikings
Prime | 8:15 p.m. (Thursday, Sept. 14)
Week 3: at Buccaneers
ESPN | 7:15 p.m. (Monday, Sept. 25)
Week 4: vs. Commanders
FOX | 1 p.m. (Sunday, Oct. 1)
Week 5: at Rams
FOX | 4:05 p.m. (Sunday, Oct. 8)
Week 6: at Jets
FOX | 4:25 p.m. (Sunday, Oct. 15)
Week 7: vs. Dolphins
NBC | 8:20 p.m. (Sunday, Oct. 22)
Week 8: at Commanders
FOX | 1 p.m. (Sunday, Oct. 29)
Week 9: vs. Cowboys
FOX| 4:25 p.m. (Sunday, Nov. 5)
Week 10: BYE
Week 11: at Chiefs
ESPN | 8:15 p.m. (Monday, Nov. 20)
Week 12: vs. Bills
CBS| 4:25 p.m. (Sunday, Nov. 26)
Week 13: vs. 49ers
FOX | 4:25 p.m. (Sunday, Dec. 3)
Week 14: at Cowboys
NVC | 8:20 p.m. (Sunday, Dec. 10)
Week 15: at Seahawks
FOX | 4:25 p.m. (Sunday, Dec. 17)
Week 16: vs. Giants
FOX | 4:30 P.M. (Monday, Dec. 25)
Week 17: vs. Cardinals
FOX | 1 p.m. (Sunday, Dec. 31)
Week 18: at Giants
TBD | TBD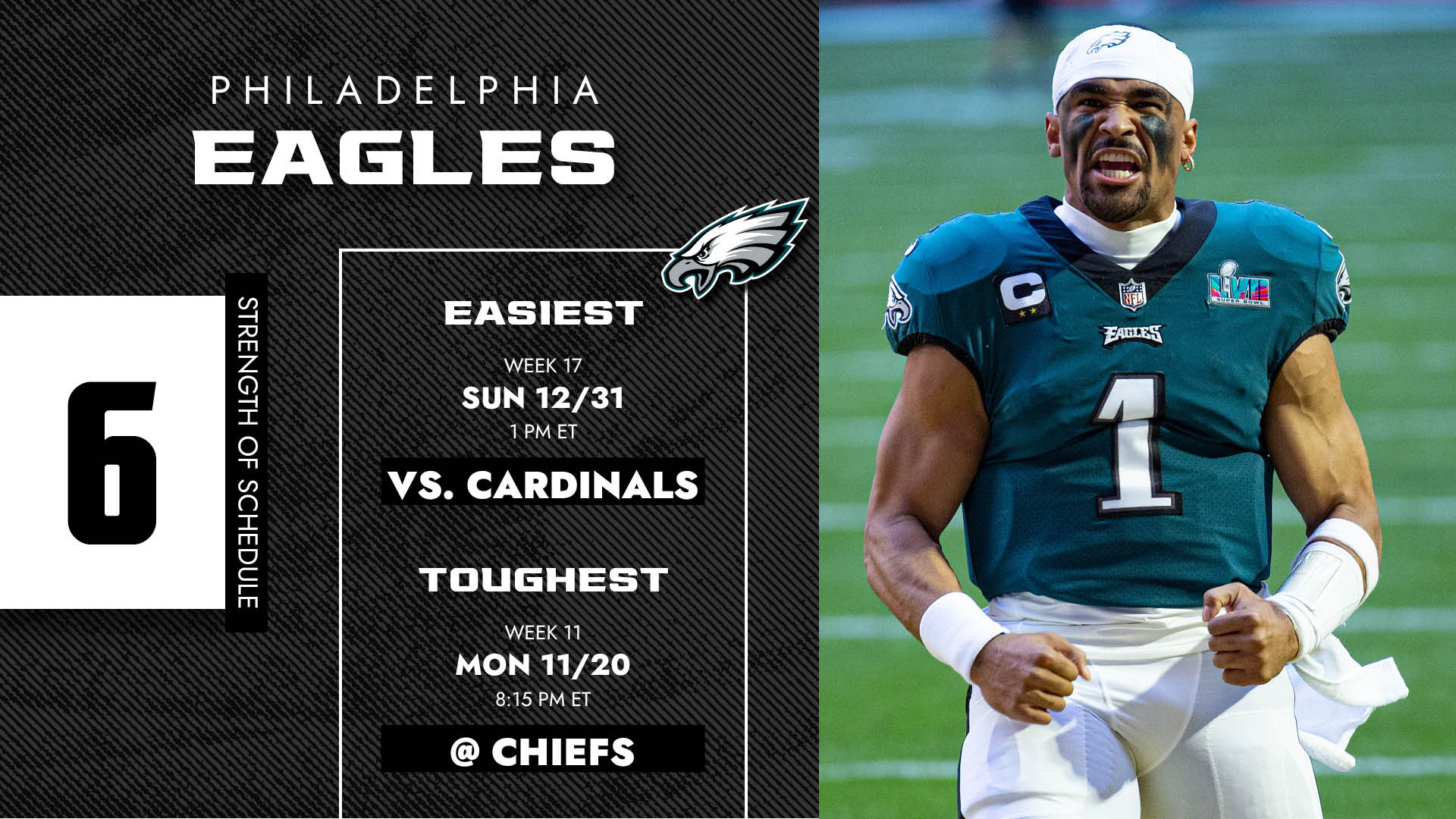 Eagles Strength of Schedule
Typically, the previous year's Super Bowl teams are saddled with quite a difficult schedule, but things appear to be working out a bit more in the Eagles' favor. Based on projected win totals, Philadelphia has the 16th-toughest schedule amongst NFL teams. Their opponents have a combined average projected win total of 8.68.
MORE: FREE NFL Mock Draft Simulator (With Trades)
PFN's Strength of Schedule has the Eagles with the sixth hardest schedule in the league.
Eagles Record Prediction
The Eagles entered this year with one of the most loaded rosters in the league on both sides of the ball from top to bottom. Since their Super Bowl defeat, they've only gotten better.
Prior to his shoulder injury last season, Jalen Hurts was the betting favorite to win MVP. This team is poised to win a bunch of games again in 2023.
Fortuitously, Philadelphia has a schedule that is average in difficulty, which is quite uncommon for division winners. As we know all too well, anything can happen in the NFL. That's why they play the games. With that said, the Eagles have a whopping nine games they should easily win.
They'll probably drop one of them, as that's how football goes, but make no mistake about it, the Eagles will be one of the winningest teams in the NFL this season.
MORE: 2023 Top Quarterbacks in the NFL
Given how good of a team they are, there's not a single game we can say the Eagles are likely to lose. The rest of their games could reasonably go either way.
In previous years, facing the AFC East would mean losing to the Patriots, but either beating or having a strong chance to beat everyone else. This year, it projects to be one of the best divisions in football.
After 14 wins last season (tied with the Chiefs for most in the league), it would be unrealistic to project the Eagles to get there again. Even so, barring catastrophic injuries, Philadelphia is a virtual lock to win at least 10 games and make the playoffs.
Their Vegas win total is currently at 10.5, with the over heavily juiced. They have the talent to win 13-14 games again, but their absolute floor should be 10-11.
Projected Record: 12-5