The Carolina Panthers head into organized team activities with Sam Darnold at the top of their quarterback totem pole. While having a set QB1 is ideal for most teams, Darnold — who has routinely stumbled since being selected third overall in the 2018 NFL Draft by the New York Jets — isn't a slam-dunk signal-caller with Carolina.
How Sam Darnold's status as Panthers' QB1 impacts the 2022 season and beyond
Darnold was acquired by the Panthers last offseason for a trio of picks — including second- and fourth-round selections in 2022 — and the franchise immediately picked up his fifth-year option for this season. Set to make a guaranteed $18.9 million this season, the Panthers essentially volunteered to have Darnold as their starting quarterback in 2022 without getting a taste of what he brought to their offseason last year.
The Panthers (rightfully) passed on this year's QB class in the first two rounds after failing to land potential franchise-altering QB Deshaun Watson in a trade. So their options came down to Darnold or a disgruntled, well-paid Baker Mayfield in a trade with Cleveland. The issue with acquiring Mayfield is that Darnold is already on the books with a comparable salary. Dedicating over $37 million to a QB competition would be asinine at best, jaw-droppingly foolish at worst.
So, as of now, Darnold remains at the top of the depth chart. While the Panthers probably aren't stoked about their QB situation, they have tried to improve Darnold's surroundings after he was sacked 35 times in 12 games (11 starts). The team selected NC State OT Ikem Ekwonu with the sixth overall pick, and he should help keep Darnold upright this season.
Last year, Darnold threw for 2,527 yards, nine touchdowns, and 13 interceptions. That horrific stat line was accomplished largely without former Pro Bowl running back Christian McCaffrey, who is expected to return with a clean bill of health. Darnold will continue to be aided in the passing game with longtime teammate Robby Anderson and standout DJ Moore at wideout. Carolina also signed former Baltimore Ravens center Bradley Bozeman to improve the blocking directly in front of Darnold this season.
While Darnold clearly controls the reins at QB heading into camp, he'll be pushed by third-round pick Matt Corral, who fell in the draft presumably due to off-the-field concerns. Corral is a plus-athlete at the position, and he has an arm that makes all of the throws.
If Darnold struggles early on — which based on his NFL history remains a highly likely scenario — the Panthers could turn to the youngster. That said, Darnold, who turns 25 next month, should get a worthwhile period to show he can finally deliver on his draft promise, albeit with his second NFL team. – Mike Kaye, PFN Lead NFL Reporter
How Panthers' QB situation impacts fantasy football mainstays in Carolina
Do you remember that fun three-week window early last season where Darnold ripped off three-straight 300-yard passing games and people started to wonder if he was back? Yeah, those were fun times. Yet, as we know, Darnold was not back. I can't even say he ever "made it" in the first place. Nevertheless, if Darnold can turn it around in Year 2 with the Panthers, fantasy football managers could be rewarded for their confidence on draft day.
Darnold has one of the easiest jobs in the NFL. Turn around and hand the ball off to McCaffrey. Otherwise, check the ball down and let McCaffrey do his thing in open space. Sure, this is a massive oversimplification, but the job of getting the ball to him will be the primary objective for Matt Rhule every week.
Since 2018, McCaffrey has averaged 25.6 fantasy points per game while finishing as an RB2 or better in 90% of his games. In 2021, he scored 24+ points in four of seven outings. But therein lies the issue that has plagued McCaffrey the last two seasons. Since 2020, he's struggled to stay on the field, missing 23 games.
I wouldn't be surprised if McCaffrey's volume takes a slight hit as the team tries to keep him healthy, rotating in Chuba Hubbard and D'Onta Foreman. Whether or not you are "in" on McCaffrey has to do with your confidence in him staying healthy, not in Darnold's hopeful transformation.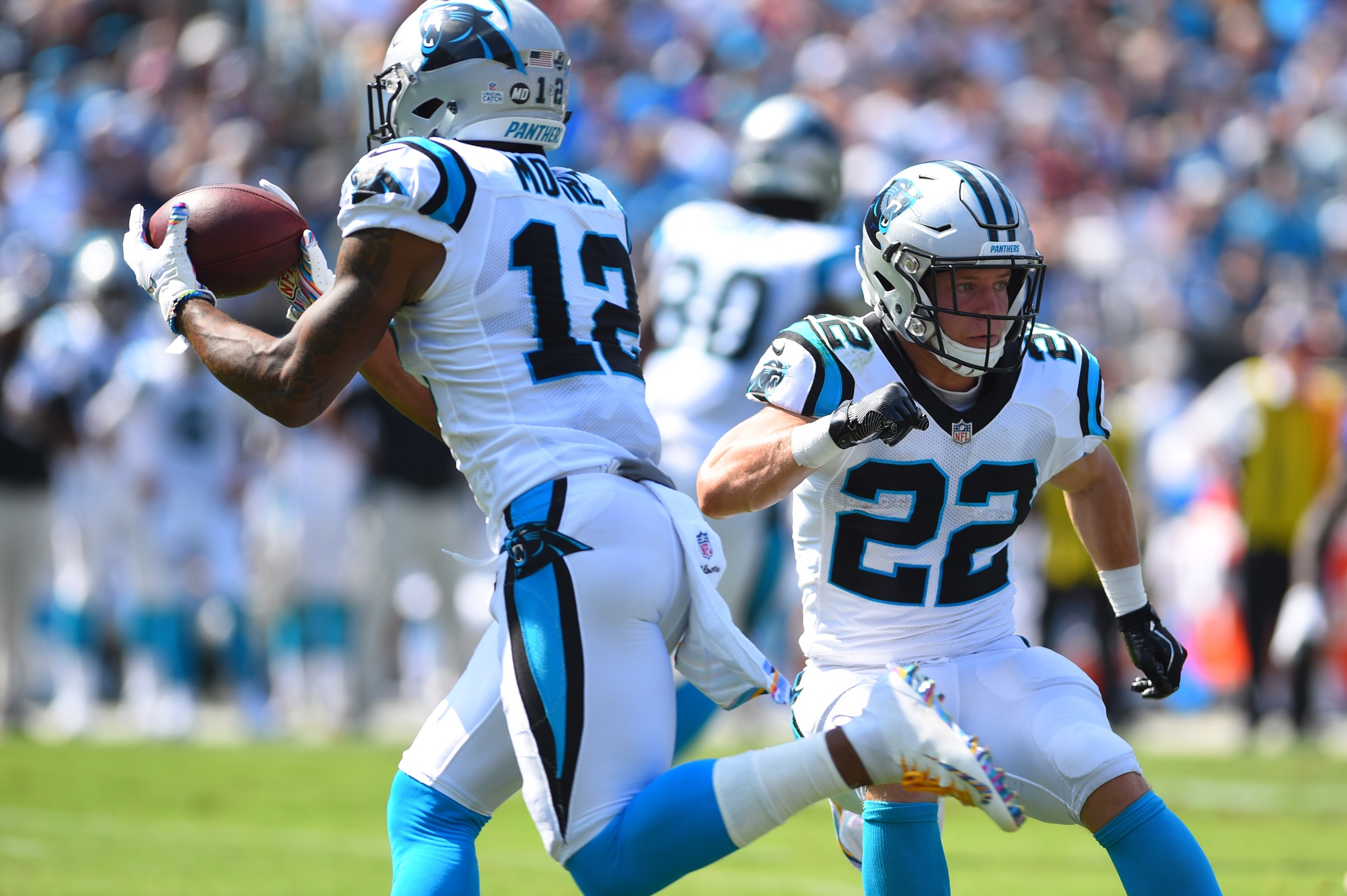 The player most likely to be impacted by the play of Darnold is Moore. In Moore, Carolina has a bona fide No. 1 target. He is coming off his third straight season of 1,200+ total yards — the longest streak among NFL wide receivers.
Even in a year where Darnold struggled and missed time, Moore ended the season with 163 targets (sixth-most) and finished 10th in yards (1,157). He was also fourth in individual target share (28.35%), third in air yards (1,727), and was the WR9 in xPPR (expected fantasy points) at 15.46.
However, due to inefficiency, he was outside the top 150 at his position in FPOE (fantasy points over expectation) at -1.67 per game. However, what is missed is over the first four weeks when Darnold was dealing, Moore was one of the most efficient receivers at over +4 FPOE/game.
Thus, the volume is there for Moore to dominate in 2022 should the efficiency of his targets increase towards the league average. If Darnold can do that, both could have stellar 2022 campaigns. Moore remains one of my favorite targets in drafts based on his ADP. – Tommy Garrett, PFN Senior Fantasy Analyst
How the Panthers' QB situation impacts Carolina's betting odds
As of May 23, the Panthers' season win total was at six on DraftKings Sportsbook. Only the Houston Texans, New York Jets, Atlanta Falcons, and Seattle Seahawks have a lower over/under. While the Panthers have talented offensive players like Moore and McCaffrey, almost the entirety of the reason for their grim outlook is their quarterback situation.
I've already placed a wager on the under. This team hasn't won more than five games in a season since 2018, and it's arguable that Darnold is Carolina's worst starting QB since Jimmy Clausen in 2010.
There's still a chance the Panthers trade for Baker Mayfield or Jimmy Garoppolo. Either would undoubtedly cause sportsbooks to bump their win total up a bit. However, if the Panthers do enter the season with Darnold as their starter, I'm expecting them to go under six wins and be underdogs in almost every game they play this season. – Jason Katz, PFN Fantasy and Betting Analyst
How Carolina's quarterback situation could impact their 2023 NFL Draft plans
The initial premise for the 2023 NFL Draft is simple: Carolina needs a franchise quarterback. But the solution for acquiring such a QB remains elusive. The Panthers traded away 2022 draft capital to gamble on Darnold. That hasn't worked out, and while Darnold may get one more chance to prove himself, the odds of things finally clicking for him are startlingly low.
It makes sense, then, to turn our eyes to the Panthers' 2022 third-round selection in Matt Corral. Corral has upside, and if Darnold continues to disappoint early in 2022, the rookie signal-caller could see his name called sooner rather than later. But while Corral has potential with his athleticism, competitive toughness, and elastic arm, his film didn't do him any favors in his draft day descent.
Corral's film at Ole Miss displayed upside, and not much else — the former Rebel still has a long way to go with his progression work and independent decision-making. Barring a breakout rookie season in relief of Darnold, he shouldn't preclude the Panthers from looking at QB early in 2023.
That's where the silver lining comes for Carolina. Early on, the 2023 NFL Draft quarterback class is looking considerably stronger at the top, with Ohio State QB C.J. Stroud leading the way.
Stroud very well could have been QB1 of the 2022 class, had he been eligible. He's a good-enough athlete with an excellent arm, but the operational part of his game is even more impressive, especially for his age. He's smart, disciplined in the pocket, exceedingly accurate, and he can use his eyes to manipulate DBs like a pro.
Beyond Stroud, there's also Bryce Young, as well as high-upside passers like Will Levis, Spencer Rattler, and Anthony Richardson. If Carolina falters with subpar QB play, they could have a top 5-10 pick amidst a regime change. And they'd be in position to capitalize on what should be a stronger QB class. – Ian Cummings, PFN NFL Draft Analyst