Fantasy football is more than just the weekly head-to-head games we've all grown to love. On Underdog, fantasy managers can put their player-projection skills to the test by predicting player stat lines. Here are my top Underdog plays for the full Sunday slate of Week 3 games.
Looking to make a trade in your fantasy league? Having trouble deciding who to start and who to sit? Check out PFN's Free Fantasy Football Trade Analyzer and Start/Sit Optimizer to help you make the right decision!
Top Underdog Pick'ems for Week 3
Underdog Pick'ems allows fantasy managers to predict stat lines and fantasy-point totals for almost all fantasy-relevant players. You can make two picks that pay out 3x, even money, or add more selections to your entry for higher payouts.
The levels are 3x, 6x, 10x, and 20x, progressing with each additional pick 'em you add to your entry. Let's take a look at this week's Monday night Underdog Pick'ems.
MORE: Fantasy News Tracker
For the full Sunday slate, there are obviously far more games to choose from than the individual prime-time games. Underdog entries are limited to five pick'ems. Most weeks, there will be more than five pick'ems I like. Additionally, hitting a five-pick 'em entry is hard. I don't want to consistently go 3-2 or 4-1 and lose.
As a result, I will limit this list to my favorite picks of the week. I will try and keep it to no more than 10 maximum. At the bottom of this article, I will provide my pick 'em entry, which will be three to four of my top pick'ems.
Justin Jefferson Higher Than 0.5 Touchdowns
It is about time for Justin Jefferson to score a touchdown. He hasn't found the end zone yet this season. Last week, he narrowly missed scoring when he reached for the pylon and lost control of the ball in the process, causing a touchdown. This is the week Jefferson scores against a Los Angeles Chargers defense that can't stop anyone through the air.
Jerry Jeudy Higher Than 48.5 Receiving Yards
Last week was Jerry Jeudy's first game back from a preseason hamstring strain. He only caught three of five targets for 25 yards. But it was also a very weird game, with Marvin Mims and Brandon Johnson tallying multiple long receptions.
Look for the Broncos to get back to basics this week and target their top receiver. Jeudy is another week healthier, and the game environment is excellent, with the Broncos as touchdown underdogs in Miami.
Jahmyr Gibbs Lower Than 0.5 Touchdowns
This pick 'em essentially presumes it is a coin flip as to whether Jahmyr Gibbs will score this week. Nothing has changed with the David Montgomery injury — at least not for Gibbs' chances of scoring.
Gibbs is not suddenly going to see goal-line carries. That role will go to Craig Reynolds. Essentially, we are getting a discount here on the presumption that Gibbs has a greater chance of scoring because Montgomery is out. That's simply not the case.
Travis Etienne Jr. Higher Than 69.5 Rushing Yards
The Houston Texans have been one of the worst run defenses in the league for multiple years now. They just allowed Zack Moss to run for 88 yards on 18 carries.
In Week 1, Travis Etienne Jr. saw 18 carries in an easy home win against the Colts. He ran for 77 yards. Look for a similar performance this week against an even worse run defense.
Jerome Ford Lower Than 45.5 Rushing Yards
It was truly awful what happened to Nick Chubb last week. First and foremost, I hope we see him back and fully healthy next season.
With Chubb out, Jerome Ford took over and did his best Chubb impression, ripping off 106 yards on 16 carries. Now, his rushing projection is set at a paltry 45.5. What gives? The Titans run defense. That's what.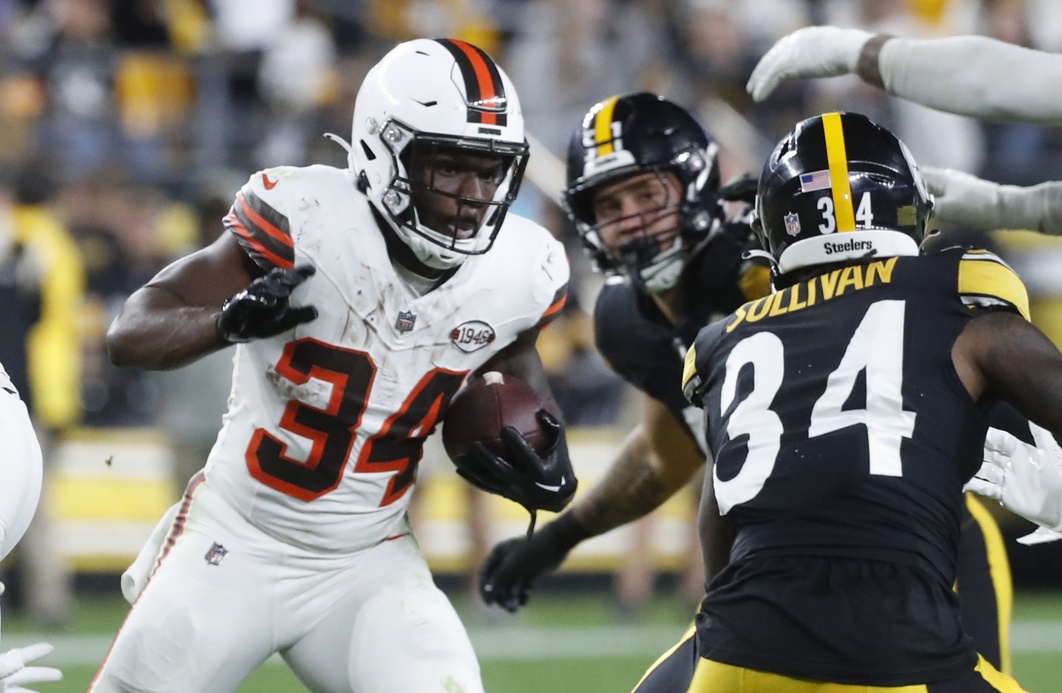 Through two weeks, the Titans have held Jamaal Williams to 45 yards on 18 carries and Joshua Kelley to 39 yards on 13 carries.
It is quite the coincidence that for the third consecutive week, the Titans are facing a backup running back filling in for the starter. It won't be a coincidence when the end result is the same.
Ford is a good player. He will be good. He just won't be efficient on the ground this week. Plus, if Kareem Hunt mixes in at all for even a handful of carries, it will be even more difficult for Ford to surpass this number.
Garrett Wilson Lower Than 47.5 Receiving Yards
There are a few reasons I like this prop. First, Garrett Wilson's usage has been awful since Zach Wilson took over. He totaled 34 yards in Week 1, and if not for one spectacular individual feat of skill in Week 2, he would've caught one pass for 15 yards.
Second, we just saw Bill Belichick erase Tyreek Hill, holding him to just 40 yards. Wilson is the only Jets pass catcher who evokes fear in opposing defenses. He will scheme to shut Wilson down.
Third, I think the New York Jets win this game. Unless they have a negative game script, look for them to try and win with ball control and defense. That means running and short passing. It will be on the defense to win it and the offense to not lose it. I don't expect many downfield shots to Garrett Wilson.
Zach Wilson Lower Than 29.5 Pass Attempts
In a game where the Jets went to overtime, Zach Wilson did not come close to 30 pass attempts. In a game in which the Jets had a negative game script throughout and lost by 20, Wilson did not get to 30 pass attempts.
MORE: Week 3 Fantasy Football Cheat Sheet
This week, the Jets are small home underdogs against the New England Patriots. I like the Jets to win this game. That means they won't be trailing and throwing. They can win it with running and defense, which is exactly how I think this game goes.
Wilson will not need to throw the ball 30 times. So he won't.
Roschon Johnson Higher Than 25.5 Rushing Yards
There's just too much smoke surrounding a Roschon Johnson takeover of the Chicago Bears backfield to ignore this line. Johnson carried the ball five times for 20 yards in Week 1 and four times for 32 yards in Week 2. He's averaging a 40% snap share.
Johnson has already proven he doesn't need much in the way of volume to surpass this number. If the reports of him seeing increased work are true, he could easily sail past 22.5 yards on volume alone. He's also fully capable of doing it on two carries.
Isiah Pacheco Higher Than 55.5 Rushing Yards
The Chicago Bears might have the worst run defense in the NFL. Last week, Isiah Pacheco ran for 70 yards on just 12 carries against a much better Jacksonville Jaguars run defense. Meanwhile, the Bears allowed one of the least efficient running backs in the league, Rachaad White, to run for 73 yards.
The Kansas City Chiefs are projected to win this game rather easily. They should be able to run more than usual. But I don't think Pacheco will need that many carries to go higher than his projection.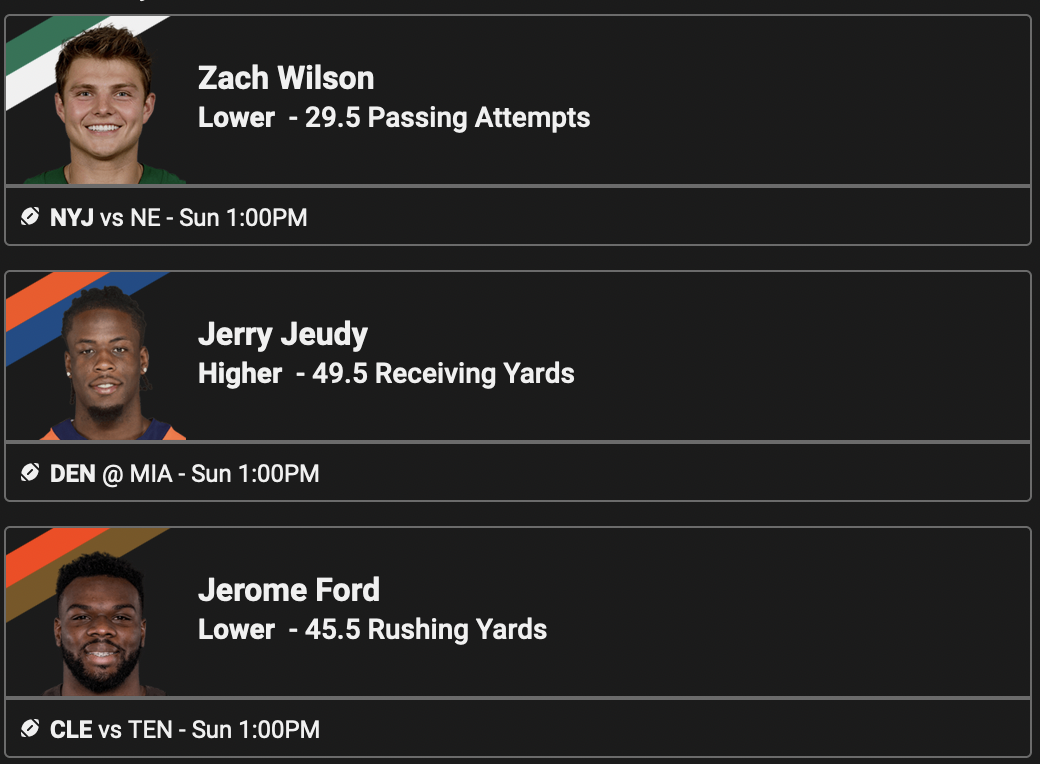 Listen to the PFN Fantasy Podcast
Listen to the PFN Fantasy Podcast! Click the embedded player below to listen, or you can find the PFN Fantasy Podcast on iTunes, Spotify, and all major podcast platforms.  Be sure to subscribe and leave us a five-star review! Rather watch instead? Check out the PFN Fantasy Podcast on our Fantasy YouTube channel.