Fantasy football is more than just the weekly head-to-head games we've all grown to love. On Underdog Fantasy, managers can put their player-projection skills to the test by predicting player stats. Here are my top Underdog Pick'em plays for this week's Saturday games.
Top Underdog Pick'ems for Week 15 Saturday Games
Underdog Pick'ems allows fantasy managers to predict stats and fantasy-point totals for almost all fantasy-relevant players. You can make two picks that pay out 3x your entry fee or add more selections to your entry for higher payouts.
The levels are 3x, 6x, 10x, and 20x, progressing with each additional pick'em you add to your entry. Let's take a look at this week's Underdog Pick'ems.
Matt Ryan Higher Than 1.5 Passing Touchdowns
For as bad as Matt Ryan has looked this season, he's still thrown multiple touchdown passes in four games. While that's far from impressive, it's worth noting when he did it.
Ryan threw multiple touchdowns against the Chiefs, Titans, Jaguars, and Cowboys. Three of those below-average defenses against the pass. Two of them are downright awful.
MORE: Vikings vs. Colts DFS Picks
The Vikings allow the most passing yards per game. While they don't allow the most passing touchdowns, they do allow 1.5 per game. Touchdowns correlate with yardage.
This is a game where the Colts should skew a little pass-heavy, as that is how you move the ball best on the Vikings. I like Indianapolis to win this game behind two or three Ryan TD throws.
Jonathan Taylor Lower Than 104.5 Rush + Receiving Yards
As you will see, the first three picks here are all correlated. Jonathan Taylor has carried the ball at least 20 times in four straight games and looks mostly like his usual elite self. All I can say is 105 total yards is really high. It's just hard to do.
Taylor hasn't hit this number in three straight games, and he's only hit it twice all season. Both times he got there on the ground alone. Basically, I like Taylor's rushing yards lower, but I feel like I'm just getting 20 more yards to play with by taking his combined yardage.
The Vikings allow the seventh-fewest rushing yards per game at just 81. Taylor has rushed for between 82 and 86 yards in three consecutive games. All we need is for him to do that again, and I don't think he does enough through the air to push his total yardage higher than this number.
Michael Pittman Jr. Higher Than 5.5 Receptions
Finally, our last bit of correlated action is on Michael Pittman Jr. It hasn't been the season I expected from Pittman, but we can still pick our spots with the objectively talented young receiver.
Pittman has caught at least six passes in eight games this season. Prior to last week, he had done it in three straight.
The Vikings allow the most receptions per game to wide receivers, with 62.5% of the targets going to the position. Given their struggles against outside receivers and Pittman lining up almost exclusively on the perimeter, he should be able to rack up 6+ receptions in this one.
Kareem Hunt Lower Than 39.5 Rush + Receiving Yards
I'm not sure what changed from the first five weeks, but Kareem Hunt's role is clearly diminished. After flying past this number in each of his first five games, he's totaled at least 40 yards in three of his last eight games.
Hunt's snap share rarely goes much higher than 40%. Since Week 6, the only games in which he handled more than six carries were in the Browns' only two blowout victories. And he's not getting it done through the air with no more than two receptions in five straight games.
The Ravens allow 3.7 yards per carry and 66.6 rushing yards per game. Both of those numbers rank third in the NFL. With Nick Chubb dominating rushing and Hunt's receiving role not what it used to be, the latter will have a hard time reaching 40 total yards.
Amari Cooper Lower Than 58.5 Receiving Yards
Maybe I'm falling for misleading injury reports, but I do believe Amari Cooper is not 100%.
When I hear Cooper is going to "give it a go," that leads me to believe there's a realistic chance he doesn't make it through the game. That's enough for me to take a chance on his receiving yards lower.
Additionally, even if Cooper does play his usual complement of snaps, he can easily not get to 59 receiving yards. He hasn't gotten there in two straight games. Cooper did manage 74 yards the last time these two teams met, but he did it on just three receptions.
The Ravens do allow the fourth-most receiving yards per game to wide receivers, but that number remains heavily tainted by them getting absolutely eviscerated by Tyreek Hill and Jaylen Waddle early in the season. This defense has been much better as of late, and I think they contain Cooper this week.
Donovan Peoples-Jones Higher Than 3.5 Receptions
As for a Browns' receiver I do believe in, ironically, it's Donovan Peoples-Jones. I've ragged on DPJ as a player plenty, but it's important to change your opinion based on new information.
Peoples-Jones has been a much better receiver over the second half of this season. He caught six passes the last time these teams played and has caught at least four passes in nine games this season. He should catch at least for here.
Josh Allen Higher Than 1.5 Passing Touchdowns
If we turn on the Saturday night game and see a deluge of snowfall, I will feel pretty stupid about these next two. However, I don't think that's what will happen.
The forecast calls for nearly two feet of snow in Buffalo, but it's not as if all two feet are going to fall at 8 p.m. on Saturday night. In fact, as of the time of this writing, the storm is expected to be largely over by the time these teams play.
MORE: Buffalo Set for Another Significant Snowstorm
Even if we have some snow, Josh Allen and the Buffalo Bills should still be as pass-happy as ever. And I think Allen is a man on a mission this week after his offensive prowess was called out by beat reporters last week.
Allen threw at least two touchdowns in six of his first seven games. Since then, he's done it in only two of his next six, which came in Weeks 12 and 13.
In Week 3 against the Dolphins, Allen threw for 400 yards and two touchdowns. This is still a pass-funnel defense allowing the eighth-most passing yards per game and 1.5 touchdowns on average. The Bills may score four times in this one. My only concern is Allen running one in instead of throwing it. But I'll take that chance.
Stefon Diggs Higher Than 6 Receptions
Last week, Stefon Diggs had his worst game as a member of the Bills, catching just three passes for 37 yards. Diggs has now played 46 regular-season games with Buffalo. While there have been multiple instances where he's failed to reach six receptions, it's never happened in consecutive games.
The Dolphins allow the eighth-most receptions per game to wide receivers at 13.5. Despite the win, Allen did not throw to Diggs enough last week. Look for him to rectify that early and in a big way this week.
My Underdog Entry
There's enough here to put in an entry for every game. If you do put in a five pick'em slip, I would recommend taking out insurance. That's something I've been doing consistently, and it's worked out as I keep losing only one pick.
Going 3-1 is an accomplishment and should be rewarded. But without insurance, 3-1 is the same as 0-4. Unless you're just taking a swing at a big payday, taking out insurance will be more profitable in the long run. With that said, here are the three I am most confident in.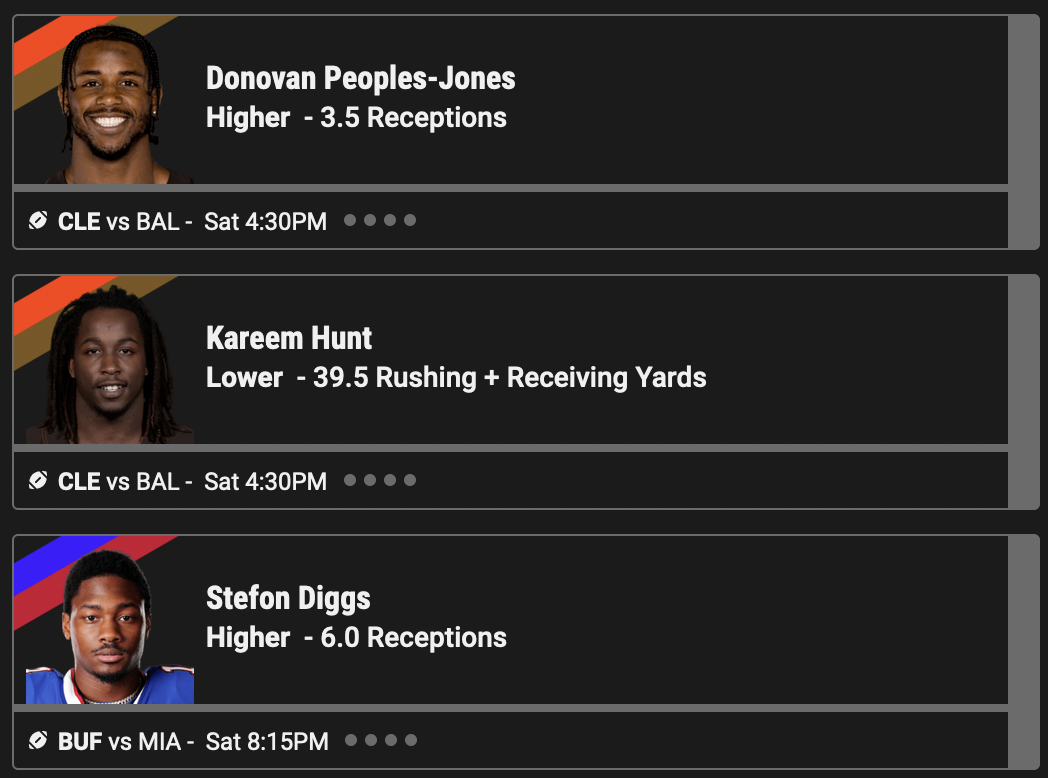 Listen to the PFN Fantasy Podcast
Listen to the PFN Fantasy Podcast! Click the embedded player below to listen, or you can find the PFN Fantasy Podcast on iTunes, Spotify, and all major podcast platforms.  Be sure to subscribe and leave us a five-star review! Rather watch instead? Check out the PFN Fantasy Podcast on our Fantasy YouTube channel.