Super Bowl 57 is on our doorstep, and the NFL's best take their rightful spots on the sport's grandest stage. The Showdown at State Farm Stadium on February 12 will crown another champion and etch their accomplishment into the sterling silver of the Lombardi Trophy.
The Conference Championships — two games featuring two evenly matched teams — started with a surprisingly lopsided victory. The San Francisco 49ers and Philadelphia Eagles opened the action in the NFC Championship; the AFC Championship nightcap featured the Cincinnati Bengals and Kansas City Chiefs at Arrowhead Stadium. Without further ado, the Super Bowl schedule is here: Philly and Kansas City will battle in this year's title game.
NFL Super Bowl Schedule
The Eagles triumphed in the NFC title game; the Chiefs persevered in the AFC title game. The Super Bowl schedule this year is official. Glendale, Arizona — the NFL world will be there soon.
Sunday, Feb. 12
Super Bowl 57
Philadelphia Eagles vs. Kansas City Chiefs
6:30 p.m. ET | FOX
Looking at the NFL Playoff Bracket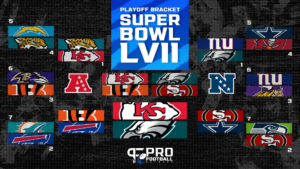 The Eagles began the NFC Championship with an 11-play, 66-yard opening-drive TD, capped off by a Miles Sanders 6-yard plunge. Then, on the sixth play for the San Francisco offense, Brock Purdy injured his elbow. Josh Johnson came in to relieve Purdy, and the offense looked stagnant. Yet, a second-quarter breakthrough leaning heavily on Christian McCaffrey led to the 49ers tying the game 7-7.
Philly would answer before the half on a 14-play, 75-yard TD drive. And a mishandled snap by Johnson toward the end of the second quarter led to disaster for the 49ers, giving the Eagles the ball in field-goal range. The Eagles would take advantage of the opportunity with another TD, heading into halftime with a 21-7 lead.
The Eagles' drive near the halfway point of the third quarter took nearly eight minutes off the clock, culminating in a Jalen Hurts 1-yard TD. Philly took a 28-7 edge and never looked back, winning the game 31-7.
The Chiefs avenged last year's AFC Championship Game loss to the Bengals, winning 23-20 on a last-second 45-yard field goal by Harrison Butker. A tight game throughout, the Chiefs made just enough plays to get to Glendale. Patrick Mahomes threw for 326 yards and two TDs, Marquez Valdes-Scantling had six catches for 116 yards and a TD, and Travis Kelce chipped in seven catches for 78 yards and a TD.