Week 1 made a fine first impression regarding the matchups we saw, but the product delivered to us, for the most part, was brutal. Only five quarterbacks threw for more than 300 yards, and most of the league's "elites" found themselves having games they'd rather forget.
Too often, we saw incredibly sloppy play on both sides of the ball. There may be no better example than the Los Angeles Chargers' secondary and the Miami Dolphins' front seven. Each was bludgeoned by their opponent, but it was their irresponsible actions that led to the beatings.
Can the best games to watch during the NFL's Week 2 schedule make up for the slop fests during the opening weekend?
What Are the Best Games of the Week 2 NFL Schedule?
Everybody had the New York Jets matchup against the Dallas Cowboys circled in pen on their calendar, but an Aaron Rodgers Achilles injury dashed those dreams. While the game could remain tight because New York's defense is stout, it would take an ayahuasca trip to imagine the Jets' offense consistently finding any success with Zach Wilson against Dallas' defense.
Even the Monday Night Football doubleheader feels like a letdown. However, if the Pittsburgh Steelers play to the level we expected heading into the season, that second game could be competitive and relatively entertaining.
But if we fork over the money to (insert media company here — like FuboTV) to watch any game we'd like, which games should make the list?
How about a divisional bout against two former Heisman winners and an MVP?
Baltimore Ravens at Cincinnati Bengals ( 1 p.m. ET)
What to Watch: Ravens fast edge rushers vs. Orlando Brown Jr., Bengals new safety duo vs. Mark Andrews and Zay Flowers, and Lamar Jackson vs. pressure
The Bengals won't be dealing with the surfeit of precipitation that pounded them against the Cleveland Browns a week ago. The forecast is calling for temperatures around 70 degrees, although there's about a 40% chance of precipitation around 1 p.m. ET.
Orlando Brown Jr. is a fine offensive tackle, but the reason Kansas City moved on from him was because they wanted to upgrade athletically on that side of the offensive line. He'll face a healthy dose of Odafe Oweh with a sprinkling of David Ojabo on that side.
At 260 pounds, Oweh ran a 4.37 (the fastest DE time ever at the Combine) with a 1.59 10-yard split. Ojabo isn't quite as explosive, but he's far bendier than Oweh.
Andrews has been limited this week in practice, but all indications are the tight end will play. Todd Monken is a good OC, but he specializes in his ability to feature the TE position in the passing game like few other play-callers choose to do.
And with Flowers already showing No. 1 WR abilities, the tandem could create chaos for Apex defenders, linebackers, and safeties.
Logan Wilson and Germaine Pratt will be fine, but Dax Hill and Nick Scott face a much more foreboding outlook. Can the young duo keep the top on the defense while also disallowing Andrews and Flowers to scamper horizontally across the intermediate middle of the field?
Jackson was practically perfect against the Texans a week ago… when kept clean in the pocket. He went 15 of 15 for 155 yards when clean.
MORE: Week 2 NFL Power Rankings 2023
But his performance under pressure was much different. When pressured, Jackson finished just 2 of 7 for 14 yards and an interception.
Jackson finished with the fifth-worst completion rate and yards-per-attempt average against pressure a season ago. His feet looked particularly frantic on Sunday when things collapsed around him, and his mistakes often come not from processing errors but simply trying to complete physical tasks his body cannot accomplish.
Kansas City Chiefs at Jacksonville Jaguars (1 p.m. ET)
What to Watch: Kadarius Toney vs. the football and Jaguars OL vs. Chris Jones, general matchup awesomeness
It stinks that we're looking at an underwhelming afternoon slate, but injuries can't be accounted for during the scheduling period. If you're only able to watch one game between the two top early-slate games, it will come down to preference.
Do you want to watch two offenses going nuts, or do you want to watch the NFC North's old-school hatred for one another?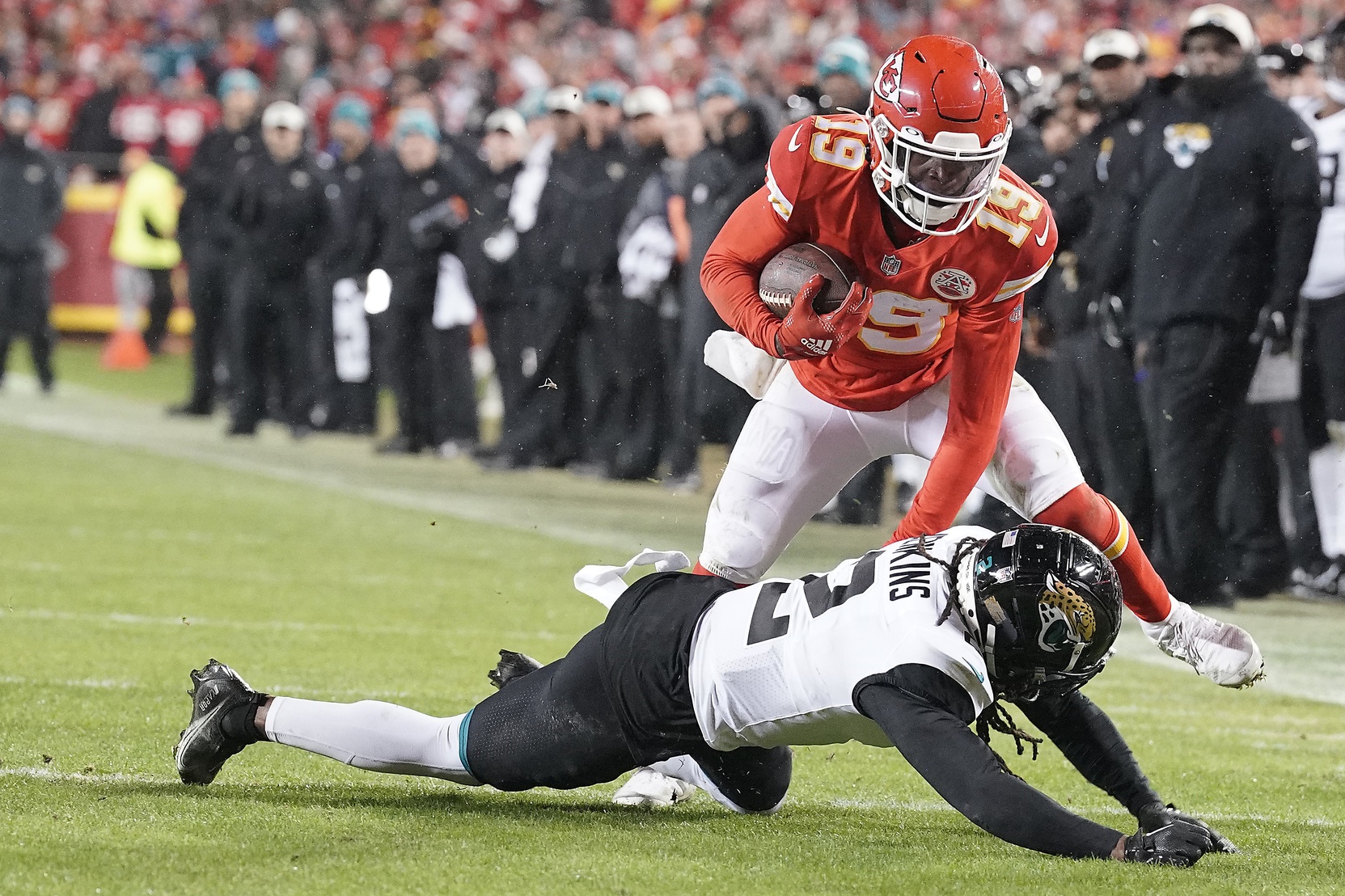 It would be easy to poke fun at Toney for his unfortunate showing on national television to open the NFL season, but what's the point of grabbing at low-hanging fruit? Toney hasn't shown drop issues in the past. Although he only has 77 career targets through his two-plus NFL seasons, he only has seven drops in that time.
But he's also putting himself under the microscope with his social media use. Throwing stones at the New York Giants for their embarrassing loss against Dallas is all fine and dandy — but throwing stones when you live in a glass house is playing a dangerous game.
In short, Toney absolutely must perform to make everyone forget about the Week 1 yips. Because if the case of the drops lingers, he'll hear about it walking down every corner he turns. That's the pressure he's placed upon himself.
Meanwhile, Jones is back on the football field, and he'll be itching to wreak havoc on the Jacksonville Jaguars offensive line. With a rookie right tackle and a questionable interior, there are plenty of alignment options for Steve Spagnuolo to potentially exploit.
This is generally just an awesome matchup. The Jaguars gave the Kansas City Chiefs a run for their money in the Divisional Round of the AFC playoffs a season ago, and the Jacksonville offense has improved since then.
Calvin Ridley is a bonafide weapon to the point where Christian Kirk, who caught 84 passes for over 1,100 yards a season ago, was a complete afterthought in Week 1. Additionally, aside from an INT that wasn't his fault and a wacky fumble that turned into a defensive touchdown, Trevor Lawrence was red hot against the Colts a week ago.
Miami Dolphins at New England Patriots (8:20 p.m.)
What to Watch: Mike McDaniel vs. Bill Belichick
The players on the field may win or lose games for their team, but the coaches put them in positions conducive to success or not. McDaniel and Belichick are two of the best at having answers for all the questions on the test, including the surprise bonus questions at the end.
MORE: NFL Coverage Map Week 2
Tua Tagovailoa made plays we're not necessarily used to seeing him make outside of structure last week against Los Angeles. However, many times throughout the contest, things were unfathomably easy for him. He won't be gifted throws against New England the way he was against Los Angeles.
But watching the chess match between Belichick and McDaniel will be fascinating. How can Belichick eliminate that intermediate middle of the field the Dolphins so adore? Can he create pressure to disrupt Miami's timing? And if the Dolphins' offense struggles early on, does McDaniel have an answer to get the ball out of Tua's hands faster?