The NFL preseason's first week of action has come to a close — are you as happy as I am for the return of football? It gave us our first glimpse into the talent of the 2021 NFL Draft class. From first-round QBs to late-round gems, here are our top 15 rookie rankings following Week 1 of the NFL preseason.
NFL Preseason Rookie Rankings | 1-5
Before we get into the list, let's make one thing clear — I understand it is the preseason, but that does not mean players cannot show promise. Sure, most of these guys did the majority of their damage against second and third-stringers. But wouldn't it be more concerning if they didn't?
1) Rhamondre Stevenson, RB, New England Patriots
Rhamondre Stevenson was building 2021 fantasy football hype after his draft selection, and he poured fuel on the fire. He led the NFL in rushing yards (127) and rushing touchdowns (2) in the first week of the preseason. As the Patriots began to run out the clock, offensive coordinator Josh McDaniels dialed up a toss for Stevenson, who took it 91 yards to the house.
Even if you took that out for evaluation purposes, he gained 36 yards on 9 carries, an average of 4 yards per attempt.
2) Patrick Surtain II, CB, Denver Broncos
PS2 put up video game-like numbers in limited action. Surtain only saw a couple of targets from Vikings QB Jake Browning, but he made him pay both times. First, he broke up a pass on third down, forcing a field goal. Then, Surtain exploded on an underthrown ball, taking it 30 yards for a pix-six.
Is Patrick Surtain II the real deal?

This play says, yes. 🤯

— Pro Football Network (@PFN365) August 16, 2021
3) Jeremiah Owusu-Koramoah, LB, Cleveland Browns
It was surprising that JOK fell to the second round, but the Cleveland Browns are not complaining. Just 11 days after being activated from the COVID-19 list, Owusu-Koramoah racked up 8 tackles, 1 sack, 1 QB hit, and 3 tackles for loss.
RB Demetric Felton shined as well, netting 4 receptions for 44 yards. Defensively, safety Richard LeCounte put his name on the map with 1 sack, 1 interception, and 2 pass deflections.
4) Justin Fields, QB, Chicago Bears
We finally got our first look at Justin Fields, and boy did he look poised. He struggled in the second quarter, but after halftime, Fields got in a rhythm. The Ohio State product commanded the pocket and completed 70% of his passes for 142 yards and 1 touchdown. He also showcased his rushing ability, taking 5 carries for 33 yards and another score. Now, things weren't perfect, as he did fumble and had poor mechanics on a throw that was nearly picked.
5) Joseph Ossai, DE, Cincinnati Bengals
Joseph Ossai was exceptional off the edge against the Buccaneers. His speed was visible as he beat Tristan Wirfs to sack Tom Brady on the game's first drive. He wasn't done there, pressuring the QB multiple times before exiting the contest with a wrist injury.
UDFA Darius Hodge and fourth-round pick Cameron Sample also flashed as Hodge accumulated 5 QB hits and 1.5 sacks while Sample had a sack of his own.
NFL Preseason Rookie Rankings | 6-10
Defense fills up the next five rookies in our rankings after preseason Week 1.
6) Mac Jones, QB, New England Patriots
Mac Jones looked like a veteran in the pocket. His raw box score was solid (13-of19 for 87 yards), but it could have been even beefer had WR Kristian Wilkerson not dropped a 34-yard touchdown that was a perfect throw. He was pressured a few times, but only one resulted in a sack. Overall, it was a great start to a promising career.
7) Geno Stone, S, Baltimore Ravens
Nothing is more synonymous than the Ravens and scouting defensive talent. Safety Geno Stone came down with 2 interceptions, both of which highlighted his awareness and contention. He didn't stop there, netting 3 tackles and 3 pass deflections. CB Shaun Wade snagged an interception himself, while UDFA Ar'Darius Washington forced a fumble and looked comfortable in the slot.
8) Rashad Weaver, OLB, Tennessee Titans
He still has some looming off-field concerns, but if Rashad Weaver stays on the field, he can be dangerous. He stuffed the stat sheet in his first NFL action with 3 tackles, 1.5 sacks, 2 QB hits, 2 tackles for loss, and 1 pass deflection. Weaver's pass-rush presence was apparent, and he held his own against the run.
9) Micah Parsons, LB, Dallas Cowboys
Micah Parsons' play speed has translated to the NFL thus far. He flys around the field and stops the ball carrier with ease. He only had 4 tackles against Arizona, but he made quick work of everything in front of him.
Jabril Cox participated in nearly the entire game and played well in space, contributing 7 tackles with 2 for loss. Lastly, Osa Odighizuwa was quick off the ball. He had 3 tackles (1 for loss) but was disruptive as a pass rusher.
10) Zach Wilson, QB, New York Jets
Zach Wilson did exactly what was asked of him. He made good decisions, ran the base offense well, and stood tall in the pocket. Wilson stuck to the script and was efficient, completing 6-of-9 passes for 63 yards. He wasn't the only Jets rookie to show promise, as edge defender Hamilcar Rashed Jr. recorded 4 tackles, 1.5 sacks, 2 QB hits, and 1 tackle for loss.
10) Sam Ehlinger, QB, Indianapolis Colts
The Panthers vs. Colts preseason game was our first dose of Sunday football in 2021, and it did not disappoint. Part of the reason for the matchup's excitement was Sam Ehlinger's play. He led the Colts with his arm and legs, totaling 185 yards of offense.
Down by eight, Ehlinger completed passes of 25 and 47 yards, leading to a Benny LeMay touchdown. On the two-point conversion, the former Texas signal-caller kept it himself and tied the game at 18. Ehlinger and the offense used over six minutes to set up a 30-yard, game-sealing field goal with 11 seconds remaining on the Colts' final drive.
NFL Preseason Rookie Rankings | 11-15
How did Trevor Lawrence and Trey Lance fare in their NFL debuts?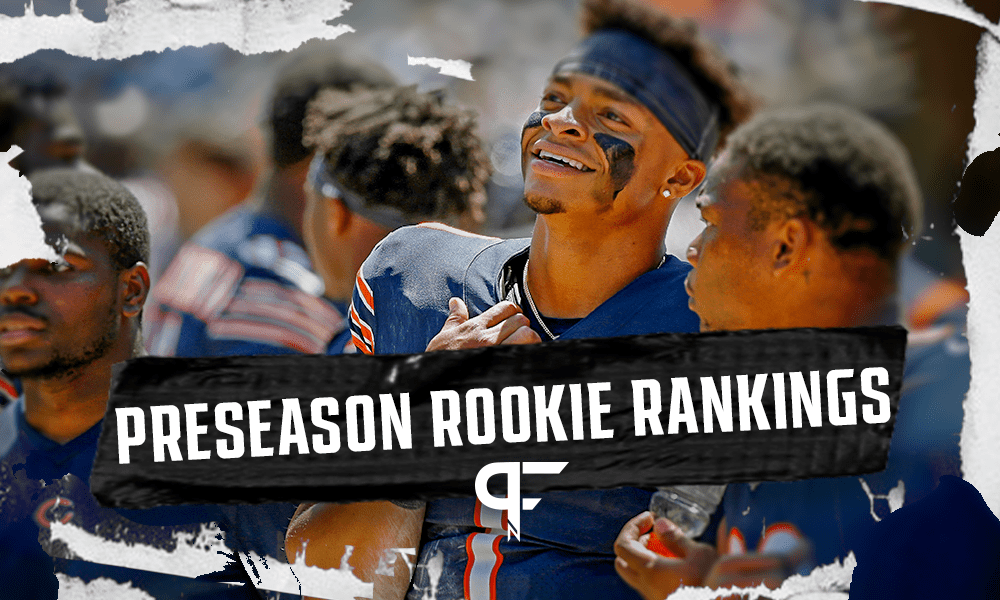 11) Deommodore Lenoir, CB, San Francisco 49ers
Deommodore Lenoir got the start against the Kansas City Chiefs and proved to the coaching staff that he deserved it. He wasn't targeted often but secured a tipped-pass interception and drew an offensive pass interference call downfield. Furthermore, Lenoir looked strong in man coverage, staying with his man in every phase.
12) Trevor Lawrence, QB, Jacksonville Jaguars
The No. 1 overall pick's "welcome to the NFL" moment occurred on his first career snap. Browns DT Sheldon Day strip-sacked Lawrence, but the former Clemson QB was able to recover the ball himself. Lawrence went on to deliver a couple of third-down strikes to Marvin Jones to move the chains in his two drives. Nevertheless, Lawrence could not lead his team to points in either, finishing with 71 yards on 6-of-9 passing.
13) Trey Lance, QB, San Francisco 49ers
Lance's debut was full of highs and lows. His 80-yard touchdown toss on his second pass of the game was a thing of beauty, and he had a few dimes dropped by his receivers.
WELCOME TO THE LEAGUE TREY LANCE!

An 80 yard dime by the #49ers rookie QB! 🔥

— Pro Football Network (@PFN365) August 15, 2021
Still, Lance threw a few passes that could have been intercepted, and he took 4 sacks. In the end, Lance went 5/14 for 128 yards and a score.
14) Javonte Williams, RB, Denver Broncos
Yes, he only had 5 carries for 29 yards, but Javonte Williams was more impressive than the raw stats indicate. He made the most of his opportunities, making defenders miss, and a couple of his carries went for big gains. With a larger workload, he could put up outstanding numbers.
15) Rondale Moore, WR, Arizona Cardinals
Second-round pick Rondale Moore didn't generate gaudy stats, but he flashed his potential as an offensive weapon. He took his 3 receptions for 23 yards while recording 16 yards on 2 carries. Defenses will be in for a long year if his first preseason outing is anything to base off.
It would be remiss of me not to mention Marco Wilson and Tay Gowan. Arizona's rookie CBs dominated, as Wilson had 2 pass deflections and 4 tackles while Gowan shut down his side of the field on a handful of targets.
Honorable mention
There were a couple of players who just missed out on the top 15 of our preseason Week 1 rookie rankings.
Jacob Harris, TE, Los Angeles Rams
It seems the Jacob Harris hype was warranted. The 6'5″, 211-pound receiver-turned-tight end caught 4 passes for 43 yards, picking up multiple first downs. He fumbled once, but his ability as a receiver was on full display. Even on a catch outside of the end zone, Harris showed he could separate downfield and track the ball. Some unsolicited fantasy football advice — draft Harris in your dynasty leagues.
Terrace Marshall Jr., WR, Carolina Panthers
While Ehlinger was making plays for the Colts, the Panthers had their own rookie making plays. Terrace Marshall Jr. led the team with 5 targets, reeling in 3 for 88 yards. 60 of those yards came on a play where QB P.J. Walker scrambled outside the pocket, and Marshall wisely found the gap in the defense and turned upfield.
A pair of offensive linemen
Although it is difficult to quantify how impactful linemen are outside of the obvious sacks or pancakes, these rookies impressed in their first performances. Chargers OT Rashawn Slater had a few highlight plays in the ground game and was solid in pass sets.
Additionally, Samuel Cosmi was stellar at right tackle for the Washington Football Team. He finished defenders as a run blocker and protected his QB against the rush valiantly.
James Fragoza is a Writer and News Editor at Pro Football Network. You can read his other work here and follow him on Twitter @JamesFragoza.