Quarterbacks run the NFL, and it's difficult to find a good team without a good passer leading the way. The best quarterbacks in the NFL today are almost a completely different breed than the best passers from a decade ago.
The QB power rankings will look different throughout the year and will be quite different from the top QBs in the NFL from the summer. This is a "what have you done for me lately" league, and if your favorite team's QB isn't playing to his or her potential, the QB power rankings will reflect that.
Perceived physical talent will still play a role in ranking the quarterbacks. It won't be a complete knee-jerk reaction to the first few weeks of games. But those performances and the back part of last season will weigh on the valuation of each passer.
TL;DR: The list is fluid. Let's have some fun with it. 
2023 QB Power Rankings
32) Zach Wilson, New York Jets
Zach Wilson didn't necessarily have a fair go of things over the first two weeks. He was not expected to start this season after the Aaron Rodgers trade, and he was thrust into action over the first two weeks against the Buffalo Bills and Dallas Cowboys. There are few NFL defenses a young, struggling QB would want to see.
MORE: NFL Offense Rankings 2023
Managing turnover-worthy plays is nearly impossible against the Cowboys. But if he can simply try and keep this offense between the lines, Wilson may be able to keep his team in more games than we'd expect given his early-career history.
31) Deshaun Watson, Cleveland Browns
Things are so bad for Deshaun Watson right now that when he's escaping the pocket, he's deciding to take matters into his own hands, literally, by grabbing a fistful of facemask on his way out. He received two 15-yard penalties in the game for such instances, and he luckily escaped an ejection when he very clearly put his hands on a referee.
Deshaun Watson shoves an official. Per the NFL rule, it's supposed to be an automatic ejectionpic.twitter.com/XEJy7eCADh

— SleeperNFL (@SleeperNFL) September 19, 2023
Outside of sideline throws to Amari Cooper, the Cleveland Browns passing attack is a complete wreck. Since returning to action last season, not a single QB with at least 200 plays has a worse EPA per play mark, and only the Jets' Zach Wilson has a worse adjusted EPA mark.
Only Carson Wentz, Joe Flacco, Wilson, Davis Mills, and Baker Mayfield (probably not for long) have worse success rates over that time. He hasn't been accurate, decisive, or particularly elusive from the pocket.
It looks like this could go down as one of the worst trades in NFL history if this keeps up. Browns fans don't deserve that. But the Browns organization might, which leaves a conflicting taste in the mouth.
30) Justin Fields, Chicago Bears
Are the Chicago Bears doing everything anything within their power to facilitate success for Justin Fields? No. But is Fields also culpable in this fest of feces that is the Chicago Bears offense? Yes.
As a pure passer, Fields is one of the better throwers in the NFL. He is one of the most unfair athletes in the game. But his drop timing is consistently slow, making the entire offensive process slow — which, behind a bad offensive line, is a poor combination.
The flashes remain. And Fields could still be effective if the Bears figure out how to deploy him and the weapons at their disposal properly. But until then, things will be mostly ugly.
29) Joshua Dobbs, Arizona Cardinals
Joshua Dobbs took it to the New York Giants early on. He showed some giddy-up on a 23-yard touchdown scramble that he finished by absolutely obliterating a defensive back on the goal line. And in their one drive in the third quarter, they went on yet another long, sustained drive against the Giants' defense for a touchdown.
But in the fourth quarter of a tight ball game, Dobbs only managed to go three of eight for 27 yards and only managed one first down and 11 total plays. He'll face by far his toughest test yet against the Dallas Cowboys defense in Week 3.
28) Russell Wilson, Denver Broncos
Yes, Russell Wilson threw three touchdown passes against what is supposed to be a good Washington defense. Yes, we got vintage downfield passing Russ versus some blown coverages.
But the down-to-down consistency is absolutely brutal. There is absolutely no operational capacity within the pocket. Almost everything Wilson accomplishes comes on busted coverages or broken plays.
Teams will be better about keeping things in front of them and forcing Wilson to win over the middle and in the intermediate, and he won't put up the numbers he did against Washington very often.
He looks better so far than a season ago, but that comes down to environmental factors more than any personal growth he's undergone.
27) Bryce Young, Carolina Panthers
A young QB's environment is arguably more important than his own personal talent. The situation surrounding Bryce Young is grim, and Young himself has struggled with the speed of the NFL game so far, both as a passer and as an athlete on the run, which he's forced into often.
26) Kenny Pickett, Pittsburgh Steelers
Writing about the unrealistic and frankly unfair expectations placed upon Kenny Pickett prior to the Monday Night Football nightmare performance wasn't enough. It's time to draw a hard line in the sand. Kenny Pickett has to be better, much better, if the Pittsburgh Steelers want to win many football games in 2023.
Like Fields, his offensive coordinator certainly does not do him or the offense as a whole many favors. But like Fields, Pickett has serious flaws independent of his environmental issues. His creation ability is a gift, but his decision-making in those instances can be a curse on the offense.
Simply put, he needs to clean up the operational side of his game a lot because he doesn't have the physical skill set to overcome his mental woes.
25) C.J. Stroud, Houston Texans
The Texans' rookie passer struggled against Baltimore. However, given the circumstances, he could have played a lot worse than he did. Baltimore's defense was suffocating, and the Texans already are down linemen for the season after already struggling to provide Stroud with adequate offensive weapons.
Stroud looked better against a decent Indianapolis Colts defense. He's found a bit of comfort in Nico Collins, but Robert Woods and Tank Dell each contributed in big ways during their loss to the Colts.
24) Anthony Richardson, Indianapolis Colts
Richardson's first professional outing with the Colts went better than many could have anticipated. He was far more comfortable in the pocket than anticipated, and he was by far the team's most productive runner despite toting the rock three fewer times than Deon Jackson.
Richardson suffered a concussion on his second rushing touchdown of the game in the first quarter, but he was playing well when it happened. His passing numbers don't match Gardner Minshew's, but he only attempted 10 passes and only played 18 offensive snaps before the injury.
23) Baker Mayfield, Tampa Bay Buccaneers
Mayfield and the Buccaneers were one of the biggest Week 1 surprises. However, it's impossible to move Mayfield too high up the list, considering the Minnesota Vikings secondary is necessarily elite, and he certainly didn't set the world on fire with his passing performance.
Mayfield is doing exactly what he needs to do right now for the Buccaneers. But he's also not simply sitting back and keeping things between the line under the speed limit. Mayfield has been better than anticipated. Although his success rate is relatively low (22nd), he is currently seventh in EPA while posting a CPOE of 6.3% through two games.
22) Ryan Tannehill, Tennessee Titans
"But if forced to drop back and pass, things could get ugly for Tannehill and the Titans' passing offense," PFN wrote of Tannehill in the season preview QB rankings. "He can certainly play the famous 'heck it, DeAndre Hopkins is out there somewhere' game, but how sustainable is that?"
It turns out it's not sustainable at all. As a dropback passer, Tannehill has never been particularly whip-smart. He prefers clean looks from heavy personnel groupings that keep looks basic. For some reason, against the Saints, the offense decided to abandon the run game and try slinging it.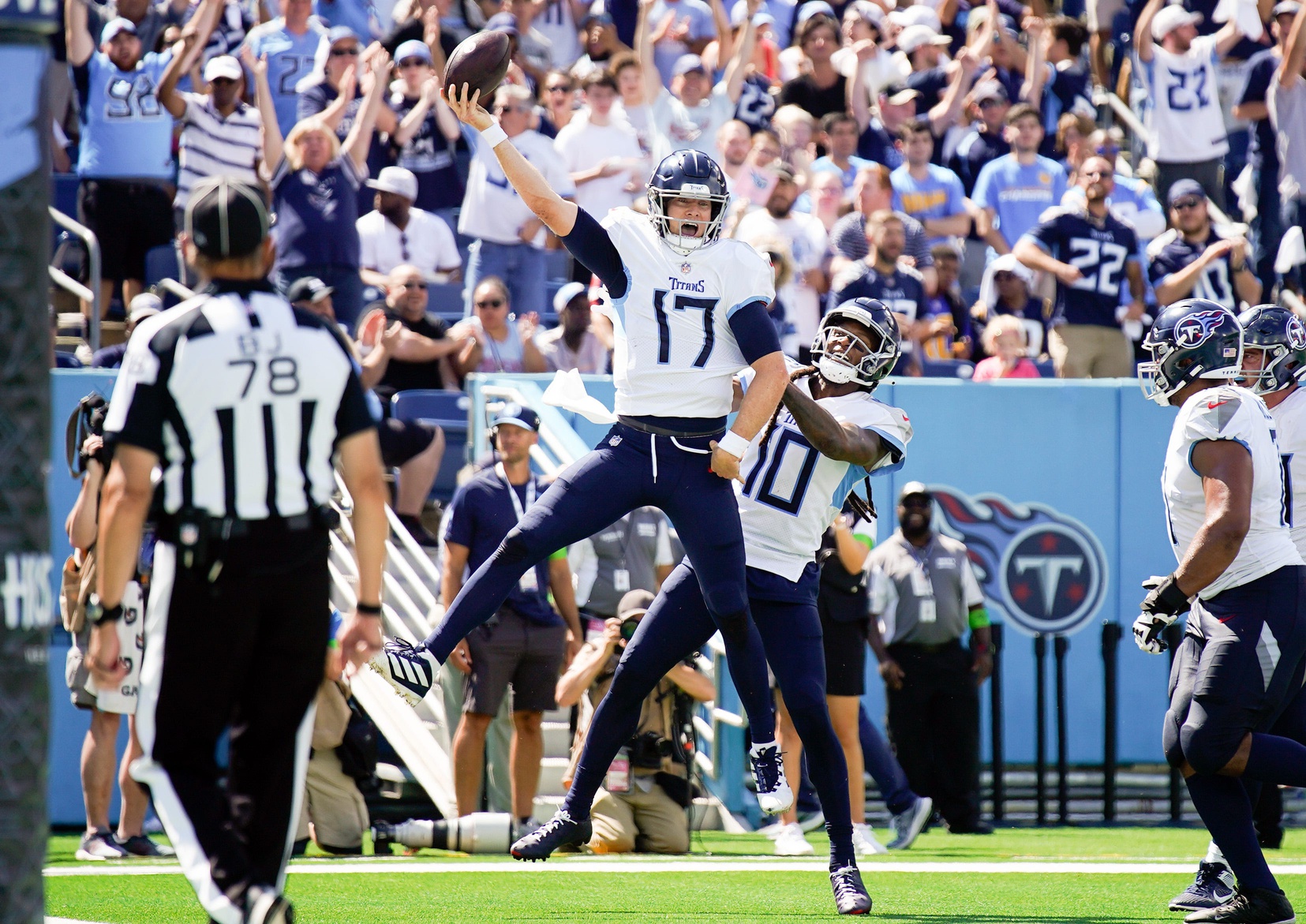 The consequences were severe.
And then they fixed it the next week. Tannehill was back to his old self against the Chargers. He finished 20 of 24 for 246 yards and a touchdown. He posted a 50% success rate on his attempts and completed 16.4% of passes over expected, which was the best mark of Week 2.
If Tim Kelly lets Tannehill be Tannehill, and the team's defense keeps games tight, the veteran QB should be fine.
21) Desmond Ridder, Atlanta Falcons
After a downright concerning performance in Week 1, Desmond Ridder put on a performance in Week 2 that has his flock of supporters excited about the future and his naysayers cautiously optimistic about where his season is heading.
He still showed that he possesses the "bozo" gene that most QBs in the league tend to have from time to time — but he was sharp otherwise above the shoulders. But the operational side of things has never been a huge worry with Ridder. To take the leap, he must become more consistent in his ball placement.
20) Sam Howell, Washington Commanders
Sam Howell is still a very young QB with a ways to go before he becomes a franchise passer. However, some of the early flashes we've seen from the former fifth-round pick are intriguing.
He must speed up his process overall, but that's to be expected from young QBs everywhere. The more significant concern right now is his ball security in the pocket and his propensity to default to the backdoor spin-out when pressure comes. However, those things should come in time.
He has a goldfish mentality and is naturally a playmaker. He spins the ball well and could finally be the guy Washington has been longing for since Kirk Cousins took his talents to Minnesota.
19) Mac Jones, New England Patriots
Mac Jones has been the definition of a guy that you can win with and could even win because of in the right situation. He'll likely never push the envelope as a top-10 passer in the NFL because of his physical limitations, but he's played exceedingly well, given the circumstances he finds himself in.
Bill O'Brien has been a godsend for the third-year QB so far, and Jones has proven more fleet of foot in the NFL than he ever dared trying to be in college. But without ideal conditions around him, it'll be tough to find high-level offensive output consistently. His receiving corps is almost unforgivably poor.
18) Daniel Jones, New York Giants
Things were very ugly for Daniel Jones during a time in Week 2. His team was getting curb-stomped by the worst roster in the NFL, and he was making the same mistakes he made as a rookie.
But Jones kept his head down and looked revitalized in the second half. The team got Darren Waller involved, and Jalin Hyatt led the team with 89 yards despite only catching two passes on two targets.
A big day against the 49ers' defense could help his stock in the QB Power Rankings, but that is a task more easily said than done.
17) Derek Carr, New Orleans Saints
Derek Carr is a madman. He threw one of the worst interceptions of the weekend and looked generally awful against the Panthers. Bringing him on was supposed to bring competency to the position, but he's been going into the fetal position whenever the team enters the red area so far this season.
However, Trevor Penning has been a revolving door on the left side, so it's likely that Carr, behind a scary OL for… every year of his career practically, doesn't feel very confident in the pocket.
16) Jordan Love, Green Bay Packers
Not a single QB in the NFL has seen better EPA metrics through two games than Jordan Love. His Week 1 performance was legitimately spectacular, particularly because he was short his top target, and his second-most established target was playing at less than 100%.
Then again, in Week 2, he posted a 55.2% success rate and the third-highest EPA mark for the day. And the tape through two weeks backs up what appears on paper to be a synergistic offense.
MORE: NFL Standings
Matt LeFleur is scheming guys open, the young weapons are making plays, and Love looks very comfortable in his new role.
Maybe the Packers are onto something with drafting a QB high behind an established, or even Hall of Fame, starter.
15) Jimmy Garoppolo, Las Vegas Raiders
Garoppolo's limitations are well known, but if he continues to produce passing efficiency in Las Vegas the way he did in San Francisco and New England before that, we might start giving him some of the credit instead of his surroundings.
He's always been cocksure when attacking the middle of the field, which has led to both massive successes and embarrassing failures. Sunday was an example of Garoppolo's "bozo gene" coming out to play with his decision to force a late throw to a stationary running back being blanketed by one of the best coverage linebackers in the game.
14) Jared Goff, Detroit Lions
Goff and Garoppolo share territory here because they're practically the Spiderman meme. Both are assassins over the middle of the field that can do next to nothing when the pocket begins collapsing. They need that structure around them to have a strong foundation.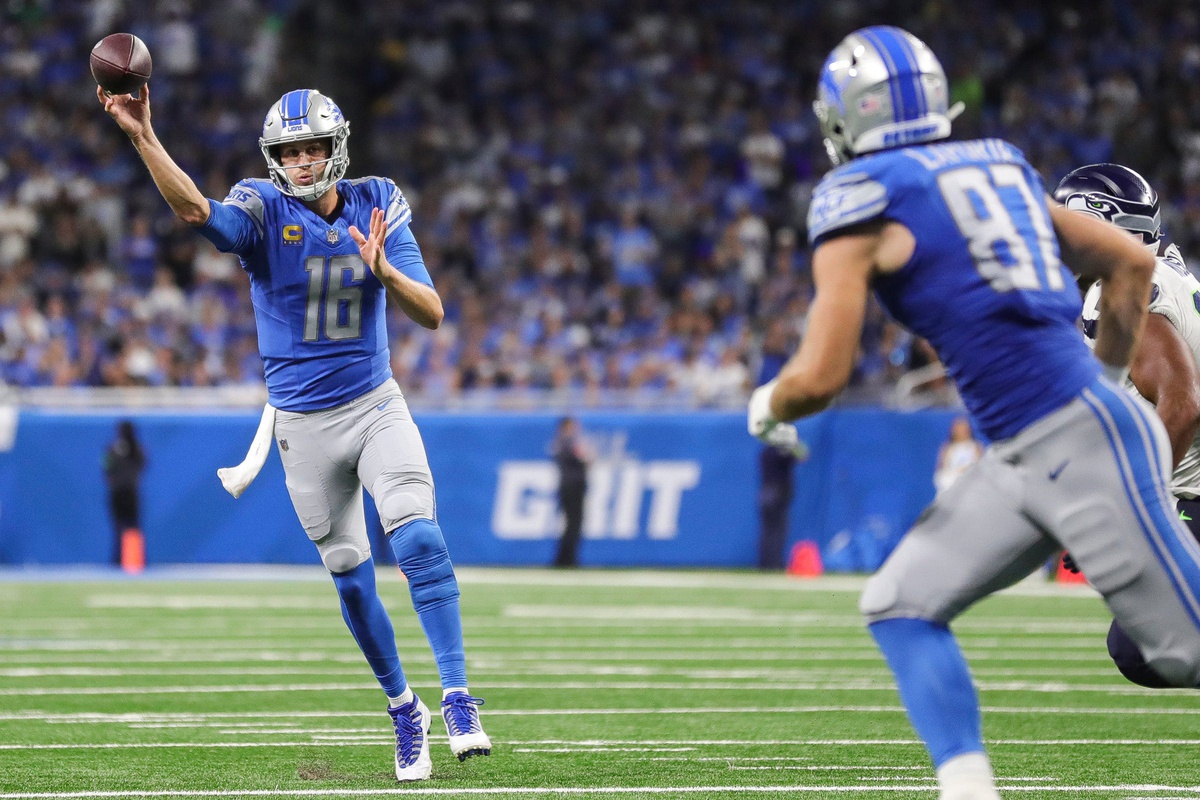 Luckily for Goff, he has that in Detroit. Ben Johnson might be the best non-Shanahan run game architect in the league, and the Lions' offensive line can be punishing when healthy.
13) Geno Smith, Seattle Seahawks
Few passers had a more impressive showing than Geno Smith did in Week 2. And that's a good sign because the Seahawks needed every bit of his awesome performance to sneak past the Lions.
It's wild that down both of their young offensive tackles, Smith was able to navigate consistent pressure when he held the ball and got the ball off quickly and to the right spot with the right placement when he didn't hold it long. He was flat-out magnificent to watch this week.
12) Kirk Cousins, Minnesota Vikings
Kirk Cousins wasn't at fault for the strip sack this week! Josh Sweat simply beat the crap out of Oli Udoh. Cousins played quite well for the most part, particularly against an Eagles front that was teeing off against a mostly injured Vikings offensive line.
11) Brock Purdy, San Francisco 49ers
Okay, Purdy might be really good. He was impressive late last season as he played in the final eight games and led San Francisco to an NFC title game.
Kyle Shanahan (or the 49ers organization) drafted Trey Lance, so their singles offense could hit more doubles, triples, and home runs. The home runs may not be Purdy's thing, but he can take an outside fastball into the right-center gap like nobody's business.
If he can avoid mental lapses resulting in turnovers, there's no reason why the 49ers offense won't be one of the five or so efficient units in the NFL.
10) Jalen Hurts, Philadelphia Eagles
Hurts and the Philadelphia Eagles passing offense have looked pretty uninspiring against the Patriots and Vikings. The Patriots have a well-coached and talented defense from front to back, but the Eagles should have had more success against an underwhelming Vikings secondary.
Hurts simply does not look sharp right now. The offense has shriveled back up into the touchdown or check-down product it was before last season. There simply isn't much confidence in the product from them at this juncture.
But Hurts and this offense are too talented to be held down for too long.
9) Justin Herbert, Los Angeles Chargers
Justin Hebert is constantly put into situations where Brandon Staley, after his defense allows another score, says, "Help us, Justin Herbert; you're our only hope."
He will succeed at times, and he will fail others. Allen hasn't won an overtime game in the new format. Tom Brady has failed more than a few fourth-quarter drives.
He's one of the most physically gifted players in the league, but his team does him absolutely no favors from a narrative perspective.
8) Trevor Lawrence, Jacksonville Jaguars
After a really strong showing against the Colts marred by a wacky fumble and an INT that wasn't his fault, the Chiefs defense caused problems. It's not easy to consistently move the ball on offense if you can't block.
Chris Jones's newly-inked contract made that dream for Kansas City a nightmare for Jacksonville.
7) Matthew Stafford, Los Angeles Rams
Stafford faced one of the best defenses in the NFL on Sunday and still looked about as good as he did the week before.
Stafford might be the poster child for the "bozo gene," but that gunslinger mentality is part of what makes Stafford special. He made one truly poor decision against San Francisco, but that defense has a way of doing that to QBs.
6) Dak Prescott, Dallas Cowboys
Dak Prescott is on his Jimmy Garoppolo beat right now. He's not being asked to carry the team on his back like he has in recent years, and the offensive success has been up there with the best in the league through the air.
We haven't had the impressive throws we've become accustomed to seeing from Prescott yet in 2023, but the new offensive look is getting the ball out of his hands more quickly and into the hands of playmakers.
But looking that sharp, even when the degree of difficulty wasn't high, against a defense like the Jets is undeniably impressive.
5) Lamar Jackson, Baltimore Ravens
It's really not a difficult concept.
Hire a good OC
Draft and acquire a few WRs who are actually talented
Add said WRs to a roster with Mark Andrews
Prosper
Lamar Jackson has been one of the best PASSERS in the NFL so far this season, particularly from the pocket. His work against pressure will remain a concern because he tried to make an espresso martini out of lemons too often, but he's been incredible so far through two weeks through the air.
See, we can do a Lamar thing without just blasting rushing highlights. It's not hard [media conglomerate redacted].
4) Josh Allen, Buffalo Bills
So it turns out Josh Allen was not the intoxicated gentleman who had to be rescued from the hole where construction is being done on the Bills' new stadium. But it sure seemed like Allen was on a drug cocktail during Week 1.
MORE: Week 3 NFL Power Rankings
He kept the car on the right side of the road in Week 2 against an inferior opponent, and the Bills ran away and hid with a big lead. Allen's theatrics don't need to be a weekly occurrence for this team to win. And if he turns it on at the right time and channels it, he can have 2021 AFC Divisional Round-level performances.
3) Joe Burrow, Cincinnati Bengals
Mike Macdonald and the Ravens defense might have Joe Burrows' number. In four matchups against Macdonald, Burrow has posted QBRs of 35.3, 26.2, 31.7, and 60.5. And while the 60.5 is certainly above average, the Bengals offense couldn't get anything going until late in the third quarter.
Maybe that's a sign that Burrow and Zac Taylor have found a sweet spot against the Ravens' defense. The Bengals started 0-2 a season ago, and there is no need to sound any panic alarms.
2) Tua Tagovailoa, Miami Dolphins
That was Tagovailoa's best professional outing. Yes, a few times every game, he makes a throw or a laughably bad decision. But despite being physically limited, Tua has become the most aggressive quarterback in the NFL. And it's clear that he's improved his ability to operate outside of structure this offseason.
With Tyreek Hill on an offense directed by Mike McDaniel, there is no telling how insane Tua's production could be in 2023.
1) Patrick Mahomes, Kansas City Chiefs
While the rest of the list is fluid, the top spot is not. As long as Patrick Mahomes has a pulse, he will grace the top of the list.