The Cleveland Browns have an extraordinary ceiling, given who they have at quarterback and how they've constructed their roster. They are, however, third in the odds to win the AFC North, just barely ahead of the Pittsburgh Steelers, according to DraftKings Sportsbook. The Browns' NFL predictions for 2023 don't look optimistic.
But Cleveland does have several outcomes ahead of them that could change the tenor of their season and head coach Kevin Stefanski, who may not get a third QB to work with if Deshaun Watson doesn't work out.
If all goes according to plan, the Browns could have an elite offense and elite defense. They have the pieces in place on both sides of the ball to make a deep run and shock the AFC. Now that the Browns have overcome the hurdle of winning a playoff game in their recent history, they need to do more to build on it. And they can.
Predicting the Best-Case Scenario for the Cleveland Browns' 2023 NFL Season
The Browns need many things to go right for them in the division, not just on their team, in order to see the ideal scenario evolve for them in a competitive AFC. Cleveland would benefit from a limited development curve for Kenny Pickett in Pittsburgh but will probably need more help from Baltimore and Cincinnati in order to win the division and set up favorable seeding in the playoffs.
On Cincinnati's side, seeing the losses at safety and cornerback could mean a drop-off in their passing defense, while the Bengals could see pressure get to Joe Burrow despite investments along the offensive line. For the Ravens, another inconsistent Lamar Jackson season, driven by slow development at receiver, would help — especially because Baltimore's defense doesn't look to be what it once was.
But in order for those things to matter at all, the Browns need to be a better team. The primary issue is at quarterback, where they could see Watson return to his MVP-level play. In Houston, before his battle with the team and subsequent sexual misconduct allegations from over two dozen women, Watson was electric.
Last year, he looked rusty last year, and bridge quarterback Jacoby Brissett outperformed him on the field. But if he's shaken off that rust, Watson could be one of the best quarterbacks in the NFL.
MORE: Cleveland Browns Season Preview 2023
There's explosive potential with Cleveland's offense. Amari Cooper can turn in big plays consistently, and both Marquise Goodwin and Donovan Peoples-Jones have the athleticism to be a deep threat.
What will really make an offense like that effective, however, would be a high floor with consistent players. Elijah Moore can provide that from the slot, and rookie Cedric Tillman has the size and speed to be explosive with the capability to win underneath. David Bell, a third-round pick from last year, could also be a possession option.
If half of Cleveland's receiving corps takes a step forward in their development, they could have an extremely well-rounded cast. Add in Nick Chubb, perhaps the best pure runner in the NFL, and the Browns could attack opposing defenses in a variety of ways.
Their offensive line underperformed last year, but there were moments when this core group was one of the best in the NFL. If they reached the heights that they had before, they could make for one of the most potent NFL offenses.
On defense, the Browns have upgraded their pass rush, pairing Myles Garrett with Za'Darius Smith. Smith was efficient last year, and he could do it again, giving Cleveland a great foundation to build their defense around. They've shored up the middle with Dalvin Tomlinson in free agency and Siaki Ika in the draft, which could turn that DT group from a weakness into a strength.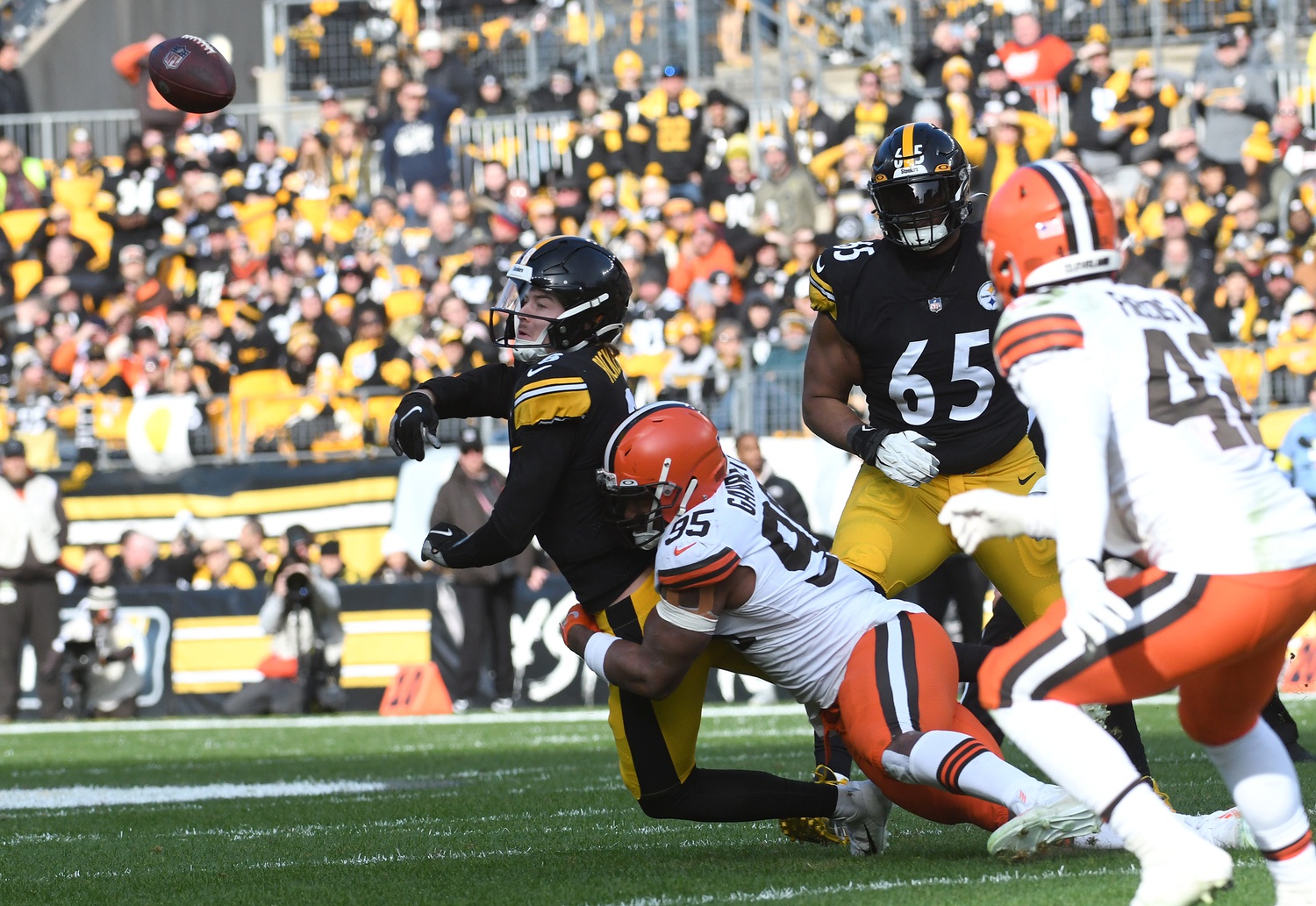 And though returning Jeremiah Owusu-Koramoah back from injury will be big, the most important thing will be making sure that their young secondary can be consistent. Martin Emerson turned in a surprising and underrated performance as a rookie corner last year, and the Browns have seen some excellent years from Denzel Ward, who didn't live up to that last year but could under new defensive coordinator Jim Schwartz.
At nickel, Greg Newsome, who's been promising but hasn't improved substantially since entering the league, could round out the defense. On top of that, a leap forward in development from Grant Delpit could mean an elite defense.
MORE: Where Does the Browns' Defense Rank in 2023 Rankings?
In any instance, the pass rush should make the coverage look better. That should mean, in the best-case scenario, a top-eight NFL defense and a top-five NFL offense for Cleveland.
Predicting the Worst-Case Scenario for the Browns' 2023 Season
In the worst-case scenario, the Browns will see the division return to its heyday and compete to fill all the Wild Card spots in the playoffs. The Bengals and Ravens both have quarterbacks with MVP-quality seasons and, more recently than Watson, too.
The investments that Cincinnati has made on the offensive line and the Ravens have made at receiver have a good chance of working out. If Baltimore generates a multidimensional offense, they'll have more threats available to them than Cleveland will, regardless of Watson's return to form. The Bengals may not have as many ways to attack offenses, but if they stay on track, they have more explosive potential.
All that could occur while Pittsburgh quietly improves in the background. It's difficult to bet against Mike Tomlin, and improvement for Pickett and WR George Pickens could make the offense threatening. A pass rush with T.J. Watt will also always be difficult to discount. If the Steelers get more out of their secondary than just what Minkah Fitzpatrick can provide, they'll also be tough to score on.
But the worst-case scenario for the Browns would mean that their own roster fails to meet their standards. Watson hasn't played well in the NFL since 2020, and his 2022 play was alarmingly bad — ranking 31st in adjusted net yards per attempt, right behind the quarterback he replaced: Baker Mayfield.
It's entirely possible that Cleveland's receiving corps might be carried solely by Cooper. There are no promises guaranteed for rookies, especially third-round rookies. Moore, Peoples-Jones, and Bell have all been inconsistent enough that it's tough to rely on them to consistently produce.
MORE: 2023 NFL Schedule
It also could be the case that Smith, who is 30 years old, fails to capture his performance from last year while injuries and age catch up to him. If the Browns don't have the development they need from their young secondary, they could see themselves gashed time and again while Garrett's effective pass rush gets wasted on every third down.
In the end, outcomes will be driven by Watson himself. Should he perform like he did last year, the Browns will get to pick pretty high in the draft, which should be pretty valuable for their next head coach.