The Carolina Panthers underwent a massive overhaul of their franchise this offseason. Now led by head coach Frank Reich and quarterback Bryce Young, the Panthers are going for broke with a completely new offense. Will the Panthers return to the playoffs for the first time since 2017?
Let's dive into the best and worst-case scenarios for the Panthers' 2023 season.
Predicting the Best-Case Scenario for the Panthers' 2023 NFL Season
Setting expectations can be difficult when a team has a rookie quarterback and a new head coach. While a coach in his first year with a team has won the AP NFL Coach of the Year Award in four of the last six years, we've also seen four coaches fired after one season over the last two seasons.
Reich should be able to avoid a disastrous campaign in 2023 since he was the Indianapolis Colts' head coach for five seasons and gained valuable experience along the way.
Carolina's win total at DraftKings Sportsbook is 7.5, and they're -260 to miss the playoffs. Even though the NFC South is weak, the Panthers are viewed as a mediocre team. It should help that the Panthers have the sixth-easiest schedule in the league.
The best-case scenario for the Panthers is to be very good. Reich was once one of the hottest head coaching candidates in the NFL for a reason, and he enjoyed solid success with the Colts despite dealing with bad quarterback play across his tenure. He had a top-10 scoring offense in three of his five seasons and a top-16 defense each year.
MORE: Carolina Panthers 2023 Schedule
All of the focus will be on Reich's offense with Young. Though Andy Dalton will get first-team snaps, for now, Young's time is coming. Both Reich and Dalton had ridiculously high praise for Young after Day 1 of OTAs, saying Young was already correcting his teammates on play calls.
If Young is capable of handling the offense sooner than later, and he settles into a scheme that properly balances his ability to deliver accurate passes outside of structure and protects his body, the offense can be better than their finish in 2022. Carolina was 20th in points scored last year — better than most would expect considering the atrocious quarterback play they saw all season — but was a run-heavy unit that no longer exists.
The decision to swap out DJ Moore at receiver for DJ Chark, Jonathan Mingo, and Adam Thielen will have to turn out favorably. If Chark stays healthy and Thielen has more left in the tank than it seemed in 2022, then the receiving corps has upside. Terrace Marshall Jr. and Mingo might define the unit's ability to elevate Young from a decent rookie quarterback to a flat-out good quarterback, which is rare in Year 1.
The running game will look different but can still be quite effective. For as well as D'Onta Foreman played, Miles Sanders is a better fit for Reich's zone offense. Getting Sanders 50 catches may not work out as well as the team hopes, but he's a good player who can carry a solid ground attack.
MORE: Carolina Panthers 2023 Season Preview
Carolina's defense will need to take a reasonable step forward in order to help the offense more than what they have. It's a more talented unit than their results, so the addition of Ejiro Evero as defensive coordinator could be massive. Evero was fantastic with Denver, and he has playmakers at key positions to maximize.
Known stalwarts like Brian Burns, Derrick Brown, Shaq Thompson, and Jeremy Chinn must continue to be reliable studs and improve. But the defense's best case can be immense if the other guys step up. Jaycee Horn has shown promise in limited playing time, and fellow defensive backs Vonn Bell, Xavier Woods, and Donte Jackson should round out an average or better unit.
More playmaking is a must, though. The rotation of Yetur Gross-Matos, Marquis Haynes Sr., and DJ Johnson has to produce another legitimate sack artist, and Carolina can't rank 27th in forced turnovers. They simply won't be a decent defense with only 35 sacks and 10 interceptions.
If Young and his surrounding cast exceed expectations relative to the age of its featured core and the defense becomes more impactful, the Panthers can compete for an NFC South crown with New Orleans. Nine wins will take a lot, but this can be an average team that wins with timely playmaking and by catching others off guard.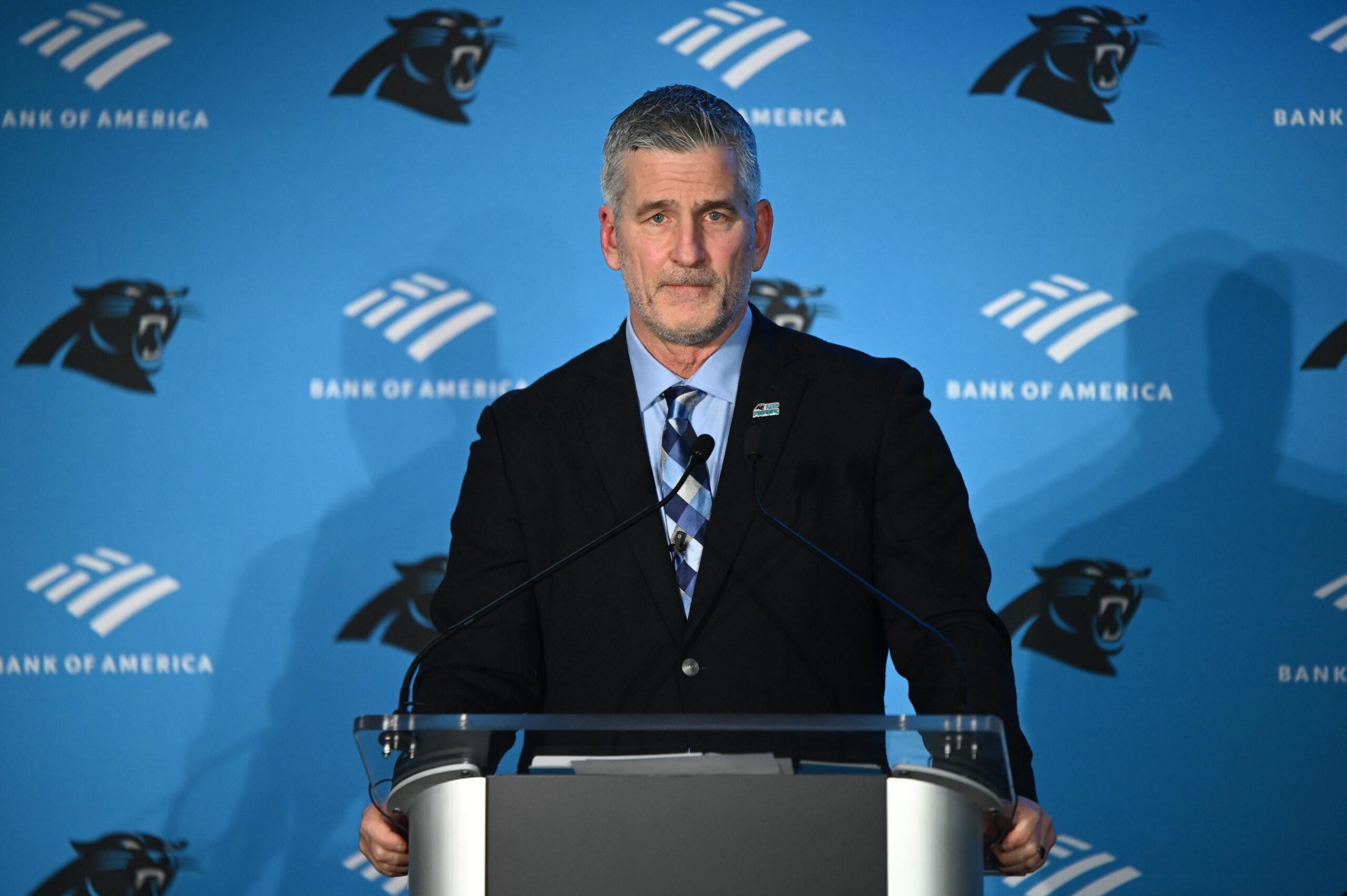 Predicting the Worst-Case Scenario for the Panthers' 2023 NFL Season
The risk that goes along with taking a quarterback who is laughably small in photos when he's standing next to any other NFL player is immense. Young was incredibly productive at Alabama, and Carolina has been extremely clear that his intellect sold the organization on taking him despite his size concerns.
It's possible that Young can stay healthy and be a good starter despite his minuscule frame, average arm strength, and reliance on breaking out of the pocket to make plays, but it's also possible Young really struggles like most rookies do.
If Young suffers a major injury or continues struggling with anticipation as he did through much of 2022 at Alabama, and if his receiving corps doesn't play to its upside, the Panthers' offense will slog. There's a lot that can go wrong and quickly put the Panthers' worst-case to fear.
Though Chark has been excellent when he's healthy and on the field, he's missed 19 games over the last two years. Thielen looked absolutely done in 2022, and for as smart as Young is, his film was littered with missed pre-snap cues and late throws. The best player you can give him is the opposite of Thielen since he no longer separates quickly.
MORE: Best NFL Offenses | Best NFL Defenses

If Marshall and Mingo aren't ready to make an impact and if Chark suffers any physical setback, the Panthers lack the explosiveness to help Young. Hayden Hurst is as milquetoast as any starting tight end can be. Sanders was quite good in Philadelphia, but the Eagles had no qualms about letting him walk, and maybe he's not nearly as effective when he's not behind their elite line.
That's a lot of "ifs," but Carolina's banking on risky players who were considered expendable from their previous situations for good reasons.
The Panthers' defense is largely banking on internal improvement and Evero's impact. There's a decent floor with the unit as long as they're not ravaged by unpredictable injuries. The secondary, at worst, should be competent, even if they're not a playmaking bunch.
But if the front seven can't create enough pressure to help goad quarterbacks into turnover-worthy throws, the defense can't help the offense with favorable field position. The worst case is it's a below-average unit that simply wasn't impactful. That could lead to a massive overhaul next offseason, but we can confidently say that side of the ball needs more investment in it anyway.
The worst-case is Young is a bad rookie quarterback, even if he won't be as bad as Zach Wilson was. Young will be the team's starter next year, barring injury, because they don't have a first-round pick in 2024 after trading up for him, so there's no controversy coming.
But if Young struggles mightily or is injured enough to cast doubt on his durability, the Panthers could finish this season lacking any long-term certainty at several key offensive and defensive positions.