The Divisional Round of the NFL playoffs are sometimes when the real contests truly begin. With Wild Card Weekend completed, the 2022-2023 playoff bracket is truly filled out, and our power rankings for the Divisional Round come into focus.
At this point, no team is safe from elimination, and all of their weaknesses will be laid bare by weeks of film study as the top coordinators in the NFL pair with elite players to produce truly special performances.
Now, the playing fields are relatively even – no team has a free pass into the next round, and all the results will be determined on the field. While home-field advantage matters, it matters less now than at any other point in NFL history.
With that in mind, we look at which teams will most likely take home the Lombardi from here on out.
NFL Power Rankings: Divisional Round
1. Kansas City Chiefs
The
Kansas City Chiefs
have an average defense, and that really doesn't matter. They have the league's best passing game, especially when eliminating injured quarterbacks, and it's not by a particularly close margin.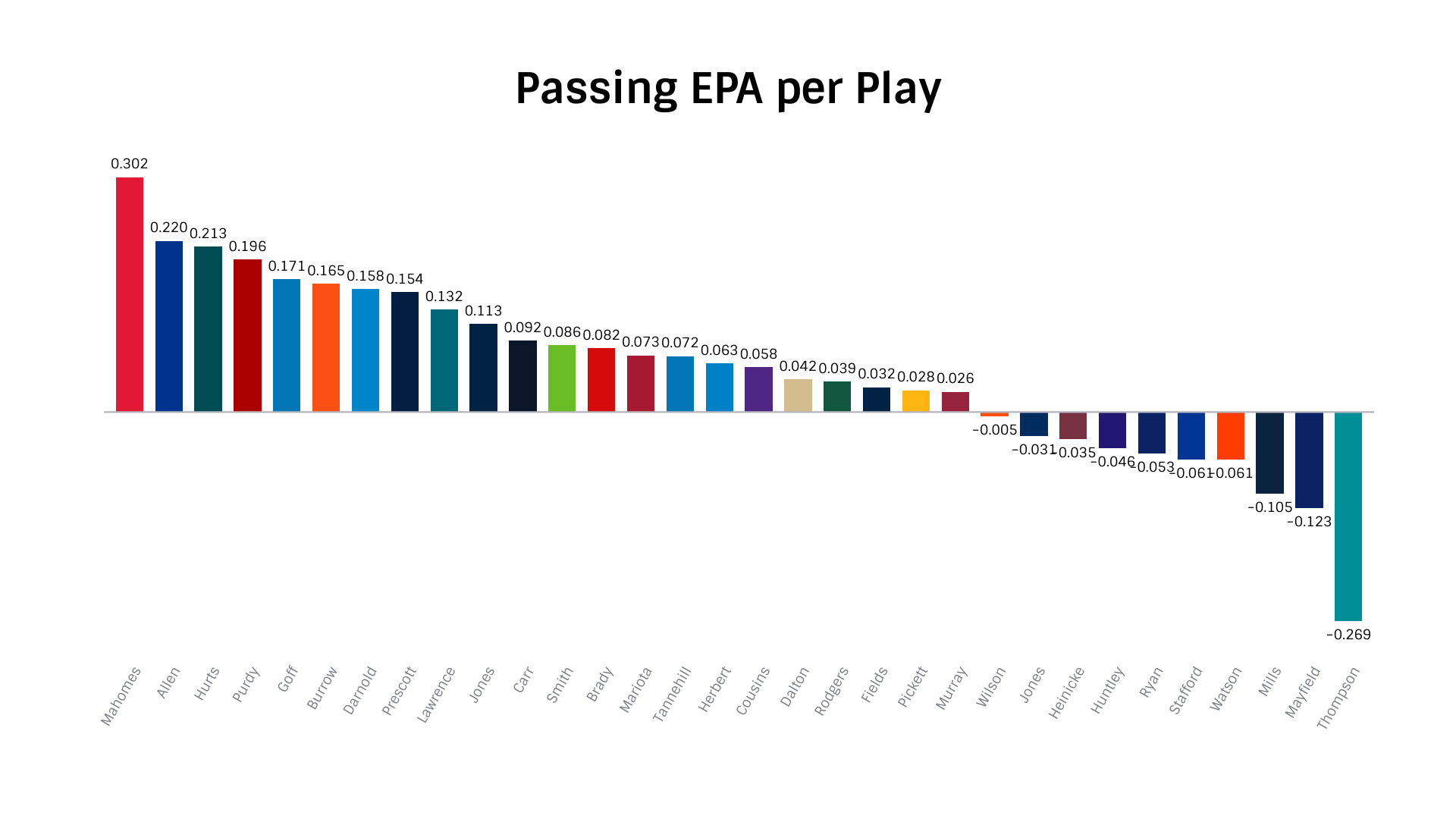 That's why the Chiefs have the best net EPA per play despite the 49ers fielding a top-five passing offense and the number-one passing defense. And they can be relied upon, too. Not only have the Chiefs won a Super Bowl, but they've also won multiple playoff games aside from that run. There's a large sample of play to draw from to tell us that Kansas City and Patrick Mahomes can score points at will and overcome defensive miscues.
Not only that, the Chiefs improved defensively after the trade deadline. They traded cornerback Rashad Fenton to the Falcons and started the rookie combination of Jaylen Watson and Trent McDuffie, the latter of whom played almost all of his snaps in the second half of the season after returning from a hamstring injury.
With a pass rush led by defensive tackle Chris Jones and edge rusher Frank Clark, they have more chances to make noise defensively than they did before. Linebackers Willie Gay Jr. and Nick Bolton also do a great job helping stop the run.
The emergence of Isaiah Pacheco offensively has given the Chiefs a rejuvenated running game, and the pair of Pacheco and Jerick McKinnon has produced a much better running game in the second half of the season.
It feels, more than ever, that the Chiefs are coming together as a complete team for the playoffs that has a way to win in every way possible. They're battle-tested, capable, and efficient. The offense combines explosive playmaking and consistency. They lead the league in 20-plus yard plays and are second in explosive play percentage while remaining number one in success rate on both a play-to-play level and drive-to-drive level.
The Chiefs' offense is overwhelmingly good. The Chiefs' defense is fine. That's enough to be the best team in the NFL.
2. Philadelphia Eagles
The NFC path is easier than the AFC path, so an AFC team that's better on paper will have a worse chance of making the Super Bowl. It's with that context that the Philadelphia Eagles land second here, though they do field an excellent team.
With Jalen Hurts at the helm, they generated a winning record of 14-1, or 93.3 percent. That wasn't a series of flukes, either – they rank third in net EPA per play and have won seven of their regular season games by multiple scores.
The offense, led by Jalen Hurts and supercharged with the presence of two premier receivers, is one of only five in the NFL that have generated positive expected points on their rush attempts. And they are the only one to rank top ten in both passing EPA per dropback and rushing EPA per carry.
They truly can win in a variety of ways and happen to have the defensive capital to make big plays. Drafting Jordan Davis was a long-term investment in their run defense, but it turns out to have made an immediate improvement.
When they limited his snaps at the beginning of the season, they struggled to stop the run and ended up ranking second-to-last in rush EPA allowed per snap. Now, with him as a heavy part of the rotation – along with the additions of Ndamukong Suh and Linval Joseph – they rank in the middle of the pack in run defense.
That has limited their pass rush a small amount, as has the injury to Josh Sweat, but they still defend the pass well and should be able to take on the slate of NFC quarterbacks that they're likely to face. The NFC quarterbacks have had issues putting together complete passing games, so stopping the run does take a bit of a priority on this side of the bracket.
With Darius Slay and James Bradberry at corner as well as CJ Gardner-Johnson – recently returned from injury – they have one of the more complete secondaries in the NFL.
3. Buffalo Bills
The Buffalo Bills entered the season as Super Bowl favorites and it's easy to see why. There are very few weaknesses on the roster on either offense or defense and they've been aggressive about attacking the soft spots in their team construction over the past few years.
Naturally, an offense led by MVP candidate Josh Allen – paired with Stefon Diggs, an elite receiver – will be the focus of any Bills-related conversation. Over the past three years, they've been more productive than any active receiver-quarterback duo still in the playoffs and second overall to the Kirk Cousins-Justin Jefferson duo.
They've been incredible and Allen can produce some of the best plays in the league when paired with Diggs. But on top of that, they've improved their running game over the past several years. Allen still plays a big role in their rushing production but they've been able to offload a good chunk of it onto an increasingly useful running back corps.
They can win with a variety of approaches in the passing game and can tailor their offenses to what hurts opposing defenses more. That kind of tailoring is difficult to find across the NFL and it gives them extraordinary flexibility.
They need more efficient playcalling from Ken Dorsey, their offensive coordinator, but they have a lot to work with.
Defensively, they've been able to sustain losing Micah Hyde, Dane Jackson, Von Miller and Damar Hamlin to injury. They've also dealt with spotty availability at cornerback and some issues with the linebacker corps staying healthy – but have had such incredible depth that they've been able to maintain a top five defense throughout the season.
Now, with their linebacker corps back to full health and the emergence of players like sixth-round pick Christian Benford or the continued development of first and second-round picks like Boogie Basham and Greg Rousseau, they have the ability to punish opposing quarterbacks while still stuffing the run.
Those injuries have hurt them, but they still get phenomenal performances out of Tre'Davious White, Matt Milano and Jordan Poyer. The fact that they can continue to rely on players like Dean Marlowe or Taron Johnson to fill in the gaps allows them to paper over problems that would collapse other teams.
4. San Francisco 49ers
Statistically, the San Francisco 49ers are second only to the Kansas City Chiefs in net expected points along with a whole host of other metrics. They have the top defense in the NFL and can smother opponents on a consistent basis.
Their ability to put away, then dominate, a Seattle Seahawks team that found itself leading at halftime says quite a bit about the total nature of their team. The fact that they're doing this with their third-string quarterback, a seventh-round rookie, is even more impressive.
But that player is a big reason why they fall further down the list than some of the other teams. There's a longer history of production at quarterback with the other top five teams in the NFL than there is with Brock Purdy, and they've shown a more diverse skill set.
He has been expanding his game as of late but has primarily relied on a short passing offense with yards after the catch to carry the rest of the production. It's been efficient, and it's hard to move away from something that's working, but a defense that can take away one type of offense might not need to find other ways to beat it.
He's only had one game this year where he's thrown an average depth of target further than nine yards downfield – the most recent game against Seattle. While having that on film will help the offense lighten the box when they play their next game or two, it's much more of a fluke than a reality.
If they find themselves against a good tackling defense that can shut down Brandon Aiyuk, Deebo Samuel, or Christian McCaffrey, they'll find themselves boxing left-handed.
That said, they have the reliability of their incredible defense – led by Nick Bosa, Fred Warner, and Talanoa Hufanga – to fall back on. The defense is diverse in all of the ways the offense isn't. They can shut down rushing lanes by stacking the box or they can play with multiple defensive backs to deal with spread attacks.
Some games have demanded a blitz-heavy scheme, and in others, they've been content to rush just four. It's been difficult for offenses to take things away from them, and they specialize in identifying weaknesses and attacking them – that's how they shut down the Tua Tagovailoa Dolphins, Tom Brady Buccaneers, and Geno Smith Seahawks.
The biggest issue is that defense overall isn't consistent, even if the specific character of their defense has been adaptable. They were blown out by the Chiefs and lost games to the Chicago Bears and Atlanta Falcons. Their season-end winning streak was also threatened by a Las Vegas Raiders team that benched their starting quarterback.
While it's nice to have those wins at their back, they are the totality of their season – not just their best moments.
5. Cincinnati Bengals
Outside of the top five teams in the NFL, there hasn't been much in the way of chances that analysts have given other teams. Inside that top five are the Cincinnati Bengals, who might just as easily rank second as they do fifth.
Joe Burrow struggled early in the season as Zac Taylor and the offense attempted to figure out how to be explosive with poor pass protection. They ended up figuring out the answer, though there have been hiccups here or there. Burrow in particular has struggled in all three of his matchups against the Baltimore Ravens, and it's likely that opponents will comb through that film in order to isolate what can knock him off of his game.
But in most of their other appearances, the Bengals have demonstrated that they can have the best receiving corps in the league while having an MVP-quality quarterback throwing to them. Their most dynamic plays are characteristic of who they are at their best moments, and we've seen many of those "best moments" in the second half of the season.
They've even demonstrated resiliency as they've lost members of their offensive line or receiving corps and have found ways to produce in spite of those concerns. They can throw deep just as well as the Kansas City Chiefs or the Tagovailoa Dolphins but have chosen a slightly more restrained passing game.
But when moments require it of them, they have the ability to dig out of tough moments better than anyone and can trust their receivers to win "perfectly covered snaps" as well as anyone.
Defensively, the Bengals have been one of the most underrated units all year. A big part of that has been the duo of Sam Hubbard and Trey Hendrickson, who have been great pass rushers. Hubbard might have earned the highlight of the postseason with his 98-yard fumble return against Baltimore, but he's been productive all season.
The real stars of that defense are in the back seven, however. Mike Hilton might be the best slot cornerback in the NFL, and he's certainly the best blitzing corner. They also have had some extremely high-level play from Jessie Bates III, who has emerged from a cover-only safety his rookie year to a well-rounded machine at the position.
Germaine Pratt continues to be an underrated linebacker who might see himself in the Pro Bowl as soon as next year, and Logan Wilson has been a productive pair with him.
The issue for the Bengals is that we're seeing a number of teams return players from injury while the Bengals are losing them. They've lost tackle La'el Collins – perhaps the biggest key to their pass protection turnaround – and continued to see injuries to Alex Cappa at guard and Jonah Williams at tackle.
That, along with seeing Eli Apple struggle against double-moves, means there are some pretty key ways to beat the Bengals that don't quite exist for some of the other top teams.
6. Dallas Cowboys
The Dallas Cowboys entered the season having the blueprint of being a dominant force for the playoffs. Though they did lose Dak Prescott to injury early in the season, their incredible defense led the way and put them in a position to compete for the division – and the first seed – by the time Prescott returned.
Prescott played well after returning, and the Cowboys' defense held up. At its best, that would mean paring a top-three offense with a top-three defense, a recipe for success in any era of football. In today's pass-heavy league, it means even more, and the fact that Prescott can play as an efficient dropback passer with a good receiving corps that can sometimes be great.
The fact that they have the best edge rusher in the league – and a deep rotation of edge rushers opposite Micah Parsons, including top-20 edge rusher Demarcus Lawrence and emerging rookie Sam Williams – means they can find dozens of ways to attack opposing quarterbacks.
The Dallas defense received quite a bit of press early in the season. However, there hasn't been much discussion about them recently – but they're still playing at a high level. They have maintained relevance as a top-three unit, especially as rookie corner DaRon Bland has become a phenomenal bookend to star corner Trevon Diggs.
Those two, along with a safety trio of Malik Hooker, Jayron Kearse, and Donovan Wilson, have made for the rare combination of high-level coverage with elite pass rush. They've been getting more than functional play from their linebackers, Leighton Vander Esch and Anthony Barr.
The trouble is that Prescott's efficiency has dipped as the season has progressed, and his decision-making has waned. Though many interceptions haven't been his fault, he's just as responsible for bad throws he's made that didn't turn into picks, and it has, for the most part, evened out.
Exacerbating issues have been problems along the offensive line as they've been dealing with injury and inexperience. While they continue to receive elite play from Zack Martin, they've had inconsistent play from nearly everyone else, including future Hall of Famers Tyron Smith and Jason Peters. With Peters injured against the Buccaneers, they may have to reformulate the line for what seems like the dozenth time this season.
Rookie Tyler Smith has been fun to watch but also has been a liability at moments and the aggregate result has been a pass-blocking unit ranked 28th in Pass Block Win Rate.
The Cowboys are good, but many things keep them from being great. And right now, the playoffs are full of great teams.
7. Jacksonville Jaguars
It took a lot for Trevor Lawrence, Doug Pederson, and the Jacksonville Jaguars to get into the postseason. Still, they managed to win a weak AFC South and then engineered a phenomenal comeback against the Chargers to advance to the Divisional Round.
Pederson has unearthed the talent that was always there for Lawrence. Key signings like Christian Kirk, Zay Jones, and Evan Engram have all contributed to an efficient passing game in a way that many outside critics didn't think would happen.
The Jaguars feel like they're about a year or two away, however. They have had the second-worst pass protection in the league by Pass Block Win Rate and could use a premier receiver to design the passing game around.
Defensively, they're benefiting from the development of first-overall pick Travon Walker and are getting a lot out of Josh Allen and Arden Key in the pass rush. Still, they could need some more development from Walker if they're truly going to have consistent pressure production. Better defensive tackles wouldn't hurt, either.
They even have one of the best corners no one talks about in Tyson Campbell, who has been one of the league leaders in coverage allowed per snap in coverage. He's done a good job despite drawing some tough assignments, like Keenan Allen, Garrett Wilson, A.J. Brown, and Terry McLaurin.
That, along with overperformer like Foye Oluokun, has given them the juice on defense to make good on the offensive potential that Lawrence shows.
Potential has to meet reality, however, and the inconsistent play of rookie Devin Lloyd or the coverage busts elsewhere in the secondary – along with the lack of a real dominant weapon in the passing game – relegates them nearer to the bottom of this list. That tracks, too – the only team behind them in net EPA/play are the New York Giants.
8. New York Giants
Maybe the New York Giants aren't content with "being happy to be here," but the fans are probably fine with it. The Giants were derided as "frauds" after jumping out to a 6-1 lead early in the season, and those criticisms bore out as the Giants finished the season 3-6-1 for a final record of 9-7-1.
They just put on a show with an incredibly efficient performance – 3.44 points per drive – against the Minnesota Vikings in the Wild Card Round, but those Vikings are also one of the worst defenses in the NFL. The Giants have only been able to score more than 30 points once this season and that was against a collapsing Indianapolis Colts team.
In fact, they only scored more than 24 points one more time – against the Green Bay Packers in Week 5. They rank 15th in points scored per game and 17th in points allowed per game, and that decidedly average rank – with their average record – fits their overall performances this year.
Daniel Jones has improved tremendously, and the Giants have figured out how to use his legs in an efficient way to complement their passing game, but it's not one built to go shot-for-shot against high-level quarterbacks like Mahomes or Hurts.
Without true weapons on offense – they've made the most out of receivers like Isaiah Hodgins, Darius Slayton, and Richie James – they can't rely on anyone to take over games. Even Saquon Barkley, who ran all over Minnesota, has been inconsistent this year. Instead, it's been Jones who has led the way for them when it comes to efficient running.
Defensively, the Giants have overperformed because of the excellence of defensive coordinator Wink Martindale, who has had the unit lead the league in blitz rate. But they've been adaptable, too, allowing the defense to pick how it takes apart opposing offenses when it sees those opportunities.
They still rely quite a bit on man coverage principles, and with Adoree Jackson as their top corner, that can have limitations, but they make do and did an excellent job shutting out Justin Jefferson in the Wild Card round.
There's a lot to smooth out, from inconsistencies in the offensive passing game and a liability for explosive plays defensively, but they definitely belong in the playoff bracket.