There's a lot of overlap between fantasy football and NFL betting. In no area is this more prominent than in NFL prop bets. With thousands of player props on the board every week, the lines aren't as sharp as sides and totals. This is how we take advantage. Here are my top NFL player props for Week 3.
Our Betting Lines page has the freshest lines and promos to get BANG for your buck. PFN's FREE Parlay Calculator and Betting Odds Calculator are also available for your betting process! New to sports betting? Check out our guide on How to Bet on the NFL. Visit our Sports Betting Legal Tracker on how to bet legally in the U.S.
Week 3 NFL Player Props To Target
All prop bets are one unit unless otherwise specified. One unit means to win if the odds are considered a favorite (ex: -110, -150, etc.) and to risk if the odds are considered an underdog (ex: +110, +150, etc.). For example, if your unit is $100, a one-unit bet at -120 would be $120 to win $100. A one-unit bet at +120 would be $100 to win $120.
It's also important to remember that lines constantly shift due to action and the latest news. I will always be transparent about three aspects of each pick: what line I bet it at, the line at the time I wrote this, and at what price I'd no longer be interested.
Every week, I will update my record in this section here. Last week, we went 4-8, -3.9 units. Including a nice Thursday Night Football hit on Matt Breida's rushing yards under, we are now 15-17, -3.15 units. Admittedly, I am off to a slower start this season than last. But Week 3 and Week 4 are where I really started to surge last season. Hopefully, history repeats itself. This week is already off to a good start. Let's carry that momentum into Sunday.
Thursday Night Football props are included in my record. You can find those picks in advance in the weekly TNF betting article featuring all of our betting analysts. To get my weekly NFL prop bets as soon as I place my bets, you can ask me for them in the official PFN Discord or by following me on Pikkit @KatzFF.
Travis Etienne Jr. Over 69.5 Rushing Yards -115 (BetMGM)
The Houston Texans have been one of the worst run defenses in the league for multiple years now. They just allowed Zack Moss to run for 88 yards on 18 carries.
In Week 1, Travis Etienne Jr. saw 18 carries in an easy home win against the Colts. He ran for 77 yards. Look for a similar performance this week against an even worse run defense.
My line
69.5 -115 (BetMGM)
Current line
69.5 -120 (DraftKings)
The highest I'd go
74.5
Calvin Ridley Longest Reception Over 21.5 Yards -114 (FanDuel)
This one is very strong for me. I almost made it a two-unit play. Calvin Ridley is an excellent downfield receiver. I feel like this line would've been a couple of yards higher had it not been for a few near misses in last week's game against the Kansas City Chiefs.
So far, Trevor Lawrence has connected with Ridley on three passes of at least 24 yards. He has at least one in each of his first two games.
I have a sneaking suspicion that by Weeks 6 and 7, Ridley's longest reception number will be regularly around 24.5-26.5 yards or higher.
My line
21.5 -114 (FanDuel)
Current line
same
The highest I'd go
23.5
Garrett Wilson Under 48.5 Receiving Yards -115 (DraftKings)
There are a few reasons I like this prop. First, Garrett Wilson's usage has been awful since Zach Wilson took over. He totaled 34 yards in Week 1, and if not for one spectacular individual feat of skill in Week 2, he would've caught one pass for 15 yards.
Second, we just saw Bill Belichick erase Tyreek Hill, holding him to just 40 yards. Wilson is the only New York Jets pass catcher who evokes fear in opposing defenses. He will scheme to shut Wilson down.
MORE: NFL Week 3 Betting Predictions
Third, I think the Jets win this game. Unless they have a negative game script, look for them to try and win with ball control and defense. That means running and short passing. It will be on the defense to win it and the offense not to lose it. I don't expect many downfield shots to Garrett Wilson.
My line
48.5 -115 (DraftKings)
Current line
50.5 -115 (PointsBet)
The lowest I'd go
45.5
Add Garrett Wilson under 48.5 receiving yards to your bet slip, follow Katz's bets, and monitor your action by clicking here to sign up with Pikkit!
Roschon Johnson Over 22.5 Rushing Yards -115 (BetMGM)
There's just too much smoke surrounding a Roschon Johnson takeover of the Bears backfield to ignore this line. Johnson carried the ball five times for 20 yards in Week 1 and four times for 32 yards in Week 2. He's averaging a 40% snap share.
Johnson has already proven he doesn't need much in the way of volume to surpass this number. If the reports of him seeing increased work are true, he could easily sail past 22.5 yards on volume alone. He's also fully capable of doing it on two carries.
My line
22.5 -115 (BetMGM)
Current line
25.5 -115 (BetMGM)
The highest I'd go
25.5
Chase Claypool Under 22.5 Receiving Yards -115 (DraftKings)
I will bet Chase Claypool's receiving yards under every week that it is offered. We hit on this in Week 1. Then, the books didn't give us a line in Week 2 following Claypool's zero-yard effort. He would've gone over. So…thanks! Now, Claypool is back on the menu for Week 3.
You may think after last week's three-reception, 36-yard performance, that Claypool could easily go over this number. And he can. But let's take that outing in context.
Darnell Mooney was knocked out of the game with a knee injury. He played just 15 snaps. That contributed to increased usage for Claypool. Mooney is good to go this week and is not even listed on the injury report, which means it's back to irrelevance for Claypool.
My line
22.5 -115 (DraftKings)
Current line
22.5 -114 (BetRivers)
The lowest I'd go
18.5
Jerome Ford Under 46.5 Rushing Yards -114 (FanDuel)
It was truly awful what happened to Nick Chubb last week. First and foremost, I hope we see him back and fully healthy next season.
With Chubb out, Jerome Ford took over and did his best Chubb impression, ripping off 106 yards on 16 carries. Now, his rushing total is set at a paltry 46.5 yards. What gives? The Tennessee Titans run defense. That's what.
Through two weeks, the Titans have held Jamaal Williams to 45 yards on 18 carries and Joshua Kelley to 39 yards on 13 carries.
MORE: NFL Week 3 Survivor Picks
It is quite the coincidence that for the third consecutive week, the Titans are facing a backup running back filling in for the starter. It won't be a coincidence when the end result is the same.
Ford is a good player. He will be good. He just won't be efficient on the ground this week. Plus, if Kareem Hunt mixes in at all for even a handful of carries, it will be even more difficult for Ford to surpass this number.
My line
46.5 -115 (FanDuel)
Current line
45.5 -105 (DraftKings)
The lowest I'd go
45.5
Sam LaPorta over 3.5 Receptions -113 (FanDuel) 2 units
This line is wrong. Sportsbooks have not yet adjusted to the fact that Sam LaPorta has a very meaningful role in the Lions offense.
This is a game between two sneaky good offenses. There could be plenty of points in this one, even though the Falcons like to run the ball.
LaPorta has caught five passes in each of his first two games. He's running a route on over 75% of Jared Goff's dropbacks. This is a receiving tight end who is a lock for 5-6 low aDOT targets. We hit on this last week. I'm doubling down and making this my first two unit play of the season.
My line
3.5 -113 (FanDuel)
Current line
Same
The highest price I'd pay
-130
Rachaad White Longest Rush Under 11.5 Yards +100 (DraftKings)
These are two separate plays. Essentially, I am doubling down on the Rachaad White fade.
There is a lot more optimism surrounding White after his admittedly much-improved Week 2 performance. Let's not forget he faced the Bears. You could probably run for 60 yards against the Bears.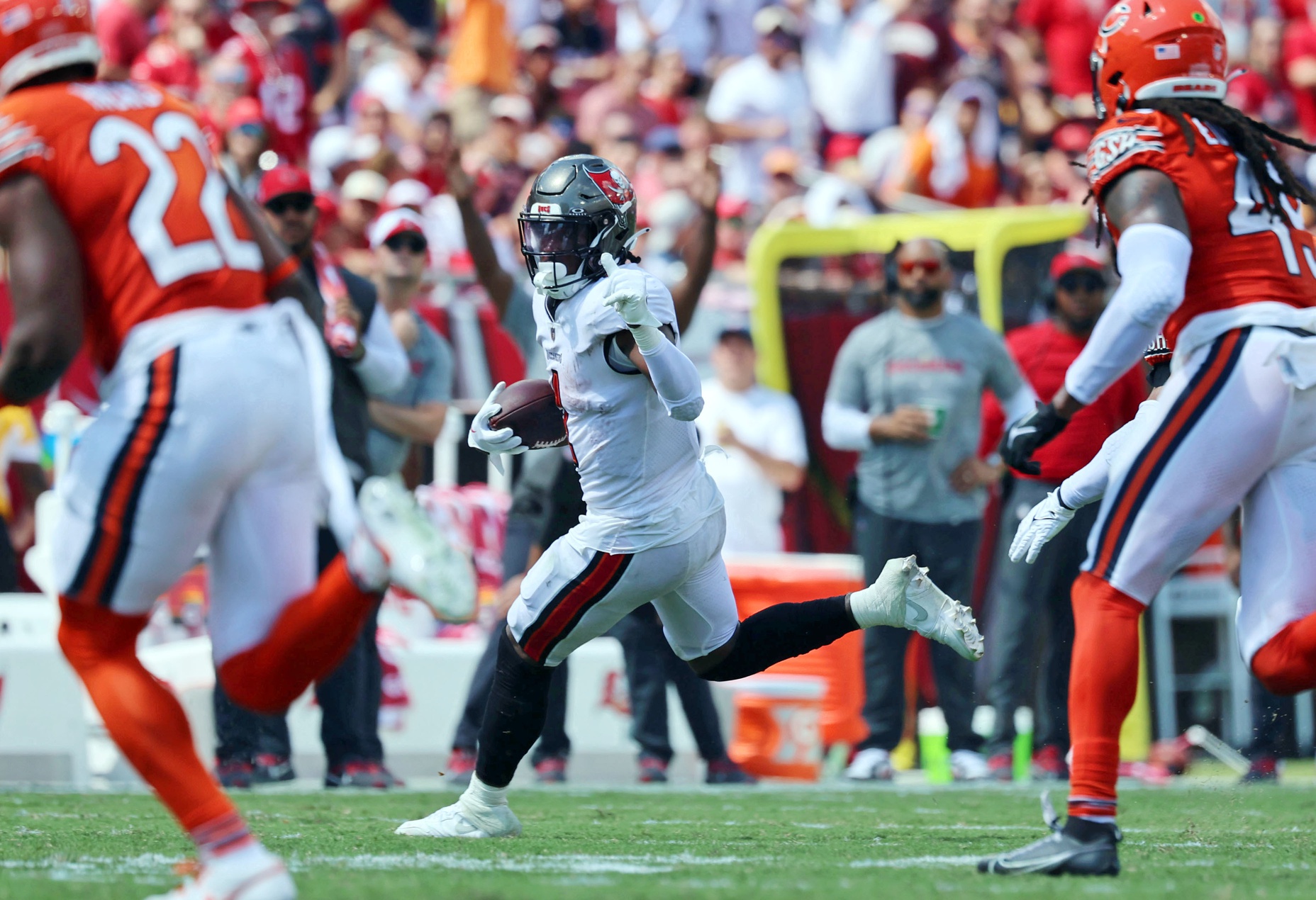 In Week 1, White carried the ball 17 times for 40 yards against a Minnesota Vikings run defense that just allowed D'Andre Swift to run for 175 yards. Now, he gets a Philadelphia Eagles run defense that completely stuffed Alexander Mattison and Rhamondre Stevenson each of the first two weeks.
The Eagles have yet to allow a single run for more than 10 yards. Stevenson and Mattison combined to total just 53 yards over the first two weeks. White also has just one carry for more than 10 yards on the season, and it came last week against the Chicago Bears for 13 yards. Essentially, this is a two-unit play on White, split into two bets that I love.
My lines
47.5 -115 (DraftKings) and 11.5 +100 (DraftKings)
Current lines
50.5 -115 (PointsBet) and 12.5 -130 (DraftKings)
The lowest I'd go
45.5 and 11.5
Jerry Jeudy Over 48.5 Receiving Yards -114 (FanDuel)
Last week was Jerry Jeudy's first game back from a preseason hamstring strain. He only caught three of his five targets for 25 yards. But it was also a very weird game, with Marvin Mims and Brandon Johnson tallying multiple long receptions.
Look for the Broncos to get back to basics this week and target their top receiver. Jeudy is another week healthier, and the game environment is excellent, with the Broncos as touchdown underdogs in Miami.
My line
48.5 -114 (FanDuel)
Current line
Same
The highest I'd go
50.5
Zach Wilson Under 29.5 Pass Attempts -105 (DraftKings)
In a game where the Jets went to overtime, Zach Wilson did not come close to 30 pass attempts. In a game in which the Jets had a negative game script throughout and lost by 20, Wilson did not get to 30 pass attempts.
This week, the Jets are small home underdogs against the New England Patriots. I like the Jets to win this game. That means they won't be trailing and throwing. They can win it with running and defense, which is exactly how I think this game goes.
Wilson will not need to throw the ball 30 times. So he won't.
My line
29.5 -105 (DraftKings)
Current line
29.5 -110 (DraftKings)
The lowest I'd go
28.5
Pat Freiermuth Under 32.5 Receiving Yards -113 (Caesars) and Under 3.5 Receptions -131 (Caesars), 0.5 units each
I know I want to fade Pat Freiermuth, who is a complete afterthought in the Pittsburgh Steelers offense. I couldn't decide how. So, I decided to split the bet.
This is a single-unit fade on Freiermuth in the form of two bets. So far, Freiermuth has exactly two catches for five yards on the season. His usage has been erratic, playing 50% of the snaps in Week 1 and 75% of the snaps in Week 2 (although a big hit to the chest may be to blame for Week 1).
In Week 1, Freiermuth saw four targets. In Week 2, despite playing more and running two more routes, he saw just one target. Simply put, Kenny Pickett's first read is almost never the Muth. So, my read is to fade him.
My lines
32.5 -113 (Caesars) and 3.5 -131 (Caesars)
Current lines
35.5 -115 (PointsBet) and 3.5 -125 (DraftKings)
The lowest I'd go
30.5 and 3.5 -140
Jimmy Garoppolo Under 240.5 Passing Yards -115 (BetMGM)
I am not quite sure why Jimmy Garoppolo's passing yardage line is so high. He's thrown for 185 and 200 yards in each of his first two games. One was a narrow win. The other was a blowout loss. Regardless of the game script, Garoppolo isn't airing it out.
Now, his line is set 40 yards higher than his best game so far. It's a bit confusing. The under just seems so obvious. Perhaps I'm falling into a trap, but I have to recommend it.
My line
240.5 -115 (BetMGM)
Current line
237.5 -145 (DraftKings)
The lowest I'd go
235.5
Amari Cooper Over 57.5 Receiving Yards -115 (DraftKings)
Last week, Amari Cooper played through a groin strain and ripped off 90 yards on seven receptions against a good Steelers pass defense. This week, the Cleveland Browns get a Titans pass funnel defense.
The Browns are likely to have a lot of trouble running the ball this week. As a result, they should throw more. And the Titans have not proven capable of stopping anyone through the air.
Cooper is Deshaun Watson's clear top target, and he should be in line for another heavy target share this Sunday.
My line
57.5 -115 (DraftKings)
Current line
57.5 -130 (DraftKings)
The highest I'd go
60.5
Zach Ertz Longest Reception Under 14.5 Yards -117 (BetRivers)
Zach Ertz has seen a whopping 18 targets on the season. Somehow, he's turned those into 12 receptions for 77 yards.
Ertz has no juice left anymore. He's a pure catch-and-fall-down tight end.
Just one of his receptions this season has gone for more than 14 yards, and it was last week against the New York Giants. In Week 1, against a more formidable Washington Commanders defense, his longest reception was a mere six yards.
This week, the Arizona Cardinals face arguably the best defense in the NFL. Their quarterback, Josh Dobbs, has seen the Dallas Cowboys before. He made a start against them last season. In that start, he did not complete a pass to his TE, Chigoziem Okonkwo, for longer than 12 yards. That doesn't mean Ertz will definitely be worse, but it certainly doesn't hurt our case.
Look for Ertz to see a bunch of underneath targets, as usual. Even if he catches a bunch, he is unlikely to break off a long one.
My line
14.5 -117 (BetRivers)
Current line
Same
Highest price I'd pay
-125
Michael Pittman Jr. Longest Reception Under 20.5 Yards -120 (DraftKings)
We are going to go back to last year's most profitable prop. Last season, I bet Michael Pittman Jr.'s longest reception under about 10 times. It went something like 9-1 (I didn't go back and check, so don't hold me to that).
In Week 1, Pittman caught a 39-yard touchdown from Anthony Richardson. However, that play was mostly yards after the catch from Pittman. He is still being used primarily underneath.
MORE: NFL Week 3 Odds and Betting Trends
Pittman's second-longest reception of the season is just 16 yards. After Gardner Minshew replaced Richardson last week, the targets were even shorter. Pittman caught passes for 11, 8, 7, 6, 5, 4, and 3 yards. Minshew loves him some Pittman…but not downfield.
Outside of a 32-yard screen to Joe Mixon last week, the Ravens have yet to allow a single reception of over 20 yards.
My line
20.5 -120 (DraftKings)
Current line
20.5 -115 (DraftKings)
The lowest I'd go
20.5 -130
Bonus Anytime Touchdown Props
Eventually, anytime touchdown props will become unbettable. It happens every season. The books figure out the NFL landscape and nerf all the lines. But early in the season, there can be considerable value.
These bets are not included in my official record, but I will track them separately so everyone knows how they're doing. I go a half unit on every touchdown prop. Here's what we've got for Week 3.
2023 Record: 4-4, -0.39 units
George Kittle +190 (FanDuel) (From our TNF best bets article —  included here for tracking purposes)
Craig Reynolds +220 (DraftKings)
Travis Etienne -105 (DraftKings)
Justin Jefferson +105 (DraftKings) (Full unit)
A.J. Brown +135 (DraftKings)
Long Shot Props
Every week, this section will include true long shots. These are bets that we do not really expect to hit but ones where the odds appear to be longer than they should be. These bets are also not included in my official record, and I will not be tracking them.
Even though I'm not tracking them, I would be doing myself and all of you a disservice to not point out that we hit on Keenan Allen's first touchdown last week at +950. If you bet the same amount on every long shot this season, you are undoubtedly up based on that one hit alone. That's the goal with the long shots. We won't hit many, but it only takes a couple to profit.
Craig Reynolds first  Detroit Lions TD +700 (DraftKings)
Craig Reynolds to score 2+ TDs +2200 (FanDuel)
Josh Palmer first Los Angeles Chargers TD +1500 (DraftKings)
Jonnu Smith anytime TD +750 (DraftKings)
Jerry Jeudy to record 100+ receiving yards +900 (PointsBet)
Javonte Williams first TD +1100 (BetMGM)
Nico Collins first TD +1600 (FanDuel)
Desmond Ridder first Atlanta Falcons TD +1300 (DraftKings)
Chris Olave first TD +1200 (FanDuel)
Adam Thielen first TD +1600 (FanDuel)
Damien Harris first Buffalo Bills TD +1200 (FanDuel)
Jamal Agnew first Jacksonville Jaguars TD +1300 (FanDuel)
Erik Ezukanma first Miami Dolphins TD +1400 (DraftKings)
Noah Fant first Seattle Seahawks TD +1200 (DraftKings)