NFL training camps are now well underway, but the running back market continues to take its share of hits. We'll take a deep dive into why, in most cases, the market for that position has been in the decline for several seasons — not just for 2023, and we'll also take an inside look at some camp standouts in the early going.
Running Back Market's Overall Decline Didn't Start This Year
While much has been made of the regression in RB deals this year, it actually started well before that. The deals going back even five years ago were much stronger than they are today.
Former Rams RB Todd Gurley signed a huge deal over five years ago (July 25, 2018) for $60 million over four seasons ($15 million per year), and former Cowboys RB Ezekiel Elliott signed for the same average per season over six seasons.
Even Adrian Peterson's three-year contract extension signed eight years ago with the Minnesota Vikings — yes, eight — was better (three years, $42 million, $14 million per year) than most deals in recent years.
Here's a look at the best deals by year since that time that have been completed, which will give you a better idea of how much the running back money has, for the most part, been in regression in recent years:
2018-2023 Notable Contract Extensions
(Note: Excluding one-year franchise-tagged players, the listed date is the day the contract was executed by both sides.)
David Johnson/Arizona Cardinals (Sept. 8, 2018): Three years, $39 million ($13 million annually)
Ezekiel Elliott/Dallas Cowboys (Sept. 4, 2019): Six years, $90 million ($15 million annually)
Le'Veon Bell/New York Jets (March 13, 2019): Four years, $52.5 million ($13.125 million annually)
Christian McCaffrey/Carolina Panthers (April 16, 2020): Four years, $64.064 million ($16.016 million annually)
Derrick Henry/Tennessee Titans (July 15, 2020) Four years, $50 million ($12.5 million annually)
Joe Mixon/Cincinnati Bengals (Sept. 2, 2020): Four years, $48 million ($12 million annually)
Dalvin Cook/Minnesota Vikings (Sept. 12, 2020): Five years, $63 million ($12.6 million annually)
Alvin Kamara/New Orleans Saints (Sept. 12, 2020): Five years, $75 million ($15 million annually)
Nick Chubb/Cleveland Browns: (Aug. 2, 2021): Three years, $36.8 million ($12.266 million annually)
Aaron Jones/Green Bay Packers (March 27, 2021): Four years, $48 million ($12 million annually)
Note: Bell was the only player who changed teams at the time of doing a new deal.
Since McCaffrey signed his extension over three years ago, which is still the best running back contract in NFL history on a per-year average, the only back who has signed for $15 million or more per season since then was Kamara (nearly three years ago). And he signed a five-year deal, which is one season longer than what McCaffrey agreed to.
How bad was it for running backs who hit the market this year?
Miles Sanders, who is coming off career-season highs in rushing yards (1,269) and rushing touchdowns (11) with the Philadelphia Eagles, signed a four-year, $25.4 million deal ($6.35 million per year) with the Carolina Panthers.
That's over $9.6 million per season less than McCaffrey signed for — three years ago. And McCaffrey had two years left on his rookie deal (including his fifth-year option) at the time he signed his extension.
That's not a knock on Sanders, who actually signed the best free agent deal at the position. Former Chicago Bears RB David Montgomery signed the second-best FA deal at three years and $18 million ($6 million per year).
It's just a reality of the RB market, which has been in a market decline for years and crashed over the past four to five months, with some veterans agreeing to pay reductions (see Joe Mixon and Aaron Jones) and others set to play on the franchise tag (Josh Jacobs and Tony Pollard) or a renegotiated one-year deal (Saquon Barkley).
Latest Training Camp News and Rumors: Raiders CB Position
When the Las Vegas Raiders had veteran CB Marcus Peters in for a visit back in May, they decided not to work him out. It turned out to be more of a get-acquainted situation, but the Raiders set their sights on signing him before training camp would commence in late July.
One of the reasons why Las Vegas decided to pass on signing Peters then was because they wanted to see him in a little better physical shape, a source said, which he clearly was when they worked him out recently. The team also worked out veteran CB Troy Hill on the same day they worked out Peters.
After the workout, Peters signed a one-year, $3 million contract with incentives (believed tied mostly to playing-time snaps) that pushes the deal to a maximum of $5 million, a source said.
Third-year CB Nate Hobbs, who lined up mainly inside as a rookie, played quite a bit on the outside last season due to necessity. Las Vegas was perhaps the least talented team on the outside at the position and lacked quality depth. The talented Hobbs was, thus, asked to move around and handled it well.
But even with Peters scheduled to start on the outside, it's not a given that Hobbs will move back to playing inside full-time again.
To add to the position, the team signed former Rams CB David Long to a one-year, $1.5 million deal, but he only started 10 of the 52 games he appeared in over four years and never played in more than 47% of the defensive snaps in any of those seasons. The team also selected former University of Maryland CB Jakorian Bennett in the fourth round of this year's draft, yet the team still lacks top-end talent at the position.
Hobbs missed six games last season due to a broken left hand and has yet to be cleared to practice in training camp due to getting hit in the face during a charity softball game before camp started last week.
Vikings' EDGE Plan in 2023
While the Minnesota Vikings reached a revised one-year deal with DE/OLB Danielle Hunter over the weekend, sources said the team had been looking into the pass-rusher market recently with conversations with other teams.
Minnesota lacks a quality interior pass rusher, and Hunter and veteran OLB Marcus Davenport are on one-year deals. Meanwhile, their other best pass rusher, D.J. Wonnum, enters this season in the final year of his rookie deal.
Davenport, who signed for one season worth a maximum of $13 million ($8.5 million signing bonus, $1.5 million base salary fully guaranteed, $2 million in per-game roster bonuses, $1 million workout bonus), has missed significant time over his career due to injury (toe, foot, shoulder, pectoral).
The team is going through a complete defensive philosophy change under new defensive coordinator Brian Flores, who is expected to run a lot of the same concepts that he learned during his time with the New England Patriots.
That scheme features a lot of pre-snap and post-snap movement on the back end, which typically causes the quarterback to hesitate just a little longer, which could result in a higher turnover rate.
Latest News Surrounding the New York Giants
As any reporter who has been to any of the New York Giants' training camp practices could tell you, the most impressive player on either side of the ball has been veteran TE Darren Waller. And that's not to say the Giants haven't had any standout players — they have — but no one has been more dominant than the 30-year-old pass catcher during the team's first week of practices.
And it's not just making a spectacular catch or two each practice, which Waller has done. It's about what type of an impact he makes on the defense when it comes to matchups and coverages.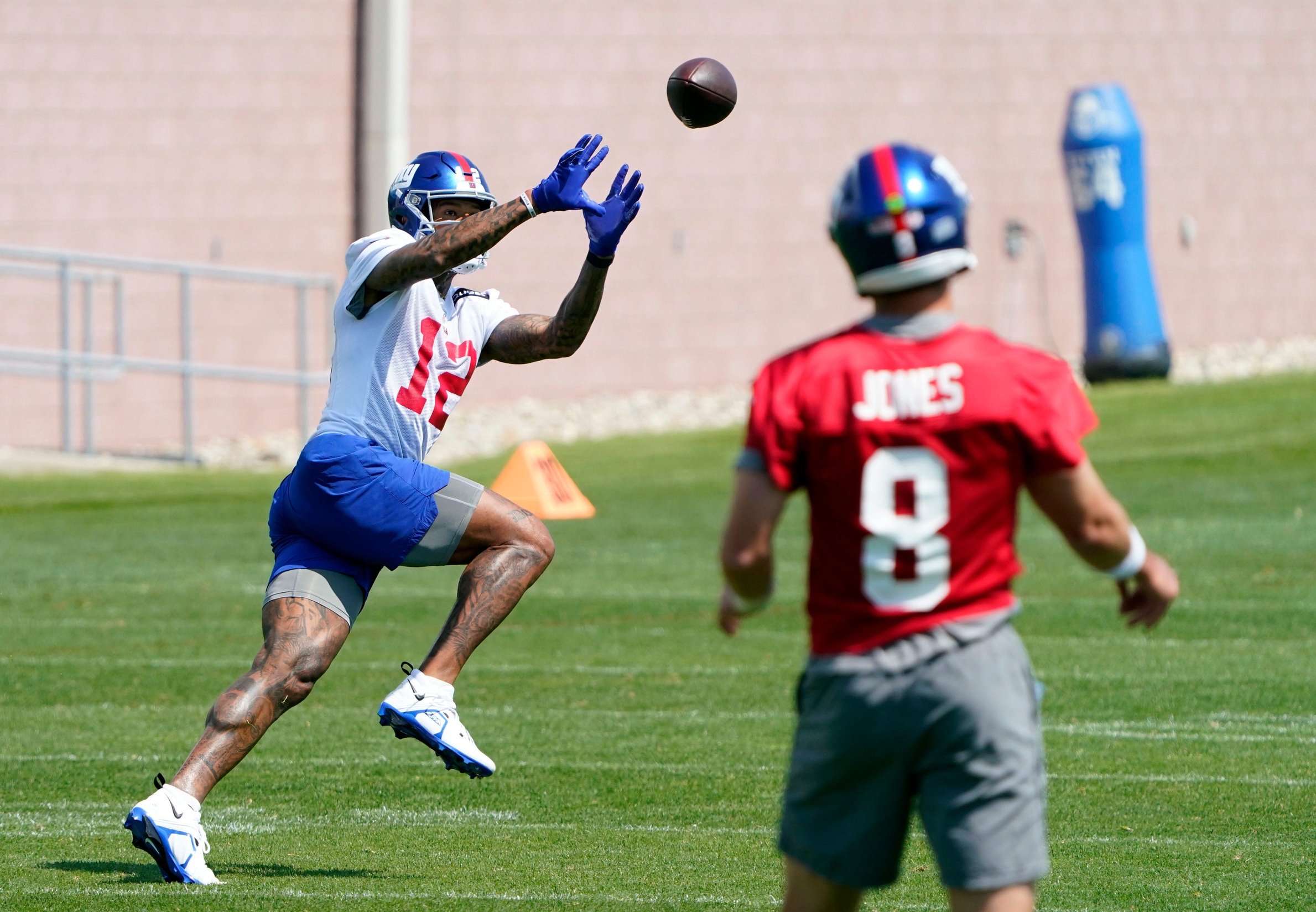 Waller, who is taller than 6'6", simply can't be handled 1-on-1 by any defender. Because of that, opposing defenses will have to not only double-team the former college wide receiver but also get physical with him.
Last week, Waller towered over his teammates during those practices and made big play after big play. While the Giants were in the midst of the mandated four-day acclimation period mandated by the CBA where teams can't be in pads, Waller looked like a giant wide receiver during the team's practices and got open repeatedly.
Waller's headed for a similar role that the Raiders had in mind for him when they signed him to a three-year, $51 million contract extension (before trading him six months later).
Head coach Josh McDaniels, a source with knowledge of the situation said, planned to move Waller all over the offensive formation to take advantage of matchups, but was limited to just 28 receptions over nine games played due to a significant hamstring problem. And as Pro Football Network explained recently, it was Waller's injury issues over a two-year period that led to Vegas deciding to trade him.
Defensively, the team got some good news when second-year ILB Darrian Beavers, whose rookie season got cut short last August due to an ACL injury, did not start training camp on the active/PUP list. Word is that Beavers does look healthy and is getting a chance, as he did last year at this time, for serious playing time.
Philadelphia Eagles' RB Position
Over the first two seasons of head coach Nick Sirianni's tenure with Philadelphia, the running backs have not caught a lot of passes.
Third-year RB Kenneth Gainwell caught 33 passes as a rookie in 2021, but his catch total dipped to just 23 last season. That total actually led all of the Eagles' backs in 2022, but it will almost certainly go up. However, it likely won't be the talented Gainwell who leads Philadelphia in receptions.
When the team acquired former Lions RB D'Andre Swift during this year's NFL Draft, some team observers questioned why they would make this move considering Gainwell ended the season as their passing-down back.
Swift, who caught 156 passes over his first three seasons despite missing 11 games due to injury, immediately upgrades the position with his ability to catch the ball and, as a pro personnel source said, to make unblocked defenders miss in space. The source added that he runs with such great vision and has great spatial awareness.
If the first three training camp practices are any indication, Swift will easily be the Eagles' most targeted running back. But the difference from the two previous seasons with Eagles running backs: most of the passes Swift caught last week appeared to be designed pass plays to him.
Swift made several outstanding catches last week, but none better than one on Sunday where he beat the defender far downfield but appeared to slip or trip, yet was able to still catch the ball when on the ground.
One knock that some personnel sources have on starting QB Jalen Hurts is that he will look to run sometimes if his primary pass targets are not open and decide not to check it down to the running backs. But with Swift now in tow, it's hard to imagine that Hurts won't find a way to get him the ball — he's that good with the ball in his hands.
Hurts' arm, by the way, looked stronger during the team's first three camp practices. And he looked to be even more aggressive throwing the ball to a variety of pass targets.