The NFL coverage maps have been released for Week 6. The NFL schedule isn't overly exciting this week in terms of matchups, but we could have a much better idea of who'll be ready to make a playoff push come the second half of the season. This week's doubleheader can be found on FOX.
NFL Coverage Map for Week 7
The folks at 506 Sports provide this week's NFL TV and coverage map. The color codes and what games they correspond to are listed below.
Listings include FOX, CBS, NFL Network, and prime-time games on Amazon Prime, NBC, and ESPN. These maps are subject to change throughout the week.
CBS Single-Game NFL TV Coverage Map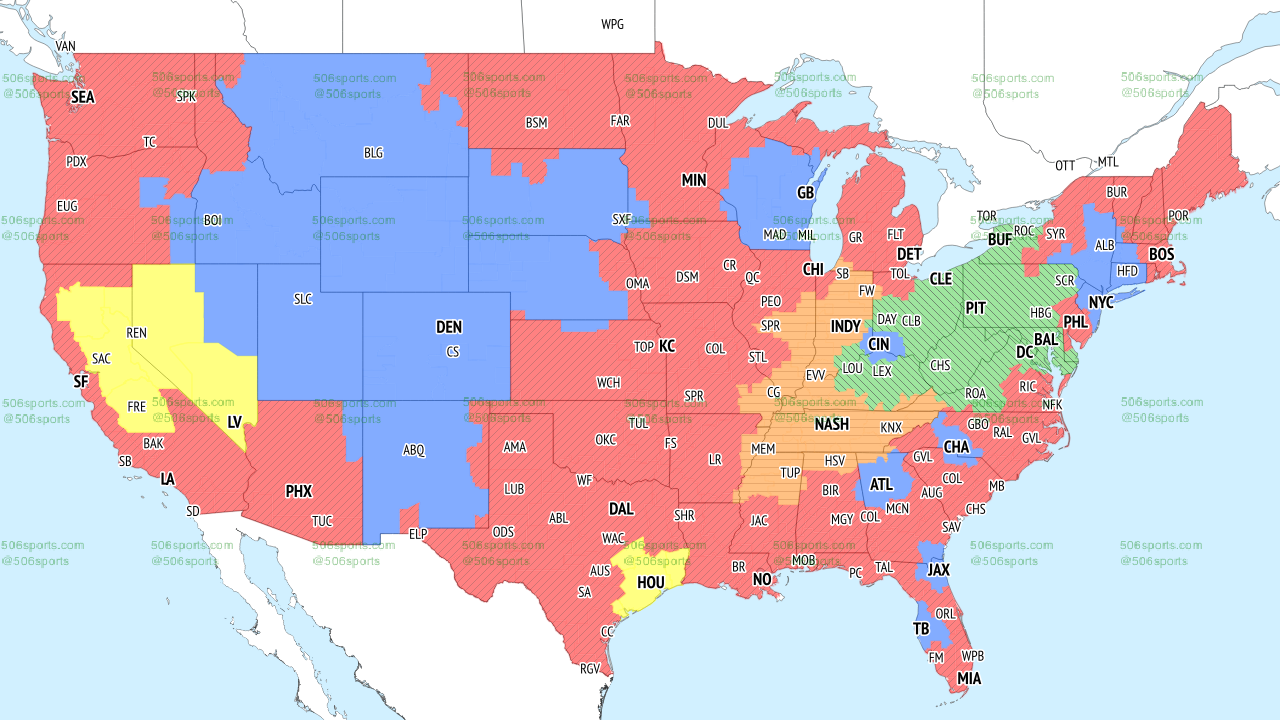 Red: Detroit Lions @ Dallas Cowboys
Jim Nantz and Tony Romo
Dak is back, baby. After falling to the Giants last week, Cowboys fans surely want to see Prescott come out firing on all cylinders against the 1-4 Lions to keep pace with the Giants and Eagles in the NFC East.
Green: Cleveland Browns @ Baltimore Ravens
Kevin Harlan and Trent Green
The amazing thing about the Browns in 2022 is that going into Week 7 and sitting at 2-4, they're only a game behind the Ravens, and the AFC North lead. A win would keep Browns fans hopeful until Deshaun Watson returns from suspension.
Orange: Indianapolis Colts @ Tennessee Titans
Andrew Catalon and James Lofton
The AFC South started the 2022 season with the Jaguars on top while the Colts and Titans struggled to find their footing. Now through six weeks, the Titans and Colts are both sitting atop the division and are set to fight for bragging rights.
Blue: New York Jets @ Denver Broncos (Late)
Ian Eagle and Charles Davis
Few teams in the NFL are more surprising thus far than the 4-2 Jets. On the other hand, few teams are more disappointing than the 2-4 Broncos. This has the makings for an offensive struggle, and we can be thankful CBS and Paramount+ have this game in the late window.
Yellow: Houston Texans @ Las Vegas Raiders (Late)
Greg Gumbel and Adam Archuleta
There are only two one-win teams in the AFC going into Week 7, and they're facing each other Sunday afternoon. If you find yourself on the coverage map above with this game on in your area, check Drizly and see if they can deliver you your favorite choice of alcohol.
FOX Early-Game NFL TV Coverage Map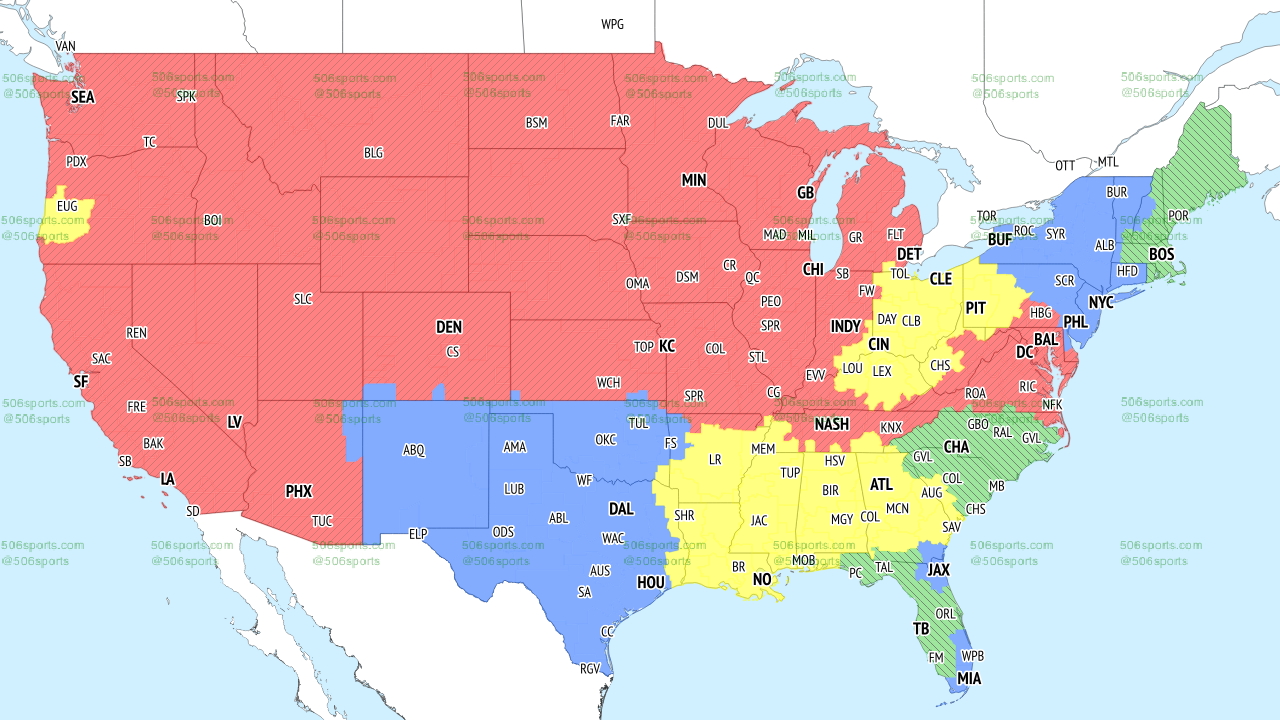 Red: Green Bay Packers @ Washington Commanders
Adam Amin and Daryl Johnston
At 2-4 and with Carson Wentz on the mend with a fractured finger, the Commanders are fighting for bragging rights for the rest of the season. Their opponent this week, however, is sitting at reality being two games down in the NFC North to their rivals in Minnesota. Currently, the Packers are 5.5 point favorites over the Commanders on the Barstool Sportsbook.
Green: Tampa Bay Buccaneers @ Carolina Panthers
Kenny Albert and Jonathan Vilma
Fun fact: Former Panthers QB Jake Delhomme is just two years younger than Tom Brady. With the Panthers' struggling to find their identity at the quarterback position this year, who says no to a rematch of Super Bowl 38 this Sunday?
Blue: New York Giants @ Jacksonville Jaguars
Chris Myers and Mark Schlereth
The Giants may be 5-1, but they're three-point underdogs to the 2-4 Jaguars on the Caesars Sportsbook. Can New York keep the haters in check?
Yellow: Atlanta Falcons @ Cincinnati Bengals
Brandon Gaudin and Robert Smith
The Falcons are in lockstep with the Buccaneers for the NFC South lead, as are the Bengals with the Ravens in the AFC North. It may be an out-of-conference game, but a lot rides on the line between these two teams making sure they pick up this Week 7 win.
FOX Late-Game NFL TV Coverage Map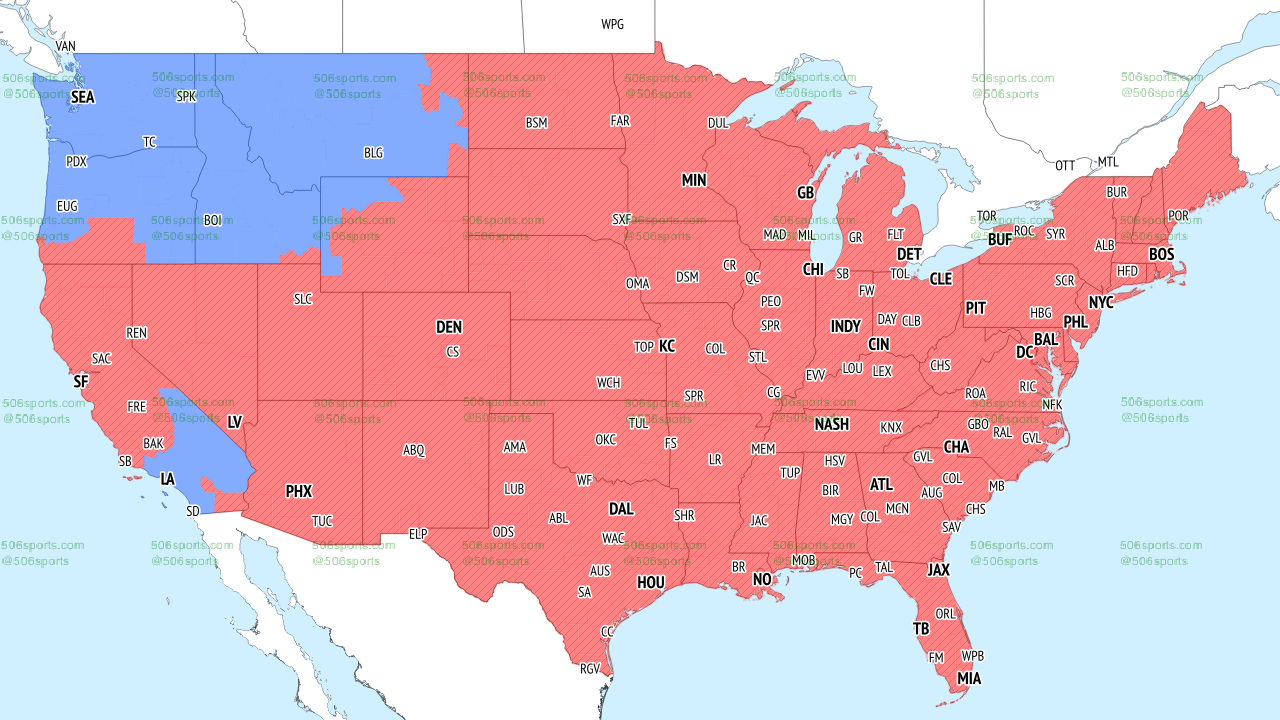 Red: Kansas City Chiefs @ San Francisco 49ers
Kevin Burkhardt and Greg Olsen
For the second consecutive week, the Chiefs get the Sunday afternoon game of the week, but this time over on FOX. Patrick Mahomes struggled at home against a top-tier defense from Buffalo last week, and this week he travels to take on another in San Francisco.
Blue: Seattle Seahawks @ Los Angeles Chargers
Kevin Kugler and Mark Sanchez
DraftKings fooled us last week, boosting 1+ touchdowns for Justin Herbert against the Broncos' defense. Instead, he broke an NFL QB record for the most passes (57) in a game without throwing a touchdown.
This week, the odds are greater, although against a young, stingy Seahawks secondary led by rookie Cornerback Tariq Woolen.
National TV Broadcasts for Week 7
Thursday Night Football
New Orleans Saints @ Arizona Cardinals (Amazon Prime)
The Thursday Night Football brand really isn't helping itself with these matchups. What fans will be intrigued by is watching Taysom Hill possibly get his annual spot start at quarterback, only to let Twitter folk argue why he is or isn't actually a quarterback.
Sunday Night Football
Pittsburgh Steelers @ Miami Dolphins (NBC)
Last week, the Steelers got a great win against the Buccaneers after rookie Quarterback Kenny Pickett went down with an injury. Meanwhile, the Dolphins get Tua Tagovailoa back from injury following a three-week carousel at the quarterback position. It'll be a great night to order in.
Monday Night Football
Chicago Bears @ New England Patriots (ESPN)
Do you think Bill Belichick is Zappe he's got a quarterback controversy brewing in New England? He does, whether he'll admit it or not. The Patriots have looked much better with the rookie under center over Mac Jones, and they should have few issues against the Bears on primetime Monday Night Football this week.