Two weeks of the 2023 NFL season are in the books, and now we have the Week 3 coverage maps for both FOX and CBS. This week it is the turn of FOX to have the doubleheader, meaning you will only have one option on CBS this week. Let's take a look at how the Week 3 NFL coverage maps shape up and what to expect from each game.
NFL Coverage Map for Week 3
The people at 506Sports do a fantastic job of producing the NFL coverage maps each week. Their color-coded map allows people to see which games will be broadcast in their region on both FOX and CBS. It is worth noting that these are the maps on Wednesday, and certain elements are subject to change.
CBS Single-Game NFL TV Coverage Map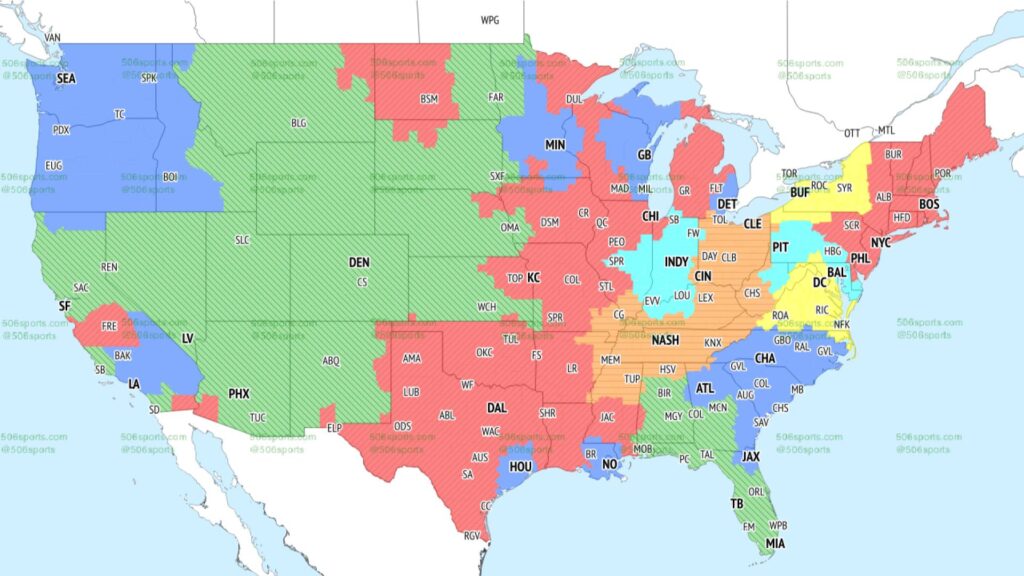 Red: New England Patriots at New York Jets
Jim Nantz and Tony Romo
Outside of Aaron Rodgers, the New York Jets, and Garrett Wilson's fantasy managers, CBS may well have been the biggest losers of Rodgers' injury. The network set their Week 2 and 3 schedules in advance and had Jim Nantz and Tony Romo covering the Jets in consecutive weeks.
Now they have their lead announcer pairing covering the 0-2 Zach Wilson-led Jets going against the 0-2 New England Patriots. On the bright side, based on NFL history, this game is a de facto Week 3 elimination game, so at least CBS has that going for them.
Green: Denver Broncos at Miami Dolphins
Kevin Harlan and Trent Green
With a few different bounces of the ball, this game could easily have seen two undefeated teams facing off. If that was the case, CBS may well have been looking for a way to expand the amount of their Week 2 NFL coverage map this game took.
As it is, the 0-2 Denver Broncos now have to go to Miami to face the 2-0 Dolphins, who have started the season with back-to-back road wins.
Yellow: Buffalo Bills at Washington Commanders
Andrew Catalon, Tiki Barber, and Matt Ryan
When the NFL schedule was released, this game would not have been one that many circled. However, with the Washington Commanders at 2-0 and the Buffalo Bills at 1-1, this game has an added level of intrigue.
The Commanders' wins have been less than convincing, but then again, so have the Bills' performances. We could learn a lot about these two teams on Sunday.
Brown: Tennessee Titans at Cleveland Browns
Spero Dedes and Adam Archuleta
Two 1-1 teams square off in Cleveland, and this game could very well be one of those that draws little attention. Neither offense has been flying high this year, and this game could have an attritional feeling to it.
Cyan: Indianapolis Colts at Baltimore Ravens
Beth Mowins, James Lofton, and Jay Feely
The Baltimore Ravens will be riding high after beating the Cincinnati Bengals last week. At 2-0, now they need to hammer home that advantage.
MORE: NFL Bye Weeks Schedule 2023

They sit alone atop the AFC North, and a win here would really put pressure on the Bengals ahead of their game on Monday. As for the Indianapolis Colts, they will be looking to build on last week, but the health of Anthony Richardson will be one to watch as he works through the concussion protocol.
Blue: Carolina Panthers at Seattle Seahawks (Late)
Ian Eagle and Charles Davis

The late game on CBS does not have a huge amount going for it if you are a neutral fan. This was very nearly a potential elimination game with both teams at 0-2, but the Seattle Seahawks pulled out an OT win.
Now they will be desperate to lodge a home win and keep in touching distance of the San Francisco 49ers. The Carolina Panthers' focus is building around Bryce Young and slowly getting their team to a level where it can compete again in the NFC.
FOX Early-Game NFL TV Coverage Map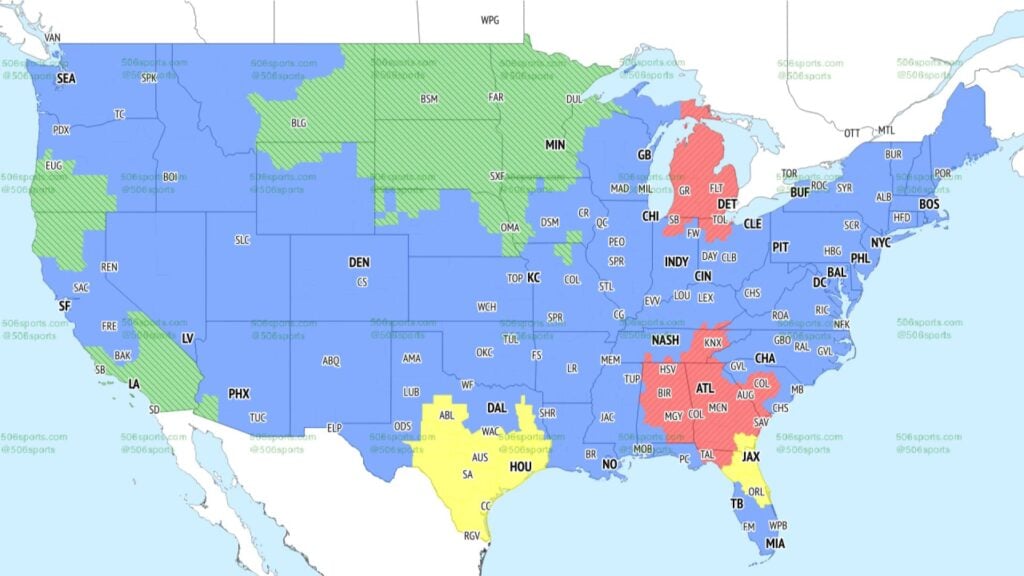 Red: Atlanta Falcons at Detroit Lions
Adam Amin and Mark Schlereth
The Atlanta Falcons march into Ford Field at 2-0 and riding high, but a different test awaits them in the Detroit Lions. Detroit left themselves too much to do last week and ultimately lost in OT.
However, they will see this as a chance to bounce back. The way the Lions play their football will mean we often see their guys getting a bigger chunk of the FOX NFL coverage map than we are used to.
Blue: New Orleans Saints at Green Bay Packers
Kenny Albert and Jonathan Vilma
A few years back, this game would have been worthy of a late-afternoon or prime-time slot, but things are very different now. Instead, this matchup between the New Orleans Saints and Green Bay Packers occupies a relatively small part of the Week 2 NFL coverage map.
It is safe to say that Derek Carr vs. Jordan Love is not the draw Aaron Rodgers vs. Drew Brees was.
Green: Los Angeles Chargers at Minnesota Vikings
Kevin Kugler and Mark Sanchez
In a different world, we could be talking about this as a potential Super Bowl preview, but instead, this is a Week 3 battle for survival.
The Los Angeles Chargers and Minnesota Vikings have lost close battles to fall to 0-2 and sit at the bottom of the NFL standings. Dropping to 0-3 will make it extremely difficult for either to make the playoffs this season.
Yellow: Houston Texans at Jacksonville Jaguars
Chris Myers and Robert Smith
This needs to be a get-right game for the Jacksonville Jaguars after stumbling last week. They put away the other struggling AFC South team, the Colts, in Week 1, and now they need to do the same with the Houston Texans in Week 3.
However, the Texans have shown signs of improvement this season, so the Jaguars should not underestimate them.
FOX Late-Game NFL TV Coverage Map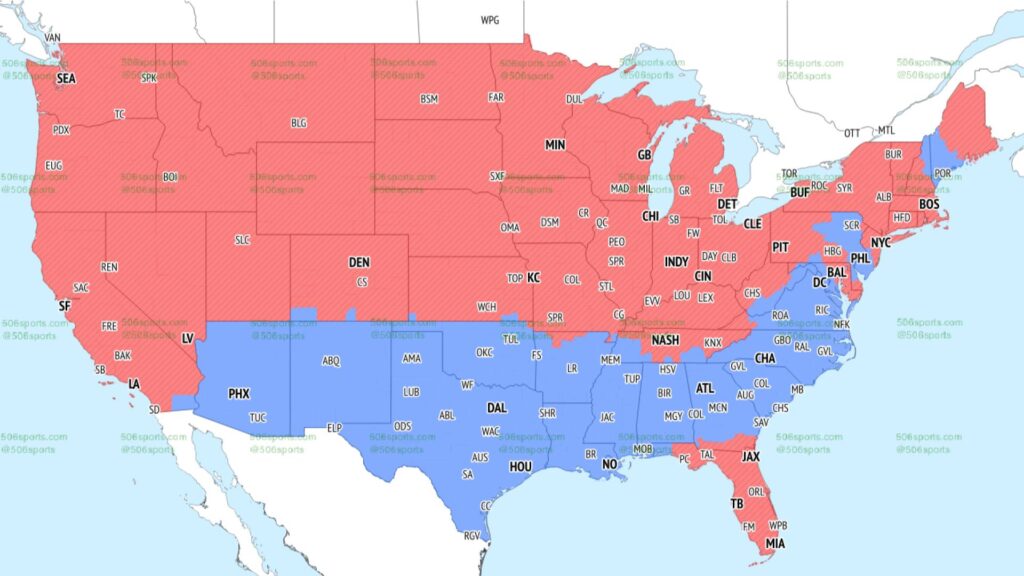 Red: Chicago Bears at Kansas City Chiefs
Kevin Burkhardt and Greg Olsen
It feels like FOX got the raw end of the deal with their Week 3 late-afternoon slate. The Chicago Bears have not looked good through the first two weeks, and the Kansas City Chiefs will be quietly confident that they can advance to 2-1 at home.
However, the Chiefs offense has yet to look right, so the Bears will think they can keep themselves in the game.
Blue: Dallas Cowboys at Arizona Cardinals
Joe Davis and Daryl Johnston
This game is an intriguing one when you look at the Week 3 NFL coverage map. The fact the Dallas Cowboys are in the game makes this a draw for quite a large area, but the expected quality of the game could mean it is essentially over as a competition very early.
NFL Week 1 National TV Broadcasts
Thursday Night
New York Giants at San Francisco 49ers (Amazon)
You won't find many people expecting this to be a tight contest on Thursday. The New York Giants have really struggled through the first couple of weeks, and going into Levi's Stadium is not an ideal situation when you aren't playing at 100%.
MORE: Week 3 NFL Power Rankings
New York will be hoping to avoid dropping to 1-2, but a more realistic goal might just be to avoid another national embarrassment.
Sunday Night
Pittsburgh Steelers at Las Vegas Raiders (NBC)
This battle between two 1-1 teams is somewhat intriguing and could have ramifications down the line for playoff spots. The Pittsburgh Steelers getting back-to-back prime-time billing was an intriguing call from the NFL schedule office.
Monday Night
Philadelphia Eagles at Tampa Bay Buccaneers (ESPN)
Los Angeles Rams at Cincinnati Bengals (ABC)
Another Monday Night Football overlapping slate awaits us this week, and this one involves three of the previous four Super Bowl teams. Both games should be intriguing in terms of the situations involving the four teams, so hopefully, we get at least one entertaining and close game.