Responsible gambling involves restraint. The emotional waves of watching NFL betting transpire requires a decision making motive that is stoic and objective. Sometimes, that presents itself as putting your tail between your legs for a few hours instead of trying to overcompensate for a poor early round of games.
Responsible gambling involves money management. Hooray, we're glad you had a profitable week last week. It's no reason to triple your units on each bet this week! Come up with your long-term plan, use Chris Smith's proven system, and build your bankroll over time while ubiquitous NFL chaos beheads the whimsical natures of others.
Think of NFL bets like a hedge fund, not a lottery ticket
You have the gusto to throw down some dollars on NFL games — great. Why put it all on one game and succumb to the volatility of high stakes when you can hedge your bets and spread the risk over multiple games? Resist the temptation to treat NFL betting like a drug; there are hotlines if that's how you feel.
Making money is possible with the proper methodology and calibrating your expectations. Winning systems are about the grind, not the shine.
Really, PFN's gambling approach starts with Chris Smith.
Chris has the sort of self-deprecation you need out of your handicapper – the guy willing to bet against his own team religiously.
The NFL has a funny way of swinging the pendulum from week to week, and Chris' grit helps him sift through the NFL betting chaos
Rewind the clock 14 years, and Chris blogged down in his mom's basement. Probably ate bagel bites and sipped on Capri-Suns. During those existentially arduous years, iron sharpened iron, and he began tracking his weekly NFL betting progress. Married and with a family now, he no longer eats bagel bites, but the betting obsession blossomed into a consistent system.
In today's age, you need receipts to know that this "proven system" isn't a figment of the imagination. Transparency is an important currency in the PFN gambling section. Good and bad, you know where we stand: we will track every bet of every author throughout the season.
Receipts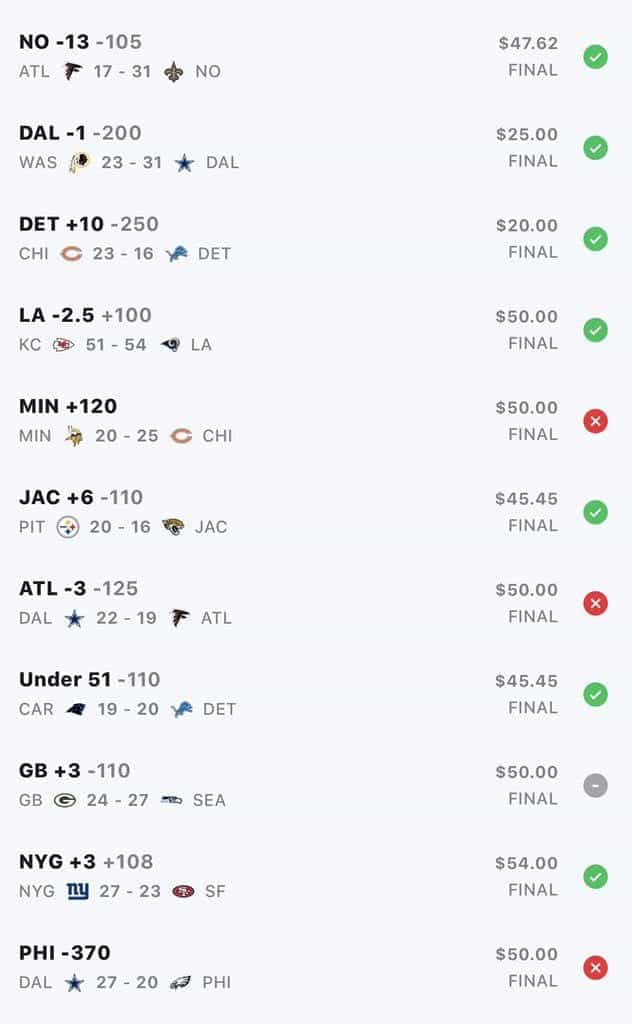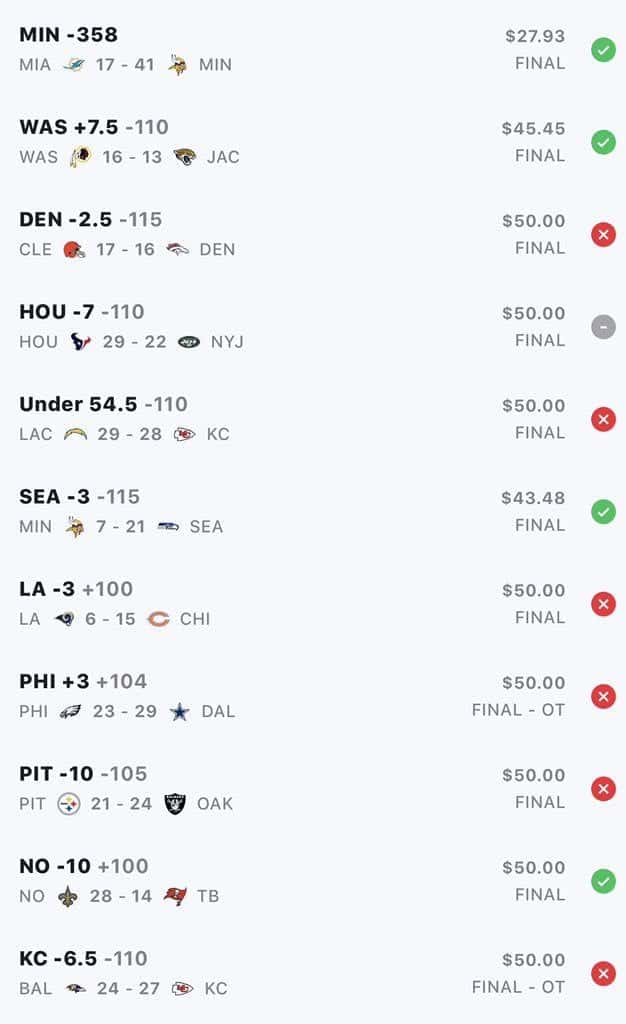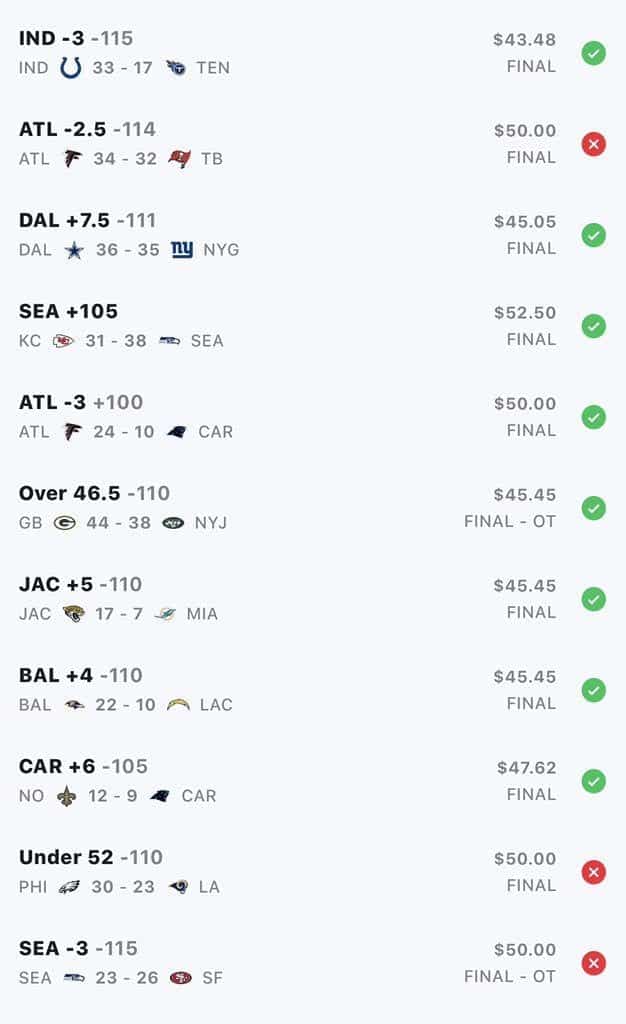 During the last seven weeks of the 2018 NFL season, Chris went 19-12-2, or 61% win percentage. You'll notice that a significant minority of his bets are more conservative than the -110 bet variety with 52.4% implied odds. (Don't worry, there will be Gambling 101 articles coming out this week if "implied odds" is a foreign term).

139-106-11 in the last two regular seasons: 56.7%. Dig deep into your mathematics reservoir and remember that 56.7% > 52.4%. In which case, you have a winning system.
For every five games, losing two is still a proven winner; for every nine games, losing four is still a proven winner. NFL betting need not be blemish-free and viral tweet-worthy; it just needs to add to your account and not subtract. Chris' system is sure to do that.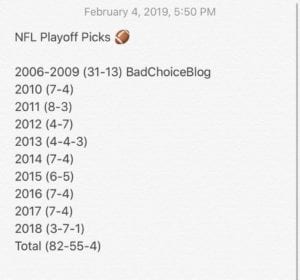 To boot, once Chris makes you some cash during the NFL betting regular season, he has a 60% win percentage lifetime during the playoffs and offers you the chance to add icing to the cake.
More features from the PFN gambling section
All of Chris' bets will post on Sunday mornings, giving you the option to pick and choose in conjunction with your own research. Personalize the betting arguments PFN offers to your advantage.
The PFN Film Room and Data Lab will offer our customers angles unmatched on the internet, headlined by our house capper Chris Smith, our totals expert Ben Rolfe, and our volatility expert James Aguirre. Free content will be provided throughout the week, featuring Ryan Gosling and Matthew Schott with their unique looks at the NFL betting landscape.
PFN will offer wisdom into teams, totals, and motivational and situational slants. And we are here to answer any questions you may have (@PFN365 on Twitter or asutton@pfn365.com).
The PFN system is based on a modest income, with unit plays easily adjustable to meet the pace and investment you feel comfortable doing. Whether you're timid or valiant, a proven system is a proven system. Enjoy the NFL game that you know and love and make some money while doing so — what are you waiting for? We're offering our All-Access Pass free of charge this week, and we'll begin accepting payments on Wednesday, July 17. For more information on the PFN All-Access Pass, click here!