Now that we're two weeks into the NFL season, we have a bigger sample size than we did last week to make our picks, rather than having to ignore the noise surrounding the Week 1 overreactions.
But the betting lines for Week 3 include two double-digit favorites and a ton of odds movement, including two games in which the favorite has flipped and one in which the spread has moved more than three points.
From picks against the spread, on-the-point total, player props, and more, our team of betting experts give their NFL best bets for Week 3.
All the NFL betting odds at a moment's notice – visit our Betting Lines page, bookmark now, and always get the best line and bang for your buck. Our FREE Parlay Calculator and Betting Odds Calculator are also available for your betting process.
NFL Week 3 Best Bets
All odds are from DraftKings Sportsbook as of 10:00 am EST. Click here to place your bets!
Best Bets record to date: 18-17 
Tennessee Titans vs. Cleveland Browns Prediction
Spread
Browns -3
Moneyline
Titans +140, Browns -166
Total
38
Game Time
1 p.m. ET
Location
Cleveland Browns Stadium
How to Watch
CBS, Paramount Plus, Fubo TV, NFL Sunday Ticket
Bearman: Not sure how you can watch what Deshaun Watson did Monday night and want to lay the points here on short rest. He handed the Pittsburgh Steelers two TDs, and the game proved is not the Watson of old.
There is a lot of work to be done in Cleveland with that offense, especially after losing Nick Chubb for the season. Now, their offense is a broken QB, backup RB, and oft-injured WR in Amari Cooper.
The Titans, meanwhile, are a point away from being 2-0. They covered on the road in Week 1 and upset the Los Angeles Chargers last week as a home dog. Now, 7-2 against the spread (ATS) in their last nine road games, I'll take them to cover here and would not be surprised with another outright win.
Best Bet: Titans +3.5 (-118 at DraftKings)
Soppe: Embracing uncertainty is one angle to take when evaluating the prop market, and I'm doing that to a degree in this game. We're all aware that the Browns lost Chubb to a devastating knee injury on Monday night.
We're all also aware that Jerome Ford did his best Chubb impersonation in relief (19 touches for 131 yards and a TD). Finally, we're all aware that Watson looks lost (55.1% complete).
Bring it on.
MORE: NFL Week 3 Odds and Betting Trends Against the Spread for Every Game
Ford is a good player, but he's not Chubb. As far as the passing game goes, it was encouraging to see Cooper (groin) look healthy last week, and if you dig just a little beneath the surface, there is A LOT of untapped upside in this passing game.
Through two weeks, Watson ranks fourth in air yards and 24th in passing yards. That's just silly. Maybe he's lost a step, but this?
This isn't sustaining, and a breakout is certainly possible against the pass funnel Titans. Over Tennessee's past nine games, here's the list of QBs they've held under 270 passing yards
Trevor Lawrence
Davis Mills
That's a short list as it is, and I'm going to cut it in half. Lawrence and the Jags managed to run just 47 plays (under 24 minutes of possession) in an outlier performance.
The Browns have increased their average time of possession each season under Kevin Stefanski and should have the ball enough to help us cash this ticket.
Best Bet: Deshaun Watson over 236.5 passing yards (-105 at DraftKings)
Katz: It was truly awful what happened to Chubb last week. First and foremost, I hope we see him back and fully healthy next season.
With Chubb out, Ford took over and did his best Chubb impression, ripping off 106 yards on 16 carries. Now, his rushing total is set at a paltry 46.5. What gives?
The Titans run defense. That's what.
Through two weeks, Tennessee has held Jamaal Williams to 45 yards on 18 carries and Joshua Kelley to 39 yards on 13 carries.
It's quite the coincidence that for the third consecutive week, the Titans are facing a backup RB filling in for the starter. It won't be a coincidence when the result is the same.
Ford is a good player. He will be good. He just won't be efficient on the ground this week. Plus, if Kareem Hunt mixes in at all for even a handful of carries, it will be even more difficult for Ford to surpass this number.
Best Bet: Jerome Ford under 46.5 rushing yards (-114 on FanDuel)
Blewis: This Browns defense is a matchup nightmare for the Titans. Through two weeks this season, the Browns have given up just one offensive touchdown, which was a 71-yard catch and run from George Pickens.
The strength of this Browns defense is their defensive line and pass rush led by Myles Garrett. Today, they'll be facing a Titans offensive line, which is 31st in our offensive line rankings, and will be without Peter Skoronski.
Rather than taking the game total under, I'm going to play it safer and take the under on the Titans' team total.
Best Bet: Titans team total under 17.5 (-138 at FanDuel)
Los Angeles Chargers vs. Minnesota Vikings Odds
Spread
Vikings -1
Moneyline
Chargers -102, Vikings -118
Total
54
Game Time
1 p.m. ET
Location
U.S. Bank Stadium
How to Watch
FOX, Fubo TV, NFL Sunday Ticket
Katz: I don't usually give out any time touchdown props as my best bet, but we have a unique occasion this week. In a game with a 54-point total, the best wide receiver in football is priced at +105 to score a touchdown.
It has been nothing more than complete random variance that Justin Jefferson has not yet found the end zone. He should've scored last week, but he lost the ball reaching for the pylon at the end of the first half.
Against a Chargers defense that couldn't stop you and me through the air, Jefferson is finding the end zone here.
Best Bet: Justin Jefferson anytime touchdown (+105 at DraftKings)
New England Patriots vs. New York Jets Prediction
Spread
Patriots -2.5
Moneyline
Patriots -142, Jets +120
Total
35.5
Game Time
1 p.m. ET
Location
MetLife Stadium
How to Watch
CBS, Paramount Plus, Fubo TV, NFL Sunday Ticket
Bearman: Bet you didn't think the 0-2 Patriots would be laying a field goal on the road at the Jets when the season started. Me neither, and I still don't think they should be.
Yes, Zach Wilson is not Aaron Rodgers, and that showed in Dallas. But that Patriots team we've seen lose to Philly and Miami at home shouldn't be laying points on the road, either. They have next to nothing on offense and now face one of the better defenses in the league.
An under at 36.5 isn't low enough for these two offenses. This has 13-9 written all over it.
Best Bet: Under 36.5 (-110 at DraftKings)
Blewis: The Patriots have won 14 straight games against the Jets. Sure, they had Tom Brady for eight of those games, but New York has had Wilson for the last four. He's still their starting quarterback, and Bill Belichick is still New England's head coach.
The only notable movement in this one has been that the total has dropped a point. However, with two turnover-prone QBs going against really good defenses, I would be cautious of taking this under.
Although they're 0-2, the Patriots played two competitive games against the Eagles and Dolphins to start the season. They're probably better than their record indicates, and their defense should have a field day against Wilson.
Best Bet: Patriots -2.5 (-115 at FanDuel)
Katz: Garrett Wilson's usage has been awful since Wilson took over. He totaled 34 yards in Week 1, and if not for one spectacular individual feat of skill in Week 2, he would've caught one pass for 15 yards.
We just saw Belichick erase Tyreek Hill, holding him to just 40 yards. Wilson is the only Jets pass catcher who evokes fear in opposing defenses. He will scheme to shut Wilson down.
I think the Jets win this game. Unless they have a negative game script, look for them to try and win with ball control and defense. That means running and short passing. It will be on the defense to win it and the offense to not lose it. I don't expect many downfield shots to Wilson.
Best Bet: Garrett Wilson under 48.5 receiving yards (-115 on DraftKings)
Houston Texans vs. Jacksonville Jaguars Prediction
Spread
Jaguars -7.5
Moneyline
Texans +275, Jaguars -345
Total
43.5
Game Time
1 p.m. ET
Location
EverBank Stadium
How to Watch
FOX, Fubo TV, NFL Sunday Ticket
Katz: The Texans have been one of the worst run defenses in the league for multiple years now, and they just allowed Zack Moss to run for 88 yards on 18 carries.
In Week 1, Travis Etienne Jr. saw 18 carries in an easy home win against the Indianapolis Colts. He ran for 77 yards. Look for a similar performance this week against an even worse run defense.
Best Bet: Travis Etienne Jr. over 69.5 rushing yards (-115 on BetMGM)
Buffalo Bills vs. Washington Commanders Prediction
Spread
Bills -5.5
Moneyline
Bills -245, Commanders +200
Total
42.5
Game Time
1 p.m. ET
Location
FedEXField
How to Watch
CBS, Paramount Plus, Fubo TV, NFL Sunday Ticket
Soppe: The Bills offense has a wide range of outcomes, making their totals a tough one to handicap. That's less the case with the Commanders, the 2022 leaders in average time of possession (seventh highest through two weeks this season).
If the Commanders are going to control the tempo, this game is going to have a hard time reaching the projected total. They've committed to Brian Robinson Jr. in this running game, just another way for them to bleed the clock and chew up time.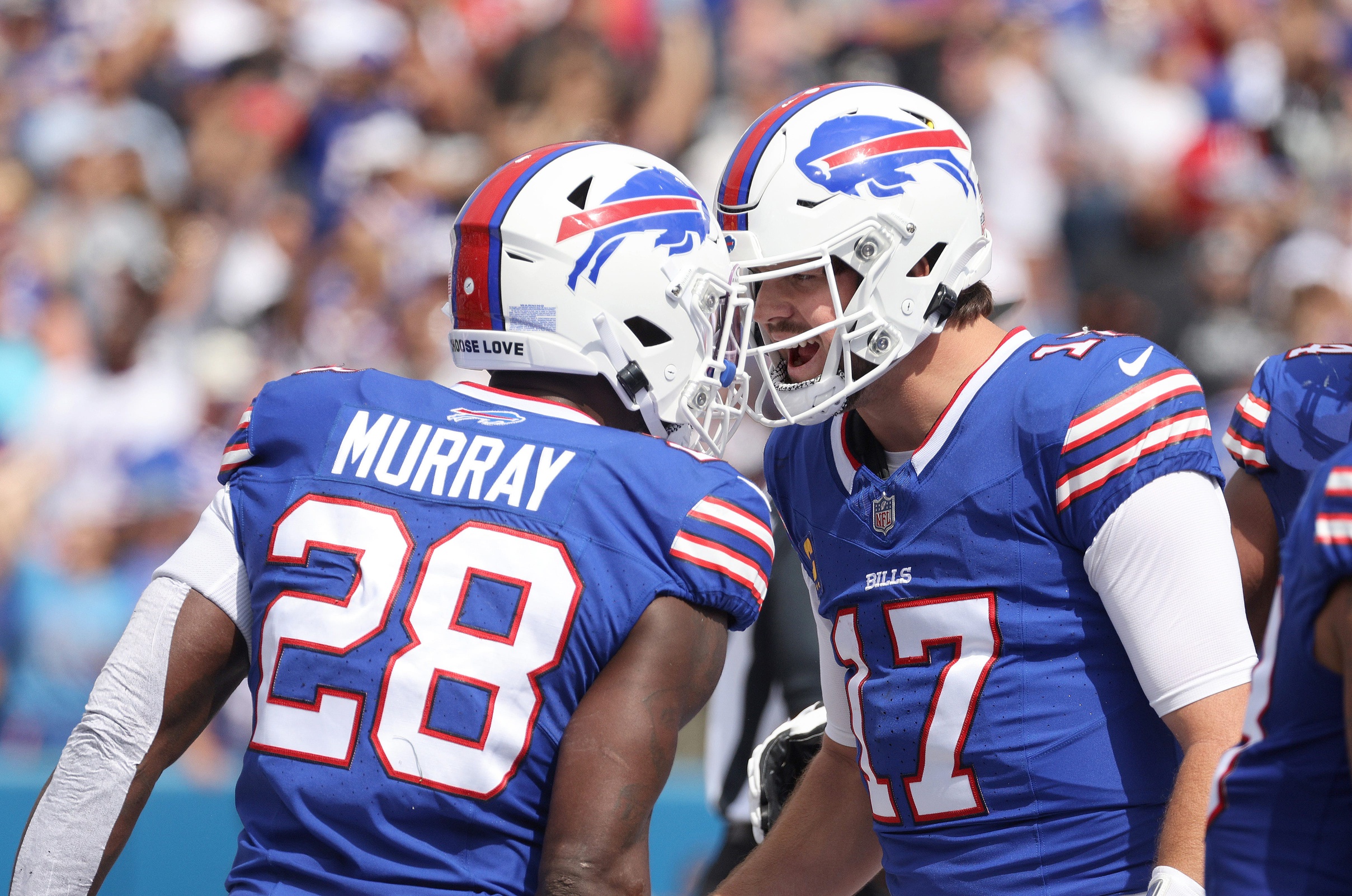 On the Bills side, we are always one pass away from a questionable Josh Allen decision, and the return to form of Tre'Davious White gives them high-end defensive potential.
Last but not least, we have good old trends on our side. Since 2021, unders have been 11-3 when the Bills are a road favorite and 9-2 when the Commanders are a home underdog. Let's keep the good times rolling.
Best Bet: Under 43.5 (-110 at DraftKings)
New Orleans Saints vs. Green Bay Packers Prediction
Spread
Packers -1
Moneyline
Saints -102, Packers -118
Total
42
Game Time
1 p.m. ET
Location
Lambeau Field
How to Watch
FOX, Fubo TV, NFL Sunday Ticket
Soppe: Human nature is to pivot off of priors in favor of the most recent visual, and, to me, that is what is happening here. Two weeks ago, just 14 days, the Packers closed as a 1.5-point 'dog in Chicago. Now, they are a 2-point favorite against a 2-0 Saints team that has a playoff run in mind.
MORE: NFL Week 3 Betting Predictions
Yes, this game is in Green Bay, but still, that's quite the flip of opinion through just two games. The Packers are a below-average team when favored since the beginning of 2021 and have been vulnerable deep down the field over that stretch.
That's scary against a team that has a proficient deep ball-throwing QB who throws to Chris Olave (fourth in air yards per game since entering the league) and Rashid Shaheed (40-yard catch in five of his past seven games). Oh yeah, and Michael Thomas is back to earning targets at a high level.
Jordan Love has looked fine, and he's likely to get some reinforcements back this week, but let's not get crazy. He's completed just 55.8% of his passes and has managed to see nearly 21% of his passes result in a touchdown.
Build in regression for the Packers with the Saints exploiting a weak spot on the defensive end, and you could argue the wrong team is favored.
Best Bet: Saints moneyline (+110 at Caesars)
Blewis: The Packers' Week 1 win over the Bears might not look as impressive now, given how bad Chicago has looked, and they blew a double-digit lead going into the fourth quarter against the Atlanta Falcons last week.
Green Bay's also due for a bit of regression offensively, as they have had zero turnovers and are tied for first in the NFL in percentage of red-zone possessions ending with a touchdown at 83.33%.
They might have Aaron Jones back for this one, but the Packers are facing a Saints defense that has only allowed one touchdown this season, which was in garbage time.
I have lost a value point here, as the total has dropped from 43.5 to 42.5 since Sunday, but I still like it enough to take it.
Best Bet: Under 42.5 (-110 at FanDuel)
Denver Broncos vs. Miami Dolphins Prediction
Spread
Dolphins -6
Moneyline
Broncos +200, Dolphins -245
Total
47.5
Game Time
1 p.m. ET
Location
Hard Rock Stadium
How to Watch
CBS, Paramount Plus, Fubo TV, NFL Sunday Ticket
Bearman: This does look like a combination of a letdown spot and a sandwich game all in one, as Buffalo is on tap next week, and Miami's coming off Sunday night's win over the Patriots. But I also think the line is too low.
The Broncos have proven to be just as bad as last year so far, despite Sean Payton taking over. They were underwhelming in their Week 1 home loss to the Raiders and then blew a big lead to the Commanders last week.
That's 0-2 at home to non-playoff teams and now a trip to play the Dolphins at 1 p.m. ET in Miami.
Miami proved last week that they can win in multiple ways, changing up the style after the Week 1 shootout in LA. Top to bottom, they're the better team here.
The game at New England was not as close as the final score, and this is the home opener, which should keep them away from "letdown mode."
Best Bet: Dolphins -6.5 (-110 at FanDuel)
Katz: Last week was Jerry Jeudy's first game back from a preseason hamstring strain. He only caught three of five targets for 25 yards. But it was also a very weird game, with Marvin Mims Jr. and Brandon Johnson tallying multiple long receptions.
Look for the Broncos to get back to basics this week and target their top receiver. Jeudy is another week healthier, and the game environment is excellent with the Broncos as touchdown underdogs in Miami.
Best Bet: Jerry Jeudy over 48.5 receiving yards (-114 at FanDuel)
Chicago Bears vs. Kansas City Chiefs Prediction
Spread
Chiefs -12.5
Moneyline
Bears +470, Chiefs -650
Total
48
Game Time
4:25 p.m. ET
Location
Arrowhead Stadium
How to Watch
FOX, Fubo TV, NFL Sunday Ticket
Katz: There's just too much smoke surrounding a Roschon Johnson takeover of the Bears' backfield to ignore this line. Johnson carried the ball five times for 20 yards in Week 1 and four times for 32 yards in Week 2. He's averaging a 40% snap share.
Johnson has already proven he doesn't need much in the way of volume to surpass this number. If the reports of him seeing increased work are true, he could easily sail past 22.5 yards on volume alone. He's also fully capable of doing it on two carries.
Best Bet: Johnson over 22.5 rushing yards (-115 at BetMGM)
Pittsburgh Steelers vs. Las Vegas Raiders Prediction
Spread
Raiders -3
Moneyline
Steelers +124, Raiders -148
Total
43
Game Time
8:20 p.m. ET
Location
Allegiant Stadium
How to Watch
NBC, Peacock
Blewis: This point spread has moved four points this week, even after the Raiders' blowout loss to the Bills and the Steelers beating the Browns on Monday Night Football. Yet, it makes complete sense to me.
Pittsburgh needed two defensive touchdowns to beat Cleveland last week. After their starting offense scored a touchdown on every drive in the preseason, the narrative has completely flipped. So far this season, they're only averaging 247 yards per game.
MORE: NFL Week 3 Survivor Pool Picks
Josh Jacobs should have a bounce-back game against a Steelers run defense without Cam Heyward, allowing the Raiders to play ball-control football.
I got the under while it was at 43.5, but I would still even play it at this number. Keep fading the Steelers' offense while you can, especially when they're due for regression in turnover luck.
Best Bet: Under 43.5 (-110 at FanDuel)
Other NFL Week 3 Games and Betting Lines
Indianapolis Colts vs. Baltimore Ravens Prediction
Spread
Ravens -7.5
Moneyline
Colts +270, Ravens -340
Total
43
Game Time
1 p.m. ET
Location
M&T Bank Stadium
How to Watch
CBS, Paramount Plus, Fubo TV, NFL Sunday Ticket
Katz: We're going back to last year's most profitable prop. Last season, I bet Michael Pittman Jr.'s longest reception under about 10 times. It went something like 9-1 (I didn't go back and check, so don't hold me to that).
In Week 1, Pittman caught a 39-yard touchdown from Anthony Richardson. However, that play was mostly yards after the catch from Pittman. He is still being used primarily underneath.
Pittman's second-longest reception of the season is just 16 yards. After Gardner Minshew replaced Richardson last week, the targets were even shorter. Pittman caught passes for 11, eight, seven, six, five, four, and three yards. Minshew loves him some Pittman… but not downfield.
Outside of a 32-yard screen to Joe Mixon last week, the Ravens have yet to allow a single reception of over 20 yards.
Best Bet: Pittman's longest reception under 20.5 yards (-120 on DraftKings)
Atlanta Falcons vs. Detroit Lions Prediction
Spread
Lions -3.5
Moneyline
Falcons +140, Lions -166
Total
47
Game Time
1 p.m. ET
Location
Ford Field
How to Watch
FOX, Fubo TV, NFL Sunday Ticket
Carolina Panthers vs. Seattle Seahawks Prediction
Spread
Seahawks -4.5
Moneyline
Panthers +180, Seahawks -218
Total
42.5
Game Time
4:05 p.m. ET
Location
Lumen Field
How to Watch
CBS, Paramount Plus, Fubo TV, NFL Sunday Ticket
Dallas Cowboys vs. Arizona Cardinals Prediction
Spread
Cowboys -13
Moneyline
Cowboys -675, Cardinals +490
Total
43
Game Time
4:25 p.m. ET
Location
State Farm Stadium
How to Watch
FOX, Fubo TV, NFL Sunday Ticket
Katz: Zach Ertz has seen a whopping 18 targets on the season. He's somehow turned those into 12 receptions for 77 yards.
Ertz has no juice left anymore. He's a pure catch-and-fall-down tight end.
Just one of his receptions this season has gone for more than 14 yards, and it was last week against the New York Giants. In Week 1, against a more formidable Commanders defense, his longest reception was a mere six yards.
This week, the Arizona Cardinals face arguably the best defense in the NFL. Their quarterback, Josh Dobbs, has seen the Cowboys before. He made a start against them last season.
In that start, he did not complete a pass to his TE Chigoziem Okonkwo for longer than 12 yards. That doesn't mean Ertz will be worse, but it certainly doesn't hurt our case.
Look for Ertz to see a bunch of underneath targets, as usual. Even if he catches a bunch, he is unlikely to break off a long one.
Best Bet: Ertz's longest reception under 14.5 yards (-117 on BetRivers)
Philadelphia Eagles vs. Tampa Bay Buccaneers Prediction
Spread
Eagles -5
Moneyline
Eagles -218, Buccaneers +180
Total
45
Game Time
7:15 p.m. ET
Location
Raymond James Stadium
How to Watch
ABC, ESPN+
Los Angeles Rams vs. Cincinnati Bengals Prediction
Spread
Bengals -2.5
Moneyline
Rams +120, Bengals -142
Total
43.5
Game Time
8:15 p.m. ET
Location
Paycor Stadium
How to Watch
ESPN, ESPN2