Aaron Rodgers is officially a member of the New York Jets, which certainly makes Gang Green's schedule more interesting in 2023. The Jets currently have the NFL's longest playoff drought, having failed to make the postseason since the 2010 campaign. Can New York get back to the dance with Rodgers under center, even with a tough slate of opponents?
New York Jets Schedule and Opponents
Here is the Jets' complete preseason and regular-season schedule for 2023.
Jets Preseason Schedule
Hall of Fame Game: at Browns
NBC | 8 p.m. ET (Thursday, Aug. 3)
Week 1: at Panthers
CBS 2 | TBD
Week 2: vs. Buccaneers
CBS 2 | TBD
Week 3: at Giants
NBC 4 | TBD
Jets Regular-Season Schedule
Week 1: vs. Bills (MNF)
ESPN | 8:15 p.m. ET (Monday, Sept. 11)
Week 2: at Cowboys
CBS | 4:25 p.m. ET (Sunday, Sept. 17)
Week 3: vs. Patriots
CBS | 1 p.m. ET (Sunday, Sept. 24)
Week 4: vs. Chiefs (SNF)
NBC | 8:20 p.m. ET (Sunday, Oct. 1)
Week 5: at Broncos
CBS | 4:25 p.m. ET (Sunday, Oct. 8)
Week 6: vs. Eagles
FOX | 4:25 p.m. ET (Sunday, Oct. 15)
Week 7: BYE
Week 8: at Giants
CBS | 1 p.m. ET (Sunday, Oct. 29)
Week 9: vs. Chargers (MNF)
ESPN | 8:15 p.m. ET (Monday, Nov. 6)
Week 10: at Raiders (SNF)
NBC | 8:20 p.m. ET (Sunday, Nov. 12)
Week 11: at Bills
CBS | 4:25 p.m. ET (Sunday, Nov. 19)
Week 12: vs. Dolphins (Black Friday)
Amazon Prime | 3 p.m. ET (Friday, Nov. 24)
Week 13: vs. Falcons
FOX | 1 p.m. ET (Sunday, Dec. 3)
Week 14: vs. Texans
CBS | 1 p.m. ET (Sunday, Dec. 10)
Week 15: at Dolphins
CBS | 1 p.m. ET (Sunday, Dec. 17)
Week 16: vs. Commanders
CBS | 1 p.m. ET (Sunday, Dec. 24)
Week 17: at Browns (TNF)
Amazon Prime | 8:15 p.m. ET (Thursday, Dec. 28)
Week 18: at Patriots
TBD | TBD (Saturday, Jan. 6 or Sunday, Jan. 7)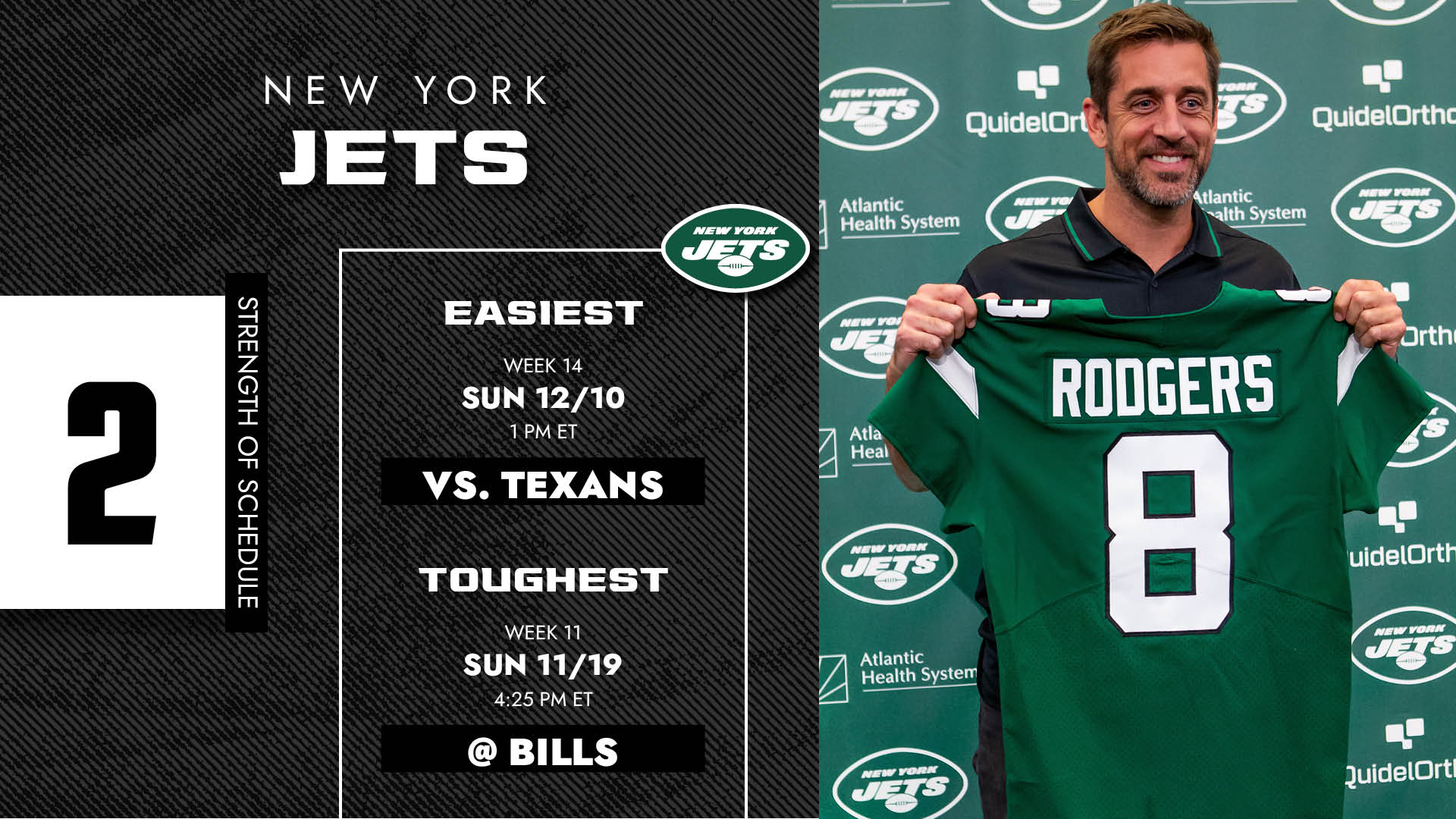 Jets Strength of Schedule
The AFC East is arguably the strongest division in football, so it stands to reason that every team in the division will have a relatively difficult schedule in 2023. Based on last year's records, New York has the sixth-toughest schedule in the league. Their respective opponents combined to go 155-129-3 for a .545 record.
MORE: Best NFL Offenses | Best NFL Defenses
However, basing strength of schedule on the previous season's win-loss records isn't always the best approach because it doesn't account for improvements made over the offseason.
According to Pro Football Network's SOS model, which accounts for win-total projections and estimates team strength, the Jets will have the fourth-hardest schedule in the NFL. All four AFC East clubs have schedules that project among the five most difficult in the league in 2023.
Jets Record Prediction
The Jets boasted a dominant defense last season, finishing second in points and fifth in yards per play allowed. But they also dealt with one of the league's worst quarterback situations, as Zach Wilson, Joe Flacco, and Mike White all made starts in an uninspired offensive attack.
Rodgers will arguably be the greatest quarterback in Jets franchise history, and he should be able to elevate a receiving corps that includes reigning Offensive Rookie of the Year Garrett Wilson, free agent addition Mecole Hardman, and old Rodgers pals Allen Lazard and Randall Cobb.
MORE: 2023 NFL Team Schedules
While there are concerns about New York's offensive line, the Jets will see the return of running back Breece Hall, who looked like one of the NFL's most exciting rookies before suffering an ACL tear in October.
Meanwhile, while it's often challenging for defensive performance to remain elite year over year, New York will bring back all of its key contributors from last season while adding veteran safety Chuck Clark and first-round edge rusher Will McDonald IV. Gang Green has a legitimate chance to post top-10 units on both sides of the ball.
The only remaining question, then, is how the Jets stack up against a loaded AFC. By acquiring Rodgers, New York has inserted itself into contention in a QB-heavy conference that also includes Patrick Mahomes, Joe Burrow, Josh Allen, Lamar Jackson, and Justin Herbert, among others.
Being forced to compete in a stacked division and conference could put a ceiling on the Jets' regular-season win total. But New York is undoubtedly a Super Bowl contender heading into 2023.
Record Prediction: 10-7