Although they both wear green, nobody would confuse the New York Jets' offensive line depth chart with the Philadelphia Eagles. While New York's OL is far from a tragedy, there are significant questions to be answered on the book ends, even though the addition of Aaron Rodgers makes things a bit easier to manage.
Although the Jets' options at offensive tackle aren't like choosing between Texas BBQ and Memphis BBQ, there are options, like Kansas City or Carolina BBQ. In other words, they should be able to make it work.
But can New York's former first-round tackle get healthy and round into Black's BBQ form?
New York Jets OL Depth Chart
As we sit here in June, there's only one guarantee on the Jets' offensive line — Laken Tomlinson starting at left guard — and that makes for a lot of fun.
Alijah Vera-Tucker is the likely starter at right guard. The problem with that is he was an outstanding left tackle at USC and was playing well at right tackle before tearing his tricep last season. But he'll be a starter somewhere on the offensive line. That much is for certain.
Jets' OL Uncertainty Is Not Inherently Bad
That leaves us wondering about four positions in total; left tackle, center, right guard (maybe), and right tackle.
Duane Brown and Mekhi Becton are the two options on the left side for September, but neither player is currently healthy enough to be on the field. Becton is closer to being ready than the veteran, but there is a clear favorite for the starting job if both are healthy for training camp.
MORE: How Was the New York Jets' Roster Built?
Becton didn't do himself any favors when he took an interview with Newsday, where he publicly blamed the Jets' coaching staff for his season-ending knee injury.
"I got forced to play a position I don't play. I was pretty much telling them I wasn't feeling good the whole time throughout camp, and I was told I shouldn't be complaining, 'Go out there and do it,'" Becton told Newsday. "I was limping throughout the whole practice, and I just took a step, and my knee buckled, and I got hurt again and had to get reconstructive knee surgery."
If Becton had anybody in his corner, he likely lost them with those comments. It doesn't help that Robert Saleh continues to go out of his way to compliment Brown at every turn.
"He doesn't believe he's entitled to anything," Saleh told reporters. "He believes he's got to earn everything, and there's a reason why he's played for so long and has had so much success. I mean, look at him: He's a brick house. He can still play as many years as he's willing to play."
He's also on the record saying that Brown will be a "hard out" on the left side. So Becton would have to be healthy earlier and shine on the field to such a level that he makes it crystal clear that he's the better option on the left side.
So let's move on to the right side.
Max Mitchell, Billy Turner, Carter Warren, and Vera-Tucker are all options on the right side. Vera-Tucker could be seen as a last resort here, but that also depends on New York's particular approach to the position.
If they want the best five on the field, that could include Brown, Tomlinson, Connor McGovern, Joe Tippmann, and Vera-Tucker. While that plan of attack is unlikely to be the team's first option, it is an option. Joe Douglas has talked about Tippmann's possible versatility, even if he's only played center since college.
"You know he's only played center at Wisconsin, but with his size and athleticism, he could provide a lot of versatility to our offensive line."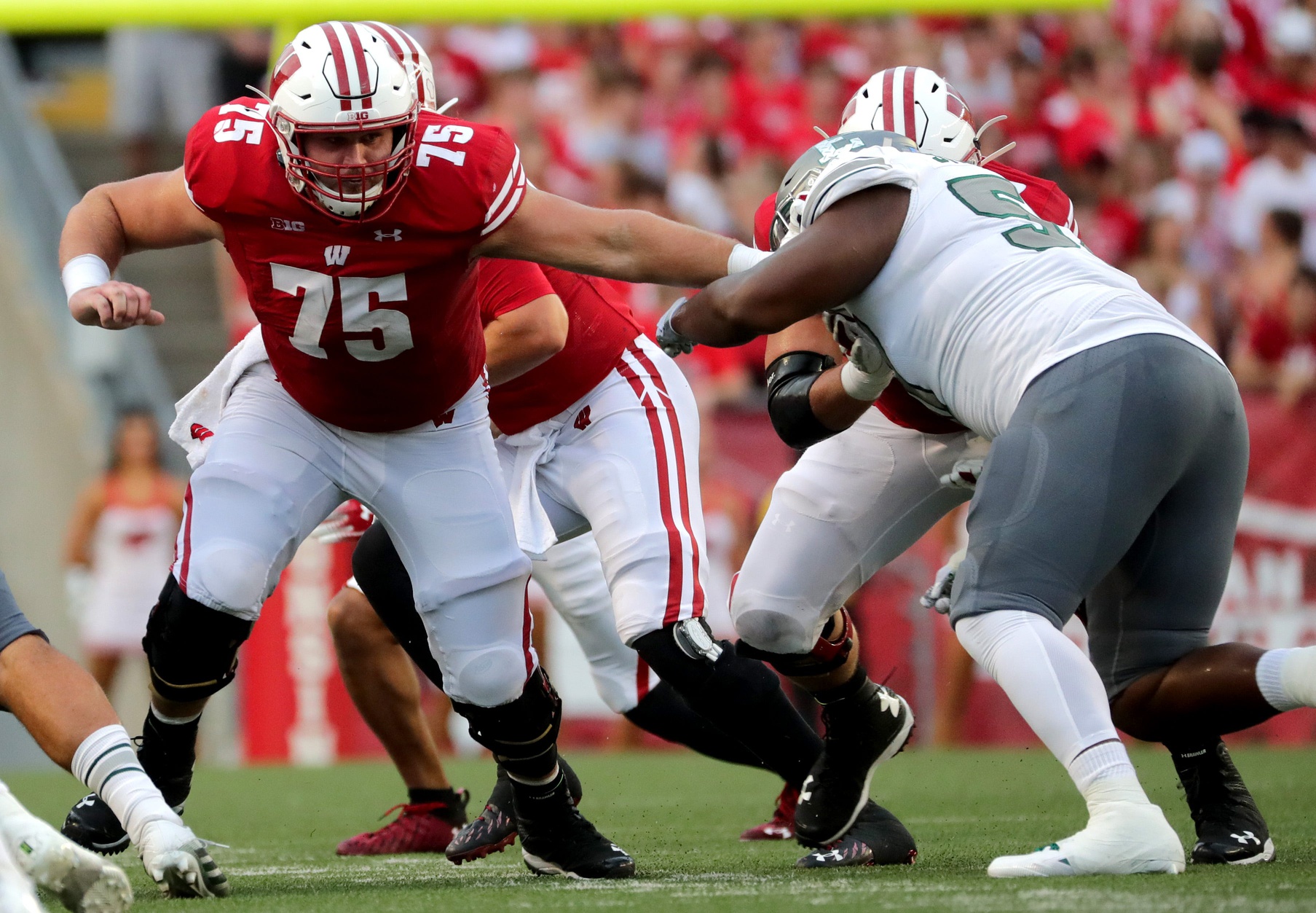 The possibilities are endless. Becton would probably be the best option here, but he has to be willing to play the position in the first place. He's in the final year of his rookie deal, and playing is the best way to secure a somewhat-lucrative second contract. But if he and his camp truly believe that moving to the right side is a great injury risk, he could choose not to partake at all.
So out of Mitchell, Turner, and Warren, the most likely scenario has Mitchell winning the starting job on the right side. But having all that potential depth at two important positions is a good thing.
MORE: Can Will McDonald IV and Joe Tippmann Continue the Trend of Joe Douglas Home-Run Drafts?
The Jets didn't draft Tippmann in the top 50 for him to sit on the bench, but it wouldn't be the end of the world if he doesn't start immediately. However, he should be a seamless fit in Nathaniel Hackett's offense because he comes from a very similar rushing attack at Wisconsin. McGovern can still play at a starting-caliber level. At worst, he's a solid depth piece to have behind the rookie if he struggles early on.
So let's think about this for a second.
The Jets have two options at LT. They have an entrenched starter at left guard, multiple options at center, and a right guard who could also play right or left tackle at the NFL level. New York also has potentially four different options at RT that don't include Vera-Tucker.
The Jets aren't letting a lack of OL depth be an excuse for a faltering offense. And having Rodgers under center can only help their cause because the veteran QB doesn't want to hold onto the ball for very long anyways.
Listen to the PFN Scouting Podcast
Listen to the PFN Scouting Podcast! Click the embedded player below to listen, or you can find the PFN Scouting Podcast on iTunes, Spotify, and all major podcast platforms.  Be sure to subscribe and leave us a five-star review! Rather watch instead? Check out the PFN Scouting Podcast on our Scouting YouTube channel.