The New York Giants WR depth chart was a disaster in 2022. Nobody posted more than 724 yards for the season. Saquon Barkley led the team in targets and tied Richie James with 57 receptions. Darius Slayton was the only receiver with an aDOT over more than 10 yards that saw at least 25 targets. And only Matt Ryan and Justin Herbert posted lower intended air-yard marks than Daniel Jones.
The Giants needed an influx of talent at the position, and they needed to get healthy for 2023. And while there is no elite or near-elite receiver on the roster, New York has dealt with the position well. They also traded for the uber-talented Darren Waller, who is one of the most uniquely dangerous NFL weapons when healthy.
New York Giants WR Depth Chart
The Giants' first wave of receivers is not questionable. Isaiah Hodgins became one of Jones' primary weapons late in the season, and he showed some serious juice as an outside receiver. Slayton is a bit small for an outside receiver, but the front office doesn't seem to worry about traditional size requirements with their receiving corps.
Parris Campbell never truly found his groove in Indianapolis, but could be a serious weapon in the underneath game and as a crossing pattern weapon in New York… if he can stay healthy.
And that's the rub with most of the Giants' WR depth chart. Slayton has remained relatively healthy throughout his career. But Waller, Campbell, and others on the roster have really struggled to stay on the field throughout their careers.
In his four-year career, Campbell has played just 32 games. For those keeping score at home, that means he's missed more games in the NFL than he's played. Waller played two healthy and insanely productive seasons in 2019 and 2020, but has played in only 20 games over the past two seasons.
MORE: New York Giants — How Was Their Roster Built?
Nobody would claim the Giants have one of the best WR corps in the NFL, but it could be much worse. It could look like New York's unit from a season ago. They don't have an ace up their sleeve, but Justin Jeffersons don't grow on trees.
Can Jalin Hyatt or Wan'Dale Robinson Crack the Starting Lineup?
This is the question. Jalin Hyatt has already been seen spending some extra time with Jones after practices, which is more of a necessity than a luxury. As a primarily downfield target in his current form, that downfield rapport is of the utmost importance. Timing and placement become more critical as a receiver travels farther downfield.
"Again, yeah, he's been asked to do certain things," HC Brian Daboll said after the first day of rookie minicamp. "He's had a couple different coaches in college. Again, day one out here, did everything we asked him to do, and each day we'll build off that."
Hyatt likely won't be ready to run an entire route tree early in his career, and so, he may not be an immediate starter. However, he could very well be someone who can give the Giants an elevated version of what Slayton provides as a downfield weapon. New York struggled to produce explosive plays in the passing game a season ago.
Hyatt wasn't expected to land in the third round of the draft, and that must've been good value for Giants GM Joe Schoen.
"I understand there's somewhat of an obsession with the receiver position,'' Schoen said at the NFL Scouting Combine. "We still have to build a team. That's an important position, I get that, but the value still has to match up, and we still have several holes we need to fill.''
Hyatt has a gear that not many players in the NFL today possess. He may have only run a 4.4 in the 40-yard dash, but ask the Alabama secondary if they think he's a 4.4 guy. No, when he opens his strides, Hyatt practically teleports downfield.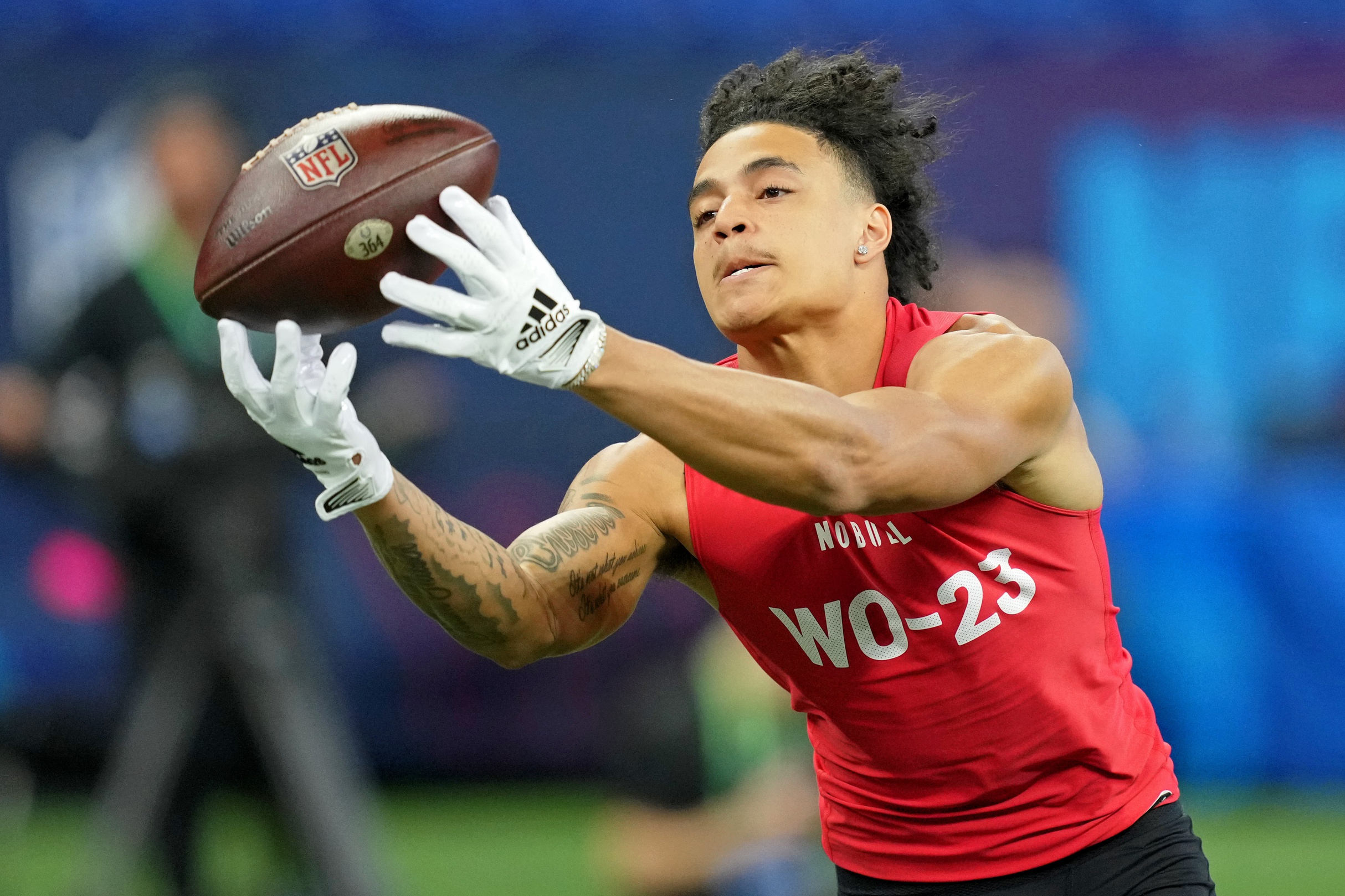 Wan'Dale Robinson, meanwhile, tore his ACL in Week 11 of last season and is not yet ready to return to the field. Both he and Sterling Shepard are unknowns for the start of training camp. Shepard returned from an Achilles tear in Week 15 of 2021 but tore his ACL in Week 3 a season ago. His injury sheet is the length of a CVS receipt, which is unfortunate because he's a talented player.
MORE: Could DeAndre Hopkins Make The Giants' Offense More Explosive?
Nevertheless, Robinson was a second-round pick a season ago, and expectations come with that. Campbell's contract is a one-year deal worth $4.7 million, which won't keep Robinson off the field if he's the better player in practice. Additionally, Robinson is a perfect fit for that same mold Campbell plays in the slot. If he returns healthy in time for camp it wouldn't be a surprise to see him steal snaps from Campbell on the first team.
Giants Loaded Up on Names
We've already discussed six names, and we're not even halfway done with the names on the Giants' roster. There are 14 wide receivers on the Giants' roster right now. 14!
Jeff Smith
David Sills V
Makai Polk
Kalil Pimpleton
Jaydon Mickens
Collin Johnson
Bryce Ford-Wheaton
Jamison Crowder
Eight names we haven't discussed. But in the end, it's unlikely we see more than one of them on New York's 53-man roster if the Giants' top guys are healthy by the time Sept. 11 rolls around.