The New York Giants exceeded all expectations last season under first-year head coach Brian Daboll. The Giants had one of the easiest schedules in the NFL a season ago, but the opposite is true in 2023. Do they have what it takes to repeat as overachievers in a tough NFC East division?
New York Giants Schedule
Preseason
Week 1: at Lions
NBC | 7 p.m. (Friday, Aug. 11)
Week 2: vs. Panthers
NBC | 7 p.m. (Friday, Aug. 18)
Week 3: vs. Jets
NBC | 6 p.m. (Saturday, Aug. 26) 
Regular Season
Week 1: vs. Cowboys
NBC | 8:20 p.m. (Sunday, Sept. 10)
Week 2: at Cardinals
FOX | 4:05 p.m. (Sunday, Sept. 17)
Week 3: at 49ers
Prime | 8:15 p.m. (Thursday, Sept. 21)
Week 4: vs. Seahawks
ESPN | 8:15 p.m. (Monday, Oct. 2)
Week 5: at Dolphins
FOX | 1 p.m. (Sunday, Oct. 8)
Week 6: at Bills
NBC | 8:20 p.m. (Sunday, Oct. 15)
Week 7: vs. Commanders
CBS | 1 p.m. (Sunday, Oct. 22)
Week 8: vs. Jets
CBS | 1 p.m. (Sunday, Oct. 29)
Week 9: at Raiders
FOX | 4:25 p.m. (Sunday, Nov. 5)
Week 10: at Cowboys
FOX | 4:25 p.m. (Sunday, Nov. 12)
Week 11: at Commanders
FOX | 1 p.m. (Sunday, Nov. 19)
Week 12: vs. Patriots
FOX | 1 p.m. (Sunday, Nov. 26)
Week 13: BYE
Week 14: vs. Packers
ABC | 8:15 p.m. (Monday, Dec. 11)
Week 15: at Saints
FOX | 1 p.m. (Sunday, Dec. 17)
Week 16: at Eagles
FOX | 4:30 p.m. ET (Monday, Dec. 25)
Week 17: vs. Rams
FOX | Time (Saturday, Dec. 31)
Week 18: vs. Eagles
TBD| TBD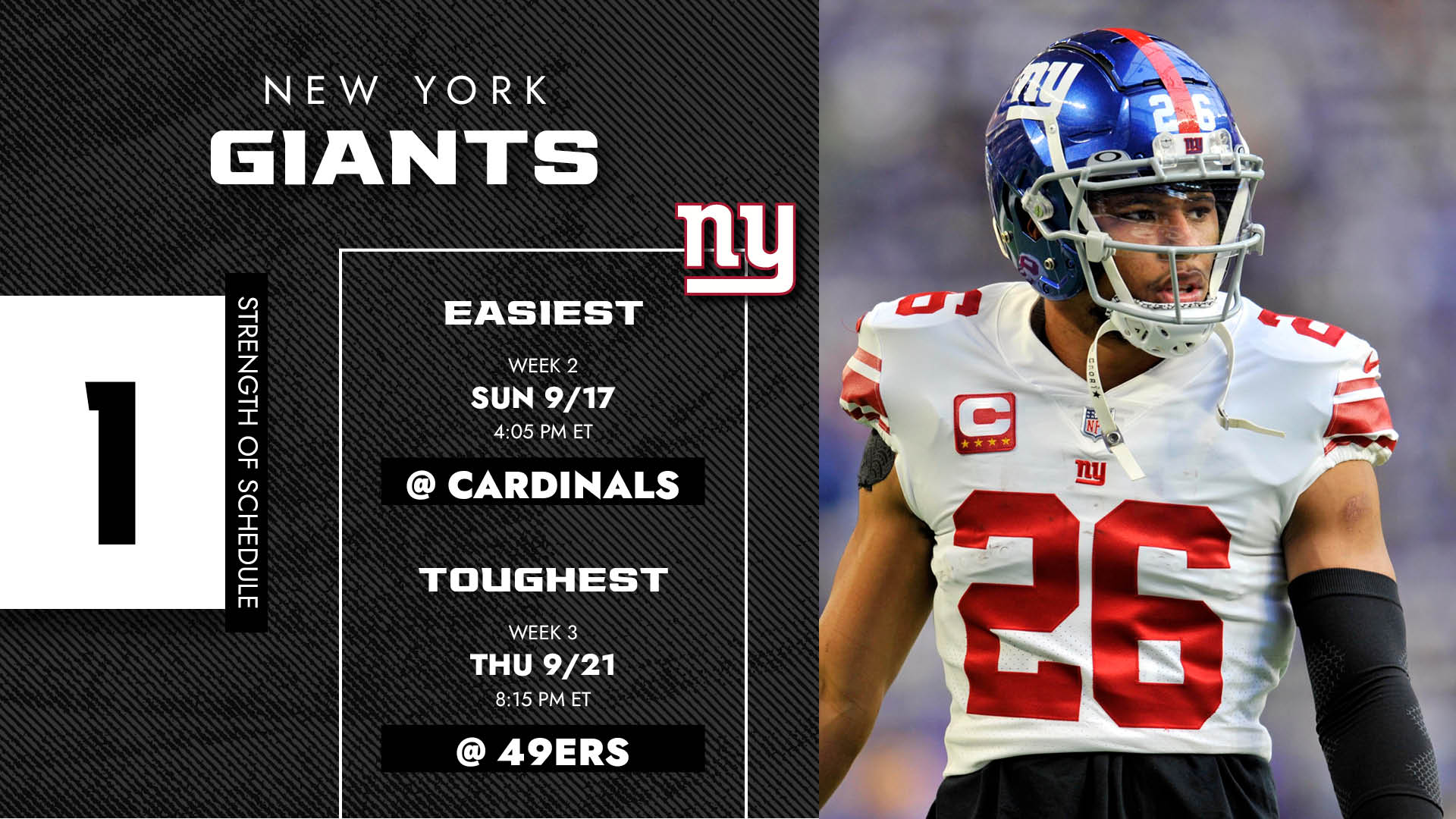 Giants Strength of Schedule
According to projected win totals, the Giants have the 11th-toughest schedule in the NFL. That difficulty is tied with the Cowboys in their own division, with opponents projected to win 8.79 games in 2023.
MORE: Saquon Barkley Holdout — How Barkley Could Change RB Landscape

However, looking at more than just win totals, PFN's strength of schedule has the Giants with the hardest schedule in the league. That's a far cry from what was projected to be the league's easiest schedule heading into 2022.
Giants Record Prediction
Although there is a lot of uncertainty surrounding Saquon Barkley's status in 2023, a running back does very little to a team's win total. However, the Giants' backfield depth chart leaves quite a lot to be desired, so they'll need to feature Daniel Jones heavily in the rushing attack.
MORE: New York Giants Breakout Candidates in 2023 
The Giants' success will likely come down to how well their second-year players progress and what they can get from their two highest-selected draft picks in 2023. The secondary needs to improve, but having a steady hand at right tackle is equally important.
In previous years, facing the AFC East would mean losing to the Patriots and either beating or having a strong chance to beat everyone else. This year, it projects to be one of the best divisions in football.
Winning nine games a season ago surprised most people. However, the Giants won't be sneaking up on anyone this year. Daboll appears to understand how to get the most out of his offense, and the offensive depth chart has improved from last season, particularly at wide receiver.
Projected Record: 9-8