Fantasy football managers are well aware of how productive the Green Bay Packers have been, and the New Orleans Saints have quietly provided some nice value through two weeks as well. Sportsbooks aren't forecasting much scoring — how confident should you be in your exposure to this game?
Looking to make a trade in your fantasy league? Having trouble deciding who to start and who to sit? Check out PFN's Free Fantasy Football Trade Analyzer and Start/Sit Optimizer to help you make the right decision!
New Orleans Saints at Green Bay Packers
Spread: Packers -2
Total: 42
Saints implied points: 20
Packers implied points: 22
Derek Carr
With one touchdown pass through two weeks (69 attempts), Carr has underwhelmed those who have rostered him in deep or Superflex leagues. Buy!
I'm not calling Carr an elite option because he's not, but better times are ahead with Alvin Kamara's return coming. With that in mind, Carr could get moving in the right direction in the final week without his star RB in the mix.
MORE: Fantasy News Tracker
The Packers have played Justin Fields and Desmond Ridder this season, so their raw defensive numbers against the pass look fine. I'm not sold, however.
Darnell Mooney hauled in a 20-yard TD against Green Bay in the season opener, and not one, not two, but three different Falcons had a 24+ yard reception against them last week.
As his career has progressed, Carr has improved his downfield efficiency, and this is a good spot to flash that. He's not a top-12 QB for me in annual leagues, but he is a strong DFS GPP play.
Jordan Love
Through two games this season (both on the road and without his presumed WR1), Love is averaging just over 1.37 fantasy points per completion. That number could be even higher if not for a pair of 40+ yard defensive pass interferences last week. Want context on that number?
2022 MVP Patrick Mahomes: 0.86
2021 MVP Aaron Rodgers: 0.85
2020 MVP Aaron Rodgers: 0.98
So either Love is the best QB ever to play the game, or some regression is coming his way. I'll never tell you what to think, but I do feel strongly that one of those options is far more likely than the other.
The Jordan Love era in Green Bay is off to a pretty good start 😎 pic.twitter.com/DJU4VMfYjl

— NFL GameDay (@NFLGameDay) September 20, 2023
Love should be a reasonably easy sell in Superflex formats. He's taken advantage of two nice matchups and doesn't have to apologize for that, but given that we've yet to see him fail, this is lining up to be a good spot to cash in a chip.
I don't believe Love has much of a path to be viable in 1QB leagues, even with this hot start (Christian Watson and Aaron Jones both sitting doesn't help his case either).
Jamaal Williams
A hamstring injury forced Williams out of Week 2, burning fantasy managers who needed a big performance to end their week.
No, I'm not bitter. Why do you ask?
Prior to getting dinged up, Williams was again the featured back, leaving a large hole in this offense with him being ruled OUT for this week (and being placed on IR). With Kamara due back next week, fantasy managers don't need to wait this injury out in leagues with shallower benches.
Kendre Miller and Tony Jones Jr.
With Williams out this week, maybe you add Jones to prevent an RB-needy team from getting a starter, but he's not someone I would entertain starting. Miller is roster luxury. The talent is there, just not the opportunity. If you have the space, go ahead and stash. Play in a shallow situation, don't worry about it.
Alvin Kamara
Just a friendly reminder that Kamara's suspension ends after this week. The Saints play three viable rush defenses in his first three games back, but a healthy Kamara is more than capable of producing in the pass game.
If the team with him in your league is 0-2 and desperate, it wouldn't hurt to float a lowball trade offer out there.
Aaron Jones
A hamstring sidelined Jones for last week, just his fifth missed game in the past 4+ seasons. He pulled up lame after a long touchdown against the Bears in Week 1, but no reports out of Green Bay seem to suggest that this a long-term issue.
He is nearing a return, but will NOT take the field today against the Saints. Remove him from your lineups and bump up A.J. Dillon to a top-20 play as well!
AJ Dillon
Another situation where the surgery was a success, but the patient died on the table. With Jones out, Dillon handled 78.9% of the Packers' RB carries in a game where they trailed for only 29.8% of their offensive snaps. Process-wise, you couldn't have asked for much more.
Result-wise (6.8 fantasy points), you could have asked for plenty more. Despite the poor showing, Dillon is once again penciled in as a starter for me in all formats with Jones missing another game.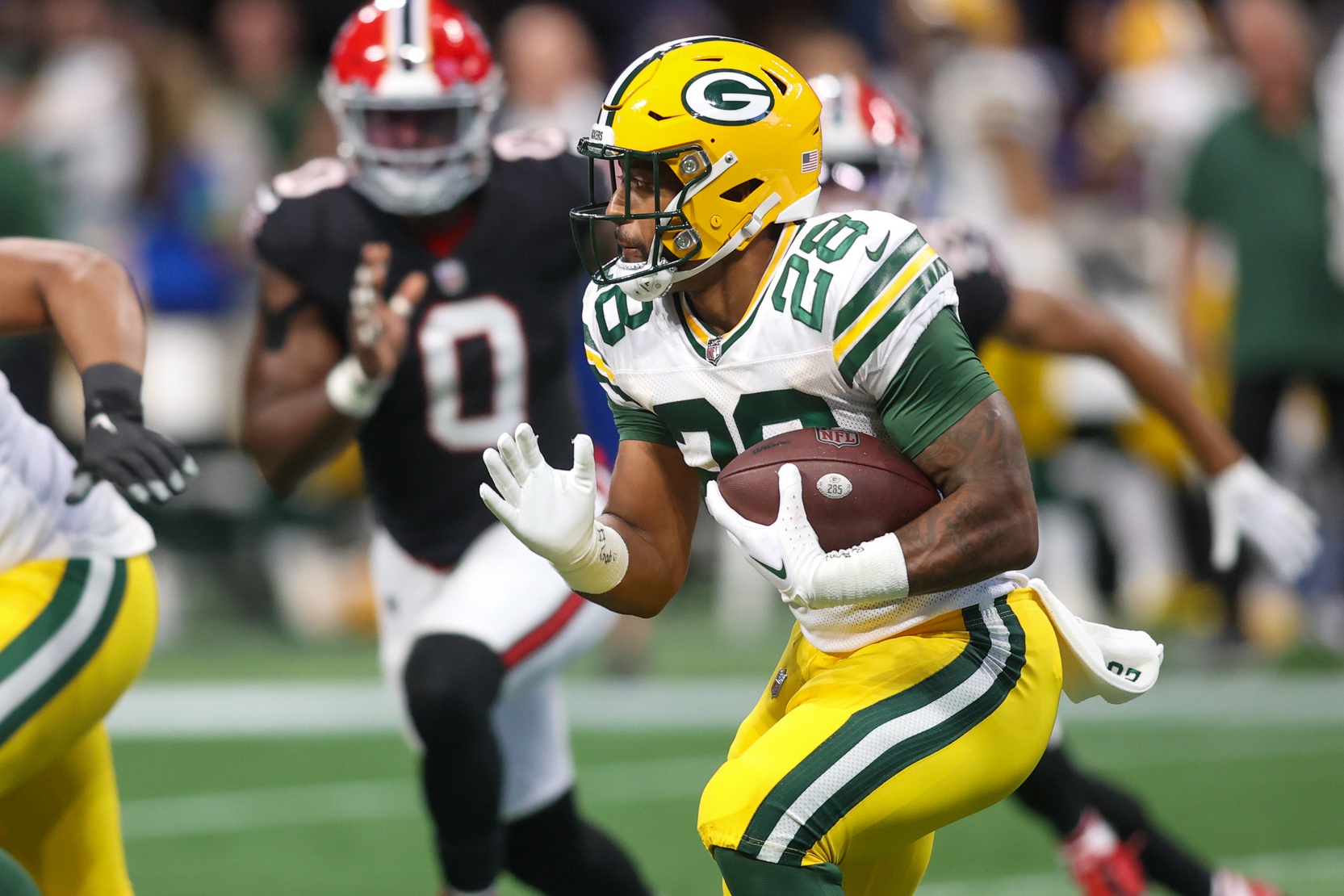 Chris Olave
There might not be a receiver who has finished outside the top 12 at the position in both weeks this season that I have more confidence in than Olave. He has seen double-digit targets with a 40-yard catch in both games this season and goes through stretches where he looks downright unguardable.
With Michael Thomas earning targets at a nice rate and Rashid Shaheed demanding help over the top, defenses aren't going to be able to allocate the needed resources to slow Olave for long. He gets the Packers this week and the Buccaneers in Week 4. He's finishing as a top-five receiver in one of those games. Get ready!
Rashid Shaheed
With a 40+ yard grab in both games this season (and five of his past seven dating back to last season), now are you willing to side with me that Shaheed is a perfect fit for what Carr and this Saints offense wants to do?
His 4.3 speed combined with Carr's soft touch on those deep balls is tough to defend for 60 minutes, and I expect we see more of the same in this spot.
MORE: Fantasy Football Week 3 WR Rankings
The Packers were among the worst defenses at defending the deep ball last season, and it's a flaw that has yet to be fixed. Darnell Mooney beat them for a 20-yard score (all air yards) in Week 1, while three different Falcons had a catch gaining at least 24 yards against Green Bay last weekend.
The Carr-Olave-Shaheed triple stack is penciled into my DFS prep, and I feel good about the burner being a viable Flex play in annual leagues. I have Shaheed over Thomas in my ranks, as the upside is simply too much to ignore.
Michael Thomas
While it's true that he has yet to finish a week as a top-35 receiver, the 17 targets Thomas has earned this season are encouraging. He's never going to be a big-play option (his yards per catch have trended down throughout his career), but those high percentage targets add up.
I prefer to attack the Packers vertically, which is why I have Thomas behind Shaheed this week. However, I do think he's a reasonable buy-low option. More productive days are ahead for Carr, and high-floor receivers like Thomas tend to be underrated by the fantasy industry.
Christian Watson
A hamstring injury has the potential to be a lasting issue, so be careful in assuming that we see 2022 Watson in his 2023 debut. He will be my highest-ranked Packers pass catcher any week in which he is active, though you need to acknowledge the downside.
Through two weeks, Love has been spreading around passes in a low-volume pass game. With just 52 passes thrown through two games and an aDOT that ranks well below average, Watson was a fringe Flex play for me when the week started, but with him ruled OUT, you'll have to wait yet another week to have access to his services.
Romeo Doubs
With Watson out, Doubs has been able to pick up just 56 yards on eight targets through two weeks. The two touchdowns in Week 1 were nice, but his inability to earn targets in this spot is concerning.
Could Watson's return open things up for Doubs? It's possible, but that's not happening this week and I don't have confidence that Doubs will be given enough chances to produce viable numbers in this spot.
Jayden Reed
Did you know that Reed leads Packer pass catchers (WR/TE) in receiving yards this season? That's damning with faint praise — this team has five players with 40-86 receiving yards — but it's a fact.
He's coming off of a multi-TD game and was a popular add off of waiver wires this week (four catches for 37 yards and the two touchdowns).
Rostering Reed is fine, and I like that Green Bay was creative in getting him some looks in close, but the second of his scores was a defensive miscommunication, and he's not yet an asset you can realistically play (regardless of Watson's status).
Juwan Johnson
With Thomas back to earning targets on those short throws, the role that we hoped Johnson would assume is no longer there for him.
Through two weeks, Johnson has turned eight targets into just 49 yards, 27 of which came on a single grab against the Titans in Week 1.
I still like the athletic profile, but even I can't say he's a top-15 option while Thomas is active. You can move on from Johnson and play the TE streamer game (this week, I prefer Gerald Everett and Jake Ferguson to Johnson).
Taysom Hill
Hill saw his number called on a semi-regular basis last week in Carolina (nine carries, two targets, and one pass). That's cute, but it's not something I expect to continue.
MORE: Week 3 Fantasy Cheat Sheet
Hill was the solution for Williams exiting early, in my opinion, not someone who was actively inserted to the pregame script.
The TE position doesn't require much to be viable, and if Williams were to sit out this week, Hill would jump into my top 15 at the position and be my preferred tight end in this game. If I'm streaming the position, I'm adding Hill now and pivoting on Sunday if Williams is active.
Luke Musgrave
As mentioned, Love is spreading the ball around, and that's just not the formula for a rookie TE to produce on a regular basis. Through two weeks, he has seven targets, and if not for a poor snap play in Week 1 that resulted in the Bears' defense abandoning their coverage responsibilities, Musgrave would have just 38 receiving yards.
He could be a spot starter in the right matchup, but this isn't that. I have Musgrave out of my top 15 tight ends, and I think you can find more production on your waiver wire.
Who Should You Start in Week 3?
Should You Start AJ Dillon or Jerome Ford?
After spending up to acquire Ford this week, fantasy managers are going to be inclined to start him. I'd be careful. He's a good player, but this is a different situation than last week.
In Week 2, he essentially filled the Nick Chubb role on the fly, something I fear won't be the case with a full week of prep against an elite run defense. Dillon was trusted with 16 touches, and I think there's value in a role we know in an offense that, at this point, I trust.
Should You Start Rashid Shaheed or Jordan Addison?
With the Packers remaining vulnerable down the field and the Carr-Shaheed connection proving potent, give me Shaheed over the promising rookie.
Addison has had a deep touchdown catch in each of the first two games of his career, but he's yet to distance himself from K.J. Osborn for the third option in that passing attack, and that leaves the door open for a low-floor game. Both are reasonable Flex options, Shaheed carries the greater upside for me.
Listen to the PFN Fantasy Podcast
Listen to the PFN Fantasy Podcast! Click the embedded player below to listen, or you can find the PFN Fantasy Podcast on iTunes, Spotify, and all major podcast platforms.  Be sure to subscribe and leave us a five-star review! Rather watch instead? Check out the PFN Fantasy Podcast on our Fantasy YouTube channel.