Bookmakers are suggesting that this game will be boring, but fantasy football managers will be banking on a few participants. Are they asking for trouble, or are these individuals good enough to overcome their lack of support?
Looking to make a trade in your fantasy league? Having trouble deciding who to start and who to sit? Check out PFN's Free Fantasy Football Trade Analyzer and Start/Sit Optimizer to help you make the right decision!
New England Patriots at New York Jets
Spread: Patriots -3
Total: 36.5
Patriots implied points: 19.8
Jets implied points: 16.8
Mac Jones
We discussed Jones and this entire Patriots offense on Tuesday's Trade Targets podcast, and it was a good conversation that was proof that reasonable minds can see the exact same situation in a very different way.
Jones has thrown over 40 passes in both games this season, doubling his career count of such games in the process. Even with all of that volume last week (31 completions), he finished as QB24. Reminder — there are only 32 teams in the NFL.
MORE: Fantasy News Tracker
For the season, Jones is averaging 5.7 yards per pass. That means that producing reasonable fantasy numbers is going to be nearly impossible if/when the volume regresses. Now, I will say that he completed 75.8% of his passes against the Jets last season, but he also took six sacks in each game.
I'm expecting this to be a defensive blood bath (something an opening projected point total of 36.5 points confirms) and actively looking to avoid any exposure.
Zach Wilson
As much as I'm talking down Jones, he is my QB1 for this game. After what the Jets coaching staff was labeling as a "great week of practice" for Wilson, he threw three interceptions and threw for only 170 yards in a game that featured a 68-yard Garrett Wilson touchdown.
Wilson completed just 46% of his passes against the Pats last season, and I think we see similarly hideous numbers this week. Find someone better in two-QB leagues for this week. Like, literally any starter. Wilson is my QB32.
Rhamondre Stevenson
The early-season Stevenson production is all a matter of how you decide to read it.
Optimist: he has been a top-20 running back both weeks and has caught all of his targets.
Pessimist:

he's yet to finish better than RB17 and hasn't had a 20-yard run in 11 of his past 12 games (12 yards is his longest run this season).
I see both sides, though I will admit that I lean on the pessimistic side. In 31 carries against the Jets last season, he gained just 97 yards — and that includes a 35-yard burst. He was able to maintain fantasy value by leading the Pats in receiving yards in both of those games, but that's a dangerous way to live.
At the end of the day, Stevenson's role is enough to justify starting him, and his lack of upside is enough to complain about. With committee backfields and starter injuries, Stevenson deserves to be started, I'd just caution against counting on him being much of a difference-maker.
Ezekiel Elliott
I run a Tuesday Waiver Wire live stream (1:00 p.m. ET every week), and the question was raised about dropping Elliott and/or Dalvin Cook. Neither veteran in this game has shown us much juice, and I think both are very much on the chopping block.
I said that Zeke would be my first cut of the two, and I feel good about that. He didn't see a single target last week, leading me to believe that the seven he saw in Week 1 was an aberration and not a complete misread on my part.
Elliott scored over 40% of his fantasy points during his last two seasons in Dallas inside the red zone, but he's yet to make much of a dent in that space for the Pats. The reason I wanted to keep Cook over Elliott was due to my "what if" projection.
What if both of these backs were elevated to the RB1 in their respective offenses? In that event, I have more faith in Cook, and, in my opinion, he has a clearer path to that actually occurring due to Breece Hall's 2022 ACL tear.
Breece Hall
We were worried about what would happen if/when the Jets got punched in the mouth with Zach Wilson under center, and those worries were proven legitimate in Week 2 in Dallas. The relentless Cowboys defense held NYJ RBs to 24 yards on just 10 carries (Hall: four carries for nine yards), part of which was a result of the game script, but also the Cowboys daring Wilson to beat them.
He couldn't.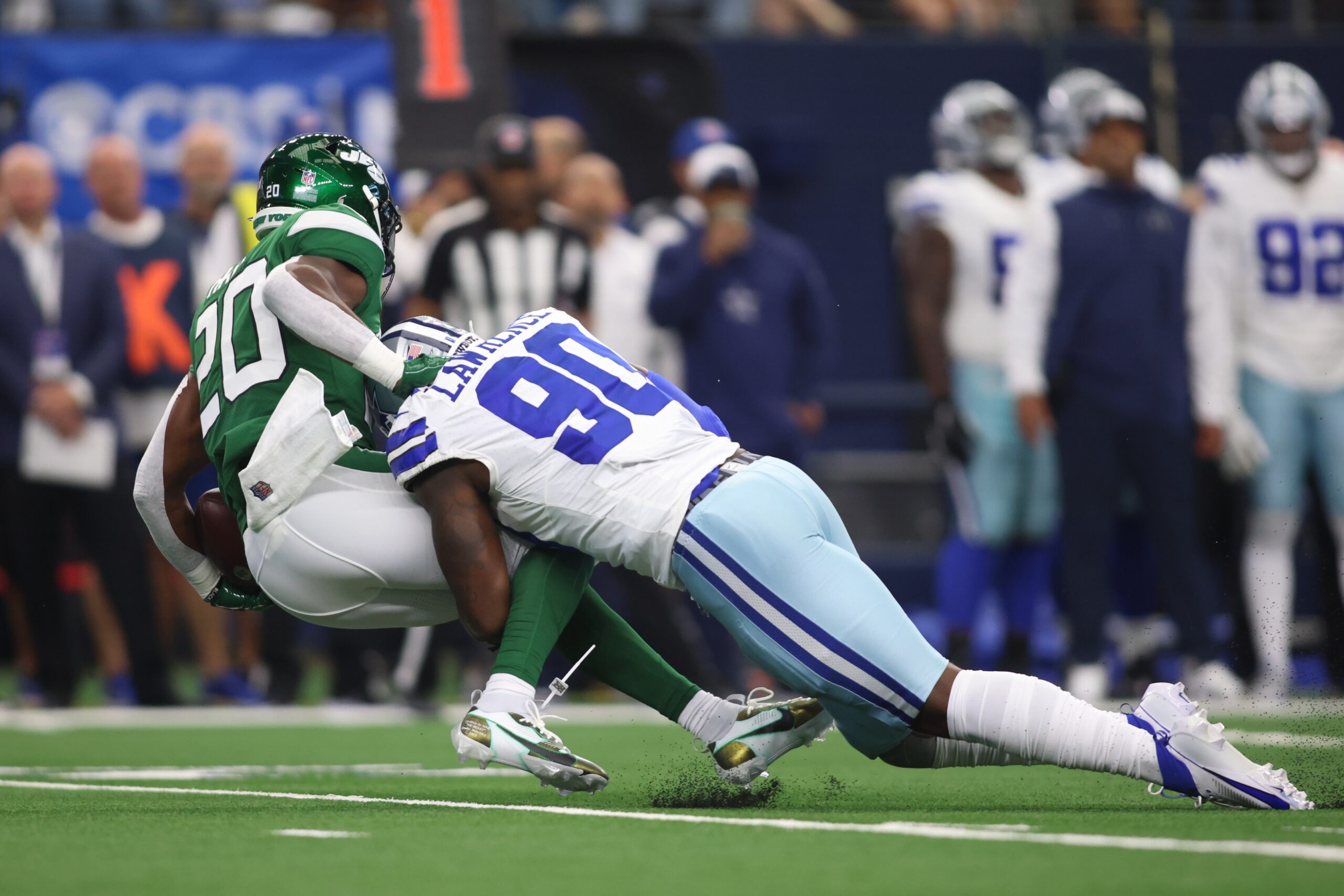 The Cowboys' defense is among the best in the game, so I'm not overreacting, though the risk of investing in this offense is real. The Jets couldn't move the ball against the Patriots last season (38 carries for 110 yards), making this a tough rebound spot.
Hall's explosive potential combined with my belief that the Patriots aren't capable of scripting the Jets out of the run game has him ranked as a RB2 for me this week, with the understanding that any piece of this offense carries risk.
Dalvin Cook
If you roster Cook, it's a good sign that he was featured on the second drive of the game. He got three consecutive carries, and while the team had to punt, the early usage is a giveaway that this team wants to keep both backs fresh with a consistent rotation.
The bad news, of course, was the flow of this game. The Jets barely had the ball (under 18 minutes of possession), and that is going to make sustaining one back, let alone two, nearly impossible. Cook remains worthy of a roster spot (out-snapped Hall 16-15), even if there's no way to feel good about playing him in the short term.
Kendrick Bourne
Is he my highest-ranked Patriot receiver? He is. Does that make him worth a Flex flier in deep leagues? No.
His already having 20 targets is good to see, but he's yet to turn one of them into a 20-yard gain and averaged a pathetic 3.2 yards per target on Sunday night against the Dolphins. If you want to be different in a DFS setting, use this stat to help you sleep Saturday night:
Jakobi Meyers earned a 32.2% target share for the Patriots against the Jets last season, providing hope that Jones will simply lock onto Bourne in this spot.
Like I said, you're only going in that direction if you're trying to be different. In season-long fantasy, we are playing a game of mean projections, and more often than not, Bourne is going to struggle in this spot.
JuJu Smith-Schuster
We are going on three seasons since the last time we saw Smith-Schuster produce in a fantasy-friendly way, so why is he still rostered in the majority of leagues? I mentioned how pass-heavy New England has been thus far, and yet, Smith-Schuster has turned 13 targets into 61 yards.
He wasn't a touchdown threat last year in Kansas City; why would anyone think that would change as a part of this offense? Forget starting Smith-Schuster, I'm not hesitating to cut ties in favor of a player whose profile has boom potential.
DeVante Parker
In his season debut, Parker led the Pats in catches (six) and receiving yards (57) against the Dolphins. Great. Even in 2023, not every offense has to have a viable fantasy receiver, and this offense is a prime example of just that.
MORE: Fantasy Football Week 3 WR Rankings
The Patriots have three WR3s on this roster, and expecting any of them to excel as a primary target simply isn't playing the percentages.
Garrett Wilson
We all can agree that Wilson is an elite talent, but you let me know when "talent" is a statistic that your fantasy box score rewards. Now, we did see the ability shine through on the 68-yard catch-and-run last week, but we also saw this team unable to manufacture more than one other completion to their promising star.
NFL target share leaders (min 2 games):

Puka Nacua 39%
Davante Adams 35%
Michael Pittman Jr. 33%
Chris Olave 33%
Tyreek Hill 32%
DeAndre Hopkins 32%
Deebo Samuel 31%
Garrett Wilson 30%
A.J. Brown 29%
DeVonta Smith 29%

— Mike Clay (@MikeClayNFL) September 19, 2023
If you want to bet on talent and Flex him, I won't stop you. I'm not supporting you (he's my WR31), but I get it. Heck, as a man of the people, I'll even give you a note to make you feel better about being stubborn with your second-round pick.
With Zach Wilson under center in their last meeting, he caught six of seven targets for 115 yards. The Wilson-to-Wilson connection was efficient, and that confidence could lead to an absurd target share this week, given that all other Jets had a 51.9% catch rate in that game.
Wilson has been fantasy's 22nd-ranked receiver in each of the first two weeks this season, and if you can get WR22 value for him in a trade, I'd take it (for reference, that's the Mike Evans/Zay Flowers range for me)
Hunter Henry
I remain skeptical of this New England offense as a whole, but even a curmudgeon like me can't deny that Henry's been a key part of this offense, and that has allowed them to overachieve. He's been a top-two performer at the position in each of the first two weeks and has my podcast host victory lapping.
Good for him. And good for you if you listened to him this summer. No one is asking you to give any points earned by Henry back, but you need the volume of this passing game to sustain if he's going to continue to produce starter numbers.
Henry had a 20-yard catch in both games against the Jets last season. The problem? Those were the only two targets he earned across those two games. I need to see a few more weeks of him being a featured part of this passing attack and further proof that he is going to continue to see targets in scoring position on a consistent basis.
One. That is the number of seasons since 2017 in which Henry has caught more than five touchdown passes in a season. One. The catch and scoring rates are likely to decline sooner than later, something that has me trying to get out of the Henry business while his value is peaking.
Who Should You Start in Week 3?
Should You Start Hunter Henry or David Njoku?
One more week on the fade Henry wagon for me until I have to admit that I am wrong. I remain of the thought that this Patriots team doesn't want to work through Mac Jones and if the volume dips, Henry could be in trouble.
Njoku has yet to really produce, but this is a good matchup in an offense that is being forced to change their scheme. The tight end position has me ranking with little confidence these days, but I will bet on the offense I think has more upside in a spot like this.
Should You Start Garrett Wilson or Jahan Dotson?
Wilson is so gifted, but until "gifted" counts in fantasy box scores, I'm looking elsewhere for upside. Yes, he got there last week with the long TD, and that's going to happen, but the 25% catch rate is more concerning than the touchdown was encouraging.
MORE: Week 3 Fantasy Cheat Sheet
Dotson was an early target for the Commanders last week before disappearing. I expect the early usage to be sustained this week, with another elite corner (Tre'Davious White) likely tailing Terry McLaurin. Both players offer per-target upside, so give me the WR whose quality of target I trust more.
Listen to the PFN Fantasy Podcast
Listen to the PFN Fantasy Podcast! Click the embedded player below to listen, or you can find the PFN Fantasy Podcast on iTunes, Spotify, and all major podcast platforms.  Be sure to subscribe and leave us a five-star review! Rather watch instead? Check out the PFN Fantasy Podcast on our Fantasy YouTube channel.