It's difficult to know what to expect from the NC State Wolfpack in 2023, but the team quietly has enough 2024 NFL Draft talent to fuel a pleasantly surprising season … if a few things break their way.
NC State Wolfpack NFL Draft Prospects
The biggest change for the Wolfpack occurs at the quarterback position in 2023. Devin Leary, the team's most productive starter in years, transferred to Kentucky to close out his collegiate career.
In Leary's stead, the Wolfpack added former Virginia passer Brennan Armstrong through the transfer portal, and they also have young, up-and-coming QB MJ Morris in the wings, who could be a threat to take Armstrong's starting job down the line.
Outside of QB, NC State's losses weren't too drastic, though they did see the departures of several key contributors in the 2023 offseason. Offensive lineman Chandler Zavala was the team's only draft pick in the 2023 NFL Draft, and Thayer Thomas also graduated. On defense, standouts such as Drake Thomas, Isaiah Moore, Cyrus Fagan, and Tanner Ingle all moved on as well.
Most of NC State's starters from last year will retain their roles, but the Wolfpack made a point to target specific players in the transfer portal. OL Dawson Jaramillo and receiver Dacari Collins may help on the offensive side of the ball. On defense, edge rusher Noah Potter and safety Robert "Poogie" Kennedy may go on to be notable additions.
Brennan Armstrong, QB
After throwing for 4,449 yards, 31 touchdowns, and 10 picks in 2021 while running for nine more scores, Armstrong had some early-round hype in the summer of 2022. But he ultimately came back to Earth in crashing fashion, with just seven TDs and 12 picks in the ensuing season.
At 6'2″, 205 pounds, Armstrong is a good runner and a tough competitor, but his visibly lacking arm strength and suspect decision-making in high-pressure situations dilutes his ceiling.
Jordan Houston, RB
Jordan Houston's skill set likely isn't very translatable to the NFL level. At 5'10", 190 pounds, he's noticeably undersized for the position, and he also doesn't cover nearly as much ground as you'd like to see on his explosion upfield. That said, Houston has some spark to him in close quarters.
He's a fleet-footed mover who has the necessary feel to slither through narrow lanes, and an increase in efficiency in 2023 could help him beat the odds.
Dacari Collins, WR
Collins hasn't delivered on his potential yet, but if he can build on his physical foundation, he could be a transfer portal steal for NC State. Collins racked up 16 catches for 221 yards as a true freshman at Clemson but left the Tigers' program after falling down the depth chart in 2022.
Collins has a chance to restart his career with the Wolfpack. He's an amped-up athlete at 6'4″, 215 pounds, with the twitch and three-level potential to rise.
Keyon Lesane, WR
Keyon Lesane experienced a mini-breakout in 2022. After not eclipsing the 100-yard mark from 2019 to 2021, Lesane pulled in a healthy target share as a senior, registering 31 catches for 342 yards and two scores.
He's actually NC State's leading returning WR — though that's not a high bar to clear. Though not elite in any one area, the 5'11", 195-pound Lesane can do a little bit of everything — separate, earn RAC yards, and secure tough catches.
Porter Rooks, WR
Porter Rooks has never been a primary target in his career with NC State, but the senior does return as a valuable depth component to the team's WR group. The 6'1″, 195-pound Rooks has accumulated 66 catches for 725 yards over the past three seasons combined and earned his first touchdown in 2022.
Given the minimal production to this point, it's hard to expect a breakout in 2023. But with Armstrong now on board, Rooks is a name to watch.
Trent Pennix, TE
The Wolfpack's primary weapon at TE will be sixth-year senior Trent Pennix. The 6'3″, 235-pound Pennix put up respectable numbers in 2021 with 16 catches for 236 yards and three touchdowns.
And though an injury limited him to just five games in 2022, he was still able to log 111 yards and two scores. On the way to full health after rehabbing his shoulder injury, Pennix has the versatility to play the H-back role and be schemed touches in different ways.
Christopher Toudle, TE
Christopher Toudle helps infuse the NC State offense with more depth and versatility. He's listed as a WR on the team's website, but the 6'4″, 235-pound spectacle has the frame of a tight end, and he's been used as a designated TD threat in the past.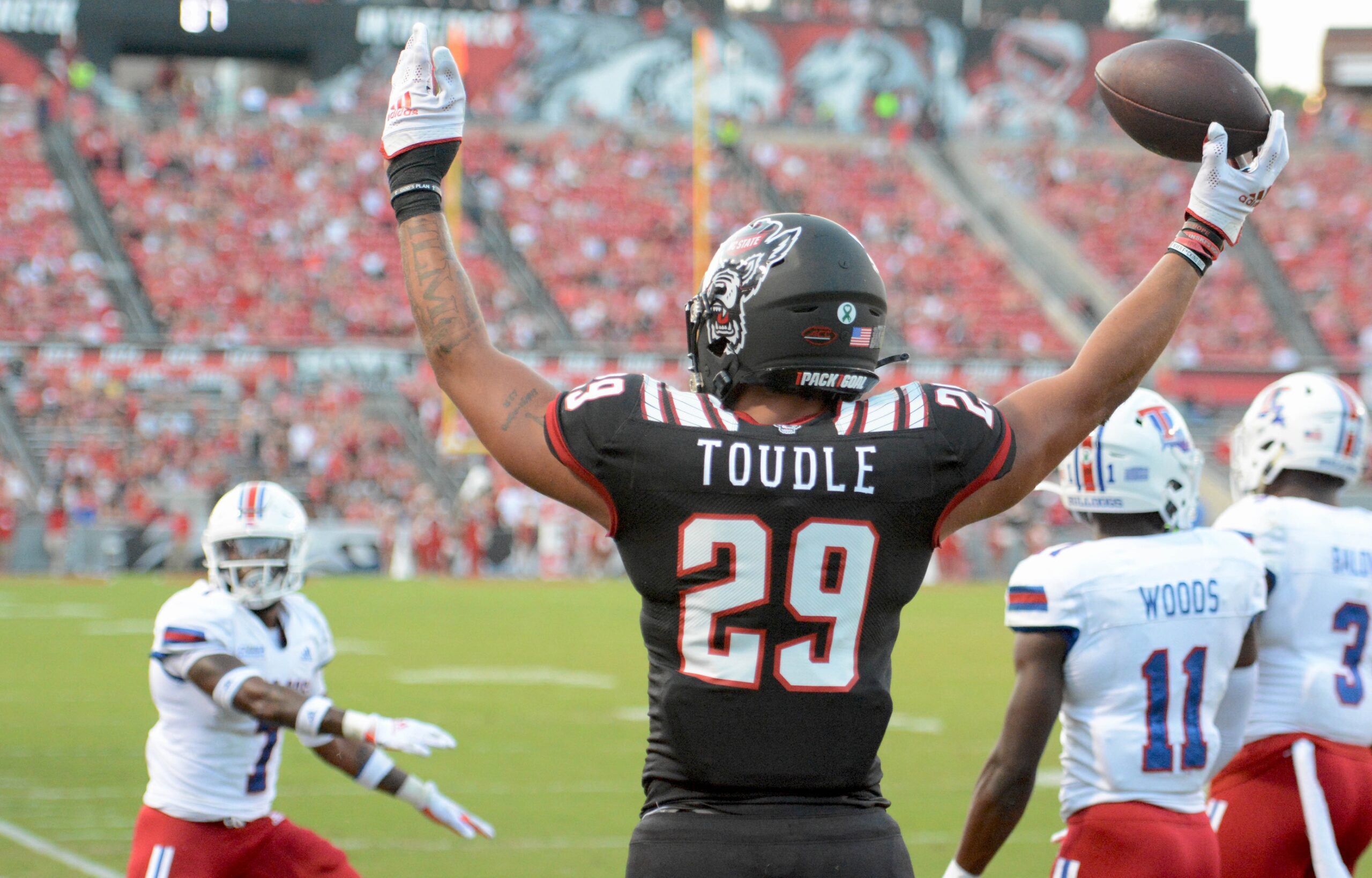 Toudle had 19 catches for 190 yards and four touchdowns in 2021 and added 130 more yards and an additional score in 2022. His vertical athleticism may give him a future as a move TE.
Anthony Belton, OT
The Wolfpack's top prospect in the 2024 NFL Draft cycle might be offensive tackle Anthony Belton. At 6'5″, 344 pounds, with arms around 34″, Belton has an elite size profile, and he's a good athlete at that size who moves with solid explosiveness and short-area energy.
Belton isn't the most flexible blocker, but he's shown he can envelop rushers with a wide base, gather them with independent hand usage, and finish with power and physicality.
Timothy McKay, OT
While Belton locks down the blind side, Timothy McKay will presumably keep his place at right tackle, though the latter isn't as highly-rated a prospect. Despite his 6'4″, 312-pound frame, he's high-cut and choppy with his weight transfers, and he can more consistently tighten his hands and load his elbows to maximize power.
Nevertheless, McKay does have a strong lower body, which allows him to absorb contact, and he carries good energy off the snap.
Dylan McMahon, C
Belton may have legitimate early-round potential, but Dylan McMahon is also a prospect worth keeping tabs on within NC State's blocking unit. The 6'4″, 305-pound McMahon has started 32 games to this point for NC State, at both guard and center.
After taking over for Grant Gibson late in 2022, he's now in line to be the full-time center in 2023. McMahon has good athleticism — as corroborated by a documented 31.5″ vertical — and employs good functional power.
C.J. Clark, DT
After serving as mainly a rotational defender for three seasons, C.J. Clark saw an uptick in production in 2022, logging career highs in both tackles for loss (3.5) and sacks (three).
At 6'3″, 305 pounds, Clark has marginal burst and size for his position, but he has the ankle flexion to splice around blocks and the motor to fight through contact and convert on second efforts. He also flashes multitasking ability — as evidenced by a long-arm, chop-rip combo against UConn.
Davin Vann, DL
One of NC State's quickly ascending defensive prospects is Davin Vann. At 6'2″, 272 pounds, Vann has a unique frame and athletic profile and has all-encompassing alignment versatility between 7-tech and a shaded 0-tech.
He's arguably best on the edge, where his urgent strides help him cover vertical range quickly and where his eye-catching flashes of lateral explosiveness can allow him to work across-face up the apex. He shows promise with his hands as well.
Noah Potter, DL
Alongside Vann, Noah Potter may end up being another draftable prospect in the 2024 NFL Draft cycle. Potter was a four-star recruit who initially signed at Ohio State, but after three uneventful years, the 6'6″, 274-pound lineman transferred to Cincinnati.
In 2022, Potter embarked on a career-best campaign, notching 2.5 sacks and four TFLs. At his size, he has good burst and energy off the snap, as well as an exceptional power profile with his length.
Payton Wilson, LB
Payton Wilson's 2024 NFL Draft stock will be a very interesting case to approach. At 6'4″, 235 pounds, he has all the necessary size and athleticism, and when he's been healthy, he's been a top-flight producer for the NC State defense.
But Wilson tore his ACL in high school, again suffered a season-ending knee injury as a college freshman, and missed most of the 2021 campaign with a shoulder injury. He'll be medically flagged, but he could be a buy-low bargain for a team.
Shyheim Battle, CB
Ever since arriving at NC State, Shyheim Battle has been a productive cover man. He has five interceptions and 21 pass deflections since joining up with the Wolfpack in 2020. At 6'2″, 195 pounds, he's a long and physical defender whose wide disruption radius can make WRs uncomfortable.
He's an explosive closer in run support and can seal out boundary runners but also has good zone awareness and route exchange IQ in coverage.
Aydan White, CB
Aydan White was the Wolfpack's most productive coverage defender in 2022, putting up four interceptions and nine pass deflections in a career-best campaign. At 6'0″, 185 pounds, White doesn't have elite length or mass, and he also lacks high-end explosiveness and speed.
That makes his margin for error slimmer with things like balance and transition timing, but White has decent baseline tools and a stubborn urgency that underpins his game.
Devan Boykin, CB
While Battle and White hold strong on the boundaries, Devan Boykin will be first in line to cover the slot as a nickel defender. Boykin, who stands at 5'10", 192 pounds, has seen his fair share of playing time over the past three seasons.
Though he hasn't been nearly as productive on the ball as his teammates, he has enough movement speed to hold his own. He's able to play catch technique from the slot, and he's a willing tackler in pursuit.
Jakeen Harris, S
Ever since a 2020 campaign in which Jakeen Harris accumulated 76 tackles, a pick, and seven pass breakups, he's been a consistent asset in the secondary for NC State. At 5'10", 195 pounds, Harris has a useful degree of functional versatility.
He's able to play two-high, rotate into single-high, or man the slot, where he's fluid and explosive in coverage. At his size, he can struggle to get off blocks in run support, but he has good all-around utility.
Robert 'Poogie' Kennedy, S
The Wolfpack lost two very important parts of their defense in safeties Ingle and Fagan. Harris' retainment will help fill that void, but they also dipped into the transfer portal, adding an Old Dominion grad transfer in Kennedy.
Kennedy impressed for the Monarchs in 2022, piling up 52 tackles, an interception, six pass deflections, and two forced fumbles. His over-arching ability to make an impact should mesh well with Harris.
Bishop Fitzgerald, S
Harris and Kennedy will help fill the void left by Ingle and Hagan, but keep an eye on JUCO transfer Bishop Fitzgerald. Hailing from Coffeyville Community College, the 6'0″, 190-pound Fitzgerald generated very impressive numbers in 2022.
He was one of the best defenders in the JUCO ranks, amassing 50 tackles, 4.5 TFLs, a half-sack, six interceptions, and eight pass breakups. That natural playmaking ability could serve him well at NC State.
NC State Wolfpack Schedule
Week 1
BYE
Week 2
Aug. 31: at UConn Huskies
Week 3
Sept. 9: vs. Notre Dame Fighting Irish
Week 4
Sept. 16: vs. VMI Keydets
Week 5
Sept. 22: at Virginia Cavaliers
Week 6
Sept. 29: vs. Louisville Cardinals
Week 7
Oct. 7: vs. Marshall Thundering Herd
Week 8
Oct. 14: at Duke Blue Devils
Week 9
BYE
Week 10
Oct. 28: vs. Clemson Tigers
Week 11
Nov. 4: vs. Miami Hurricanes
Week 12
Nov. 11: at Wake Forest Demon Deacons
Week 13
Nov. 18: at Virginia Tech Hokies
Week 14
Nov. 25: vs. North Carolina Tar Heels
Week 15
BYE
Listen to the PFN Scouting Podcast
Listen to the PFN Scouting Podcast! Click the embedded player below to listen, or you can find the PFN Scouting Podcast on iTunes, Spotify, and all major podcast platforms.  Be sure to subscribe and leave us a five-star review! Rather watch instead? Check out the PFN Scouting Podcast on our Scouting YouTube channel.