The Michigan State Spartans started out hot under Mel Tucker's oversight but regressed in 2022. Can their 2024 NFL Draft class help them right the ship in 2023 and return to contention in the Big Ten conference?
Michigan State Spartans NFL Draft Prospects
It's no surprise that, after a disappointing 5-7 campaign, the Michigan State football program is in a bit of turmoil. Losses were heavy for the Spartans in the 2023 offseason, particularly on the offensive side of the ball.
Not only did the Spartans see Jayden Reed get selected by the Packers in Round 2 of the 2023 NFL Draft, but they also lost budding star Keon Coleman to FSU in the transfer portal. Starting quarterback Payton Thorne also left, transferring to Auburn. Elsewhere on offense, starters Jarek Broussard and Matt Carrick departed as well.
On defense, the Spartans experienced the departures of Jeff Pietrowski Jr., Dashaun Mallory, Ben VanSumeren, Ronald Williams, and Ameer Speed — either to the transfer portal, exhausted eligibility, or the NFL Draft.
There's optimism that the Spartans can regain continuity at QB with Noah Kim taking the reins, and there's also hope that transfer additions like Nathan Carter, Tunmise Adeleye, and Dre Butler will infuse life into a middling program — but it's time for those changes to yield results. Michigan State's prospect corps will be at the center of that process.
Jalen Berger, RB
With an uncertain outlook in the passing game, expect Mel Tucker and the Spartans to rely on their running game in 2023, with Jalen Berger expected to once again be the lead back.
Berger put up 683 yards and six scores on 148 carries in 2022 and showed some receiving upside with 19 catches. At 6'1″, 215 pounds, he's surprisingly slippery as a runner, with the snappy lower body flexibility to levy quick cuts and slither through congested areas.
Nathan Carter, RB
Being a redshirt sophomore, Nathan Carter may ultimately be a name to stash for the 2025 or 2026 NFL Draft cycle. But he's eligible and has an opportunity present at Michigan, so that's enough to jot him down.
Carter, a UConn transfer, was dominant to start the 2022 campaign, with 43 carries for 313 yards and a score through the first two weeks. At 5'9″, 190 pounds, he's quick and explosive, but don't discount his strength. Carter can squat 600 pounds, and he's not shy about prying through arm tackles.
Jaren Mangham, RB
Joining up with his former coach at Colorado, Jaren Mangham comes to Michigan State after stints with both the Buffalo and South Florida Bulls. The 6'2″, 230-pound Mangham hit his peak in 2021, racking up 671 yards and a whopping 15 touchdowns on 160 carries at USF. Besides Berger and Carter, Mangham gives Michigan State a competent power back who could carve out a role punching through in short-yardage situations.
Tre Mosley, WR
With Jayden Reed and Keon Coleman gone, there'll be much more pressure on Tre Mosley to expand past his role as an ancillary playmaker. Mosley caught 21 passes as a freshman, but he's never eclipsed his career-high of 530 yards in 2021.
In 2022, he logged 35 catches for 359 yards and four scores. Without elite suddenness or speed at 6'2″, 198 pounds, Mosley's ceiling is capped, but he can at least operate out of the slot, use hip leverage to displace DBs at stems, and convert at the catch point with smooth hands.
Maliq Carr, TE
If Michigan State can utilize Maliq Carr's talents effectively, he could be a breakout candidate in the 2024 NFL Draft. Carr, who originally signed with Purdue out of high school, was a four-star recruit with a documented 4.72 40-yard dash and offers from Georgia and LSU. In 2022, he caught 16 passes for 209 yards and two scores for the Spartans, showing off an overwhelming wingspan at 6'5″, 255 pounds, and uber-physical RAC ability.
Spencer Brown, OT
Michigan State's top prospect on the offensive line in 2023 is RT Spencer Brown. Brown put his fair share of good reps on tape in 2022, and though he still needs further refinement, he has some role-specific upside.
At 6'6″, 315 pounds, Brown is a high-hipped, long-limbed, and exceedingly powerful blocker. He's a bit stiff laterally, but he brings good linear burst and physicality. He might translate better at guard in the NFL, but Brown has the tools to thrive in a phone booth.
Brandon Baldwin, OT
Brandon Baldwin managed to start five games at left tackle as a redshirt sophomore in 2022 when veteran Jarrett Horst exited the lineup. At 6'7″, 315 pounds, Baldwin sports a lean build and is a solid functional athlete with good size and length, but he needs much more refinement as a prospect. He's still working on his hand placement, power drive, and block-sustaining capabilities, but the JUCO product has enough eligibility remaining to hone his skills.
J.D. Duplain, G
Next to Baldwin, J.D. Duplain will presumably return as Michigan State's starting left guard. Entering 2023, he's started 30 games at the position and will only accrue more experience this year.
At 6'4″, 300 pounds, Duplain's a bit undersized, but he has a dense, compact frame. He's an explosive athlete climbing to the second level, with surprising power drive and a finisher's mentality. Duplain could potentially earn draft pick consideration with a good year.
Nick Samac, C
At the fulcrum of Michigan State's offensive line, Nick Samac is another player who may garner consideration as a 2024 NFL Draft prospect. The 6'4″, 300-pound Samac started all 12 games for the Spartans in 2022, earning honorable mention All-Big Ten recognition in the process.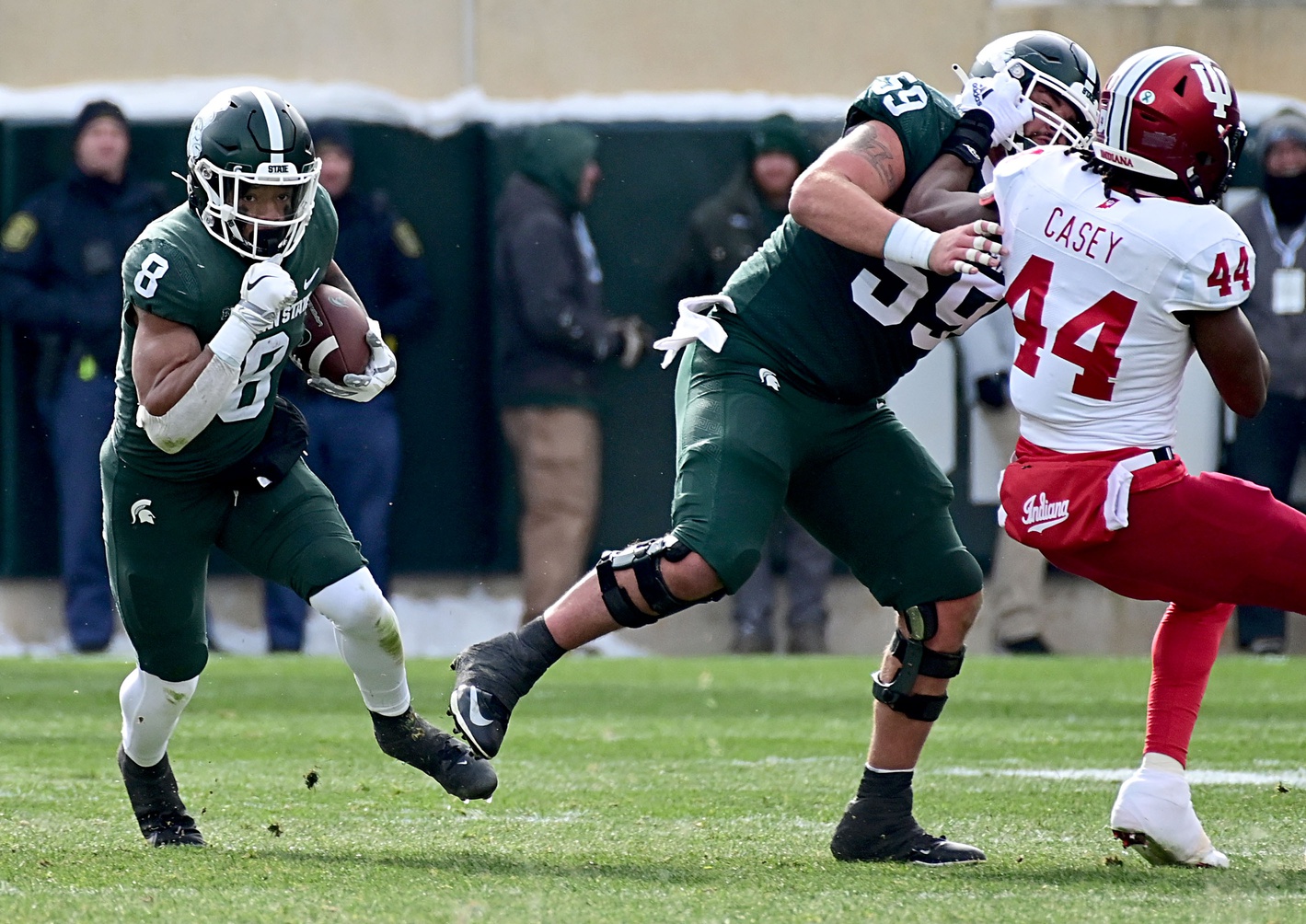 Samac doesn't have overwhelming physical tools or exceptional movement freedom in space, but he's a well-leveraged, assignment-sound blocker with enough lateral mobility to handle stunts and patrol the A-gaps.
Simeon Barrow, DT
For two seasons and counting, Simeon Barrow has been one of Michigan State's most productive defensive linemen. In 2022, the 6'3″, 290-pound interior defender managed to earn four sacks and nine tackles for loss.
Barrow checks the production box, and his physical profile is translatable. At his core, Barrow is an explosive, well-leveraged defensive lineman in the mold of a disruptor, and another strong year could earn him looks in April.
Dre Butler, DT
Alongside Barrow, transfer addition Dre Butler is a prospect who deserves attention as a potential deep sleeper. Butler is a JUCO product who's played at both Auburn and Liberty thus far in his career. His season at Liberty in 2022 was his best yet, as he registered 23 tackles, two TFLs, and 1.5 sacks.
The 6'5″, 300-pound lineman still lacks consistent control and coordination, but Butler can be a wrecking ball off the line with his burst and length.
Maverick Hansen, DT
Though the Spartans lost Dashaun Mallory to Arizona State in the transfer portal, they have another competent interior defensive lineman returning in Maverick Hansen. At 6'4″, 310 pounds, Hansen is a stout and squatty, but well-leveraged and well-proportioned lineman.
Hansen's flashed disruptive upside before, as echoed by his 3.5 sacks and six TFLs in 2022. But his best role, with his strength and natural feel for alignment, is a displacement preventer in the run game at 1-tech and 3-tech.
Jarrett Jackson, DT
Michigan State's interior DL is four-deep in 2023, with another transfer addition in Jarrett Jackson rounding out the group.
Jackson is a sixth-year senior with stints at Louisville and Florida State on his record. His upside was visible as far back as 2018, when he logged two sacks and three TFLs. At FSU in 2022, the 6'6″, 300-pound lineman was mainly a depth player. But at Michigan State, he may get more rotational looks.
Tunmise Adeleye, DL
Michigan State's highest-upside 2024 NFL Draft prospect might be Tunmise Adeleye — a long 6'4″, 290-pound redshirt sophomore who transferred from Texas A&M. Adeleye was a four-star, top-100 recruit in high school.
He had five tackles and a half-sack in his second game of the 2022 campaign but suffered a season-ending ankle injury in that same game. Adeleye plays with violent energy in both phases and has an impressive pass-rush repertoire, complete with double swipes, spins, swims, and stutter-bulls.
Khris Bogle, EDGE
There was a degree of excitement around edge rusher Khris Bogle last offseason. Bogle transferred to Michigan State from Florida and did well in a tight window in 2022, recording 11 tackles, three TFLs, and a sack.
After four games, an injury to Bogle's left leg ended his season. Still, the 6'4″, 245-pound redshirt senior has the burst, bend capacity, and length to make some noise with a new bill of health in the 2023 campaign.
Avery Dunn, EDGE
Alongside Bogle in the EDGE rotation, Avery Dunn also has a place on the 2024 NFL Draft radar as a potential inclusion if he takes a step up in 2023. The 6'4″, 245-pound Dunn had his moments in 2022, including a 2.5-TFL, one-sack game against Indiana.
Overall, Dunn had a solid year as a rotational player, accruing three sacks and 5.5 tackles behind the line of scrimmage. 2023 will be a test to see if Dunn can expand beyond that.
Jacoby Windmon, LB
Past Adeleye, Jacoby Windmon is the Spartans' most intriguing 2024 NFL Draft prospect. He blends the line between off-ball and on-ball LB, but Windmon's best plays come as a stand-up edge rusher.
In 2022, Windmon had 5.5 sacks, 10.5 TFLs, and six forced fumbles — a year headlined by a four-sack debut against Western Michigan. At 6'2″, 250 pounds, Windmon doesn't hold up well as a run defender, but he has the one-step burst and rare bend capacity to be a pass-rush specialist on later downs.
Cal Haladay, LB
Michigan State has a tradition when it comes to gritty, productive collegiate linebackers, and Cal Haladay is their next one in the cycle. The 6'1″, 230-pound Haladay has been one of the Big Ten's most productive second-level defenders since 2021, with 216 tackles, 16 TFLs, two sacks, two pick-sixes, and three forced fumbles over that span.
Haladay might not command early-round capital, but he could be a potential option on Day 3 with his solid range, finishing ability, gap discipline, and playmaking instincts.
Aaron Brule, LB
Completing the Spartans' LB group is former Mississippi State transfer Aaron Brule. Now a sixth-year senior, Brule is coming off a 2022 campaign in which he accrued 30 tackles, four sacks, and 6.5 tackles behind the line of scrimmage.
At 6'2″, 242 pounds, Brule has experience both in an off-ball role and as a rush linebacker. He lacks Windmon's athleticism and pass-rush upside, but Brule does have his own two-phase versatility and utility.
Charles Brantley, CB
Charles Brantley entered the transfer portal earlier in the offseason but eventually withdrew his name and returned to Michigan State. That's good news for the Spartans, as Brantley has a chance to keep ascending in 2023 after logging 48 tackles, two TFLs, a sack, a pick, and six pass breakups in 2022.
Brantley's noticeably light at 6'0″, 170 pounds, but he has good zone awareness and can undercut passes. He's also an extremely explosive, willing support defender who screams downhill.
Chester Kimbrough, CB
Also set to return at cornerback for Michigan State is Chester Kimbrough. Kimbrough transferred from Florida in 2021, and in two years at Michigan State, he's accumulated 60 tackles, five TFLs, three sacks, an interception, and six pass deflections.
Kimbrough's very volatile in coverage, and he needs to improve at playing the ball downfield, but he has the necessary short-area twitch, sinking capacity, and long-strider athleticism at 6'0″, 185 pounds to warrant a look in 2023 with further growth.
Angelo Grose, DB
Angelo Grose found playing time early in his career with the Spartans, amassing 81 tackles, 1.5 TFLs, an interception, five pass deflections, and a forced fumble in 2021. His 2022 campaign was slightly less productive, but he's already proven his utility as a feisty DB who can play safety, cornerback, or nickel DB.
At 5'10", 180 pounds, Grose is undersized, and he doesn't quite have the elite burst to compensate — but his tenacity makes him tough to separate from.
Darius Snow, S
Perhaps the most interesting prospect in Michigan State's secondary is Darius Snow. The 6'1″, 230-pound Snow suffered a season-ending right leg injury after just 29 snaps in 2022. Yet, in 2021, Snow showed promise with 87 tackles, 5.5 TFLs, and two pass deflections.
It's been a long road back, but if Snow is back to 100%, he could re-emerge on the 2024 NFL Draft stage. His size-athleticism combination gives him versatility between linebacker, safety, and the nickel position.
Michigan State Spartans Schedule
Week 1
BYE
Week 2
Sept. 1: vs. Central Michigan Chippewas
Week 3
Sept. 9: vs. Richmond Spiders
Week 4
Sept. 16: vs. Washington Huskies
Week 5
Sept. 23: vs. Maryland Terrapins
Week 6
Sept. 30: at Iowa Hawkeyes
Week 7
BYE
Week 8
Oct. 14: at Rutgers Scarlet Knights
Week 9
Oct. 21: vs. Michigan Wolverines
Week 10
Oct. 28: at Minnesota Golden Gophers
Week 11
Nov. 4: vs. Nebraska Cornhuskers
Week 12
Nov. 11: at Ohio State Buckeyes
Week 13
Nov. 18: at Indiana Hoosiers
Week 14
Nov. 24: vs. Penn State Nittany Lions
Week 15
BYE
Listen to the PFN Scouting Podcast
Listen to the PFN Scouting Podcast! Click the embedded player below to listen, or you can find the PFN Scouting Podcast on iTunes, Spotify, and all major podcast platforms.  Be sure to subscribe and leave us a five-star review! Rather watch instead? Check out the PFN Scouting Podcast on our Scouting YouTube channel.