The Miami Dolphins' schedule has officially been released. Clearly, the NFL has high expectations for Miami in 2023 based on the number of spotlight games on their newly released schedule.
The Dolphins, for a moment, looked like a potential Super Bowl contender last year. The issue then, and the question now, is Tua Tagovailoa's health. After reaching the postseason a year ago, can the Dolphins take the next step in 2023 despite what appears to be a challenging schedule?
Miami Dolphins Schedule and Opponents
The Dolphins have a total of five standalone games in 2023 — three prime-time games, a trip overseas, and the first-ever Black Friday game in NFL history.
Preseason
Week 1: vs. Falcons
CBS Miami | 7 p.m. ET (Friday, Aug. 11)
Week 2: at Texans
CBS Miami | 8 p.m. ET (Saturday, Aug. 19)
Week 3: at Jaguars
CBS Miami | 7 p.m. ET (Saturday, Aug. 26)
Regular Season
Week 1: at Chargers
CBS | 4:25 p.m. ET (Sunday, Sept. 10)
Week 2: at Patriots
NBC | 8:20 p.m. ET (Sunday, Sept. 17)
Week 3: vs. Broncos
CBS | 1 p.m. ET (Sunday, Sept. 24)
Week 4: at Bills
CBS | 1 p.m. ET (Sunday, Oct. 1)
Week 5: vs. Giants
FOX | 1 p.m. ET (Sunday, Oct. 8)
Week 6: vs. Panthers
CBS | 1 p.m. ET (Sunday, Oct. 15)
Week 7: at Eagles
NBC | 8:20 p.m. ET (Sunday, Oct. 22)
Week 8: vs. Patriots
CBS | 1 p.m. ET (Sunday, Oct. 29)
Week 9: at Chiefs (Frankfurt)
NFL Network | 9:30 a.m. ET (Sunday, Nov. 5)
Week 10: BYE
Week 11: vs. Raiders
CBS | 1 p.m. ET (Sunday, Nov. 19)
Week 12: at Jets
Amazon Prime | 3 p.m. ET (Friday, Nov. 24)
Week 13: at Commanders
FOX | 1 p.m. ET (Sunday, Dec. 3)
Week 14: vs. Titans
ESPN | 8:15 p.m. ET (Monday, Dec. 11)
Week 15: vs. Jets
CBS | 1 p.m. ET (Sunday, Dec. 17)
Week 16: vs. Cowboys
FOX | 4:25 p.m. ET (Sunday, Dec. 24)
Week 17: at Ravens
CBS | 1 p.m. ET (Sunday, Dec. 31)
Week 18: vs. Bills
TBD | TBD (Saturday, Jan. 6 or Sunday, Jan. 7)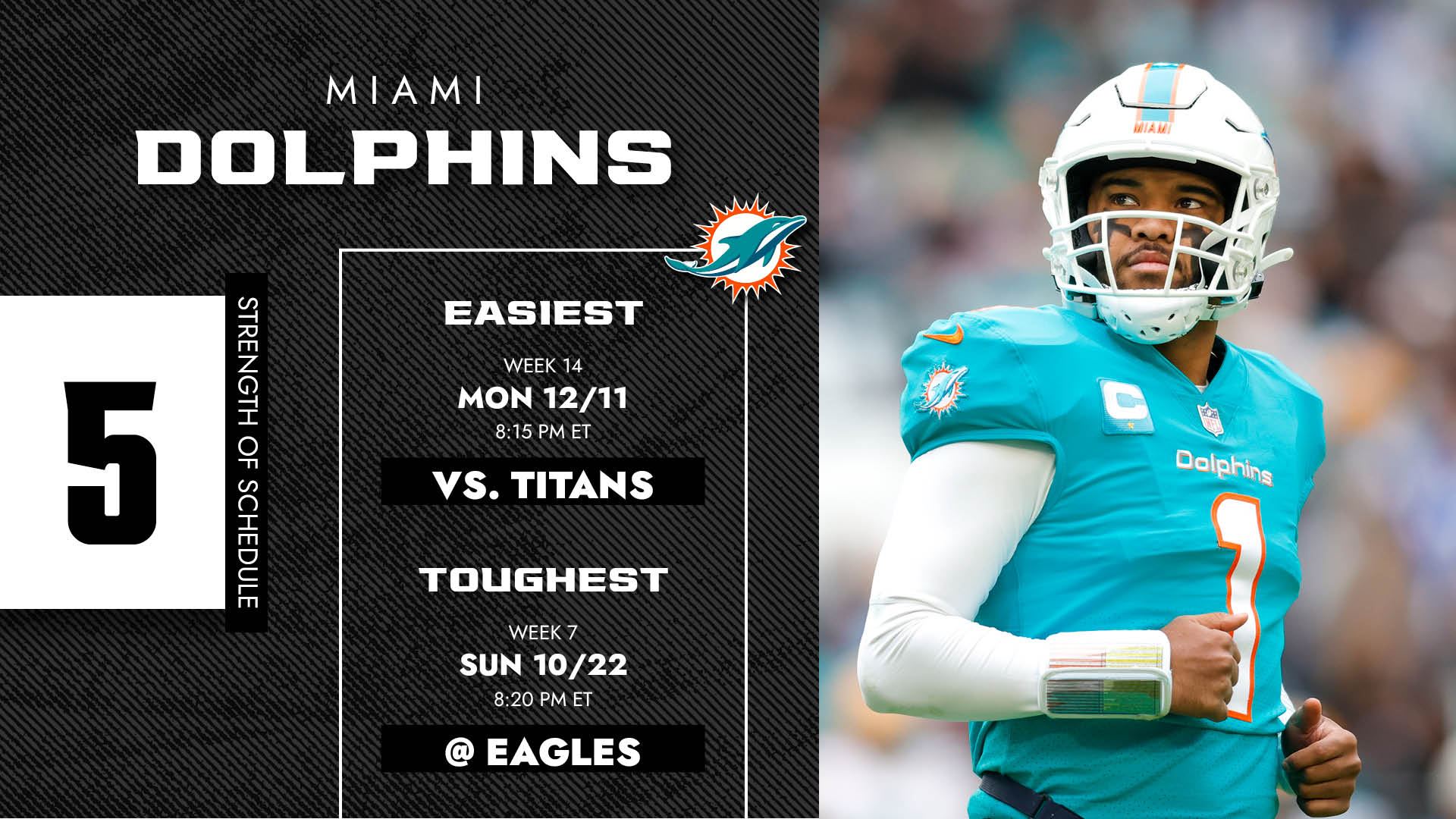 Miami Dolphins Strength of Schedule
After the Detroit Lions, the Dolphins have the second-largest difference in home and away difficulty. Miami holds the fifth-most difficult schedule heading into 2023 using Arif Hasan's model, mostly due to the fact that they play in the AFC East and have to play the NFC East as well.
MORE: FREE NFL Mock Draft Simulator With Trades
Miami will also play fellow second-place finishers in Baltimore and host Super Bowl champion Kansas City. According to PFN's strength of schedule, which takes more than just win totals into consideration, the Dolphins have the third-hardest schedule in the league.
Miami Dolphins Record Prediction
The Dolphins' 2023 chances rest on the arm, and head, of Tua. Mike McDaniel's paint-by-numbers Shanahan-style passing system was tailor-made for Tagovailoa to showcase his talents on the field. Being aided by the addition of All-Pro WR Tyreek Hill, and the further development of budding star Jaylen Waddle doesn't hurt, either.
This offseason, Miami's continued to add speed to the WR room, with the additions of Chosen Anderson and Braxton Berrios. Talent-wise, on offense, the Dolphins are loaded.
Losing Mike Gesicki doesn't hurt because he doesn't fit the mold of what a Shanahan-style offense asks of the tight end position. Even George Kittle lacks the kind of receiving production one would expect. If the play-callers have elite receiving talent, that's who is getting the ball.
The offensive line is the most significant worry for the team heading into 2023. Miami's passing attack is fast in skill, but many of the intermediate route concepts take time to develop, even with guys who run a 4.3 being the ones running them. That offensive line could be what ruins Miami's season and alters the course of their franchise if Tua suffers another head injury.
MORE: Win-Loss Predictions for Every NFL Team After Schedule Release
But if Miami is truly successful this season, it'll be because Vic Fangio (with an assist from Chris Grier) turned the defense around. Adding Jalen Ramsey could be a home run, and Fangio's scheme should allow Xavien Howard to play with his eyes on the QB more often, which could lead him back to his ball-hawking tendencies.
Few teams have a more wide-ranging assortment of potential outcomes. If Tua remains healthy all year, this team could win 13 games and be the top seed in the AFC if the defense improves. But they could also win seven games if Tua misses an extended period. That is unless Mike White can rekindle some of the magic he briefly had in 2021.
Record prediction: 11-6