Welcome to Week 4 of the 2023 NFL season! How are your fantasy football teams looking so far? Are we in command of our league through three weeks? Or do we need to bounce back here in this matchup?
Whichever spot you're in, I've got you covered with my last-minute advice going into this action-packed Sunday! Below, you'll find my final start/sit column for the week for you to review right before you hit submit on those starting lineups. Let's get to it.
Looking to make a trade in your fantasy league? Having trouble deciding who to start and who to sit? Check out PFN's Free Fantasy Football Trade Analyzer and Start/Sit Optimizer 
The Top RBs To Start in Week 4
Kyren Williams, RB, Los Angeles Rams
Kyren Williams came crashing back down to earth a little bit in Week 3 against the Cincinnati Bengals on prime time, but he is handling all of the touches out of this backfield for the Los Angeles Rams this season.
That should give fantasy managers plenty of hope for him bouncing back in Week 4 against the Indianapolis Colts defense that's allowing 114.3 rushing yards per contest through the first three weeks. If you've got him, fire him up as a top-12 play.
Zack Moss, RB, Indianapolis Colts
What a time to be alive, folks! Zack Moss is a top-12 RB for fantasy purposes going into Week 4!
MORE: Week 4 Fantasy RB Rankings
He's handled a ridiculous workload here for the Indianapolis Colts while Jonathan Taylor has been sidelined, and he's producing with it! Coming off a 32-touch performance in Week 3 against the Baltimore Ravens, there should be zero hesitation in starting him here against the Los Angeles Rams.
Alexander Mattison, RB, Minnesota Vikings
After everyone was panicking and looking to cut Alexander Mattison from their fantasy football lineups after Week 2, we told you to hold tight and get him into your starting lineups in Week 3 against the Los Angeles Chargers.
That paid off in a big way with over 120 total yards, and he remains a solid start here in Week 4 against the Carolina Panthers defense that's allowing 136.7 rushing yards per contest up to this point. Cam Akers shouldn't be a concern for fantasy managers, and Mattison's a top-15 play.
The Top RBs To Sit in Week 4
Derrick Henry, RB, Tennessee Titans
Something didn't look right with Derrick Henry in Week 3. Whether it was a nagging injury that he was working through — or something greater — he was barely able to move the ball against the Cleveland Browns.
The Tennessee Titans offense is in shambles right now, and they are dealing with injuries left and right. They may struggle yet again in Week 4 against the Cincinnati Bengals, which moves Henry down the rankings to a low-end RB1 at best.
Rhamondre Stevenson, RB, New England Patriots
Rhamondre Stevenson is a talented RB who has the ability to be a top-tier contributor in fantasy football. However, the situation that he is in with New England is going to make that near impossible for him to achieve.
Bill Belichick has consistently shown that he does not want to lean on just one RB and that he is comfortable rotating in other options to keep their legs fresh. Ezekiel Elliott has looked somewhat like his former self up to this point of the season, and he's stealing away goal-line opportunities from Stevenson, which are obviously so valuable for fantasy football.
In a matchup against the Dallas Cowboys defense that is going to be foaming at the mouth to get back on track after the debacle from last week, Stevenson's in a tough spot to return top-24 production.
Dameon Pierce, RB, Houston Texans
Dameon Pierce has the talent to be a top-12 RB for fantasy football. Even if the offense isn't a top-15 unit, he's able to shoulder a significant enough workload to be viewed in that light.
However, it's not happening for him here, this year, in Houston. The offensive line – which was expected to be a top unit in the league – has been decimated by injuries and is struggling to create any sort of running lanes for the second-year RB.
Now, in a matchup against the Pittsburgh Steelers run defense, Pierce is likely going to struggle to make an impact for fantasy due to his situation. He's outside of my top 24 RBs on the week here again.
The Top WRs To Start in Week 4
Puka Nacua, WR, Los Angeles Rams
After two other-worldly performances to begin his career, Puka Nacua came back down to earth a little bit in Week 3 against the Cincinnati Bengals as he reeled in five receptions for 72 yards.
MORE: Week 4 Fantasy Cheat Sheet
If that's what is considered a "down" performance for Nacua at this point, that's absolutely incredible. There should be zero hesitation in plugging him right back into your starting lineup this week as a top-12 option in a favorable matchup against the Indianapolis Colts.
Michael Pittman Jr, WR, Indianapolis Colts
It doesn't matter who his QB is; Michael Pittman Jr. is reeling in targets so far this season in Indianapolis. He has yet to see less than 11 targets in any single contest up to this point and that's with both Anthony Richardson and Garner Minshew in the lineup.
In this matchup against the Los Angeles Rams, Pittman belongs in your starting lineups as a top-20 WR.
Christian Kirk, WR, Jacksonville Jaguars
Christian Kirk went quickly from being buried by fantasy managers after his involvement – or lack thereof – in Week 1 to skyrocketing back up the rankings with two solid performances since that point.
In Week 4, Zay Jones will be sidelined yet again, which gives Kirk a massive opportunity to return value on where he's being ranked by the industry. Kirk's a top-24 WR in my rankings, and he's a solid start if you're deciding between him or someone in my WR sits of the week!
The Top WRs To Sit in Week 4
Mike Evans, WR, Tampa Bay Buccaneers
Death, taxes, and Mike Evans failing to live up to expectations against the New Orleans Saints. He's on an absolute tear so far this season with Baker Mayfield as his QB, but the veteran WR needs to be downgraded in fantasy rankings going into this matchup.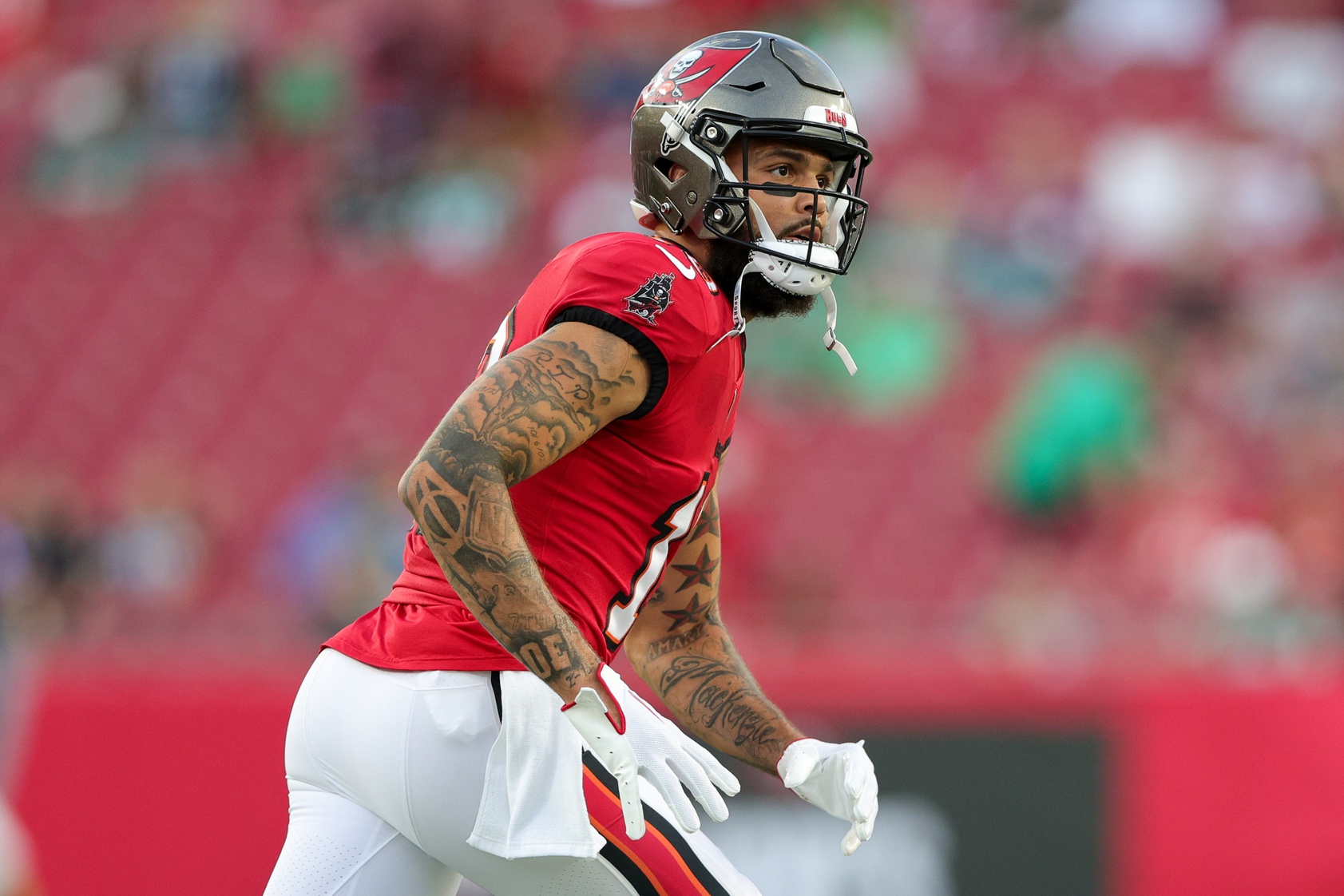 For whatever reason, Marshon Lattimore has Evans' number from a coverage standpoint, and he has locked him up the past several times they have played. All it takes is one big play for Evans to finish as a top-24 WR, but recent history tells us it's a safer bet to view him outside of that territory for this matchup.
Adam Thielen, WR, Minnesota Vikings
Adam Thielen re-emerged in the past couple of weeks and that forced fantasy managers to start moving him up the fantasy football rankings. Unfortunately for Thielen, Andy Dalton isn't expected to be his QB for Week 4.
While Bryce Young has immense potential down the road, he's still a rookie QB that's failing to elevate the receiving weapons around him. Thielen moves back from being a high-end WR3 to now a low-end WR3 without very much upside.
The Top QBs and TEs To Start in Week 4
Trevor Lawrence, QB, Jacksonville Jaguars
It's been a bit hit-or-miss so far this season for Trevor Lawrence, but we should expect a bounce-back performance this week up against the Atlanta secondary that is only allowing the fourth-fewest passing yards in the league, but they have yet to face an offense as powerful as Jacksonville.
Lawrence isn't in the middle tier of rankings at the QB position anymore, but he's still a low-end QB1 for Week 4 in London.
Pat Freiermuth, TE, Pittsburgh Steelers
Pat Freiermuth got back on track a little bit last week, and that trend should continue in this matchup against the Houston Texans defense. The Steelers should be able to move the ball freely on the Houston defense, and the scoring opportunities will be plentiful for Kenny Pickett's top option in the red zone.
The Top QBs and TEs To Sit in Week 4
Deshaun Watson, QB, Cleveland Browns
Deshaun Watson got back on track a little bit in Week 3, but he now comes into this one a bit banged up dealing with a shoulder injury. Additionally, this Baltimore Ravens secondary is a much tougher matchup than the Tennessee Titans last week, which means that Watson's most likely a safe sit.
Gerald Everett, TE, Los Angeles Chargers
Gerald Everett has had some splash moments over the past few weeks, but he's yet to make it count truly from a fantasy standpoint. While it's a great matchup, Mike Williams is no longer stealing targets away from him for this season, and this Chargers offense is just starting to gel; Everett belongs on fantasy benches.
MORE: Fantasy News Tracker
With Donald Parham vulture-ing away targets in the red zone, Everett is an absolute boom-or-bust option for starting lineups that will more than likely bust.
Listen to the PFN Fantasy Podcast
Listen to the PFN Fantasy Podcast! Click the embedded player below to listen, or you can find the PFN Fantasy Podcast on iTunes, Spotify, and all major podcast platforms.  Be sure to subscribe and leave us a five-star review! Rather watch instead? Check out the PFN Fantasy Podcast on our Fantasy YouTube channel.