The Las Vegas Raiders' schedule for the 2023 season immediately looks imposing, with matchups against the rest of the AFC West and a strong AFC East. Can they overcome those tough tests with a new QB under center in Jimmy Garoppolo, or could the Raiders be in for a tough road as they look to get back into the AFC playoff picture?
Las Vegas Raiders Schedule and Opponents
With the full NFL schedule for 2023 officially released, here is the Raiders' complete preseason and regular-season schedule.
Raiders Preseason Schedule
Preseason Week 1: vs. 49ers
TBD
Preseason Week 2: at Rams
TBD | 9 p.m. ET (Saturday, Aug. 19)
Preseason Week 3: at Cowboys
TBD
Raiders Regular-Season Schedule
Week 1: at Broncos
CBS | 4:25 p.m. ET (Sunday, Sept. 10)
Week 2: at Bills
CBS | 1 p.m. ET (Sunday, Sept. 17)
Week 3: vs. Steelers (SNF)
NBC | 8:20 p.m. ET (Sunday, Sept. 24)
Week 4: at Chargers
CBS | 4:05 p.m. ET (Sunday, Oct. 1)
Week 5: vs. Packers (MNF)
ESPN | 8:15 p.m. ET (Monday, Oct. 9)
Week 6: vs. Patriots
CBS | 4:05 p.m. ET (Sunday, Oct. 15)
Week 7: at Bears
FOX | 1 p.m. ET (Sunday, Oct. 22)
Week 8: at Lions (MNF)
ESPN | 8:15 p.m. ET (Monday, Oct. 30)
Week 9: vs. Giants
FOX | 4:25 p.m. ET (Sunday, Nov. 5)
Week 10: vs. Jets (SNF)
NBC | 8:20 p.m. ET (Sunday, Nov. 12)
Week 11: at Dolphins
CBS | 1 p.m. ET (Sunday, Nov. 19)
Week 12: vs. Chiefs
CBS | 4:25 p.m. ET (Sunday, Nov.26)
Week 13: BYE
Week 14: vs. Vikings
FOX | 4:05 p.m. ET (Sunday, Dec. 10)
Week 15: vs. Chargers (TNF)
Amazon Prime | 8:15 p.m. ET (Thursday, Dec. 14)
Week 16: at Chiefs
Nickelodeon and CBS | 1 p.m. ET (Monday, Dec. 25)
Week 17: at Colts
CBS | 1 p.m. ET (Sunday, Dec. 31)
Week 18: vs. Broncos
TBD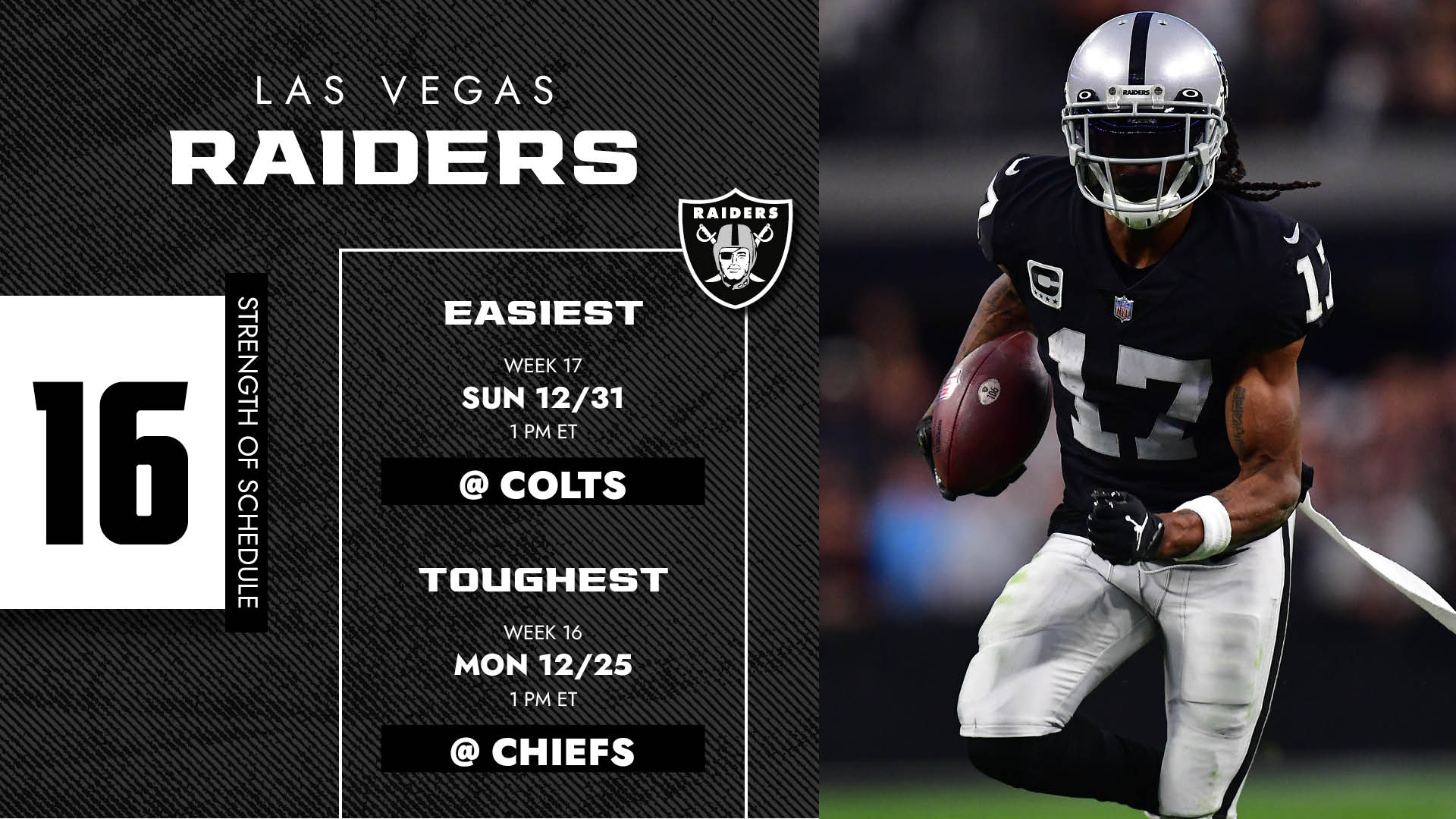 Las Vegas Raiders Strength of Schedule
The Raiders — and the AFC West, in general — have a mixed schedule in 2023, with the difficulty of their own division making things tricky before we even consider their opponents outside of the division. Based on PFN's strength of schedule formula, Las Vegas suits in the middle of the pack with the 16th-toughest NFL schedule.
MORE: FREE NFL Mock Draft Simulator With Trades
The good news for the Raiders is that their third-place finish in the AFC West has ensured them the easiest schedule in the division. Matchups with the Colts, who have major QB issues, the Steelers, who have uncertainty on offense, and the Giants, who are generally expected to regress this year, are expected to be must-win games if Vegas wants to challenge for a playoff spot.
Las Vegas Raiders Record Prediction
For many, the switch from Derek Carr to Garoppolo is not a major change in terms of the QB position. Garoppolo and Carr have generally been viewed as being in the same tier when it comes to QB play over recent seasons. They're both solid veteran options who are unlikely to elevate a team on their own, but as we've seen with Garoppolo, they have the talent to potentially guide a strong roster to a deep playoff run.
The question for the Raiders is whether the rest of the roster is at that level. There are certainly some headline-name talents in Davante Adams and Maxx Crosby, but the depth of talent is a concern. Las Vegas went 3-9 in one-score games last year, so hopefully, they can at least even those numbers up this year. Still, it's in those tight games where roster depth comes into play, and that might be where the Raiders are left wanting.
MORE: Win-Loss Predictions for Every NFL Team After Schedule Release
Garoppolo's experience in crunch moments will certainly help. He knows what it takes to lead a team that makes a deep playoff run, but this Vegas roster appears to be a slightly lower level than what he had to work with in San Francisco. It's hard to see how he can elevate a team that won just six games last year into double-digit wins with limited roster upgrades.
It would be surprising to see the Raiders in contention for the AFC West title down the stretch in 2023, but there is every chance they stay into the playoff picture until reasonably late.
With that said, it also wouldn't be surprising if we're talking about the Raiders in contention for a top-five pick in the 2024 NFL Draft pick come December. The range of outcome for this team is anywhere between two wins and somewhere in the region of eight or nine.
Most likely, the Raiders end up in the five to six-win region and in a bit of no-mans land. One major concern on this roster is the depth at QB behind Garoppolo. Vegas' new quarterback doesn't have the best record when it comes to injuries, and with Brian Hoyer as the only recognized backup, the floor for this Raiders team is extremely low if Garoppolo misses significant time.
Projected Record: 5-12