The Kansas Jayhawks are looking to build upon a season that led to their first AP ranking since 2009. Head coach Lance Leipold has grown the program from zero wins before he took over to a 6-7 record in 2022. Here's a look at all of the eligible 2024 NFL Draft talent to watch on Kansas' roster.
Kansas Jayhawks Roster and Depth Chart Changes
The Jayhawks are looking to make a bowl game in back-to-back seasons for the first time since 2007 and 2008. Getting the vast majority of their roster back for their junior and senior seasons should help. Kansas lost four defensive line starters, headlined by leading sack artist Lonnie Phelps, plus left tackle Earl Bostick Jr.
However, what the team lost can be overcome by a mixture of internal growth, transfer portal additions, and better injury luck for star quarterback Jalon Daniels. The Jayhawks added 12 individuals from the transfer portal, including four defensive linemen and former Wisconsin tackle Logan Brown.
Just keeping Daniels healthy may push Kansas toward 10 wins, as the Jayhawks dropped his last four injuries after suffering a shoulder injury. He led the 21st-best offense last year, but Kansas' defense ranked 124th in the nation. Let's dive into Kansas' draft prospects who will push to propel this team forward.
Kansas Jayhawks NFL Draft Prospects
Jalon Daniels, QB
An electric dual-threat quarterback who strains defenses, Daniels will punish defenses that overplay either his rushing ability or his passing prowess. He's a quick runner who moves downhill effectively but isn't an explosive ball carrier who will shoulder his NFL offense like Lamar Jackson or Jalen Hurts. Daniels has a good, not great, arm that allows him to make full-field throws when he generates torque with his lower trunk.
A gamer who accepts the challenge of the moment, Daniels reads defenders' leverage at an advanced collegiate level. However, he lacks the elite physical traits that will help elevate his game to a more efficient and dynamic level more similar to above-average NFL starters. He has to improve his pocket movement and thrive through his throws with his lower body more consistently.
Daniels projects as a quality backup in the NFL, similar to Baltimore's Tyler Huntley.
RB Devin Neal, RB
The workhorse back for Kansas, Devin Neal has decent size at 5'11" and 208 pounds. He's a strong outside-zone rusher thanks to his quick acceleration and burst through emerging gaps. His speed creates advantageous angles, and he continually falls forward when faced with contact.
Despite his size, he's not shifty or evasive enough to dodge defenders. His lack of bulk and play strength may limit his contributions in pass protections. Assuming he has a third productive season in a row, Neal should be considered as a Day 3 NFL prospect.
Dominick Puni, LG
Considered to be the top prospect on the team by scouting services, Dominick Puni is a massive 6'4″, 317-pound left guard. He plays to his size in pass protection, stonewalling pass rushers who try to out-leverage his positioning. Puni effectively changes defenders' momentum and creates rushing lanes.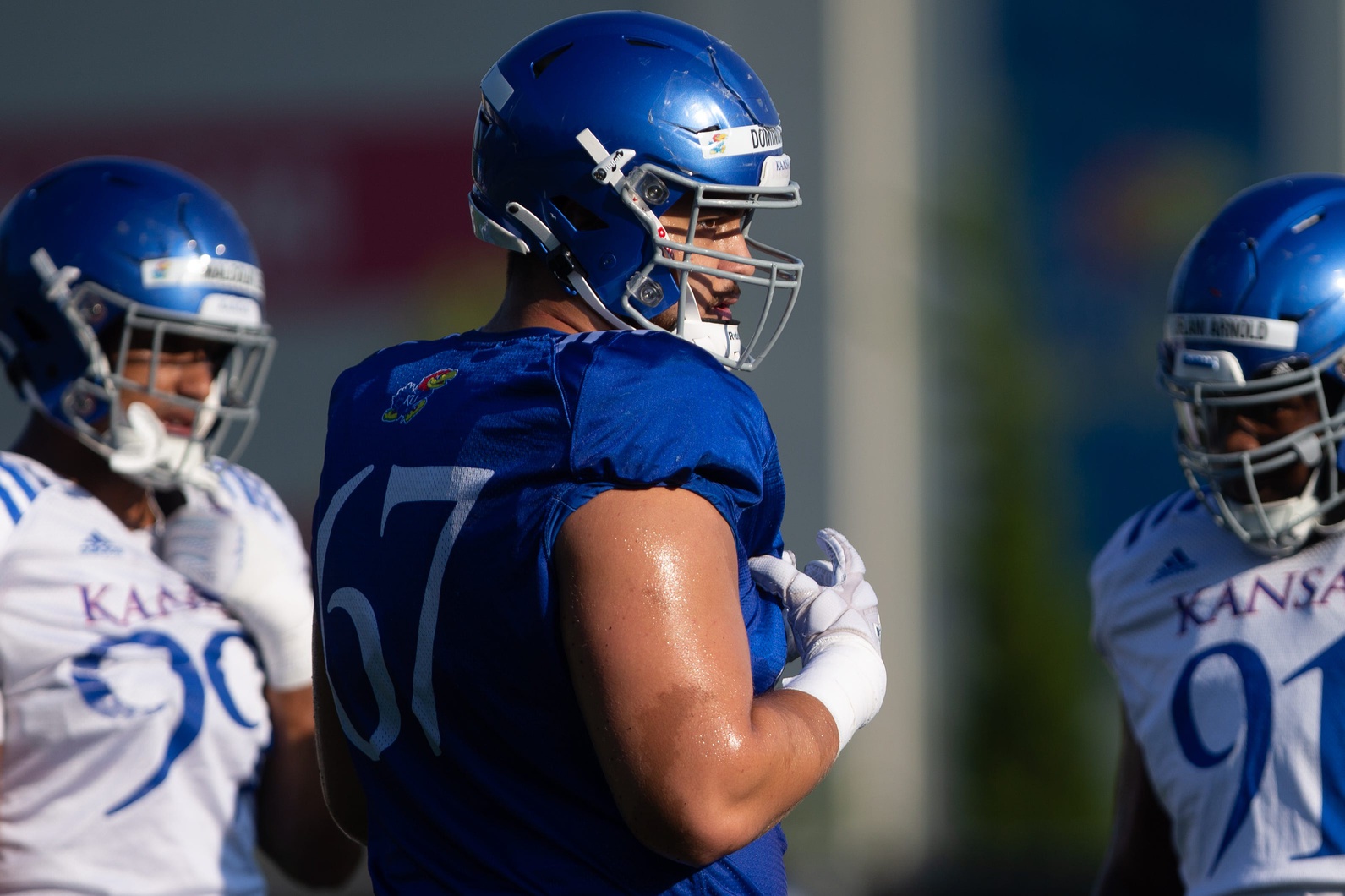 He does struggle a bit with lunging and pad level as a more upright athlete. He could eventually develop into an NFL starter in a power scheme.
Logan Brown, OT
Standing 6'6″ and 322 pounds, Brown has the opportunity to become a riser this fall. He played in 26 games at Wisconsin with only three starts. He showed solid strength at the point of attack in his starts but is expected to be more of a project who develops with more experience.
Cobee Bryant, CB
Primarily a zone cornerback who stands 6'0″ and 175 pounds, Cobee Bryant is a hard-nosed, competitive defender. His length allows him to compete at the catch point and close on the ball to force tight windows. Bryant plays his best in off-zone alignments where he can watch the ball and the receiver.
However, Bryant will struggle to be a sticky cover star at the next level. He doesn't have an explosive first step that closes the gap on quick-cutting routes, and his thin frame is a concern. He could be an early Day 3 fit for the right scheme fit.
Kenny Logan Jr., S
An incredibly productive safety over the last two years, Kenny Logan Jr. has made his name by finishing tackles in space. He's a hard hitter who often finds his way to the ball and can jar would-be receptions out of the hands of pass catchers. Logan plays with desperation to rip the ball out but rarely compromises his tackling form.
His ball skills in coverage give a reason for concern about his upside at the next level. He should be viewed as a possible special teams contributor and depth piece until his coverage contributions increase.
Kansas Jayhawks Schedule
Week 1
BYE
Week 2
Sept. 1: vs. Missouri State Bears
Week 3
Sept. 8: vs. Illinois Fighting Illini
Week 4
Sept. 16: at Nevada Wolf Pack
Week 5
Sept. 23: vs. BYU Cougars
Week 6
Sept. 30: at Texas Longhorns
Week 7
Oct 7: vs. UCF Knights
Week 8
Oct. 14: at Oklahoma State Cowboys
Week 9
BYE
Week 10
Oct. 28: vs. Oklahoma Sooners
Week 11
Nov. 4: at Iowa State Cyclones
Week 12
Nov. 11: vs. Texas Tech Red Raiders
Week 13
Nov. 18: vs. Kansas State Wildcats
Week 14
Nov. 25: at Cincinnati Bearcats
Week 15
BYE
Listen to the PFN Scouting Podcast
Listen to the PFN Scouting Podcast! Click the embedded player below to listen, or you can find the PFN Scouting Podcast on iTunes, Spotify, and all major podcast platforms.  Be sure to subscribe and leave us a five-star review! Rather watch instead? Check out the PFN Scouting Podcast on our Scouting YouTube channel.