Until the quartet of Patrick Mahomes, Andy Reid, Steve Spagnoulo, and Travis Kelce are no longer together, it's extremely hard not to see the Kansas City Chiefs as the favorite in the AFC year in and year out. Depending on how you look at things, the Chiefs' 2023 schedule may be able to present some challenges for the group, but nothing the team should not be able to weather as they look to defend their title.
Kansas City Chiefs Schedule and Opponents
With the full NFL schedule for 2023 now upon us, here is the Chiefs' complete regular-season schedule starting with Thursday night's matchup against the Detroit Lions.
Chiefs Regular-Season Schedule
Week 1: vs. Lions (TNF)
NBC | 8:20 p.m. ET (Thursday, Sept. 7)
Week 2: at Jaguars
CBS | 1 p.m. ET (Sunday, Sept. 17)
Week 3: vs. Bears
FOX | 4:25 p.m. ET (Sunday, Sept. 24)

Week 4: at Jets (SNF)
ESPN | 8:20 p.m. ET (Sunday, Oct. 1)
Week 5: at Vikings
4:25 p.m. ET (Sunday, Oct. 8)

Week 6: vs. Broncos (TNF)
Amazon Prime | 8:15 p.m. ET (Thursday, Oct. 12)
Week 7: vs. Chargers
CBS | 4:25 p.m. ET (Sunday, Oct. 22)

Week 8: at Broncos
CBS | 4:25 p.m. ET (Sunday, Oct. 29)

Week 9: vs. Dolphins (Frankfurt)
NFL Network | 9:30 a.m. ET (Sunday, Nov. 5)
Week 10: BYE
Week 11: vs. Eagles (MNF)
ESPN | 8:15 p.m. ET (Monday, Nov. 20)
Week 12: at Raiders
CBS | 4:25 p.m. ET (Sunday, Nov. 26)

Week 13: at Packers (SNF)
NBC | 8:20 p.m. ET (Sunday, Dec. 3)
Week 14: vs. Bills
CBS | 4:25 p.m. ET (Sunday, Dec. 10)
Week 15: at Patriots (MNF)
ESPN | 8:15 p.m. ET (Monday, Dec. 18)
Week 16: vs. Raiders
Nickelodeon and CBS | 1 p.m. ET (Monday, Dec. 25)
Week 17: vs. Bengals
CBS | 4:25 p.m. ET (Sunday, Dec. 31)
Week 18: at Chargers
TBD 
Kansas City Chiefs Strength of Schedule
The Chiefs and the rest of the AFC West, in general, have a rather difficult schedule in 2023. Based on projected win totals, Kansas City has the third-hardest strength of schedule in the NFL. Their respective opponents combined to go 147-140-0 a year ago for a .512 record, making the title defense not impossible but certainly something that will prove to be a challenge.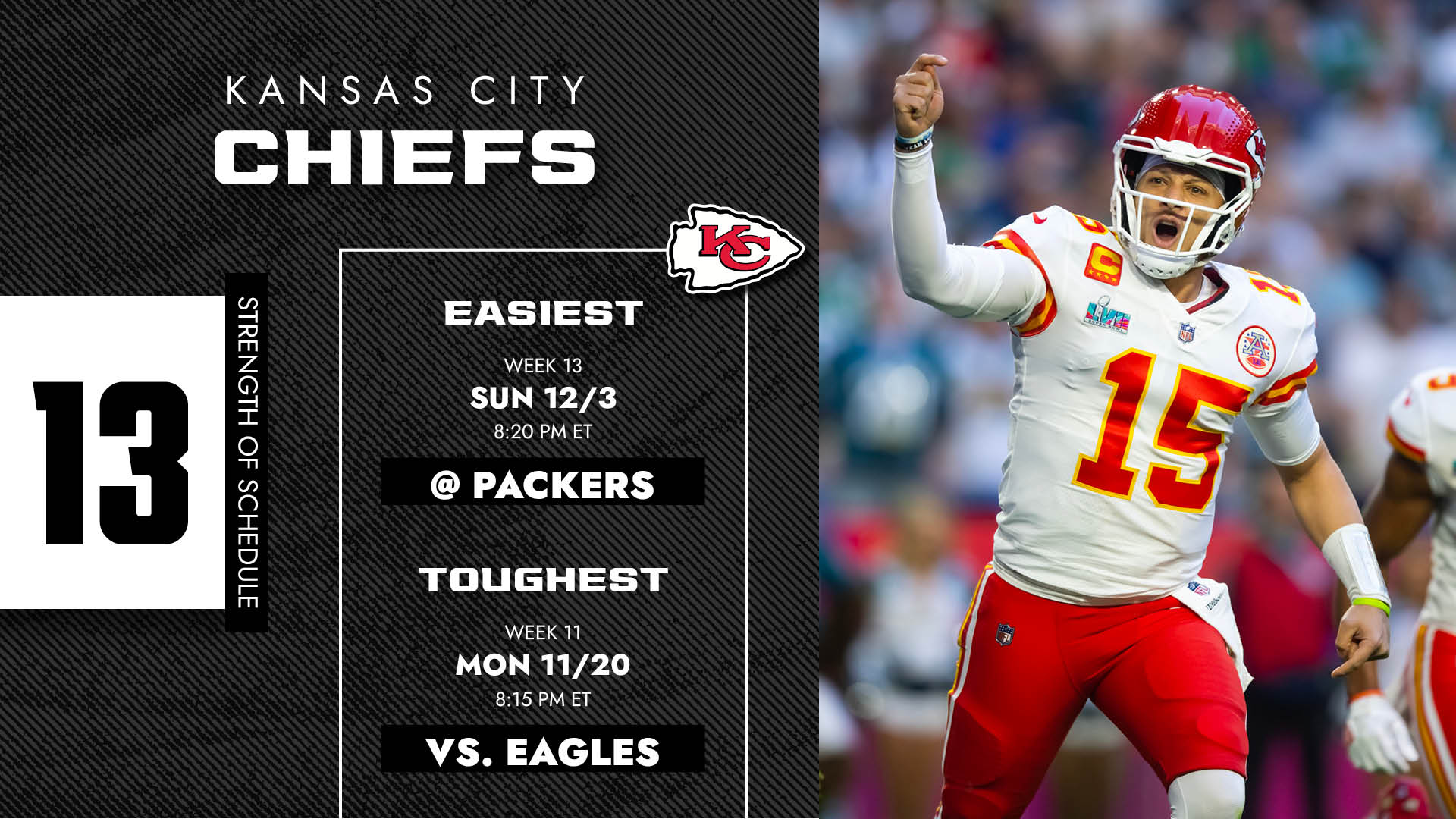 Of the four AFC West teams, the Los Angeles Chargers have the sixth hardest, Denver is 11th, and Las Vegas holds the fourth-toughest schedule in the league heading into the 2023 season.
However, when looking at PFN's strength of schedule, which takes more than just win totals into consideration, the Chiefs have the 14th-hardest schedule. A lucky break for the Super Bowl champions.
Kansas City Chiefs Record Prediction
The story is always the same. The Chiefs' defense will experiment during the first half of the season and rank near the bottom of the league. By the time Week 10 or 11 hits, they'll be dialed in on the defensive side of the ball, and the offense will remain humming like a perfectly pitched singer just in time for when it really counts.
And don't worry, by the time September rolls around, there will be various people around the media landscape who have picked 1,000 holes in K.C.'s roster and why this will finally be the year they regress. It happens every year, and as we've seen, the Chiefs continue to respond to the challenge.
MORE: Week 1 NFL Power Rankings 2023
Instead of falling off in 2022, it was your ho-hum, run-of-the-mill, 14-3 season capped off by a Super Bowl victory over the Eagles. It's pretty simple. So long as Mahomes is stepping onto the field, Kansas City can win every game they show up for on any given Sunday. It's what a quarterback like him brings to a franchise. You will always have a fighting chance.
The Chiefs have now played in five straight AFC Championship games. They've attended three Super Bowls, winning two of them. Instead of trying to be the one that predicts the inevitable (because the end of everything is such), just be surprised when they do finally underachieve for a change instead of predicting the downfall.
Since Reid arrived in 2013, Kansas City has only won fewer than 10 regular-season games on one occasion, and that's not changing in 2023. It would be more shocking for K.C. to win 10 games than 14 with the product they put on the field. The only thing that could change that would be an unfortunate injury to the best player on the planet but that is unpredictable and not anything you are able to measure statistically.
The Chiefs are the defending Super Bowl champions and remain the favorites to win the AFC. However, playing all three teams they knocked out of the playoffs will certainly test the battle-hardened roster. Luckily, two of those (Cincinnati and Philadelphia) are at home.
In the draft, Kansas City added key players like Kansas State EDGE Felix Anudike-Uzomah, SMU WR Rashee Rice, and Oklahoma OT Wanya Morris. The Chiefs will get every team's best, but they're used to that by now and know how to win under the most difficult of circumstances.
Projected Record: 13-4