In the last few weeks, the Buffalo Bills have gone from seemingly surefire Super Bowl contenders to second place in their division. One of the primary culprits behind their sudden decline is the play of Josh Allen, who, despite remaining an MVP candidate, has had a couple of rocky performances in the last few weeks.
Josh Allen's overall statistics have been excellent, but he has struggled recently
A bird's-eye look at Allen's statistics this season suggests that he has continued to play at a high level. He has totaled 2,811 passing yards (sixth-most in the NFL) and 21 passing touchdowns (tied for fifth). But despite those impressive numbers, Allen's season has been marred by a number of poor performances, especially in the last few weeks.
The problems started with a 6-9 loss to the Jacksonville Jaguars in Week 9, one of the more confusing results in a season full of upsets. Buffalo seemed to right the ship a week later, obliterating the rival New York Jets in a 45-17 win.
But the Bills stumbled again last week, losing to the surging Indianapolis Colts and an electric performance from running back Jonathan Taylor. Of course, those defeats aren't completely Allen's fault. After all, he wasn't out there failing to tackle Taylor. That said, he isn't entirely without blame.
Allen threw 4 interceptions in those two losses, matching his total from the rest of the season. The advanced metrics reveal that he has contributed to Buffalo's recent struggles in other ways as well.
Using advanced metrics to evaluate Josh Allen's recent games
For more insight into Allen's performance this season, let's turn to the Offensive Value Metric (OVM). The OVM is a grading system created by the (Bx) Movement to evaluate players based on how much they contributed to the creation of their statistics, rather than the statistics themselves.
Allen's overall grade, like his more traditional season-long statistics, is quite good. At 24.55, it ranks 14th out of 38 qualifying quarterbacks. But that grade conceals significant weekly variations in Allen's level of play. You can see his grades from each week of this season in the chart below, marked by the black dots. For comparison, the average overall grade for quarterbacks this season is represented by the yellow line.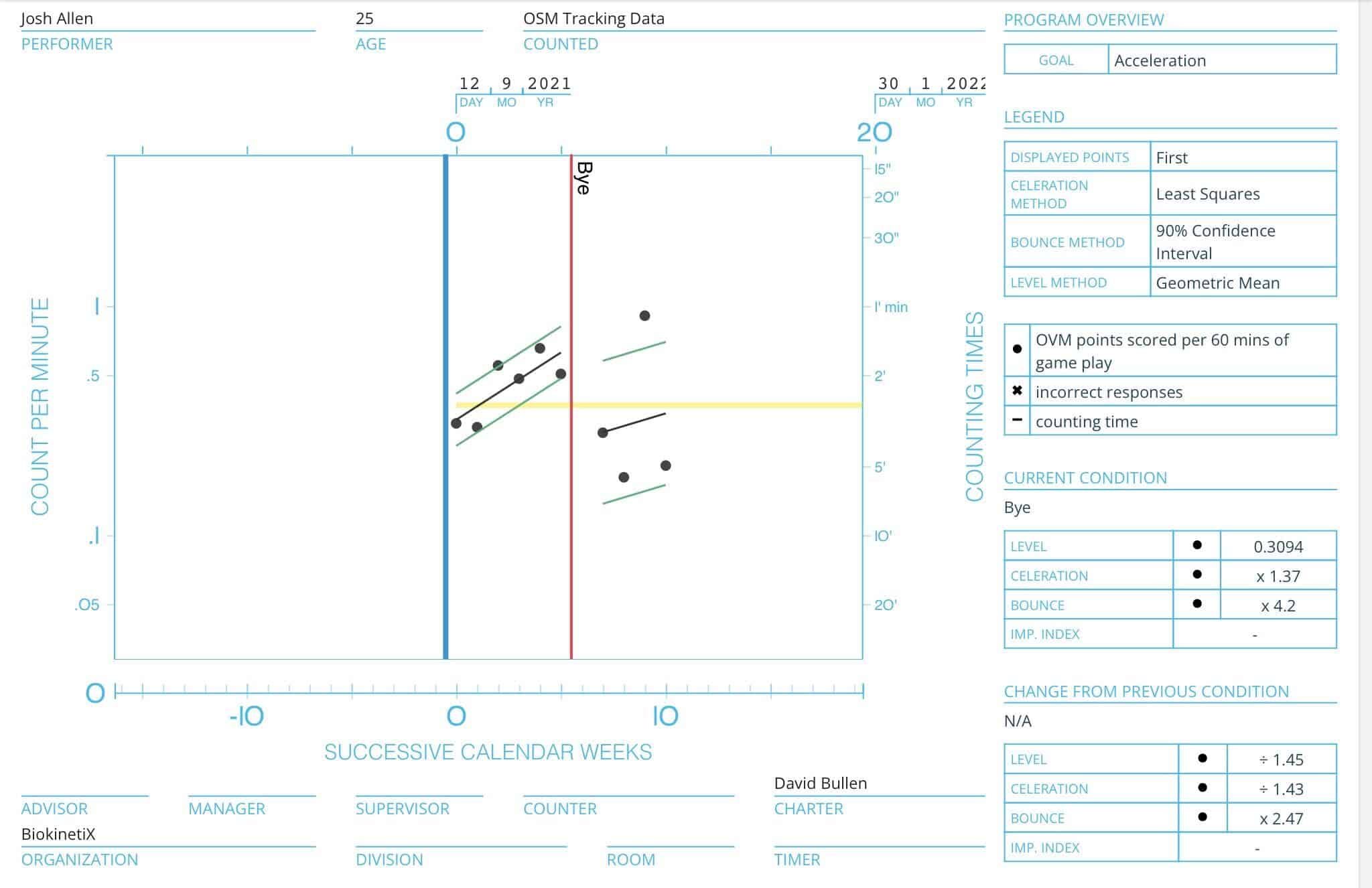 Allen didn't get off to a spectacular start, opening the season with a letdown in Week 1 against the Pittsburgh Steelers. It wasn't until Week 3 against the Washington Football Team that Allen really seemed to get back on track, starting a four-game stretch of excellent performances.
In the four weeks since, however, he's begun to struggle once again. Three of his grades have been below the league average, two of them by a significant margin. The other grade, strangely enough, was his best of the season.
Those last three grades actually warrant a closer look. NFL quarterbacks have recorded 370 grades so far this season. During the previous three weeks, Allen has earned grades that ranked 331st, 1st, and 320th on that list. That level of inconsistency is quasi-unbelievable and almost certainly contributed to Buffalo's recent losses.
The advanced metrics behind Allen's grades
To understand why Josh Allen's performances have varied so much in the last three weeks, we need to look at the advanced metrics involved in calculating those grades.
In the chart below, you can see how Allen performed on several metrics involved in calculating his OVM grades from the weeks in question:
His average air yards on all of his pass attempts (IAY)
His average air yards on his completions (CAY)
How often he threw into tight windows (AGG%)
His completion percentage
The completion percentage he was expected to have according to the NFL's advanced metrics
| | | | | | |
| --- | --- | --- | --- | --- | --- |
| | IAY | CAY | AGG% | COMP% | eCOMP% |
| Week 9 | 5.8 | 4.6 | 6.4 | 66 | 69.3 |
| Week 10 | 12.9 | 12.1 | 25 | 75 | 60.6 |
| Week 11 | 8 | 5.8 | 11.4 | 60 | 68.5 |
In Weeks 9 and 11, Allen generally threw short passes and rarely threw them into contested windows. Despite that, he didn't complete his throws at a high rate. His actual completion percentages weren't particularly impressive — even worse, they were significantly below the NFL's expectations.
Against the Jets, on the other hand, Allen attempted significantly more difficult passes, and his completion statistics were substantially better. He completed passes at a rate nearly 15% higher than expected.
To an extent, that difference probably has something to do with how awful the Jets' defense has been this season. Going into that game against Buffalo, they had allowed 130 points over the previous three games. That said, discounting bad teams this season has been a dangerous proposition. And no other quarterback has been as efficient against the New York defense as Allen was. Besides, it's not as though the Jaguars and Colts have been defensive world-beaters, either.
Ultimately, even if Allen's grade against the Jets is abnormally high, his grades against those other teams were still lower than they should have been.
Josh Allen needs to be more consistent
Even great quarterback performances sometimes aren't enough against elite teams, who will usually have elite quarterbacks of their own. If Allen wants to take his team back to the AFC Championship Game this season and beyond, he will need to string together multiple good games in a row.
Allen has the talent to do so. It's just a matter of actually putting everything together. He has an excellent opportunity to get started on Thanksgiving against the New Orleans Saints, another team whose playoff hopes are hanging in the balance. The Saints are missing several key players, giving the Bills a great chance to get their season back on track.