According to Pro Football Talk's Mike Florio, Jimmy Garoppolo failed his physical after signing with the Las Vegas Raiders back in March. This led to the team reworking his contract to include what is essentially an "out" clause regarding Garoppolo's surgically repaired foot.
Could the Raiders be in search of a new quarterback before the 2023 season even begins?
Jimmy Garoppolo Failed Physical Ramifications
When an NFL team signs or trades for a player, that player must pass a physical for the transaction to be official. Typically, this is just a formality. These are elite athletes in prime physical condition. Occasionally, players do fail physicals, often due to undisclosed or undiagnosed injuries.
Garoppolo's foot issue was well-known to the Raiders. It was the injury that resulted in the San Francisco 49ers having to turn to Brock Purdy last season. As with most injuries to players, it is expected that the player will get the treatment he needs and be fine once he recovers, and Garoppolo, for his part, had surgery on his broken foot. However, it appears as though that foot is far from healed.
After failing his physical, the Raiders and Garoppolo renegotiated the terms of his contract. The team added several clauses related to the broken foot, including acknowledging the risk of further injury and absolving the Raiders of all potential liability.
Most notable for playing football purposes is the clause that converted Garoppolo's entire $11.25 million signing bonus into his base salary. Garoppolo will only receive that money if the plays for the Raiders.
But Las Vegas can now release him at any point prior to the season if he is unable to pass a physical. In its simplest form, if Garoppolo doesn't play a snap for the Raiders, he also won't receive a dime from them.
What Might the Las Vegas Raiders Do if Jimmy Garoppolo Can't Play?
It's easy to dismiss injury concerns in May as likely to be resolved by September. Of course, three months is a long time. However, this contract was negotiated in March, and the Raiders were clearly concerned enough to not be willing to sign Garoppolo without assurances.
We must acknowledge the very real possibility that Garoppolo won't be healthy this season. If that happens, what are the Raiders' options at quarterback?
After mutually agreeing to part ways with Derek Carr, the Raiders shut him down ahead of the final two games of the 2022 season. They gave Jarrett Stidham a two-game audition, and he actually fared reasonably well.
In his first start in Week 17, Stidham threw for 365 yards, three touchdowns, and two interceptions against the 49ers. In Week 18, he threw for 219 yards, one touchdown, and one interception against the Kansas City Chiefs. However, the Raiders did not re-sign Stidham, allowing him to sign with the Denver Broncos.
MORE: Las Vegas Raiders Schedule 2023
Instead, the Raiders signed long-time New England Patriots backup quarterback, Brian Hoyer. Currently, Hoyer sits at No. 2 on the team's depth chart. Behind him is rookie fourth-rounder Aidan O'Connell and rookie UDFA Chase Garbers. Suffice it to say the Raiders are in a world of trouble if Garoppolo can't play.
The most obvious solution fans have come up with is Tom Brady. In light of his recent agreement to purchase a minority ownership stake in the Raiders, Brady is naturally being connected to the franchise on the field.
While the idea of Brady returning at age 46 and playing for his former offensive coordinator is alluring, as Vincent Bonsignore of the Las Vegas Review-Journal informs us, Brady's ownership status actually makes a return more complicated.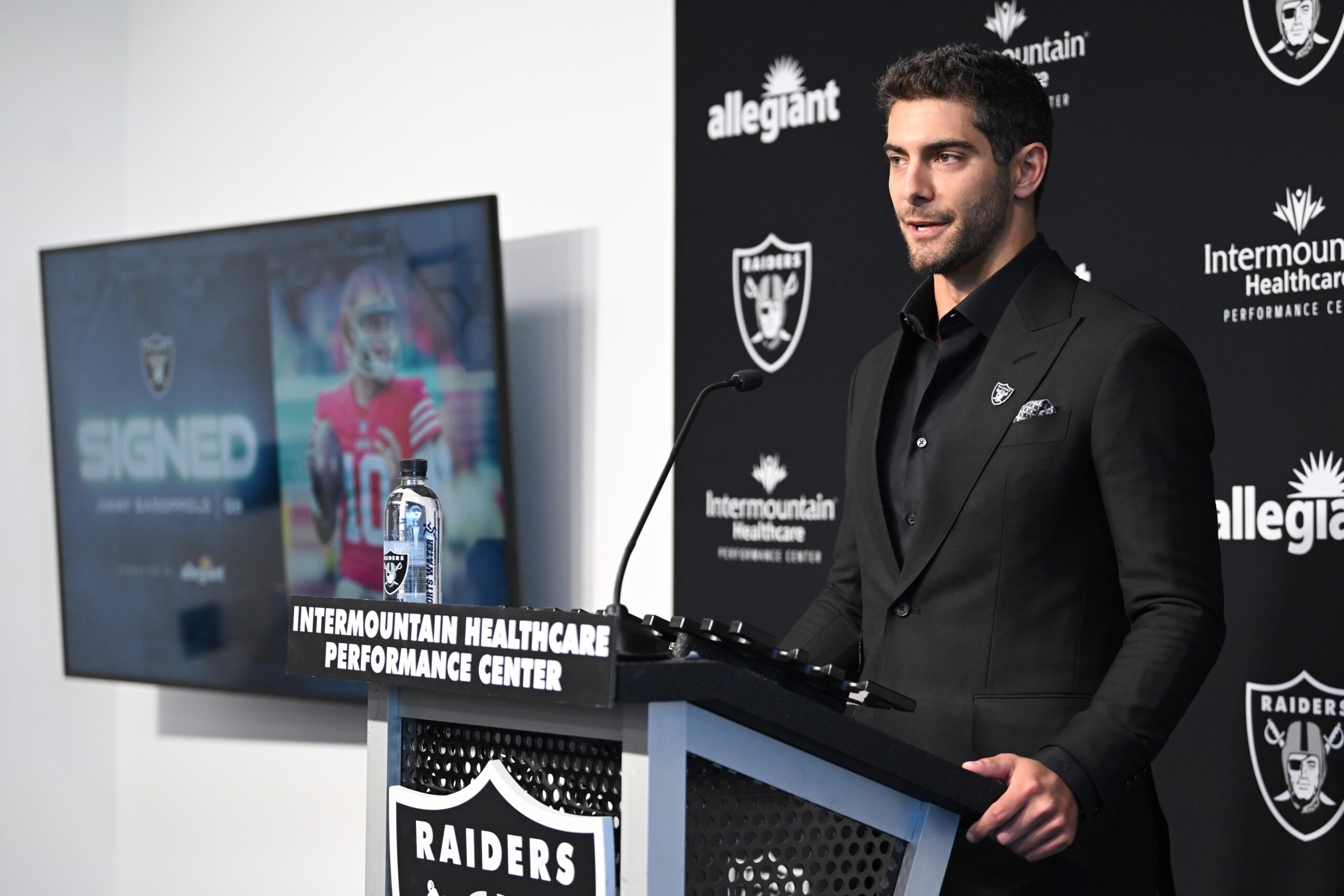 Brady's agreement to own part of the Raiders remains in principle only. He still needs the transaction to be approved by the rest of the owners. Those owners could require the provision that Brady does not return to play. And if he does seek to return, he might have to sell his stake in the team, with approval from the owners again, before he can play.
Even if Brady were able to do all of that without a hitch, the Raiders would still need to officially sign Brady, which would not be cheap.
All of this is to say it is exceedingly unlikely we ever see Brady play football again, especially for the Raiders this season. If Garoppolo is unable to play, the Raiders have three realistic options.
First, they could stick with what they have. The Raiders have three other quarterbacks on the roster. They could roll with Hoyer and essentially tank the season or perhaps start the rookie O'Connell. It's a similar move to what the Washington Commanders seem to be doing with 2022 fifth-round pick Sam Howell.
We already know what Hoyer is — the team is not going anywhere with him. And while Day 3 quarterbacks have a very low probability of success, perhaps O'Connell could surprise us?
Second, they could sign someone. Of course, there's a reason all of the available free agent quarterbacks are unsigned. But if the Raiders are serious about competing this year, they cannot enter the season with Hoyer, O'Connell, and Garbers as their quarterback room.
MORE: Jimmy Garoppolo Injury Update
Carson Wentz and Matt Ryan remain unsigned. We also saw Teddy Bridgewater and Joe Flacco get into games last year. Cam Newton has expressed interest in reviving his career, as well. None of these options are ideal, but this is what's out there.
Third, and perhaps the route they should try and take if they want to give 2023 a serious run, is to make a trade. After drafting Will Levis in the second round, the Titans could potentially move Ryan Tannehill. Perhaps the Steelers are fine with Mason Rudolph backing up Kenny Pickett and are willing to part with Mitch Trubisky. If Brock Purdy is fully healthy, maybe the 49ers part with Trey Lance?
Right now, everything is speculation. The most likely scenario remains that Garoppolo is able to pass a physical by August and is ready to go for Week 1. But if not, the Raiders may find themselves scrambling to secure a quarterback for the 2023 season.