Brock Purdy set the NFL world on fire last season as he went from being selected as Mr. Irrelevant (the final pick in the draft) during the 2022 NFL Draft to the San Francisco 49ers' franchise savior, leading them to the NFC title game.
Unfortunately, Purdy suffered a severe elbow injury during the NFC Championship Game, sending him into his first NFL offseason facing surgery and an unknown NFL future.
From all accounts, he is well on his road to recovery, and the 49ers' coaching staff and front office are pleased about his progress. The 49ers open up preseason action, traveling to Las Vegas to face the Raiders. Is Purdy starting today?
Is Brock Purdy Starting QB Today for the 49ers?
Purdy is not quite ready for in-game action, according to the 49ers' coaching staff. Purdy has been performing in practices and even participated in joint team practice against the Raiders this week.
Trey Lance, the much-ballyhooed third overall selection in the 2021 NFL Draft, will get the start in the preseason opener. Lance's pro career has not gone as expected and remains mired in controversy as he is battling for the backup job in San Francisco.
Sam Darnold will play in the second half. Darnold ironically enough was the third overall pick in the 2018 NFL Draft, but he is now on his third team in his young career.
Where Does This Leave Purdy for 2023?
The 49ers are displaying abundant caution surrounding their projected starting QB. From all accounts, Purdy is ahead of schedule, and there should be no restrictions on the QB moving forward.
Purdy is on schedule to start Week 1 for the San Francisco 49ers if he can keep Lance and Darnold at bay.
What Can We Expect From Purdy in 2023?
What we saw from Purdy in 2022 was one of the most shocking things in recent memory. Rookie quarterbacks are not supposed to perform well in Year 1, let alone seventh-round rookie quarterbacks.
Not only did Purdy perform well, but he had the 49ers' offense humming once he took over under center. San Francisco was performing as well as any team in the NFL under Purdy's guidance.
The 49ers are loaded on offense with some of the top playmakers in the game, namely Christian McCaffrey, Deebo Samuel, George Kittle, and Brandon Aiyuk. The 49ers also possess one of the top coaching staffs in the league, led by head coach Kyle Shanahan.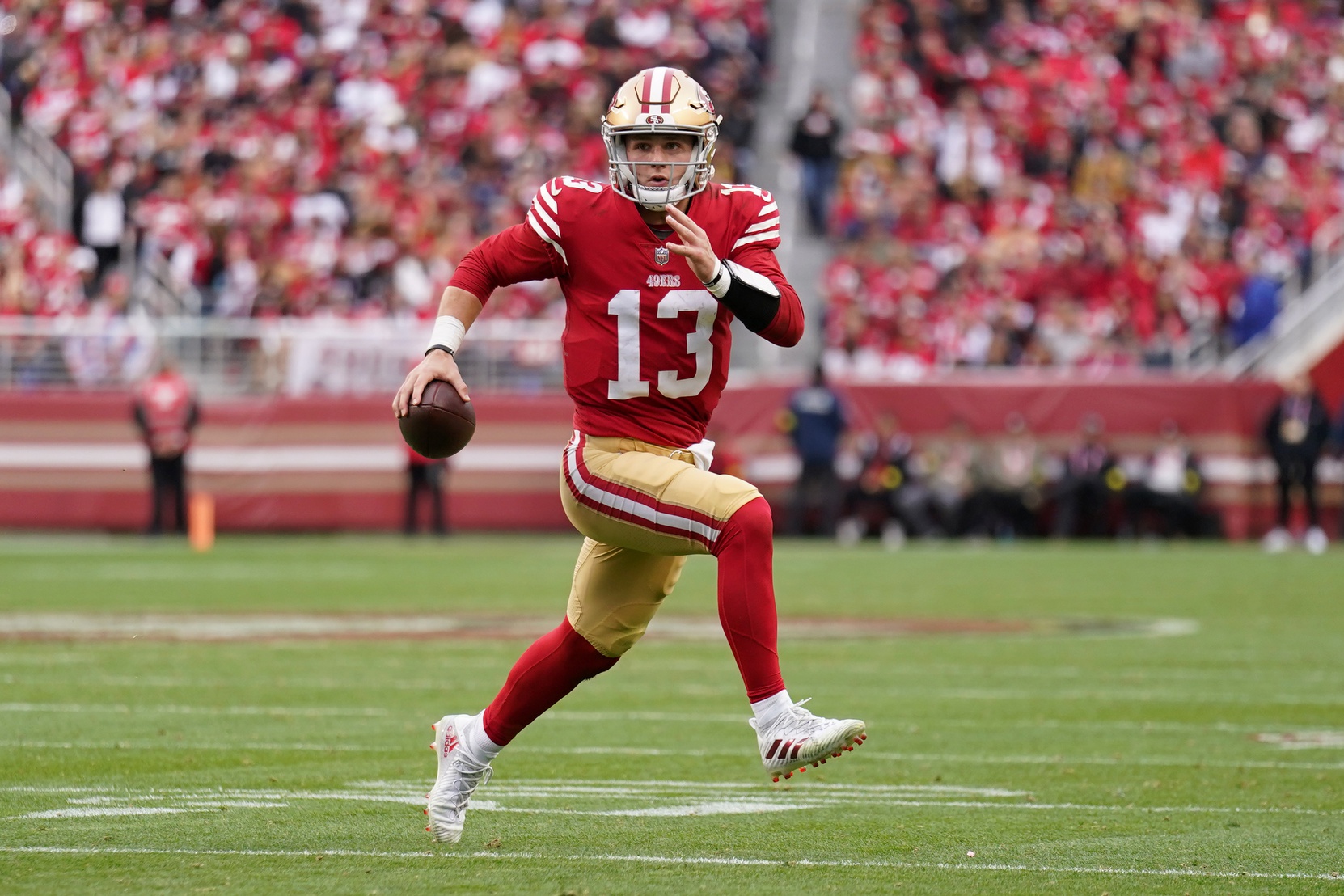 All of this suggests Purdy is in great hands and provides a safe floor. Purdy plays the QB position like a great point guard, distributing the ball to his playmakers, spreading the ball around, and keeping the defense guessing.
Admittedly, there is some downside here. Purdy is a candidate for regression, as he was running red hot in 2022. If you watch the film on Purdy, he made several passes that could have easily been turnovers that were not. In summary, Purdy wasn't just good in 2022, but he had a dash of luck on his side.
Purdy doesn't have the ceiling of your top QB1, but he doesn't have to for the 49ers to find success. He couldn't ask for a better coach to mentor him during his career. The arrow remains pointing up for Purdy, way up.