The Indianapolis Colts came into last year with hopes of hanging another banner in the rafters, but Indy was one of the more underachieving teams in 2022. That said, they're set up with a more favorable schedule and improved roster in 2023. With more attention being paid to a hopefully improving team, how does the outlook appear for the Colts in 2023?
Indianapolis Colts Schedule
All times Eastern
Preseason Week 1: at Bills
CBS | 1 p.m. (Saturday, Aug. 12)
Preseason Week 2: vs Bears
CBS | 7 p.m. (Saturday, Aug. 19)
Preseason Week 3: at Eagles
CBS | 8 p.m. (Thursday, Aug. 24)
Week 1: vs. Jaguars
FOX | 1 p.m. (Sunday, Sept. 10)
Week 2: at Texans
FOX | 1 p.m. (Sunday, Sept. 17)
Week 3: at Ravens
CBS | 1 p.m. (Sunday, Sept. 24)
Week 4: vs. Rams
FOX | 1 p.m. (Sunday, Oct. 1)
Week 5: vs. Titans
CBS | 1 p.m. (Sunday, Oct. 8)
Week 6: at Jaguars
CBS | 1 p.m. (Sunday, Oct. 15)
Week 7: vs. Browns
CBS | 1 p.m. (Sunday, Oct. 22)
Week 8: vs. Saints
FOX| 1 p.m. (Sunday, Oct. 29)
Week 9: at Panthers
CBS | 4:05 p.m. (Sunday, Nov. 5)
Week 10: vs. Patriots (Frankfurt)
NFL Network | 9:30 a.m. (Sunday, Nov. 12)
Week 11: BYE
Week 12: vs. Buccaneers
CBS | 1 p.m. (Sunday, Nov. 26)
Week 13: at Titans
CBS | 1 p.m. (Sunday, Dec. 3)
Week 14: at Bengals
CBS | 1 p.m. (Sunday, Dec. 10)
Week 15: vs. Steelers
TBD

Week 16: at Falcons
FOX | 1 p.m. (Sunday, Dec. 24)
Week 17: vs. Raiders
CBS | 1 p.m. (Sunday, Dec. 31)
Week 18: vs. Texans
TBD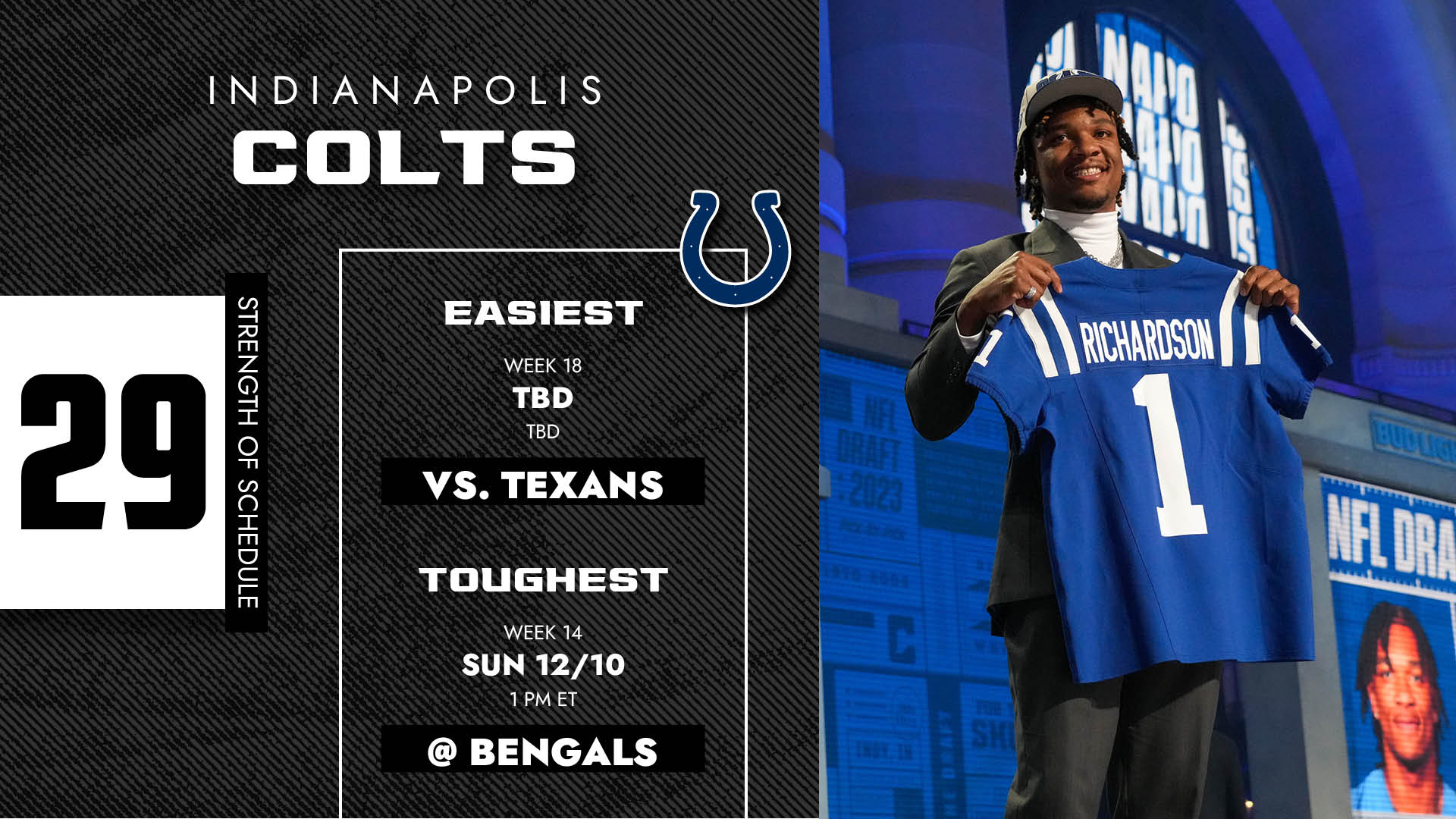 Indianapolis Colts Strength of Schedule
The Colts and the AFC South, in general, have about as easy of a schedule in 2023 as you could ask for if you go off the numbers from last year. Based on projected win totals, Indianapolis has the fourth-easiest strength of schedule in the league. Their respective opponents combined to go 124-162-2 for a .434 record (29th) in 2022.
MORE: NFL Power Rankings 2023
Likewise, Pro Football Network ranks Indianapolis' strength of schedule at 29th. PFN NFL Analyst Arif Hasan notes that despite the relative ease of their schedule, "Indianapolis doesn't have a greater than 50% win probability in any of their away games." So, it may not matter.
Indianapolis Colts Record Prediction
Indianapolis could be a very exciting team in 2023, but that doesn't necessarily mean they'll be a winning one.
Shane Steichen is one of the more intriguing hires of this cycle. While he'll have his work cut out for him in his rookie year, the pairing of him with Anthony Richardson should provide hope, if not fireworks. Look no further than the Jalen Hurts development project he undertook in Philly.
Every rookie quarterback will go through growing pains. The question tends to be whether or not they show promise. That isn't measured in wins and losses exclusively. To be clear, there likely won't be many wins for the Colts. How they get there, though, is the true assessment piece.
But Indianapolis will have an easy schedule to work with and the possibility to break in their new weapon under center. Richardson's development should net them an extra unplanned win or two. The Colts likely finish as a four-win team, but there's a scenario where they produce closer to the seven-win range and scare some folks.
Record Prediction: 6-11