Transferring to Purdue from Texas, Hudson Card could be the next Boilermakers' QB to make a splash in the NFL Draft. Card's scouting report is still incomplete, but already, he's shown promise as a professional prospect.
Hudson Card Draft Profile and Measurements
Height: 6'2″
Weight: 210 pounds
Position: Quarterback
School: Purdue
Current Year: Redshirt Junior
Across generations, the Boilermakers have laid claim to NFL talent at QB. Drew Brees, a future Hall of Famer, is the team's most prestigious product. But NFL passers like Jim Everett, Kyle Orton, Curtis Painter, and Raiders rookie Aidan O'Connell all got their start in West Lafayette, as well.
MORE: 2024 NFL Draft Top Quarterback Prospects
Card didn't start out at Purdue, but that's where he'll start the next chapter of his football career. He spent three years with the Texas Longhorns, completing 127 of 194 attempts (65.5%) for 1,523 yards, 11 touchdowns, and two interceptions in a limited sample size.
Steve Sarkisian and the Longhorns moved forward with five-star talent Quinn Ewers in 2023, but Card — a four-star recruit in his own right — will get his chance to be Purdue's full-time starter under new head coach Ryan Walters. Does he have the traits to carry that title and carry the torch for Purdue's NFL QB pipeline?
Hudson Card Scouting Report
Strengths
Flashes above-average short-range velocity and can maintain some pace off-platform.
Has the arm angle freedom to adjust situational placement with release points.
Has passable baseline explosiveness, agility, and evasive ability in the pocket.
Steady, poised pocket passer who can sense pressure and escape through outlets.
Smooth, level-shouldered rotational thrower with a quick, efficient release.
Can properly sequence his footwork in the quick game, placing his front foot accurately.
Can snap his back foot into place on his first hitch, and roll his hips as he steps up.
Mechanically sound, controlled, and accurate passer who helps WRs with precise placing.
Shows incredible situational placement on seam passes, which only WRs can reach.
Has shown he can anticipate breaks on comebacks and maximize response time.
Knows how to keep his eyes ahead on the dropback to hold safeties and open windows.
Able to work left-to-right and can quickly process leverage and trigger on second reads.
Cool pocket operator who can step up, roll shoulders past rushers, and navigate space.
Stellar decision-maker who takes calculated risks but also takes what's given.
Has the wherewithal and discretion to throw it away when cornered against the sideline.
Weaknesses
Arm strength is close to average, and he only carries decent intermediate velocity.
Doesn't have the arm strength to consistently push deep throws past tight coverage.
Off-script passes into the deep third sometimes stall out and flutter ahead of targets.
Is not a high-level athlete or creator, posing mobility as a bonus, rather than a key trait.
Can be easily swallowed up by unblocked pursuit defenders in tight situations.
Shoulder alignment is less stable when working off-platform, and can be tugged high.
Struggles to fully torque his hips and maintain release efficiency when rolling left.
Occasionally exhibits a slight heel click on quick passes, locking out hips to a degree.
Sometimes lurches at the top of his drop and turtles when pressure surrounds him.
Can be choppy when redirecting in the pocket, affecting recalibration speed.
At times, has room to be more patient before triggering on low-probability 50-50 balls.
Frame is leaner than average, which could cause durability issues down the line.
Only has 194 career passing attempts entering 2023.
Current Draft Projection and Summary
Though his sample size is limited to this point, Card grades out as a mid-Day 3 prospect on my 2024 NFL Draft board. He doesn't have as much riser potential as his former teammate Quinn Ewers, but already, Card has displayed a number of quality traits in a strong NFL backup QB. And in the Day 3 range, he'd be an excellent investment as a safety blanket.
As a prospect, Card has some intriguing similarities to Kirk Cousins. His arm is weaker than Cousins' by a good margin, which may prevent him from ever sustaining a starting role at the NFL level. But Card has a similar brand of functional — if staccato and non-threatening — mobility. He has a lot of operational strength as well.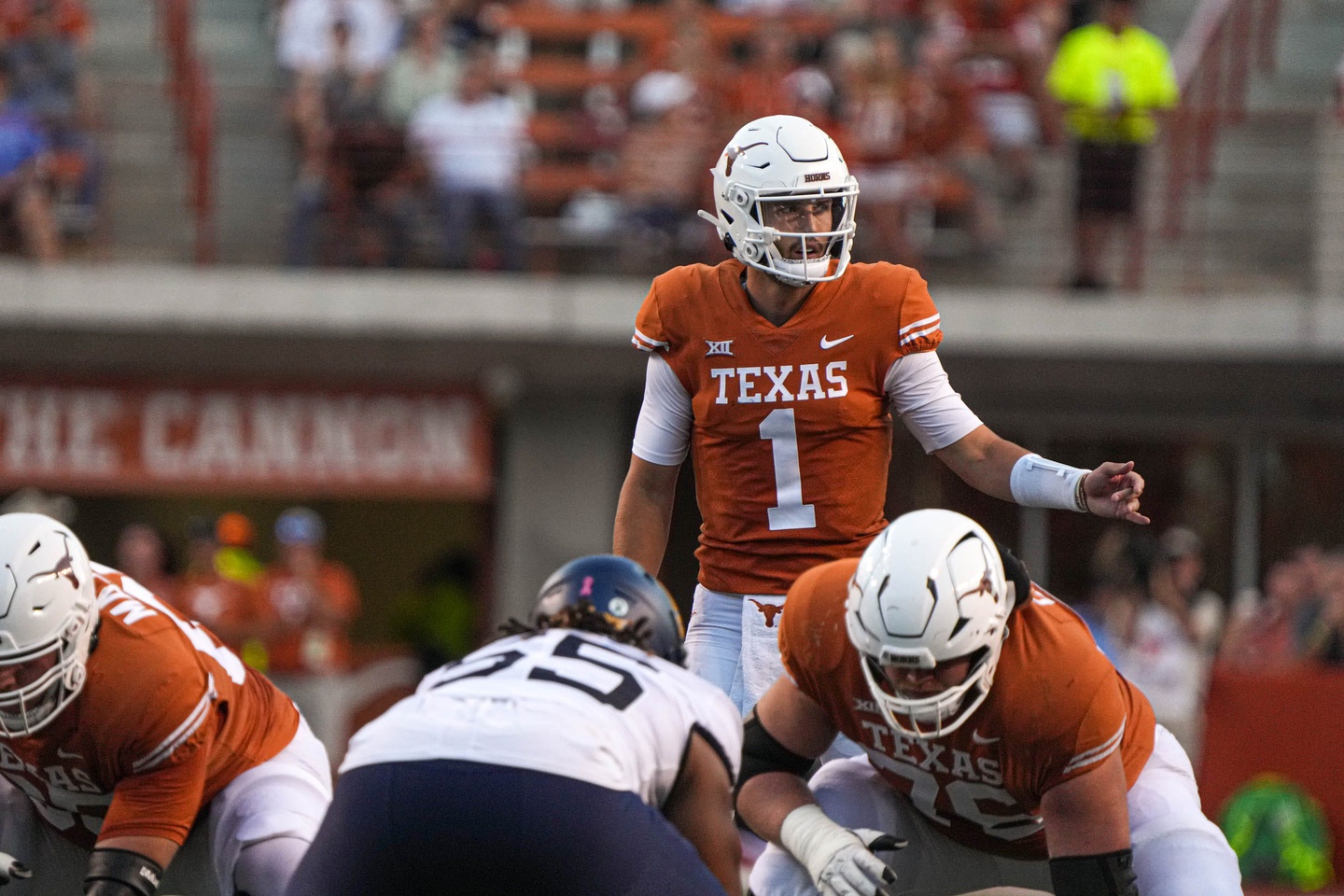 Card's frame is relatively lean, but he's tougher than expected. He's a poised, clean pocket operator with excellent accuracy and precision, good processing ability, and impressive discretion as a decision-maker.
He can stay on schedule and take what's given by the defense, but he's also very willing to take calculated risks and maximize those opportunities with precise placement.
On top of all these operational boons, Card has good arm elasticity and angle freedom, which helps him adjust his trajectory and work off-script. He's a slightly above-average creator with excellent intangibles, mechanical control, toughness, and football IQ.
He should be one of the first 2024 NFL Draft passers in the Day 3 bucket — so long as he capitalizes on his opportunity at Purdue.
NFL Draft Scouting Reports
Using the table below, browse NFL Draft scouting profiles for hundreds of draft prospects so you can get a head start on the 2024 NFL Draft.
Don't forget to check out our Mock Draft Simulator, where you can take control of your favorite NFL team and build its roster for the future!
You can sort the table below by player, team, or position. For mobile users, this table is best viewed in landscape mode.
Player
Position
Team
Target
Aidan Robbins
RB
BYU
Aidan Robbins Scouting Report
https://www.profootballnetwork.com/aidan-robbins-draft-scouting-2024/
Ainias Smith
WR/RB
Texas A&M
Ainias Smith Scouting Report
https://www.profootballnetwork.com/ainias-smith-draft-scouting-2024/
Andrew Mukuba
S
Clemson
Andrew Mukuba Scouting Report
https://www.profootballnetwork.com/andrew-mukuba-draft-scouting-2024/
Anthony Gould
WR
Oregon State
Anthony Gould Scouting Report
https://www.profootballnetwork.com/anthony-gould-draft-scouting-2024/
Antwane Wells Jr.
WR
South Carolina
Antwane Wells Jr. Scouting Report
https://www.profootballnetwork.com/antwane-wells-jr-draft-scouting-2024/
Audric Estimé
RB
Notre Dame

Audric Estimé Scouting Report

https://www.profootballnetwork.com/audric-estime-draft-scouting-2024/
Austin Jones
RB
USC
Austin Jones Scouting Report
https://www.profootballnetwork.com/austin-jones-draft-scouting-2024/
Austin Reed
QB
Western Kentucky
Austin Reed Scouting Report
https://www.profootballnetwork.com/austin-reed-draft-scouting-2024/
Barrett Carter
LB
Clemson
Barrett Carter Scouting Report
https://www.profootballnetwork.com/barrett-carter-draft-scouting-2024/
Blake Corum
RB
Michigan
Blake Corum Scouting Report
https://www.profootballnetwork.com/blake-corum-draft-scouting-2024/
Blake Watson
RB
Memphis
Blake Watson Scouting Report
https://www.profootballnetwork.com/blake-watson-draft-profile-memphis-rb-scouting-report/
Bo Nix
QB
Oregon
Bo Nix Scouting Report
https://www.profootballnetwork.com/bo-nix-draft-scouting-report-2024/
Braelon Allen
RB
Wisconsin
Braelon Allen Scouting Report
https://www.profootballnetwork.com/braelon-allen-draft-scouting-2024/
Brenden Rice
WR
USC
Brenden Rice Scouting Report
https://www.profootballnetwork.com/brenden-rice-draft-scouting-2024/
Brennan Armstrong
QB
NC State
Brennan Armstrong Scouting Report
https://www.profootballnetwork.com/brennan-armstrong-draft-scouting-2024/
Brock Bowers
TE
Georgia
Brock Bowers Scouting Report
https://www.profootballnetwork.com/brock-bowers-draft-scouting-2024/
Bucky Irving
RB
Oregon
Bucky Irving Scouting Report
https://www.profootballnetwork.com/bucky-irving-draft-scouting-2024/
Cade Stover
TE
Ohio State
Cade Stover Scouting Report
https://www.profootballnetwork.com/cade-stover-draft-scouting-2024/
Caleb Williams
QB
USC
Caleb Williams Scouting Report
https://www.profootballnetwork.com/caleb-williams-draft-scouting-2024/
Cameron Rising
QB
Utah
Cameron Rising Scouting Report
https://www.profootballnetwork.com/cameron-rising-draft-scouting-2024/
Cameron Ward
QB
Washington State
Cameron Ward Scouting Report
https://www.profootballnetwork.com/cameron-ward-draft-scouting-2024/
Carson Beck
QB
Georgia
Carson Beck Scouting Report
https://www.profootballnetwork.com/carson-beck-draft-scouting-2024/
Carson Steele
RB
UCLA
Carson Steele Scouting Report
https://www.profootballnetwork.com/carson-steele-draft-scouting-2024/
Chop Robinson
EDGE
Penn State
Chop Robinson Scouting Report
https://www.profootballnetwork.com/chop-robinson-draft-scouting-2024/
Chris Tyree
WR
Notre Dame
Chris Tyree Scouting Report
https://www.profootballnetwork.com/chris-tyree-draft-scouting-2024/
Cornelius Johnson
WR
Michigan
Cornelius Johnson Scouting Report
https://www.profootballnetwork.com/cornelius-johnson-draft-scouting-2024/
Dallas Turner
EDGE
Alabama
Dallas Turner Scouting Report
https://www.profootballnetwork.com/dallas-turner-draft-scouting-2024/
Denzel Burke
CB
Ohio State
Denzel Burke Scouting Report
https://www.profootballnetwork.com/denzel-burke-draft-scouting-report-2024/
Devin Leary
QB
Kentucky
Devin Leary Scouting Report
https://www.profootballnetwork.com/devin-leary-draft-scouting-2024/
Dillon Gabriel
QB
Oklahoma
Dillon Gabriel Scouting Report
https://www.profootballnetwork.com/dillon-gabriel-draft-scouting-2024/
DJ Uiagalelei
QB
Oregon State
DJ Uiagalelei Scouting Report
https://www.profootballnetwork.com/dj-uiagalelei-draft-scouting-2024/
Donovan Edwards
RB
Michigan
Donovan Edwards Scouting Report
https://www.profootballnetwork.com/donovan-edwards-draft-scouting-2024/
Donovan Smith
QB
Houston
Donovan Smith Scouting Report
https://www.profootballnetwork.com/donovan-smith-draft-scouting-2024/
Dorian Singer
WR
USC
Dorian Singer Scouting Report
https://www.profootballnetwork.com/dorian-singer-draft-scouting-2024/
Drake Maye
QB
North Carolina
Drake Maye Scouting Report
https://www.profootballnetwork.com/drake-maye-draft-scouting-2024/
Emeka Egbuka
WR
Ohio State
Emeka Egbuka Scouting Report
https://www.profootballnetwork.com/emeka-egbuka-draft-scouting-2024/
Garrett Shrader
QB
Syracuse
Garrett Shrader Scouting Report
https://www.profootballnetwork.com/garrett-shrader-draft-scouting-2024/
Gavin Hardison
QB
UTEP
Gavin Hardison Scouting Report
https://www.profootballnetwork.com/gavin-hardison-draft-scouting-2024/
George Holani
RB
Boise State
George Holani Scouting Report
https://www.profootballnetwork.com/george-holani-draft-scouting-2024/
Grayson McCall
QB
Coastal Carolina
Grayson McCall Scouting Report
https://www.profootballnetwork.com/grayson-mccall-draft-scouting-2024/
Hudson Card
QB
Purdue
Hudson Card Scouting Report
https://www.profootballnetwork.com/hudson-card-draft-scouting-2024/
Isaiah Neyor
WR
Texas
Isaiah Neyor Scouting Report
https://www.profootballnetwork.com/isaiah-neyor-draft-scouting-2024/
J.J. McCarthy
QB
Michigan
J.J. McCarthy Scouting Report
https://www.profootballnetwork.com/jj-mccarthy-draft-scouting-2024/
J.T. Tuimoloau
EDGE
Ohio State
J.T. Tuimoloau Scouting Report
https://www.profootballnetwork.com/j-t-tuimoloau-draft-scouting-report-2024/
Jalen Berger
RB
Michigan State
Jalen Berger Scouting Report
https://www.profootballnetwork.com/jalen-berger-draft-scouting-2024/
Jalen McMillan
WR
Washington
Jalen McMillan Scouting Report
https://www.profootballnetwork.com/jalen-mcmillan-draft-scouting-2024/
Jalon Daniels
QB
Kansas
Jalon Daniels Scouting Report
https://www.profootballnetwork.com/jalon-daniels-draft-scouting-2024/
Jared Verse
EDGE
Florida State
Jared Verse Scouting Report
https://www.profootballnetwork.com/jared-verse-scouting-draft-2024/
Jase McClellan
RB
Alabama
Jase McClellan Scouting Report
https://www.profootballnetwork.com/jase-mcclellan-draft-scouting-2024/
Javon Baker
WR
UCF
Javon Baker Scouting Report
https://www.profootballnetwork.com/javon-baker-draft-scouting-2024/
Jayden Daniels
QB
LSU
Jayden Daniels Scouting Report
https://www.profootballnetwork.com/jayden-daniels-draft-scouting-2024/
Jeff Sims
QB
Nebraska
Jeff Sims Scouting Report
https://www.profootballnetwork.com/jeff-sims-draft-scouting-2024/
Jermaine Burton
WR
Alabama
Jermaine Burton Scouting Report
https://www.profootballnetwork.com/jermaine-burton-draft-scouting-2024/
Jer'Zhan Newton
DT
Illinois
Jer'Zhan Newton Scouting Report
https://www.profootballnetwork.com/jerzhan-newton-draft-scouting-2024/
Joe Alt
OT
Notre Dame
Joe Alt Scouting Report
https://www.profootballnetwork.com/joe-alt-draft-scouting-2024/
Joe Milton
QB
Tennessee
Joe Milton Scouting Report
https://www.profootballnetwork.com/joe-milton-draft-scouting-2024/
John Rhys Plumlee
QB
UCF
John Rhys Plumlee Scouting Report
https://www.profootballnetwork.com/john-rhys-plumlee-draft-scouting-2024/
Johnny Wilson
WR
Florida State
Johnny Wilson Scouting Report
https://www.profootballnetwork.com/johnny-wilson-draft-scouting-2024/
Jo'Quavious Marks
RB
Mississippi State
Jo'Quavious Marks Scouting Report
https://www.profootballnetwork.com/joquavious-marks-draft-scouting-2024/
Jordan Travis
QB
Florida State
Jordan Travis Scouting Report
https://www.profootballnetwork.com/jordan-travis-draft-scouting-2024/
Jordan Whittington
WR
Texas
Jordan Whittington Scouting Report
https://www.profootballnetwork.com/jordan-whittington-draft-scouting-2024/
Kalen King
CB
Penn State
Kalen King Scouting Report
https://www.profootballnetwork.com/kalen-king-draft-scouting-2024/
Kamari Lassiter
CB
Georgia
Kamari Lassiter Scouting Report
https://www.profootballnetwork.com/kamari-lassiter-draft-scouting-2024/
Kamren Kinchens
S
Miami (FL)
Kamren Kinchens Scouting Report
https://www.profootballnetwork.com/kamren-kinchens-draft-scouting-2024/
Keith Randolph Jr.
DT
Illinois
Keith Randolph Jr. Scouting Report
https://www.profootballnetwork.com/keith-randolph-jr-draft-scouting-report-2024/
Kendall Milton
RB
Georgia
Kendall Milton Scouting Report
https://www.profootballnetwork.com/kendall-milton-draft-scouting-2024/
Keon Coleman
WR
Florida State
Keon Coleman Scouting Report
https://www.profootballnetwork.com/keon-coleman-draft-scouting-2024/
KJ Jefferson
QB
Arkansas
KJ Jefferson Scouting Report
https://www.profootballnetwork.com/kj-jefferson-draft-scouting-2024/
Kool-Aid McKinstry
CB
Alabama
Kool-Aid McKinstry Scouting Report
https://www.profootballnetwork.com/kool-aid-mckinstry-draft-scouting-2024/
Kurtis Rourke
QB
Ohio
Kurtis Rourke Scouting Report
https://www.profootballnetwork.com/kurtis-rourke-draft-scouting-2024/
Ladd McConkey
WR
Georgia
Ladd McConkey Scouting Report
https://www.profootballnetwork.com/ladd-mcconkey-draft-scouting-2024/
Maason Smith
DT
LSU
Maason Smith Scouting Report
https://www.profootballnetwork.com/maason-smith-draft-scouting-2024/
Malachi Corley
WR
Western Kentucky
Malachi Corley Scouting Report
https://www.profootballnetwork.com/?p=389162&preview=true&preview_id=389162
Malik Nabers
WR
LSU
Malik Nabers Scouting Report
https://www.profootballnetwork.com/malik-nabers-draft-scouting-2024/
Mario Williams
WR
USC
Mario Williams Scouting Report
https://www.profootballnetwork.com/mario-williams-draft-scouting-2024/
MarShawn Lloyd
RB
USC
MarShawn Lloyd Scouting Report
https://www.profootballnetwork.com/marshawn-lloyd-draft-scouting-2024/
Marvin Harrison Jr.
WR
Ohio State
Marvin Harrison Jr. Scouting Report
https://www.profootballnetwork.com/marvin-harrison-draft-scouting-2024/
Michael Penix Jr.
QB
Washington
Michael Penix Jr. Scouting Report
https://www.profootballnetwork.com/michael-penix-jr-draft-scouting-2024/
Michael Pratt
QB
Tulane
Michael Pratt Scouting Report
https://www.profootballnetwork.com/michael-pratt-draft-scouting-2024/
Moose Muhammad III
WR
Texas A&M
Moose Muhammad III Scouting Report
https://www.profootballnetwork.com/moose-muhammad-iii-draft-scouting-2024/
Noah Whittington
RB
Oregon
Noah Whittington Scouting Report
https://www.profootballnetwork.com/noah-whittington-draft-scouting-2024/
Olu Fashanu
OT
Penn State
Olu Fashanu Scouting Report
https://www.profootballnetwork.com/olu-fashanu-draft-scouting-report-2024/
Phil Jurkovec
QB
Pittsburgh
Phil Jurkovec Scouting Report
https://www.profootballnetwork.com/phil-jurkovec-draft-scouting-2024/
Princely Umanmielen
EDGE
Florida
Princely Umanmielen Scouting Report
https://www.profootballnetwork.com/princely-umanmielen-draft-scouting-2024/
Quinn Ewers
QB
Texas
Quinn Ewers Scouting Report
https://www.profootballnetwork.com/quinn-ewers-draft-scouting-2024/
Raheim Sanders
RB
Arkansas
Raheim Sanders Scouting Report
https://www.profootballnetwork.com/raheim-sanders-draft-scouting-2024/
Ricky Pearsall
WR
Florida
Ricky Pearsall Scouting Report
https://www.profootballnetwork.com/ricky-pearsall-draft-scouting-report-2024/
Riley Leonard
QB
Duke
Riley Leonard Scouting Report
https://www.profootballnetwork.com/riley-leonard-draft-scouting-2024/
Roman Wilson
WR
Michigan
Roman Wilson Scouting Report
https://www.profootballnetwork.com/roman-wilson-draft-scouting-2024/
Rome Odunze
WR
Washington
Rome Odunze Scouting Report
https://www.profootballnetwork.com/rome-odunze-draft-scouting-2024/
Sam Hartman
QB
Notre Dame
Sam Hartman Scouting Report
https://www.profootballnetwork.com/sam-hartman-draft-scouting-2024/
Spencer Rattler
QB
South Carolina
Spencer Rattler Scouting Report
https://www.profootballnetwork.com/spencer-rattler-draft-scouting-2024/
Tahj Washington
WR
USC
Tahj Washington Scouting Report
https://www.profootballnetwork.com/tahj-washington-draft-scouting-2024/
Taulia Tagovailoa
QB
Maryland
Taulia Tagovailoa Scouting Report
https://www.profootballnetwork.com/taulia-tagovailoa-draft-scouting-2024/
Treshaun Ward
RB
Kansas State
Treshaun Ward Scouting Report
https://www.profootballnetwork.com/treshaun-ward-draft-scouting-2024/
TreVeyon Henderson
RB
Ohio State
TreVeyon Henderson Scouting Report
https://www.profootballnetwork.com/treveyon-henderson-draft-scouting-2024/
Trey Benson
RB
Florida State
Trey Benson Scouting Report
https://www.profootballnetwork.com/trey-benson-draft-scouting-2024/
Trey Sanders
RB
TCU
Trey Sanders Scouting Report
https://www.profootballnetwork.com/trey-sanders-draft-scouting-2024/
Troy Franklin
WR
Oregon
Troy Franklin Scouting Report
https://www.profootballnetwork.com/troy-franklin-draft-scouting-2024/
Tyler Shough
QB
Texas Tech
Tyler Shough Scouting Report
https://www.profootballnetwork.com/tyler-shough-draft-scouting-2024/
Tyler Van Dyke
QB
Miami (FL)
Tyler Van Dyke Scouting Report
https://www.profootballnetwork.com/tyler-van-dyke-draft-scouting-2024/
Ulysses Bentley IV
RB
Ole Miss
Ulysses Bentley IV Scouting Report
https://www.profootballnetwork.com/ulysses-bentley-iv-draft-scouting-2024/
Will Howard
QB
Kansas State
Will Howard Scouting Report
https://www.profootballnetwork.com/will-howard-draft-scouting-2024/
Will Rogers
QB
Mississippi State
Will Rogers Scouting Report
https://www.profootballnetwork.com/will-rogers-draft-scouting-2024/
Will Sheppard
WR
Vanderbilt
Will Sheppard Scouting Report
https://www.profootballnetwork.com/will-sheppard-draft-scouting-2024/
Will Shipley
RB
Clemson
Will Shipley Scouting Report
https://www.profootballnetwork.com/will-shipley-draft-scouting-2024/
Xavier Legette
WR
South Carolina
Xavier Legette Scouting Report
https://www.profootballnetwork.com/xavier-legette-draft-scouting-report-2024/
Xavier Worthy
WR
Texas
Xavier Worthy Scouting Report
https://www.profootballnetwork.com/xavier-worthy-draft-scouting-2024/