Thursday night's matchup between the Green Bay Packers and the Arizona Cardinals will feature two of the NFL's best teams so far in 2021. Unfortunately for Green Bay, they will likely be missing several many of their top receivers, including Allen Lazard, Marquez Valdes-Scantling, and, most importantly, Davante Adams.
Davante Adams makes up an absurd percentage of the Packers' passing production
At the moment, both Adams and Lazard are on the reserve/COVID-19 list. It is technically possible, though unlikely, that Adams can play while Lazard is definitely out. The team will lose an enormous amount of production — most of it from Adams — with both of them out.
Adams has already totaled 744 receiving yards and 3 touchdowns this season. That makes him third in the NFL in receiving yards. More importantly, he has accounted for nearly 42% of his team's total receiving yards this season.
Even if the Packers weren't missing any other players, they would already be in a difficult position trying to replace such a crucial piece of their offense.
Lazard is clearly not contributing on the same level as Adams. With 184 yards and 2 touchdowns, he ranks third on the team in receiving yards behind running back Aaron Jones. The remaining Green Bay receivers have been even less productive.
Randall Cobb and Robert Tonyan have combined for just 334 yards and 4 touchdowns. But with Adams and Lazard both missing, they will need to be the ones to step up.
The advanced metrics suggest that Davante Adams and Allen Lazard have been excellent this season
The impact of losing Adams and Lazard might seem obvious from their box score statistics, but the reality of the situation is even worse than it appears.
To explain what I mean, let's turn to the Offensive Value Metric (OVM). The OVM is a grading system created by the (Bx) Movement to evaluate players based on how much they contributed to the creation of their statistics, rather than the statistics themselves.
Last season, Adams was stellar on this metric. His grade of 39.51 ranked second among all qualifying wide receivers. He isn't quite reaching those heights this season, but he is once again performing well with a grade of 34.62. And while the impact of Adams on the Packers isn't hard to see, more surprising is how effective Lazard has been.
Lazard leads Green Bay with an OVM grade of 35.84 and earned similar grades in the two prior seasons. Lazard may have had a minor role compared to Adams in the overall offense, but he played it well and was the obvious candidate to earn a more significant target share with Adams out. Losing them both in the same week is devastating.
Can Randall Cobb and Robert Tonyan pick up the slack?
Despite the substantial losses of Adams and Lazard, Green Bay does have some reasons for optimism. To start with, Cobb has played well so far this season in a minor role. He has earned a grade of 32.57 to start 2021 and has, in fact, earned grades above 30 in every season since 2016.
Of course, it is questionable whether he can maintain that level of play with a more significant workload at this stage of his career.
On the other end of the spectrum is Tonyan. The tight end earned a spectacular grade a season ago at 41.55, ranking second in the NFL at any position. Unfortunately, he has fallen off dramatically in 2021. His grade of 25.86 is nearly 16 points lower.
That said, if he can return to the form he showed last season, Tonyan could play a crucial role for Green Bay on Thursday night.
The advanced metrics behind the Packers' receivers' OVM grades
To help explain why the Green Bay receivers earned the grades they have so far in 2021, let's look at the advanced metrics behind them.
Adams, Lazard, and Cobb all have excellent catch percentages, at 71.23%, 71.43%, and 77.78%, respectively. Cobb, in particular, excels here. His percentage is tied for fourth among all qualifying wide receivers, though he has fewer targets than anyone else on the list.
The reason he doesn't grade quite as high as the other two receivers is because he's only averaging 2.8 yards after the catch, compared to 5.3 yards for Adams and 6.3 for Lazard.
Tonyan's grade, meanwhile, is dragged down significantly by his catch percentage. He is catching just 60% of his targets. That number is bad enough on its own but is made even worse as tight ends generally perform better than wide receivers in this area.
Will Marquez Valdes-Scantling return?
One factor that could swing the game in the Packers' favor is the potential return of Marquez Valdes-Scantling. He only earned one grade before his injury this season, and it wasn't especially impressive (18.54).
For more context, let's look at his OVM grades from last season. You can see them in the chart below, marked by the black dots. For comparison, the yellow line represents the average regular-season grade for wide receivers in 2020.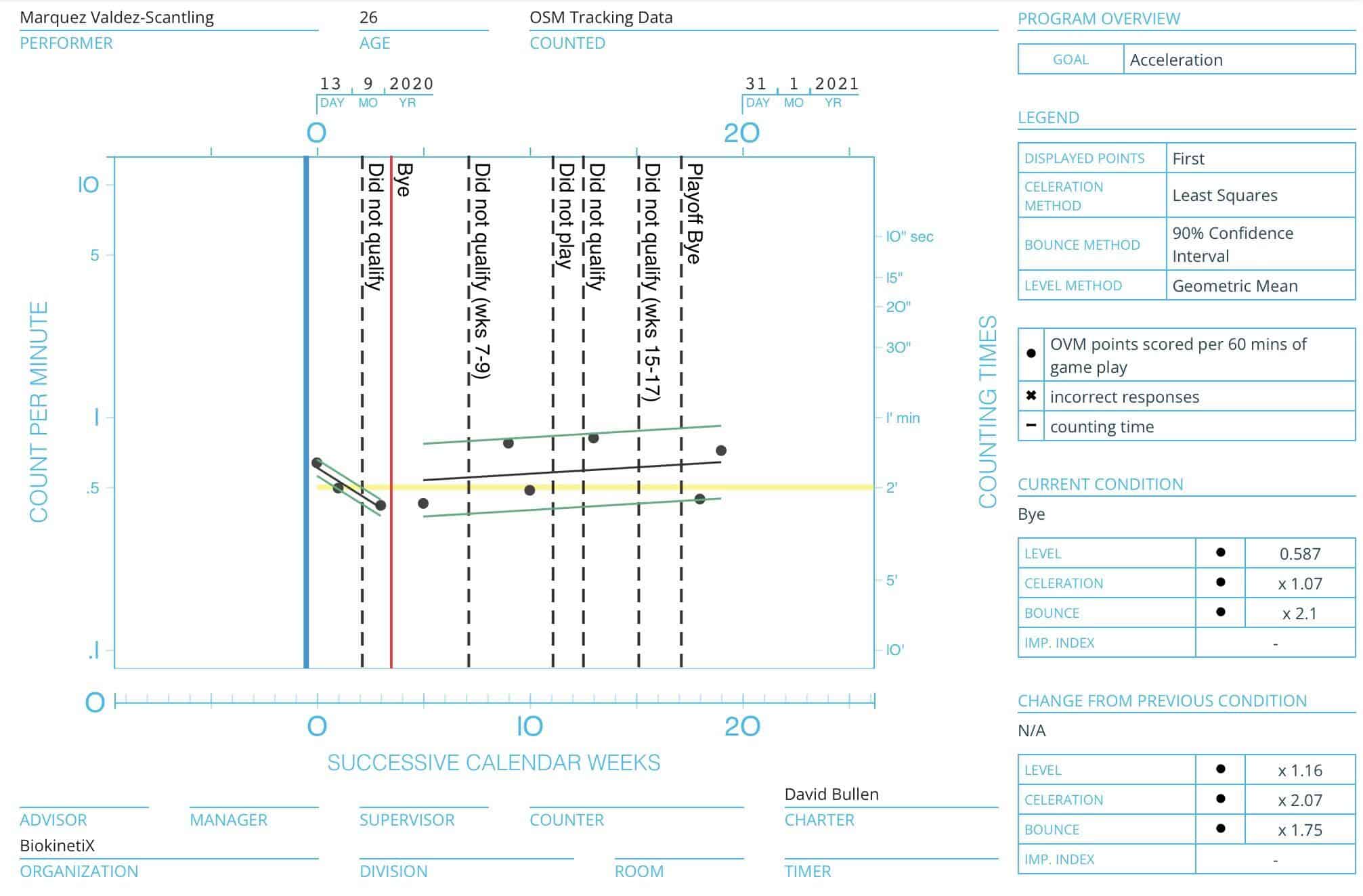 Valdes-Scantling's overall grade from that season was 29.81, which isn't terrible, but the weekly grades paint a more nuanced picture. They saw significant variance, ranging from a low of 24.99 to a high of 48.69.
If Valdes-Scantling plays on Thursday and reaches his peak, he could be an impact player. Still, it doesn't seem like a safe bet, especially since it would be his first game back from an injury.
Green Bay will need to make significant adjustments without Adams and Lazard
Assuming Adams and Lazard both miss Thursday night's game, Green Bay will need to dramatically alter how their offense functions. They'll have to hope MVS plays, that Cobb can perform in a major role, and that Tonyan's 2020 performance wasn't a fluke.
That's not to say that the Packers can't win. They still have Aaron Rodgers, after all. Still, I imagine they would prefer it if they didn't need to make such massive adjustments on a short week against the only undefeated team left in the NFL.