For as long as people have been putting together leagues to play fantasy football, the scoring format has constantly evolved. While there is no one-size-fits-all approach, the basics of how the fantasy football scoring system works remain the same for nearly every format, with on-field stats and plays driving the points.
Whether in a non-PPR or PPR, 1QB or Superflex, dynasty, or Best Ball league, once the basics are understood, that knowledge can be applied to pretty much any other fantasy league out there.
Pro-tip: Be careful in assuming "standard" means non-PPR. That was the case for years, but some sites have transitioned to PPR being their "standard" format. So just do me a favor and double check; it makes a difference.
Did you get a trade offer in your dynasty or redraft league? Not sure who to start or sit this week? Make championship-winning decisions with PFN's FREE fantasy tools — the Fantasy Football Trade Analyzer and Calculator and Start/Sit Optimizer!
How Do Fantasy Football Scoring Systems Work?
At its core, fantasy football scoring systems are tied to what happens on the field — specifically, many of the easily identifiable stats that drive fan interest. In this way, fantasy managers can act as pseudo-general managers, and players they draft can earn them points based on how well they do in games.
The early days of fantasy had a very basic set of scoring rules, with touchdowns serving as a driving influencer. But most leagues these days incorporate several more stats. Really, anything goes on this front. If it's quantifiable and publicly tracked, then it can be part of a fantasy scoring system.
For example, most fantasy scoring systems convert yards into points. How much or how little depends on the league, yet the concept remains the same. A player racking up 54 receiving yards might accrue 5.4 fantasy points — or one-tenth of a point per yard.
In the past couple of decades, there's been a gradual shift on whether receptions should count as points. For a long time, "non-PPR" was considered standard, meaning managers didn't earn "points per reception." As a result, quarterbacks and many running backs were worth considerably more than wideouts and tight ends, relatively speaking.
Then half-PPR and full-PPR (points per reception) leagues became more prevalent. The former means managers earn half a point every time one of their players catches a pass, and then the yardage is added on top of that baseline. The latter means they earn a full point.
As you might have guessed, this slight scoring shift has had a dramatic impact on fantasy strategy.
WR A catches eight passes for 80 yards.
WR B catches one pass for 80 yards.
In non-PPR, both earned eight points for their 80 yards. But in PPR, WR B netted nine points (8+1), while WR A secured 16 points (8+8).
PPR gives more weight to high-volume receivers and catch-friendly running backs, sometimes boosting their fantasy production by 50% or more. Since quarterbacks almost never catch passes, this simple rule change can alter the valuations of nearly every player, thus forcing managers to shift draft and roster-management strategies.
These leagues are higher scoring by nature, and that devalues the QB position to a degree … they are simply accounting for a lower percentage of your points than in a format that doesn't reward per reception.
How Do Stats Convert to Points Using Fantasy Football Scoring?
To help better illustrate how fantasy football scoring systems work, let's use an actual stat line from a player. In Week 11 of the 2021 season, Jonathan Taylor had one of the single-highest-scoring games of the year for a running back.
Against the Buffalo Bills, Taylor rushed 32 times for 185 yards and four touchdowns. He also recorded three receptions on three targets for 19 additional yards and another score.
In most fantasy football scoring systems, carries are not awarded points. However, some leagues reward managers who draft high-volume RBs, and this is one way to do it. It could be as small as 0.25 points per carry or as high as you want to go.
What does tend to be universal is how yardage is scored. In the vast majority of leagues and fantasy scoring systems, a yard is 0.1 fantasy points, meaning 10 yards equals one full point. The same applies to receiving yardage or anytime a player carries the ball.
Using Taylor's stats as an example, the quick way to score this is to simply divide his yardage by 10. Taylor's 185 rushing yards and 19 receiving yards would equal 20.4 fantasy points (204 total yards).
Touchdowns and Receptions Matter in Fantasy
Now that we have Taylor's yardage total (20.4), receptions are added. Using PPR as the baseline, we add an additional three points, bringing the total to 23.4 points.
And just like in the NFL, fantasy football scoring systems value touchdowns more than almost anything else. Here, reality matches what happens on our screens, with almost all fantasy football scoring systems awarding six points for every TD rushing or receiving. Taylor's five scores equate to 30 more points, bringing his grand total to 53.4 PPR points in Week 11 of 2021.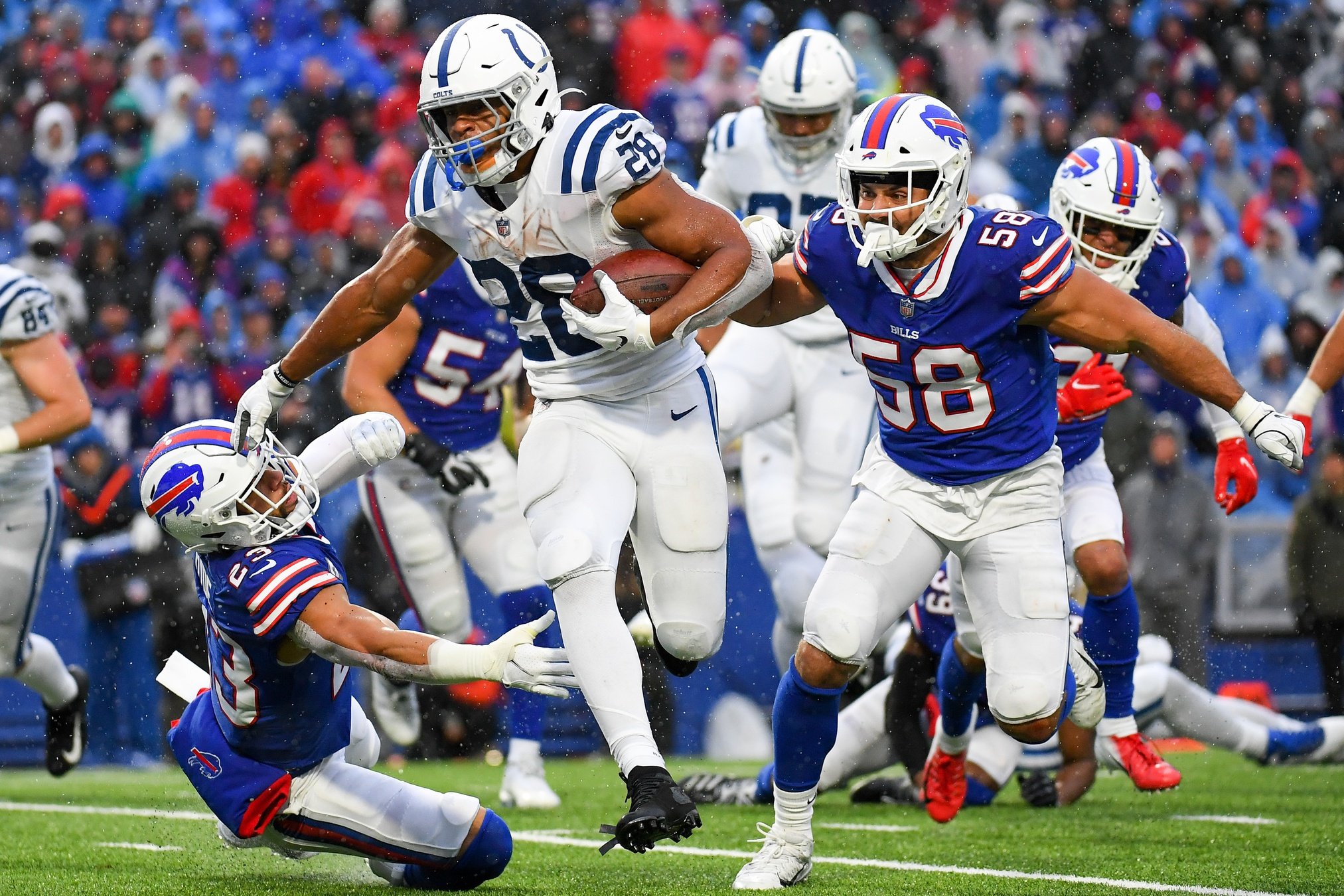 This same logic of using touches, yards, and touchdowns is the basis of every single fantasy football league. Virtually any stat can be converted to some form of scoring. It's how we have individual defensive player (IDP) leagues. Here, defensive players are used, with interceptions, sacks, passes defensed, fumbles, and tackles often driving the scoring.
Special teams also see love as kickers are people too. Field-goal distances frequently are factored in, with longer conversions equating to more points than a chip shot. Extra points tend to be a single point, as they are in the NFL.
QB Scoring Is Slightly Different From Other Players
Due to the passing yardage a quarterback can put up in a given week, their stats tend to be tweaked the most in fantasy scoring systems. For the majority of leagues, it's one fantasy point for every 25 passing yards. This helps to balance the upside of QBs in your league.
Passing touchdowns are also commonly adjustable, either netting four (the default for most sites), five, or six points, depending on what you choose. Interceptions are treated as a negative, similar to any offensive player who loses a fumble. The range often is as little as negative one point to negative four points depending on how punishing you want it to be (-2 points is the most common).
As far as rushing/receiving is concerned, a QB is treated like every other position, with 10 yards equaling a point and a touchdown netting six. When drafting quarterbacks, having someone with rushing upside can increase the odds of massive weekly outputs — provided they're also capable in the passing game.
QB scoring can be manipulated in a multitude of ways in an effort to balance out who has the most impact on your weekly scoring. Bonuses can be added for eclipsing yardage totals (e.g. 300 or 400 yards). Accuracy can be used, with completions and incompletions scoring both positive and negative points. Deep completions (e.g. 50+ yards) can even score extra points.
Much like any other position or league, there's no one "perfect" fantasy scoring format. It's why leagues of all shapes and sizes fill every day. Look around enough, and you'll find one you like. If not, design one the way you like and invite your friends or co-workers to take a one-year test drive.
General Fantasy Football Scoring System Rules
Offensive Players
Passing yards: 1 point per 25 yards
Passing touchdowns: 4 points
Rushing yards: 1 point per 10 yards
Rushing touchdowns: 6 points
Receptions: 0.5 or 1 point (depending on half- or full-PPR)
Receiving yards: 1 point per 10 yards
Receiving touchdowns: 6 points
2-point conversions: 2 points
Fumble recovered for a touchdown: 6 points
Bonus Points
Rushing or receiving TD of 40+ yards: 2 points
Passing TD of 40+ yards: 2 points
Penalty Points
Intercepted pass: -1 or -2 points
Fumble lost: -2 points
Team Defense and Special Teams
Sacks: 1 point
Interceptions: 2 points
Fumbles recovered: 2 points
Safeties: 2 points
Defensive touchdowns: 6 points
Kick and punt-return touchdowns: 6 points
2-point conversion returns: 2 points
Points allowed (0): 10 points
Points allowed (1-6): 7 points
Points allowed (7-13): 4 points
Points allowed (14-20): 1 point
Points allowed (21-27): 0 points
Points allowed (28-34): -1 points
Points allowed (35+): -4 points
Individual Defensive Players (IDP)
Solo tackles: 1 point
Assisted tackles: 0.5 points
Sacks: 2 points
Sack yards: 1 point per 10 yards
Tackles for loss: 1 point
QB hits: 1 point
Passes defensed: 1 point
Interceptions: 3 points
Fumbles forced: 3 points
Fumbles recovered: 3 points
Defensive touchdowns: 6 points
2-point conversion returns: 2 points
Kickers
50+ yard FG made: 5 points
40-49 yard FG made: 4 points
39 yards or less FG made: 3 points
Rushing, passing, or receiving 2-point conversion: 2 points
Extra point made: 1 point
Penalty Points
Missed extra point: -3 points
Missed FG (0-39 yds): -2 points
Missed FG (40-49 yds): -1 point
(Note: a missed FG includes any attempt that is blocked, deflected, etc.)
Listen to the PFN Fantasy Podcast
Listen to the PFN Fantasy Podcast! Click the embedded player below to listen, or you can find the PFN Fantasy Podcast on iTunes, Spotify, and all major podcast platforms.  Be sure to subscribe and leave us a five-star review! Rather watch instead? Check out the PFN Fantasy Podcast on our Fantasy YouTube channel.