The Houston Texans are a team looking to the future. After what many hailed as one of the better draft classes of 2023, optimism is high. Head coach DeMeco Ryans will aim to guide the team through their 2023 schedule as they continue to reshape an organizational culture in need of a revamp. We now know what the Texans' 2023 schedule looks like, but how will they fare this season?
Houston Texans Schedule
Texans Preseason Schedule
Week 1: at Patriots
ABC 13 | 7 p.m. ET (Thursday, Aug. 10)
Week 2: vs. Buccaneers
ABC 13 | 8 p.m. ET (Saturday, Aug. 19)
Week 3: at Giants
FOX | 8 p.m. ET (Sunday, Aug. 26)
Texans Regular-Season Schedule
Week 1: at Ravens
CBS | 1 p.m. ET (Sunday, Sept. 10)
Week 2: vs. Colts
FOX | 1 p.m. ET (Sunday, Sept. 17)
Week 3: at Jaguars
FOX | 1 p.m. ET (Sunday, Sept. 24)
Week 4: vs. Steelers
CBS | 1 p.m. ET (Sunday, Oct. 1)
Week 5: at Falcons
FOX | 1 p.m. ET (Sunday, Oct. 8)
Week 6: vs. Saints
FOX | 1 p.m. ET (Sunday, Oct. 15)
Week 7: BYE
Week 8: at Panthers
FOX | 1 p.m. ET (Sunday, Oct. 29)
Week 9: vs. Buccaneers
CBS | 1 p.m. ET (Sunday, Nov. 5)
Week 10: at Bengals
CBS | 1 p.m. ET (Sunday, Nov. 12)
Week 11: vs. Cardinals
CBS | 1 p.m. ET (Sunday, Nov. 19)
Week 12: vs. Jaguars
CBS | 1 p.m. ET (Sunday, Nov. 26)
Week 13: vs. Broncos
CBS | 4:05 p.m. ET (Sunday, Dec. 3)
Week 14: at Jets
CBS | 1 p.m. ET (Sunday, Dec. 10)
Week 15: at Titans
CBS | 1 p.m. ET (Sunday, Dec. 17)
Week 16: vs. Browns
CBS | 1 p.m. ET (Sunday, Dec. 24)
Week 17: vs. Titans
FOX | 1 p.m. ET (Sunday, Dec. 31)
Week 18: at Colts
TBD (Sunday, Jan. 7)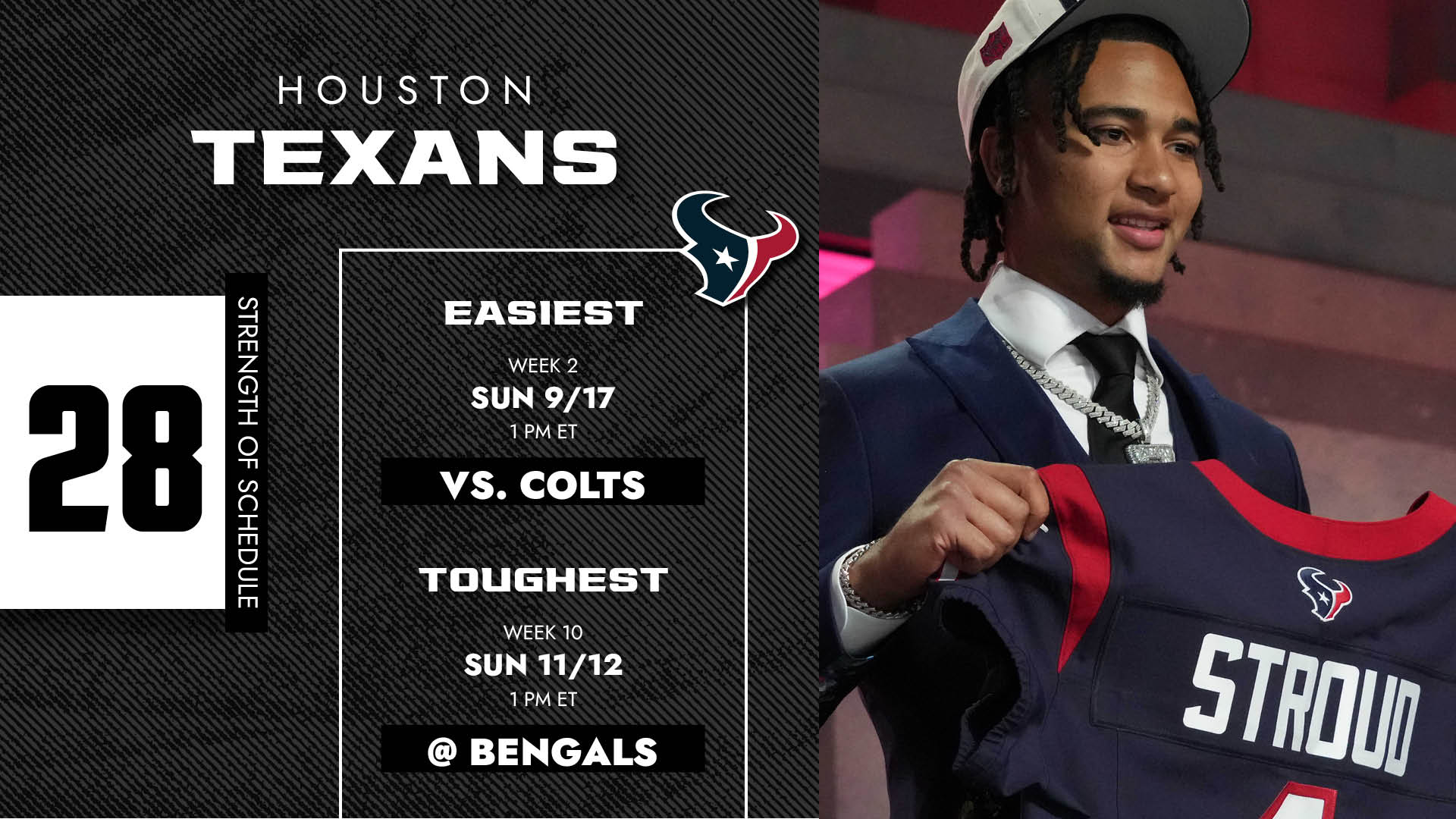 Houston Texans Strength of Schedule
The Texans — and the AFC South in general — have about as easy of a 2023 schedule as you could ask for. Based on projected win totals, Houston has the ninth-easiest strength of schedule in the league. Their respective opponents combined to go 123-163-2 for a .431 record (30th) in 2022.
However, basing strength of schedule on the previous season's win-loss records isn't always the best approach because it doesn't account for improvements made over the offseason.
According to Pro Football Network's SOS model, which accounts for win-total projections and estimates team strength, the Texans will have the fifth-easiest schedule in the NFL. In fact, all four AFC South clubs have schedules that project among the 10 least difficult in the league in 2023.
Houston Texans Record Prediction
In the 2023 NFL Draft, the Texans shifted their rebuild into the next gear by landing both their quarterback of their future — Ohio State's C.J. Stroud — and arguably the best defensive prospect on the board in Alabama's Will Anderson Jr.
With Ryans leading from the sidelines, can Houston improve after winning just three games a season ago?
The club's success on the offensive side of the ball will likely come down to how much Stroud can elevate a relatively uninspiring cast of wide receivers. Stroud will have an above-average offensive line headlined by left tackle Laremy Tunsil blocking in front of him, which could help reduce the issues he faced with pressure in college.
Meanwhile, second-year running back Dameon Pierce should keep the Texans' ground attack humming after posting 939 yards in 13 games and finishing with the NFL's third-best broken tackle rate in his rookie campaign.
Houston's defense was better than its offense in 2022, and it shouldn't be surprising if that tends to continue next season. Anderson will join a crop of second-year defenders that includes cornerback Derek Stingley Jr., safety Jalen Pitre, and linebacker Christian Harris, while veteran additions such as Jimmie Ward and Sheldon Rankins could help raise the unit's floor.
If Stroud is productive from Day 1, the Texans could surprise with a seven or eight-win season in 2023. But this is a roster with plenty of holes remaining. The more likely outcome is a five-win campaign that sees Houston, Tennessee, and Indianapolis trailing behind Jacksonville in the AFC South.
Record Prediction: 5-12