The landscape of the highest-paid safeties in the NFL is shifting quickly. As safeties become more critical in today's two-high world, defensive backs are landing extensions and resetting the top of the market. Who is the highest-paid safety in the NFL, and which other DBs round out the top 10 at the position?
Who Is the Highest-Paid Safety in the NFL?
As expected, Derwin James took the spot of the highest-paid safety in the NFL away from Minkah Fitzpatrick when he signed an extension with the Chargers in Aug. 2022. James' deal was a four-year contract worth $76 million with $38.6 million guaranteed — $19 million AAV.
James' 2023 base salary ($2 million) is already fully guaranteed, as is his $12 million option bonus. He has a $12.75 million salary in 2024, $3.4 million of which will become guaranteed on the first day of the 2023 league year. James is also due a $3 million roster bonus in both 2025 and 2026.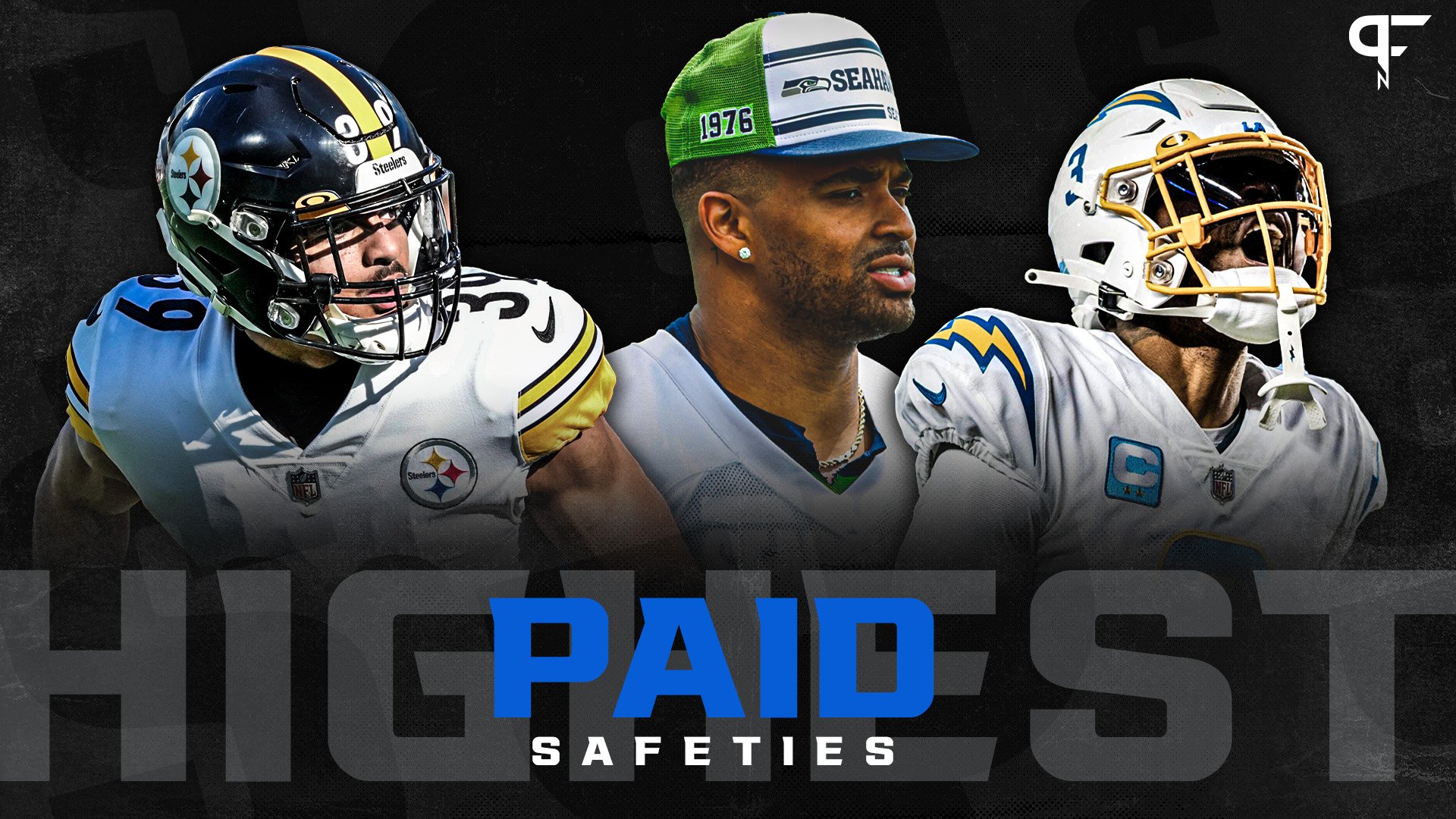 Highest-Paid Safeties 2-10
2) Minkah Fitzpatrick, Pittsburgh Steelers | AAV: $18.247 million
Minkah Fitzpatrick, for a brief time, was the NFL's highest-paid safety after he agreed to a four-year, $72.98 million extension with the Steelers in June 2022. Fitzpatrick received a $17.5 million signing bonus and $36 million in full guarantees.
MORE: Highest-Paid Cornerbacks in the NFL
Pittsburgh has typically refused to guarantee more than one full year on any contract. However, they've now broken that protocol with both Fitzpatrick and T.J. Watt. Fitzpatrick's 2022 base salary was fully guaranteed, as his $14.5 million salary in 2023. The Steelers restructured his contract in March, so his cap charges will exceed $21 million from 2024-26.
3) Jamal Adams, Seattle Seahawks | AAV: $17.5 million
Jamal Adams had all the leverage in the world after being acquired by the Seahawks in 2020. Seattle sent two first-round picks to the Jets in exchange for Adams, so how could they deny eventually making him one of the NFL's highest-paid safeties?
Adams received a four-year, $70 million extension that included $21 million in full guarantees. The deal contained a $12.44 million option bonus that became fully guaranteed in Feb. 2022. Additionally, $2.56 million of Adams' 2023 base salary became guaranteed five days after Super Bowl 57. His contract also contains incentives tied to interceptions, sacks, and Pro Bowl and conference championship berths.
4) Jessie Bates III, Atlanta Falcons | $16.005 million
After playing the 2022 campaign on the franchise tag with the Bengals, Jessie Bates III signed a four-year, $64.02 million deal to join the Falcons on the first day of the 2023 legal tampering period.
Bates will reportedly receive $36 million fully guaranteed at signing and $23 million in Year 1 cash. We'll have to wait to see the structure of Bates' deal, but it represents a substantial raise over his franchise tender salary from one season ago.
5) Harrison Smith, Minnesota Vikings | AAV: $16 million
The oldest safety on the list at 34, Harrison Smith signed a four-year, $64 million extension in Aug. 2021. The Vikings then restructured his contract in March 2022, adding a bit of potential dead money down the line.
Smith will see $1.75 million of his $14.7 million base salary become guaranteed on the first day of the 2023 league year. He's scheduled to have cap charges of $19 million or more in each of the next three seasons, including a $22 million figure in 2025. Given his age, Smith is unlikely to reach the end of his deal in Minnesota.
6) Justin Simmons, Denver Broncos | AAV: $15.25 million
Originally assigned the franchise tag in 2021, Justin Simmons agreed to a long-term contract with the Broncos that summer. The now-29-year-old received a four-year, $61 million extension with $32.1 million fully guaranteed. His guarantees were comprised of a $15 million signing bonus and base salaries of $2 million in 2021 and $15.1 million in 2022.
Simmons has one of the more straightforward contracts among the highest-paid NFL safeties. Denver didn't use a complicated structure, and they haven't reworked his deal as of yet. The Broncos could conceivably move on from Simmons after the 2023 campaign, but he's still playing at an All-Pro level. His cap charge will be $18.15 million next season.
7) Budda Baker, Arizona Cardinals | AAV: $14.75 million
Budda Baker is under contract with the Cardinals through the 2024 campaign under the terms of the four-year, $59 million extension he inked in Aug. 2020. Arizona used a $7.1 million option bonus that was exercised in March 2021.
MORE: 2023 NFL Salary Cap Space by Team
As things currently stand, Baker will have relatively stable cap charges of $16.875 million and $17.975 million over the next two seasons. In 2023, he'll earn a base salary of just over $13 million and carry a cap figure of $16.9 million. Baker is scheduled to reach free agency in 2025.
8) Eddie Jackson, Chicago Bears | AAV: $14.6 million
The Bears signed Eddie Jackson to a four-year, $58.4 million extension in Jan. 2020, tying him to the team through 2024. Jackson received $22 million guaranteed, including a $12 million signing bonus, and effectively guaranteed base salaries in 2020 and 2021. In March 2022, his $11 million base salary — previously only guaranteed for injury — became fully guaranteed for injury, cap, and skill purposes.
Chicago reworked Jackson's pact in March 2021, creating $6.36 million in cap space in the process. The club moved $7.59 million of Jackson's salary into a signing bonus and tacked on a void year in 2025, giving themselves one more season to spread out Jackson's prorated money. He has no guarantees remaining in his contract and will count for $17.09 million on the Bears' 2023 cap.
9) Kevin Byard, Tennessee Titans | AAV: $14.1 million
Kevin Byard is one of the best safeties in the NFL, so the Titans are getting a relative steal, given that he's just the ninth-highest-paid at the position. Tennessee restructured Byard's deal for 2022, the second time they did so during the life of the contract. Thus, his cap hit for last season was only $7.058 million.
Because the Titans moved some of Byard's money into the future, his cap charges will be $19.623 million and $17.823 million in 2023 and 2024, respectively. He also has two void years tacked onto the end of his deal in 2025 and 2026. Tennessee will take on $4.386 million in dead money if Byard doesn't re-sign after the 2024 season.
10) Marcus Williams, Baltimore Ravens | AAV: $14 million
Still only 25 years old, Marcus Williams played for the Saints on the franchise tag in 2021 before landing a five-year, $70 million pact with the Ravens in March 2022. He received $32 million fully guaranteed, including his $14.965 million signing bonus and base salaries in 2022 and 2023.
The rest of Williams' guarantees are included in a $14.92 million option bonus. That bonus is already fully guaranteed, but it doesn't officially have to be exercised until the beginning of the 2023 league year. At that point, the option bonus will be prorated over the rest of Williams' contract (in the same fashion as a signing bonus).