The list of highest-paid edge rushers has evolved continuously over the previous few NFL offseasons. With the top of the market exploding past $30 million per year, which players make up the top 10 highest-paid edge rushers in the NFL in 2023?
Who Is the Highest-Paid Edge Rusher in the NFL?
He had to hold out for the entire summer to achieve his goal, but Nick Bosa is now the NFL's highest-paid edge rusher after signing a five-year, $170 million deal with the 49ers in 2023.
Not only does Bosa's $34 million annual average value easily take the cake among edge defenders, but it also makes him the top-paid NFL defensive player, period. He'll shoot past Rams defensive tackle Aaron Donald, who collects $31.67 million per year.
Bosa received a $50 million signing bonus, $10 million more than Donald's previous record on his first extension with Los Angeles. He also set a new high with $122.5 million in total guarantees.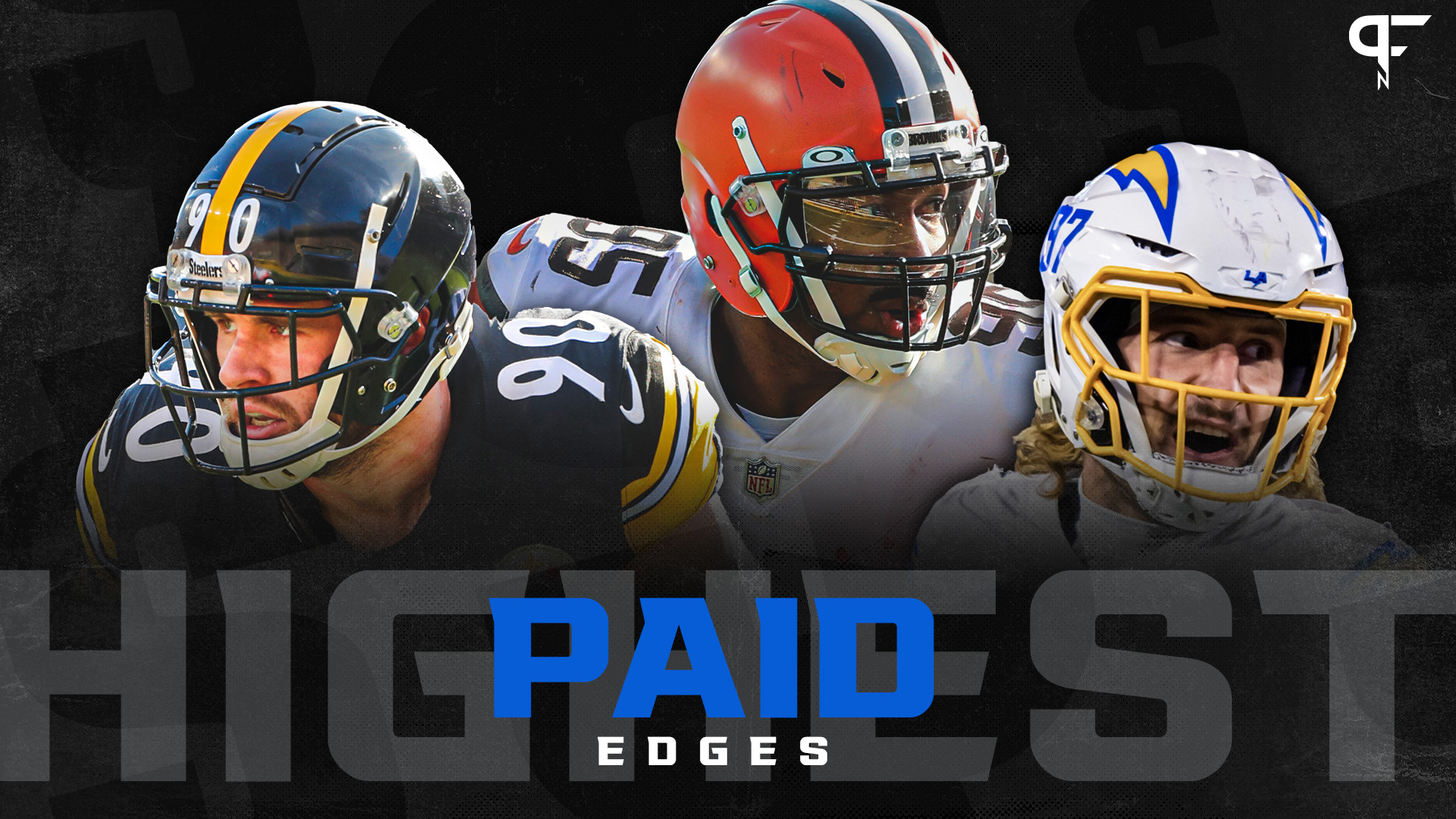 Highest-Paid Edge Rushers 2-10
2) T.J. Watt, Pittsburgh Steelers | AAV: $28 million
After signing a four-year, $112 million extension with the Steelers in 2021, T.J. Watt remains the NFL's second-highest-paid edge rusher. Watt received just over $35 million as a signing bonus and $80 million in guarantees.
Pittsburgh doesn't typically guarantee much base salary, but they made an exception for Watt, whose salary was fully guaranteed from 2021-23. He'll have cap charges of around $30 million in each of the next three seasons, meaning his contract is ripe to be restructured.
Watt's four-year contract is intriguing compared to the others just below him on this list. On one hand, it seems like Watt could have gotten a fifth or sixth year. Nevertheless, he'll be 31 when his current deal ends and could even command a larger salary when he reaches free agency again.
3) Joey Bosa, Los Angeles Chargers | AAV: $27 million
Joey Bosa's extension with the Chargers has been on the books for more than three years but remains the third-most expensive EDGE contract in the league. His five-year, $135 million deal contained a $35 million signing bonus and a total of $102 million in potential guarantees. The last of those guarantees came into play when his 2023 salary ($24 million) was fully guaranteed on March 20, 2022.
Los Angeles has since reworked Bosa's 2023 base salary, converting most of it into a signing bonus to create additional cap space. In 2025, Bosa has an $8.36 million roster bonus due on the fifth day of the league year that will force the Chargers to make a decision on his future in advance of his age-30 campaign.
4) Myles Garrett, Cleveland Browns | AAV: $25 million
Myles Garrett signed his extension with the Browns roughly two weeks before Bosa agreed to a long-term deal with the Chargers. Garrett's deal wasn't as impressive as Bosa's, but he still hit the $25 million mark.
Cleveland has been able to keep Garrett's cap charges relatively low thus far. They restructured his deal again this offseason, so his 2023 cap figure is just $16.3 million. However, Garrett's cap numbers from 2024-26 are all above $30 million, so the Browns may have to consider reworking his deal again.
Garrett's 2024 base salary will become fully guaranteed on the third day of the league year next spring. He can earn $5 million in roster bonuses in 2025 and 2026.
T-5) Khalil Mack, Los Angeles Chargers | AAV: $23.5 million
It feels like a lifetime ago that Khalil Mack was traded to the Bears and signed a six-year, $141 million contract. For a while, that deal remained the benchmark for the EDGE market, but Mack has since been surpassed atop the list of highest-paid edge rushers.
Mack has since been traded again, and the Chargers are responsible for his $23.5 million annual salary. The 32-year-old is under contract for two more seasons in Los Angeles. Following a restructure, Mack's 2023 cap charge is just $16.6 million.
However, that figure will jump to an absurd $38.5 million in 2024. There's virtually no chance Mack plays at the number next year. Releasing Mack next offseason would create $23.25 million in cap savings for the Chargers.
T-5) Maxx Crosby, Las Vegas Raiders | AAV: $23.5 million
Maxx Crosby has become a star and is being paid as such with a $23.6 million average salary. The Raiders gave him a four-year, $94 million extension in March 2022 that included $26.515 million in fully guaranteed money, including his signing bonus, 2022 salary, and 2023 roster bonus.
Crosby's 2024 base salary became fully guaranteed in March 2023. He's now set to earn $19 million in cash next season.
Crosby's cap hit was just $6.7 million in 2022 and, following a restructure, will be $12.98 million in 2023. However, his cap figures will jump to $24+ million each season from 2024-26.
7) Bradley Chubb, Miami Dolphins | AAV: $22 million
The Dolphins sent a first-round pick to the Broncos to acquire Bradley Chubb at the 2022 trade deadline, then signed him to a five-year, $110 million extension just two days later. Chubb's pact includes more than $33 million guaranteed at signing. That total is comprised of his signing bonus and base salaries in 2022 and 2023.
Chubb's 2024 salary ($19.75 million) became guaranteed on March 16 — currently, that figure is guaranteed for injury only. None of his 2025 salary is fully guaranteed, but $10 million is guaranteed for injury.
Miami is locked into Chubb's extension through at least the 2024 campaign. At that point, they could potentially release him, but they'd be taking on more than $16 million in dead money.
8) Trey Hendrickson, Cincinnati Bengals | AAV: $21 million
Trey Hendrickson originally signed with the Bengals as a free agent in 2021, but Cincinnati gave him a one-year, $21 million extension in July 2023. New money dictates how we rank average annual salaries, so Hendrickson now comes in at No. 8 among edge defenders.
Under the terms of his extension, Hendrick received an $8 million signing bonus. The Bengals also increased his 2023 base salary by $5 million. Hendrickon's cap figure for the upcoming season hardly changed, but his 2024 cap number increased by $2.67 million.
9) Von Miller, Buffalo Bills | AAV: $20 million
The Bills stepped outside their usual comfort zone in 2022 to sign Von Miller, a likely future Hall of Famer and one of the top free agents on the board that season. Buffalo gave Miller a six-year, $120 million pact with $45 million guaranteed at signing.
MORE: Highest-Paid Players in the League in 2023 
Miller's contract isn't quite as impressive as it seems on the surface. The structure of the deal will likely keep him on the Bills' roster through 2024, but he'll be 35 years old at that point. If his play has declined, Buffalo could use a post-June 1 designation and essentially turn his accord into a three-year, $52.4 million contract. Miller is coming off a torn ACL, and there's no telling how he'll respond after the injury.
10) Harold Landry III, Tennessee Titans | AAV: $17.5 million
Although Harold Landy III looked like a franchise tag candidate in 2022, the Titans instead signed him to a five-year, $87.5 million extension. Landry missed the entire 2022 campaign after tearing his ACL, but he's expected to be ready for the upcoming season.
Landry received $35.25 million at signing, including his bonus, 2022 salary ($15 million), and 2023 salary ($17.25 million). Overall, his extension is pretty straightforward. He'll be on the Titans' roster through 2024, at which point Tennessee could release him and make the deal a three-year, $52.5 million pact.
If Landry plays out his entire contract, he'll only be 31 years old when he hits free agency again in 2027, so he could land another payday.