The landscape of the highest-paid cornerbacks in the NFL has changed dramatically in recent years. Who is the highest-paid CB in the NFL, and which other cornerbacks round out the top 10 at the position?
Who Is the Highest-Paid Cornerback in the NFL?
Jaire Alexander is the NFL's new highest-paid corner after signing a four-year, $84 million extension with the Packers in May 2022. He joined Ward and Ramsey as the only CBs to eclipse the $20 million/year threshold, and his $30 million signing bonus was also a new record for cornerbacks.
Alexander has an $11.45 million roster bonus due on the first day of the 2023 league year, then an $8 million bonus due on the third day of the 2024 league year. His cap charge for the upcoming season will be manageable at $10.76 million, but it will increase to $24+ million in 2024 and remain there for the life of the contract. Alexander's deal contains a void year in 2027.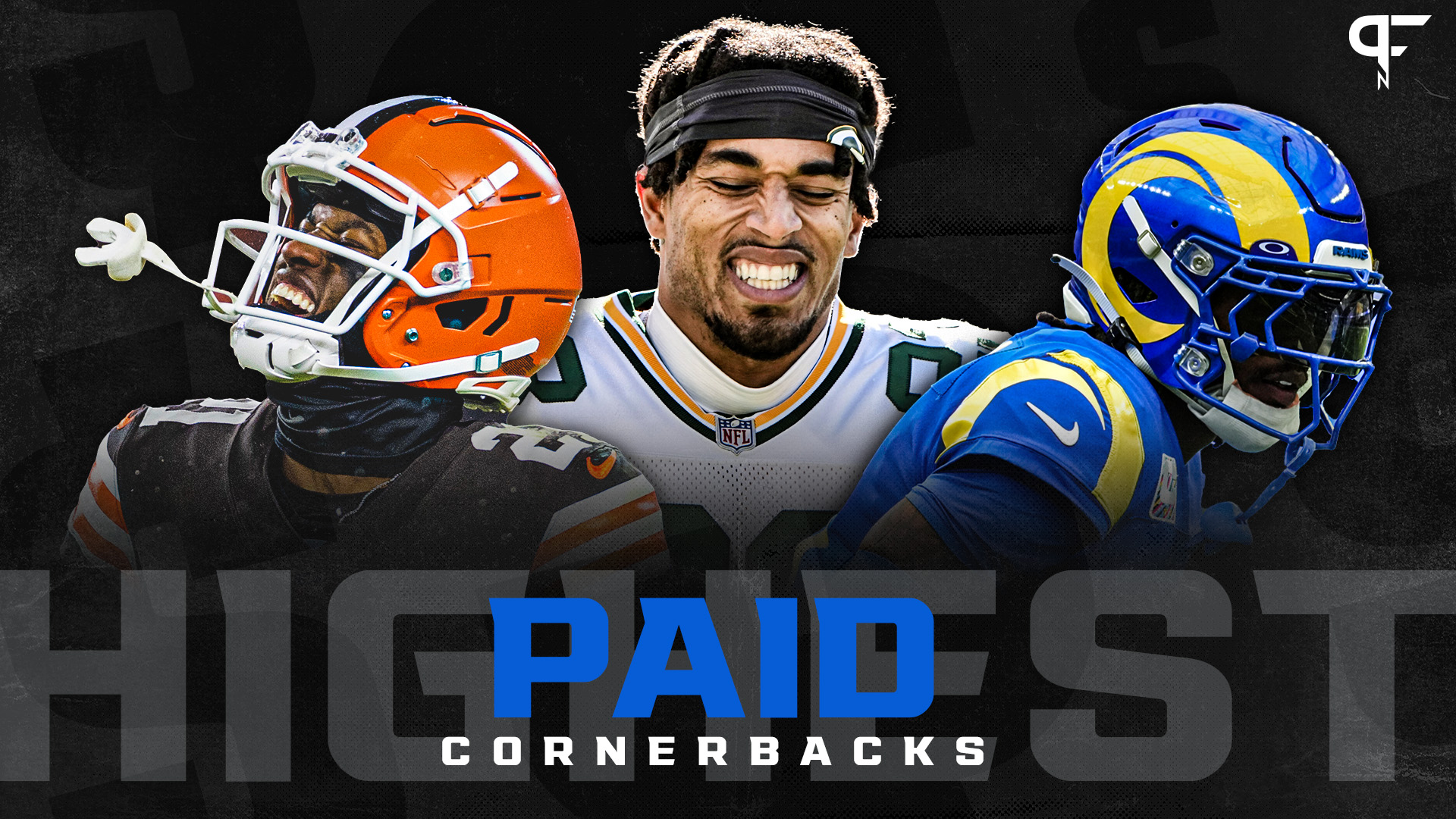 Highest-Paid Cornerbacks 2-10
2) Denzel Ward, Cleveland Browns | AAV: $20.1 million
The Browns made Denzel Ward one of the league's highest-paid corners in April 2022, inking him to a five-year extension worth $100.5 million. Ward, entering his age-25 campaign, barely beat out Ramsey on a deal that will keep him in Cleveland through 2027. He received $71.25 million guaranteed, which is also just ahead of Ramsey ($71.203 million).
Ward's 2023 base salary, option bonus, and $1.25 million of his 2024 salary are already fully guaranteed. The rest of his 2024 salary will guarantee on the first day of the 2023 league year, and nearly all of his 2025 salary will be guaranteed on the third day of the 2024 league year. Ward is due $2.5 roster bonuses in both 2026 and 2027.
3) Marlon Humphrey, Baltimore Ravens | AAV: $19.5 million
Marlon Humphrey signed a five-year, $97.5 million extension with the Ravens in Oct. 2020, featuring $40 million in guarantees. Baltimore kept Humphrey's cap charges low through 2022, but his figure will increase to nearly $20 million in 2023.
Humphrey will earn a $10.5 million salary in 2023 — $7.35 million of that total guaranteed in 2022, and the rest will become guaranteed on the first day of the 2023 league year. If he's still on Baltimore's roster on the fifth day of the 2024 league year, $6.5 million of his $11.75 million will become guaranteed. Humphrey can earn $4 million roster bonuses in 2025 and 2026.
T-4) Marshon Lattimore, New Orleans Saints | AAV: $19.4 million
The Saints gave Marshon Lattimore a five-year, $97 million extension in Sept. 2021 and have already reworked the contract twice to create additional cap space. Given how New Orleans manages its cap, we should expect more restructures in the future.
Lattimore's $14.5 million salary in 2023 is already guaranteed. Assuming Lattimore is still a Saint on the first day of the 2023 league year, $12 million of his $15 million 2024 base salary will also become guaranteed. New Orleans restructured his contract in March and added a void year in 2027, allowing the club to move money into the future.
T-4) Trevon Diggs, Dallas Cowboys | $19.4 million
In July 2023, the Cowboys handed Diggs the exact same contract that the Saints gave Lattimore: five years, $97 million. Diggs will receive a $21.25 million signing bonus, while an incentives package can bring the total value of the deal to $104 million.
Diggs, 24, led the NFL with 11 interceptions in 2021, which helped him earn first-team All-Pro honors. He's posted 17 picks over three NFL seasons and has received two Pro Bowl nods.
6) Jalen Ramsey, Miami Dolphins | AAV: $18.33 million
Jalen Ramsey has long been considered one of the premier cornerbacks in the NFL and has been paid as such. In Sept. 2020, he inked a five-year, $100 million extension with the Rams that made him the league's highest-paid defensive back at the time.
MORE: Highest-Paid Safeties in the NFL
Los Angeles dealt Ramsey to the Dolphins ahead of the 2023 free agent period, and the veteran CB agreed to a new deal with Miami that will lock him in through the 2025 campaign. Ramsey's fresh three-year, $55 million pact guaranteed him $35.5 million, including his signing bonus, salaries in 2023 and 2024, and a 2024 roster bonus.
The Dolphins could release Ramsey heading into 2025 — his age-31 season — and be on the hook for just $2.9 million in dead cap.
7) Xavien Howard, Miami Dolphins | AAV: $18 million
Xavien Howard's contract seems to change on an almost yearly basis at this point. Following the main wave of free agency in 2022, Howard signed an extension that added another $50.691 million of new money to an already impressive contract.
While Howard's extension was billed as a two-year deal, it's clear that the Dolphins, Howard, and the NFL as a whole are valuing his entire deal as a five-year, $90 million pact. That's still an impressive average annual value, but it only places him six on the list of the league's highest-paid CBs. Had we accounted only for his new money, Howard would rank first.
MORE: 2023 NFL Salary Cap Space by Team
Howard's contract contains a $16.985 million option bonus that is already guaranteed but must be exercised between March 15 and March 24, 2023.
Additionally, $4 million of his 2024 salary will guarantee on the first day of the 2023 league year. Howard can earn a $1 million incentive each season by earning All-Pro or Pro Bowl honors and seeing the Dolphins' defense improve in specific statistical categories.
8) Tre'Davious White, Buffalo Bills | AAV: $17.25 million
Tre'Davious White returned from a 2021 torn ACL to play in eight games over the end of the regular season and into the playoffs. The Bills' CB1 signed a four-year, $69 million contract in 2020 that will keep him under contract through 2025. After Buffalo restructured his contract in December 2022, White's cap charges will hover around $16.5 million over the next three years.
Some of White's 2023 salary is already guaranteed, and the rest will lock in when the league year gets underway. He'll also collect a $1 million roster bonus on March 19. White can earn $1.5 roster bonuses in 2024 and 2025 and bring in $250,000 in each of the next three seasons by making the Pro Bowl.
9) J.C. Jackson, Los Angeles Chargers | AAV: $16.5 million
J.C. Jackson's first campaign with the Chargers could hardly have gone worse. After agreeing to a five-year, $82.5 million deal with $40 million in guarantees, Jackson was initially benched before suffering a patellar tendon that ended his season.
MORE: Defensive Back Free Agency Rankings
Los Angeles has to hope Jackson can recover and improve in 2023 because there's no way they can release him currently. His salary for the upcoming season is guaranteed, and the Chargers would take on $32 million by cutting him. If Jackson struggles again next year, a post-June 1 release in 2024 — which would leave $5 million in dead money in 2024 and $10 million in 2025 — seems likely.
10) Carlton Davis, Tampa Bay Buccaneers | AAV: $14.83 million
The Buccaneers gave Carlton Davis a three-year, $44.5 million extension last offseason, but the deal is really more like a two-year, $29.8 million deal with a team option for a third season. Davis' cap charge was below $9 million in 2022 and, following a restructure, will sit at $7.5 million in 2023.
Davis has a $14.5 million base salary for next season, $9 million of which was guaranteed at signing. The remaining $5.5 million will become guaranteed on March 19. Davis can also earn $500,000 in per-game roster bonuses. Depending on how he plays in 2023, Tampa Bay could move on next offseason while creating $14.5 million in cap space.