An early favorite in the 2023 NFL Draft, has Alabama LB Henry To'oTo'o's scouting report been able to withstand scrutiny through the draft process? Late risers have complicated To'oTo'o's positioning at the LB spot, but the Crimson Tide standout still has plenty to offer.
Henry To'oTo'o NFL Draft Profile
Position: LB
School: Alabama
Current Year: Senior
Height/Weight: 6'1″, 227 pounds
Length: 32 3/4″
Hand: 10 1/4″
In a way, To'oTo'o's collegiate career ended up coming full circle. Alabama pursued the former four-star LB recruit out of high school. But the Concord, California product instead signed with the Tennessee Volunteers.
To'oTo'o would play for Tennessee for two seasons. As a true freshman, he became an immediate contributor on defense, amassing 72 tackles, five sacks, and two pass deflections in 2019. His production held steady in 2020 when To'oTo'o added 68 tackles, 7.5 tackles for loss, a sack, a pick, and two more pass breakups.
MORE: FREE Mock Draft Simulator With Trades
Upon making a name for himself on the SEC stage, To'oTo'o chose to enter the transfer portal and leverage his performance into an even greater destination. That choice ultimately landed him with Alabama.
To'oTo'o came to the Crimson Tide two years later than they would have preferred, but his addition was worth it either way. To'oTo'o put up 111 tackles, 7.5 tackles for loss, and four sacks in 2021, earning All-SEC second-team honors as a result.
In 2022, To'oTo'o reprised his role as one of the team's tackling leaders. He amassed 94 total tackles and eight more tackles behind the line of scrimmage to go along with 2.5 sacks. His lack of production in coverage has caused questions for some, but To'oTo'o remains an intriguing option in the 2023 NFL Draft LB class.
Henry To'oTo'o Scouting Report
Modern NFL linebackers are becoming more diverse and versatile, but the traditional LB mold still has its place. How does To'oTo'o blend elements of both archetypes, and what kind of draft stock might he field when the 2023 NFL Draft rolls around?
Positives
At 6'1″, 227 pounds, To'oTo'o has a solid frame with good density and great length. He's not an elite size threat, but the value of his length is compounded with his solid functional athleticism.
To'oTo'o is a fairly explosive athlete who accelerates extremely quickly when triggering on plays. He launches off his platform with intense burst, and he can instantly throttle up to match players, closing gaps with immediacy. He ran a 4.62 40-yard dash at the NFL Combine, with a 1.55 10-yard split near the 97th percentile. Both numbers are representative of his speed and burst on the field.
In the box, To'oTo'o's explosiveness affords him excellent range. He can track across the formation and neutralize zone runs. The Alabama LB also moves with excellent twitch and can throttle up and down with suddenness. He's a spry lateral athlete who can cover ground and match runners with energetic shuffle steps.
To'oTo'o's hips are loose enough for him to gather himself quickly through minor direction changes. He also employs active feet and is an amped-up mover in tight spaces. The Alabama LB has enough fluidity to adapt in space and get his hips around when responding to misdirections. Moreover, To'oTo'o can use sudden movements to keep himself clean in congested areas.
To'oTo'o doesn't quite have an elite composite athletic profile, but his processing ability helps to maximize his tools. The Alabama LB has shown he can quickly process motions and key in on play directions. He flashes good processing and reaction speed, and he's also an active communicator pre-snap who can recognize formations and get teammates in position.
To'oTo'o can trigger through tight seams to stymy ball carriers. Moreover, he's shown he can identify running backs and tight ends sneaking out into the flats, whereupon he can track them to the sideline. To'oTo'o is an adaptable processor who can recalibrate when faced with misdirections and identify open targets to pursue. He can stay composed when patrolling gaps and uses quick lateral bursts to shift gaps and track RBs.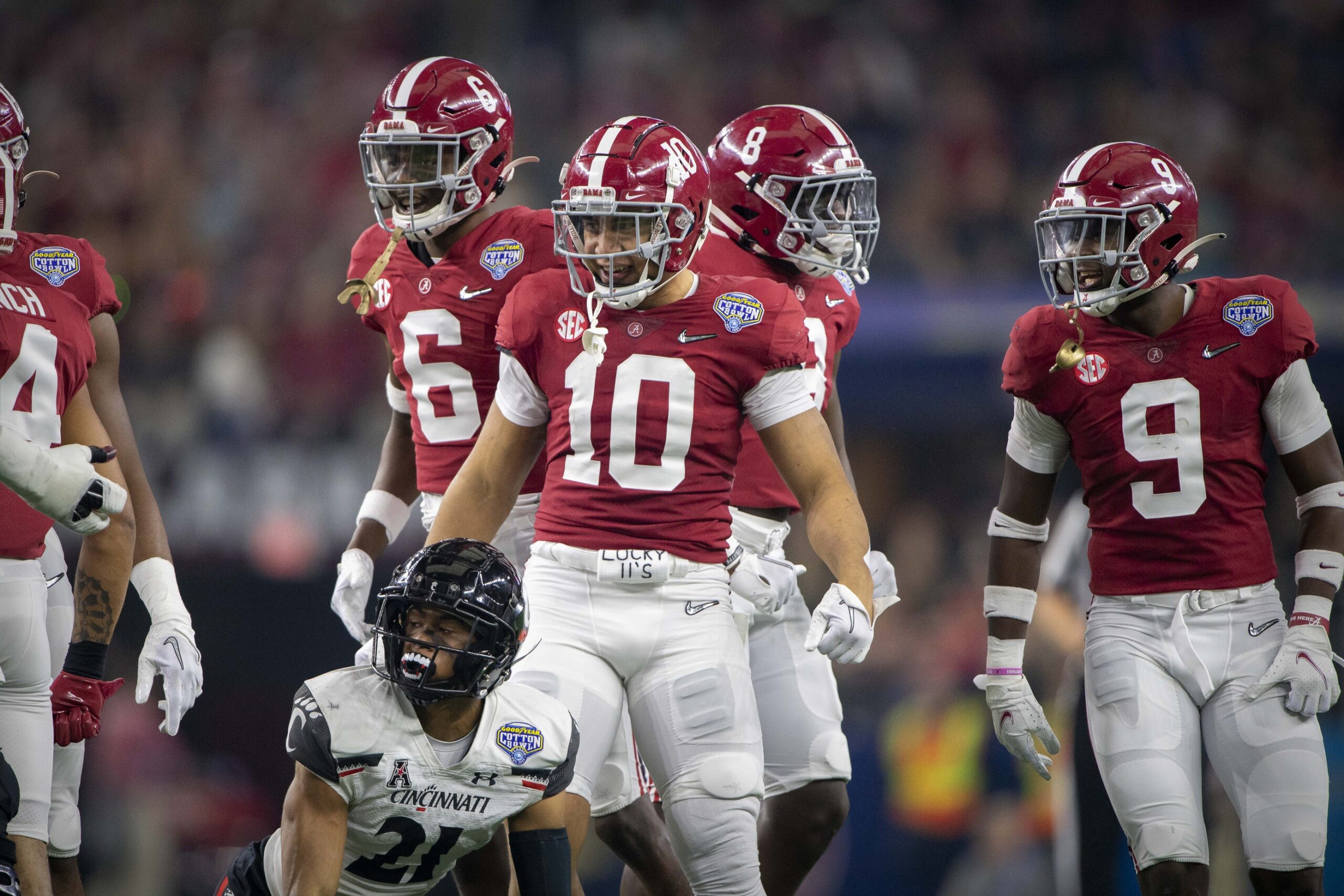 Going further, To'oTo'o has shown he can combat option plays in space. Not only can he actively dip his shoulder to scrape by blocks, but he can also take away angles with his positioning, then quickly shift focus to secondary runners when tosses occur. He has enough long speed to track plays to the sideline and take away angles upfield, and he can also match RBs on wheel routes.
Overall, To'oTo'o is a high-energy competitor who exudes urgency on every play. The Alabama LB hits WRs with force at the catch point, actively aiming to dislodge the ball. He can also step into the hole and violently engage lead blockers on inside runs. With his length and play strength, To'oTo'o can stonewall H-backs and collapse runs early. And he actively squares up and extends inside the torso when engaging blocks.
MORE: 2023 NFL Draft Big Board
To'oTo'o can knock lead blockers off-balance with his extensions and extend and shed with force. He has enough play strength to shed blocks in space, and he can violently rip down anchors and surge outside blockers. As a tackler, To'oTo'o has shown he can use his length to wrap up and wrestle down ball carriers. He's an aggressive tackler who actively extends and engulfs opponents.
Expanding on To'oTo'o's tackling, the Alabama LB brings great closing burst, and his length enables him to get a lever on ball carriers and slow them before they can explode upfield. He can lead with his shoulder and play through the tackle point, and he got better at driving through tackles as the season went on. He rarely overpursues, and when he does, he's shown to be fairly smooth redirecting in the tackle box at short notice.
Elsewhere, To'oTo'o has shown he can follow the QB's eyes in coverage and get proper depth based on implied intent. He's also shown he can effectively position himself in zone after dropping back and has a working understanding of spacing. And finally, To'oTo'o's explosiveness, length, flexibility, and motor grant him exciting potential as a gap blitzer.
Areas for Improvement
Athletically, To'oTo'o's hips aren't the most fluid when he needs to make sharp direction changes. He sometimes needs to take gather steps to decelerate and transition. In run defense, To'oTo'o sometimes retreats upfield when faced with linemen in space and needs to be more disciplined with his positioning.
Going further, To'oTo'o experiences occasional lapses in identification. He can be frozen and played out of position by misdirections. He has great long speed, but his speed isn't quite at the elite level to make up for mental lapses in recovery. Additionally, in the open field, To'oTo'o doesn't always show the strength to make solo tackles consistently. He sometimes slips off ball carriers when engaging and can still be more consistent driving through tackles.
To'oTo'o is a high-energy player who flashes the necessary processing capacity, but he is inconsistent as a processor overall. At times, his high-energy playstyle can yield frantic movements at the second level. When he doesn't trust what he's seeing, he sometimes hesitates and plays himself out of position or veers into blocking paths.
At the second level, To'oTo'o can be easily redirected by linemen, and he needs to be more consistent with his handwork when combating blocks. He can also get drawn too far up by play fakes, and when he needs to get depth after play fakes, he sometimes takes his eyes off the QB. As a result, he can play himself out of position.
Moreover, To'oTo'o can leverage himself better at stems. He sometimes goes on auto-pilot in coverage and gives his man too much space. He also freezes on breaks at times and doesn't have the elite fluidity to recover ground. Overall, his eye discipline, leverage, and positioning in coverage can improve.
Current Draft Projection for Alabama LB Henry To'oTo'o
On my board, To'oTo'o grades out as an early-to-mid Day 3 pick. He's a potential value option in the 2023 NFL Draft LB class who has measured upside, but overarching consistency and increased utility in coverage remain pressing needs for To'oTo'o on tape.
At 6'1″, 227 pounds, with near-33″ arms, To'oTo'o has a fairly appealing size profile, and he also has exceptional linear speed and burst, along with good lateral twitch as a mover. He's not the most agile or fluid linebacker when changing directions, but his combination of energy and range is exciting, especially when paired with his flashes as a processor.
MORE: 2023 NFL Draft EDGE Class
Even so, the idea of To'oTo'o at his developmental peak is more compelling than To'oTo'o in his current form. While his brightest moments as a processor are inspiring, indecision too often sets in at the second level, and that can be a source of inefficient motion and delays in reaction. Meanwhile, in coverage, he's very much a work in progress. He's not the most fluid athlete in recovery, and he doesn't always effectively play leverage at stems.
At the very least, To'oTo'o has a serviceable floor as a run-and-chase linebacker with blitzing ability. How far he develops is contingent on him honing his processing, adding mass to his frame, and growing more comfortable in coverage. But at his maximum, To'oTo'o has above-average starting upside as a 3-4 or 4-3 inside linebacker.
Listen to the PFN Scouting Podcast
List to the PFN Scouting Podcast! Click the embedded player below to listen, or you can find the PFN Scouting Podcast on iTunes, Spotify, and all major podcast platforms.  Be sure to subscribe and leave us a five-star review! Rather watch instead? Check out the PFN Scouting Podcast on our Scouting YouTube channel.