The Green Bay Packers aren't necessarily rebuilding, but they are resetting. One of the least active teams during the 2023 NFL free agent period, most of the Packers' significant additions came via the draft. As they embark on their first season since 2005 without Aaron Rodgers, Green Bay has many roster questions to answer over the next several weeks.
Let's run through the Packers' 90-man roster and determine how they'll get to 53 before the NFL's Aug. 29 cutdown deadline.
Green Bay Packers 53-Man Roster Projection
Quarterback
In: Jordan Love, Sean Clifford
Out: Alex McGough
Three years after being selected in the first round of the 2020 draft, Love is finally taking the reins in Green Bay. A virtual unknown with just 83 NFL pass attempts under his belt, Love will get the next two seasons to prove he's the Packers' future under center.
Green Bay released Danny Etling this week in order to create more reps for Clifford and McGough. Head coach Matt LaFleur said both players are competing to serve as the club's QB2, but it would be astounding for the Packers to cut Clifford after drafting him in the fifth round of this year's draft. McGough should become a practice-squad candidate.
Running Back
In: Aaron Jones, AJ Dillon, Patrick Taylor
Out: Tyler Goodson, Nate McCrary, Lew Nichols, Henry Pearson (FB), Emanuel Wilson
The Packers kept just Jones and Dillon on their initial 53-man roster in 2022, but there's a sense that they may retain a third back this season. Jones will turn 29 in December while Dillon is in his contract year, so Green Bay probably wants to get a look at at least one more option on the depth chart.
Taylor and Kylin Hill were the only Packers running backs aside from Jones and Dillon to handle an attempt last season. Taylor's special-teams contributions and experience in Green Bay's system should get him over Goodson or Nichols, but it won't be shocking if either of those players uses the preseason to push Taylor for a roster spot.
Wide Receiver
In: Christian Watson, Romeo Doubs, Jayden Reed, Samori Toure, Dontayvion Wicks, Grant DuBose
Out: Jadakis Bonds, Cody Chrest, Jeff Cotton, Malik Heath, Bo Melton, Dre Miller, Duece Watts
Watson and Doubs both produced as rookies in 2022 and will be the Packers' clear-cut starters in two-WR sets. Toure, another 2022 draft pick, only received 10 targets last season but appears to be guaranteed a roster spot.
After using three picks on receivers last year, Green Bay did it again in 2023. Reed should immediately compete with Toure for starting snaps, while Wicks should be a roster lock after being selected in the fifth round.
The final spot on the Packers' WR depth chart will likely come down to DuBose or Melton, with the early edge going to the draft pick. However, DuBose just came off the non-football injury list after recovering from a back injury, so the seventh-round rookie is behind the eight-ball.
Tight End
In: Luke Musgrave, Tucker Kraft, Josiah Deguara, Tyler Davis
Out: Austin Allen
Tight end is one of the least challenging positions to decipher on Green Bay's roster. The rookie pairing of Musgrave and Kraft should see the field early and often, as both players can play as in-line tight ends.
Deguara offers fullback versatility, while Davis played more special-teams snaps (346) than any Packer in 2022. If Green Bay keeps a TE on its practice squad, it could be Allen, who offers intriguing size at 6'8″, 255 pounds.
Offensive Line
In: David Bakhtiari, Elgton Jenkins, Josh Myers, Jon Runyan, Zach Tom, Yosh Nijman, Royce Newman, Sean Rhyan, Rasheed Walker, Caleb Jones
Out: Jean Delance, James Empey, Jake Hanson, Cole Schneider, Kadeem Telfort
While the Packers are set at left tackle, left guard, and right guard, they're conducting ongoing competitions at center. Zach Tom, who appeared at four of five OL positions during his rookie campaign, is an option to start at both center and right tackle and seems likely to claim one of those spots.
Myers started all 17 games for the Packers in 2022 but would likely become the team's top interior reserve if he can't win a starting role this year. Nijman, who was outstanding at LT at the beginning of the year but seemed to struggle when forced to move to right tackle, would profile as Green Bay's swing tackle if Tom beats him out on the right side.
Newman started 16 games as recently as 2021, while Green Bay won't give up on Rhyan after selecting him in Round 3 a year ago. That leaves Walker, Jones, and Hanson fighting for what will likely be two roster spots. If the Packers decide they're healthy enough up front, they could even choose to keep nine offensive linemen and bump one of Walker or Jones off the roster.
Defensive Line
In: Kenny Clark, Devonte Wyatt, T.J. Slaton, Colby Wooden, Karl Brooks
Out: Jonathan Ford, Jason Lewan, Antonio Moultrie, Chris Slayton
Clark, Wyatt, and Slaton will start in base packages, but the Packers are looking for depth after losing Jarran Reed and Dean Lowry in free agency. To that end, Green Bay double-dipped during the draft by adding Wooden (fourth round) and Brooks (sixth round), who should see action during their rookie campaigns.
The Packers have enough edge rushers capable of sliding inside on obvious passing downs that they probably don't need to keep a sixth defensive lineman. However, Green Bay kept Ford on their 53-man roster for the entirety of last season even though he didn't play a single defensive snap, indicating that they'd like to retain him on their practice squad at least.
EDGE
In: Rashan Gary, Preston Smith, Lukas Van Ness, Kingsley Enagbare, Justin Hollins
Out: Keshawn Banks, Brenton Cox Jr., Arron Mosby, Kenneth Odumegwu
This week, Green Bay received excellent news when Gary, rehabbing from a November ACL injury, was activated from the physically unable to perform (PUP) list. Gary, one of the NFL's most effective rushers on a per-snap basis, is fully expected to be ready for the start of the regular season.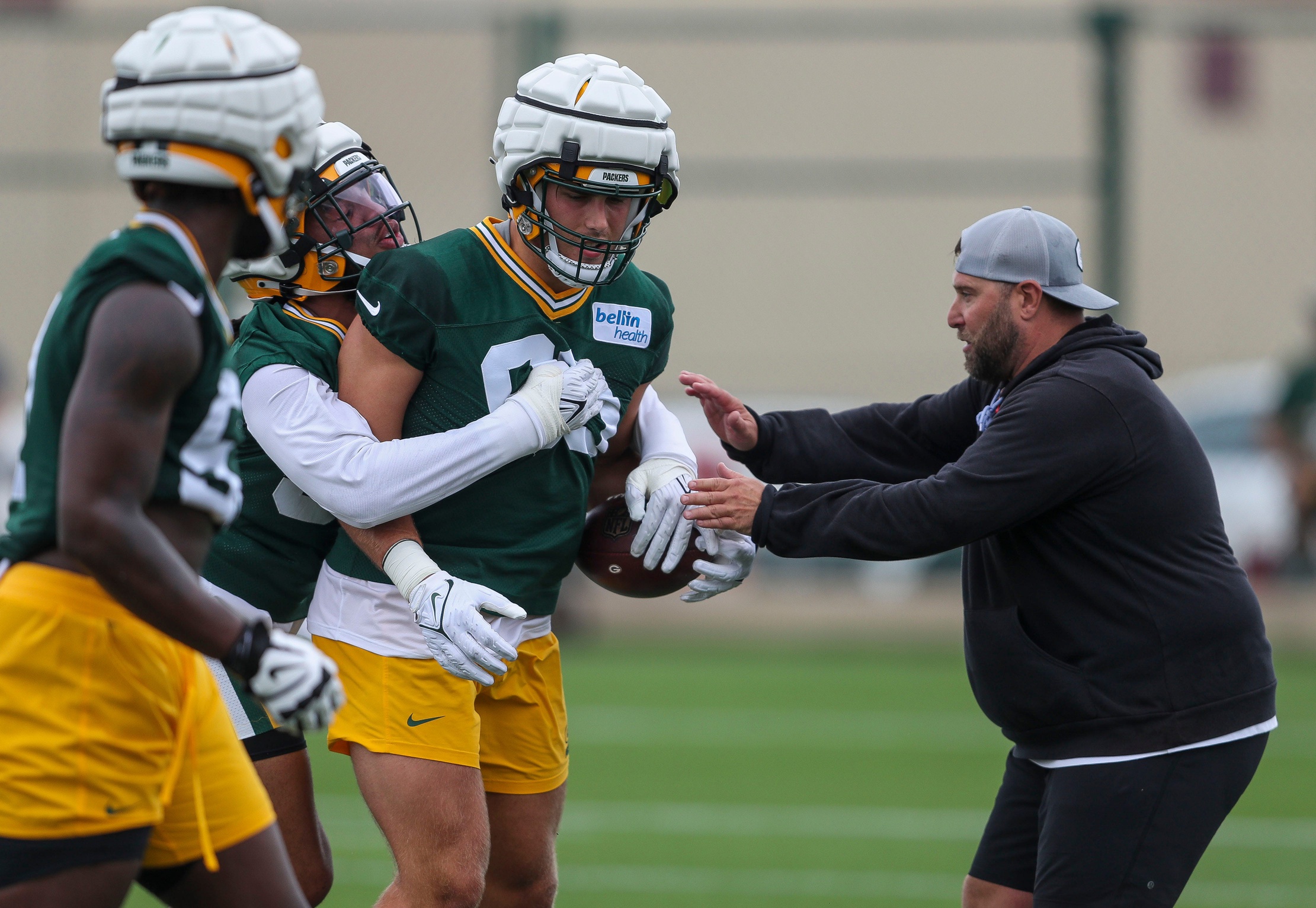 Smith will start alongside Gary, while Van Ness, the Packers' first-round pick in April's draft, should see more snaps as the season progresses. Enagbare and Hollins were receiving first-team reps ahead of Van Ness earlier this summer, but Green Bay listed Van Ness ahead of Enagbare on their team-issued depth chart this week.
Linebacker
In: De'Vondre Campbell, Quay Walker, Isaiah McDuffie, Eric Wilson, Tariq Carpenter
Out: Jimmy Phillips Jr.
Campbell and Walker return as Green Bay's starting linebackers, while McDuffie and Wilson were key contributors on special teams. The same goes for Carpenter, who transitioned from safety to linebacker this offseason. Barring an injury, this will be the Packers' five-man LB depth chart.
Cornerback
In: Jaire Alexander, Rasul Douglas, Keisean Nixon, Corey Ballentine, Carrington Valentine
PUP List: Eric Stokes
Out: Tyrell Ford, William Hooper, Shemar Jean-Charles, Kiondre Thomas
Stokes started 23 games during his first two seasons in Green Bay, but injuries are now threatening to remove him from the Packers' plans — at least temporarily. He's still on the PUP list as he works his way back from foot and knee injuries, and we're projecting him to stay there into the regular season, which will require Stokes to miss at least four games.
Ballentine can fill in on the outside if needed and sees a lot of snaps on special teams, while the Packers probably want to keep Valentine, a rookie seventh-round draft choice. Even with Stokes unavailable, we're still rolling with just five cornerbacks. A few of Green Bay's safeties have experience in the slot and can fill in if needed.
Safety
In: Darnell Savage, Rudy Ford, Jonathan Owens, Tarvarius Moore, Dallin Leavitt
Out: Innis Gaines, Anthony Johnson Jr., Benny Sapp III
Adrian Amos played more snaps (977) than any Packers defender in 2022, but he's now with the Jets. Safety was undoubtedly a concern for Green Bay last season and could continue to be a problem unless Savage and Ford increase their production.
Leavitt will make the team thanks to his special-teams prowess, while we're giving Owens and Moore the edge over Johnson, a rookie seventh-rounder. If Savage or Ford struggles and the Packers need to turn to their bench, they'd probably prefer Owens (a 17-game starter for the Texans in 2022) or Moore (13 starts over four seasons for the 49ers) over Johnson.
Specialists
In: Anders Carlson (K), Pat O'Donnell (P), Matt Orzech (LS)
Out: Daniel Whelan (P), Broughton Hatcher (LS)
Teams don't often waive kickers they've drafted, but if Carlson struggles during training camp, Mason Crosby is only a phone call away. Meanwhile, neither O'Donnell nor Orzech (the latter of whom signed with the Packers during free agency) figures to face realistic competition for their roles.